It's my 3 year blog anniversary so I'm celebrating with chocolate , sugar-free chocolate of course!!
I can't tell you it's been easy or a piece of cake (pun intended) to write a blog and have it become successful enough to make a living, but it can happen because hard work truly does pay off.
Three years ago I was with some friends for a mom's weekend away and sharing with them my idea to start SugarFreeMom.com. I had no idea how it would work, if it would work or how I could possibly make it work. Being a mother of 3, homeschooling, tutoring part time I was all ready so busy, but I knew my passion was cooking and I was willing to work my butt off to get to the place where I could quit tutoring part time.
It certainly didn't happen over night but consistently for a good year, I posted 6 days a week! Crazy right? Yes I know but I had a goal; to get my recipes out there sharing with people that a sugar-free way of life is attainable, enjoyable and delicious! I've found so many people just never realized how good it could be or how easy it could be to live sugar-free. I've been doing it for over 10 years and that's why I share what I do, and what I love. I am thrilled when someone is shocked no sugar is in an amazing dessert they just tasted.
As the first year was a difficult time of working as a tutor to special needs kids, raising my 3 kids and teaching them at home and living life with busy activities for them, it was stressful, but again when you can do something you love, it's not a chore. Cooking for my family is never the difficult part, but all the other responsibilities of course get in the way LOL, wish I could just cook, bake and take photographs all day, ha!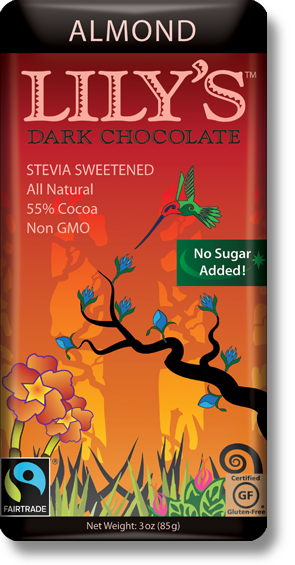 As the second year began I was able to quit tutoring which freed up my afternoons and evenings 4 times a week and I was able to reduce the posting to 4 times a week. That first year and even the second, I did nothing else but share my recipes and pray you all liked them. I never went to any food blogging conference, never networked with others, and didn't even get paid to work with brands at that point.
I remember my hubby telling me, just focus on the content, be reliable and steady and the rest will come. He was right on with that!
By the start of the 3rd year brands were finally reaching out to me and I didn't work for free. I was able to attend my first conference in the spring of this year as well as this summer. I actually went on my first paid business trip to Maine to explore the Wild Blueberry barrens as well. And the biggest news was that I was approached to write a cookbook! The Sugar-Free Mom Cookbook will be out December 9th!! If you've ever written one you know it's truly a labor of love and when it's finally complete you feel like you've given birth, no lie!
But again, nothing would have happened if you all didn't try my recipes, enjoy them and share them.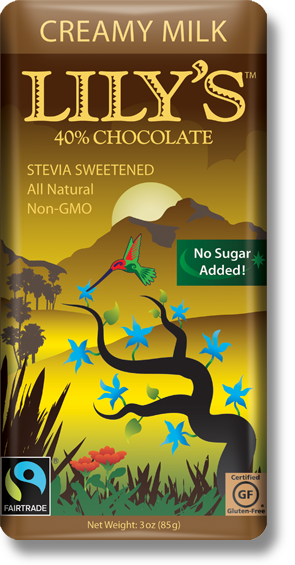 I'm so very grateful for the faithful followers of my blog and appreciate every single comment I receive!
To show my appreciation in a tangible way I'm happy to share some chocolate that I love with you!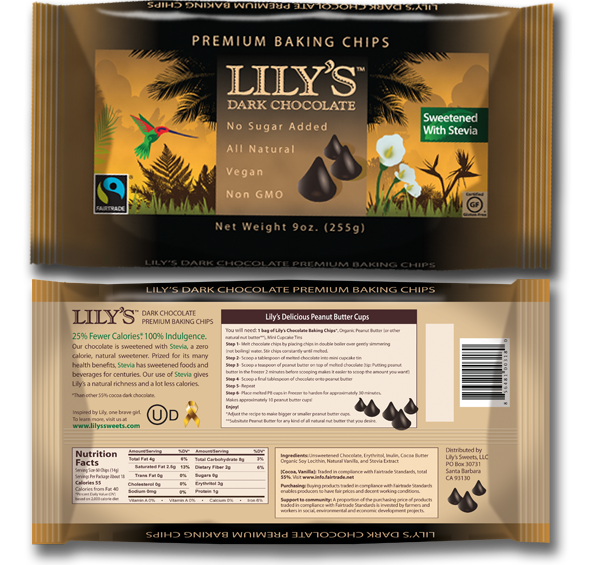 Lily's is celebrating with me by providing 3 Sugar-Free Mom readers a chance to win their chocolate goodies!
Our prize bundle for each winner will include one:
Creamy Milk Chocolate bar made with 40% Chocolate - Rich and smooth, this melt-in-your-mouth bar is a favorite for those who enjoy the sweet, simple pleasure of milk chocolate. With 20% fewer calories than traditional milk chocolate and no added sugar, this tasty chocolate bar is perfect for satisfying that sweet tooth, guilt-free!
Salted Almond and Milk bar made with 40% Chocolate - Salted almonds roasted to perfection unite with velvety, smooth chocolate in this delightfully sweet-and-salty bar. Perfect for dessert, with 20% less calories than traditional milk chocolates and no added sugar.
Bag of Premium Dark Chocolate Baking Chips - For flavorful baking, these great tasting stevia-sweetened vegan chips contain no added sugar and are so good they make a delicious snack right out of the bag!
Disclaimer: I've not been compensated to write this post, I just truly love this brand of sugar-free chocolate. A big thank you to Lily's for generously providing all the winners their gifts.
CONTEST IS NOW CLOSED
Contest ends on Saturday October 25, 2014 at midnight Est. US residents only please. 18 years of age to enter. Winners will be notified via email and have 24 hours to respond before new winners will be chosen. Good luck!
a Rafflecopter giveaway