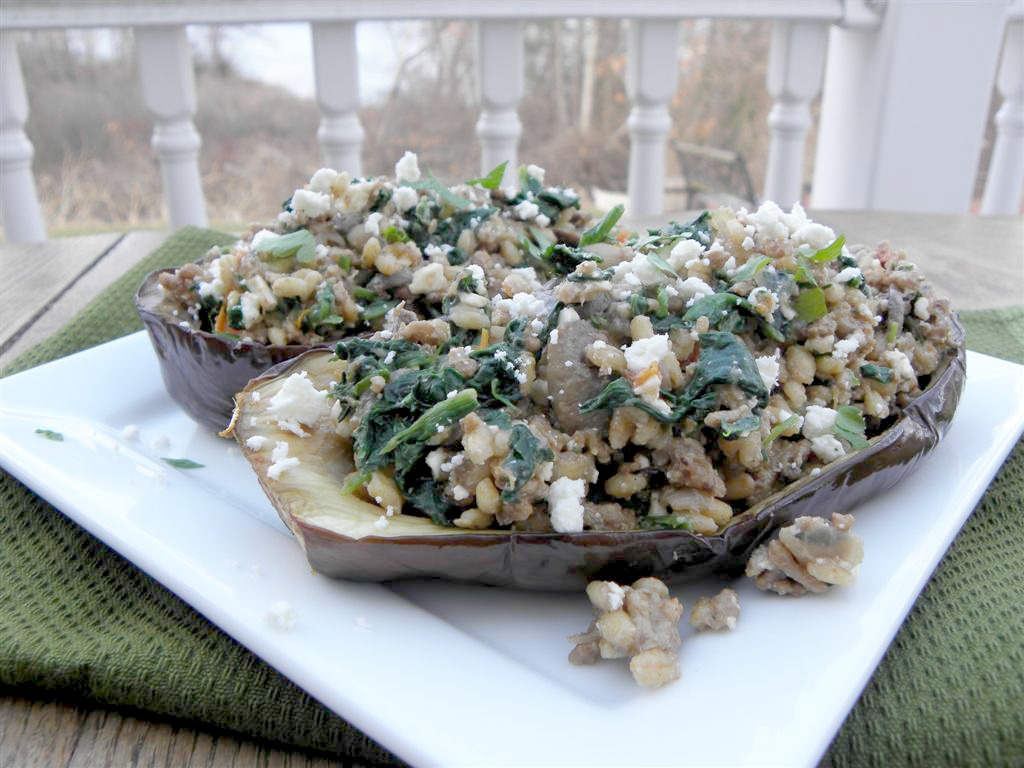 Anything stuffed with yummy vegetables and cheese is a winner for me. I love eggplant but my hubby isn't crazy about it. He loves this recipe because he barely notices he's eating any since I add some many other veggies into the mixture. Half of an eggplant is definitely a dinner size meal. If I were having it for lunch I would most likely cut that half in half again as it is very filling.
I would even have this without any meat and just veggies but my hubby is a meat man who wants a lot of substance in his dinners. I've given you the nutrition info for either way you prefer.
Additional Notes:
Ground turkey or beef could be substituted in place of the ground veal.
A can of diced tomatoes could be used in place of the cup of fresh tomatoes.
Nutrition Info with Veal
Servings: 6* Calories: 315* Fat: 14g* Fiber: 8g* Carbs: 26g* Protein: 23g* Points+:8*
Nutrition Info Meatless
Servings: 6* Calories: 207* Fat: 9g* Fiber: 8g* Carbs: 26g* Protein: 8g* Points+: 5*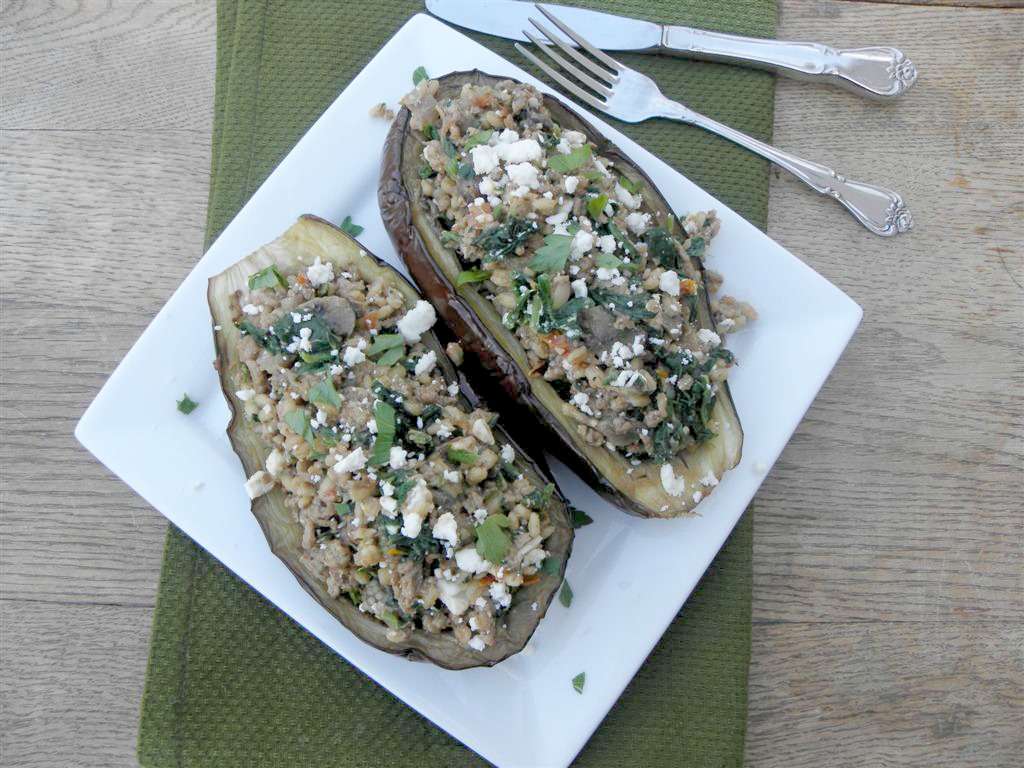 This recipe is being shared at Feasting in Fellowship, The Country Cook, Tasty Tuesday, Slightly Indulgent Tuesday, Traditional Tuesdays.
Serving is half of the halved eggplant or 1 whole pepper.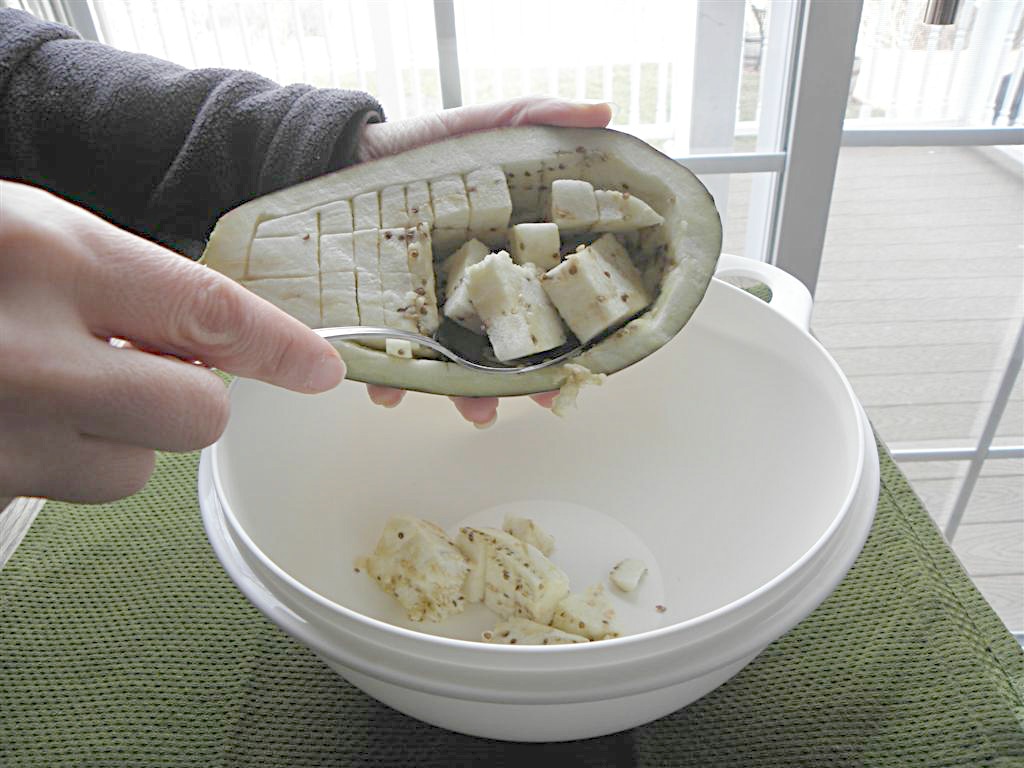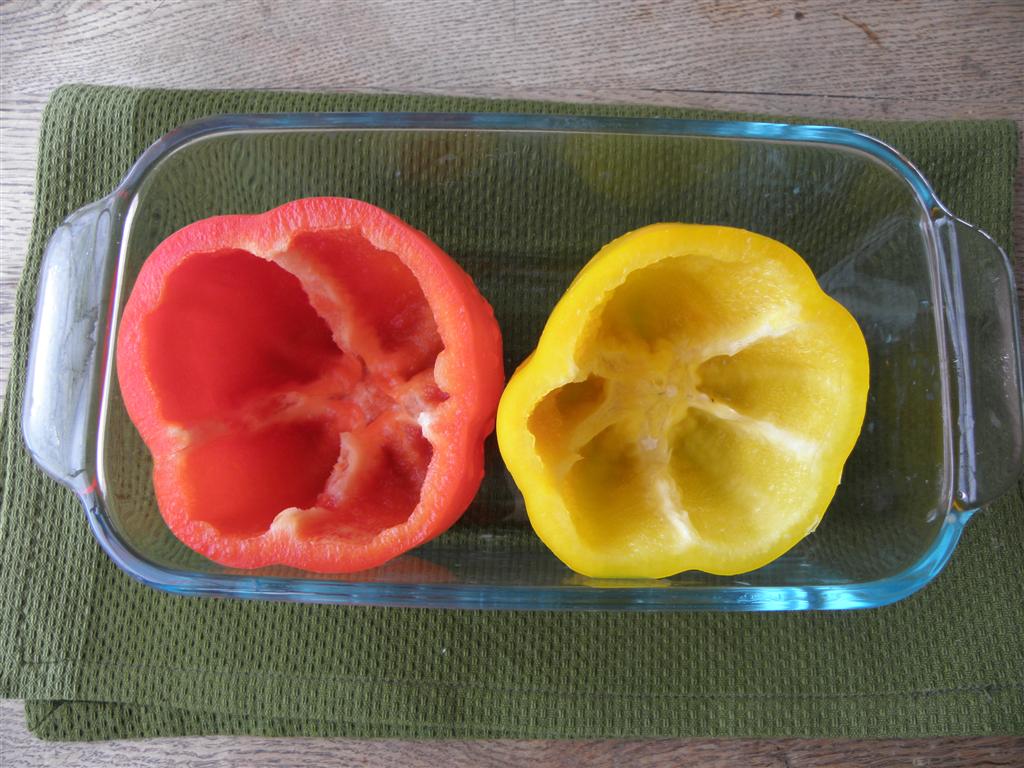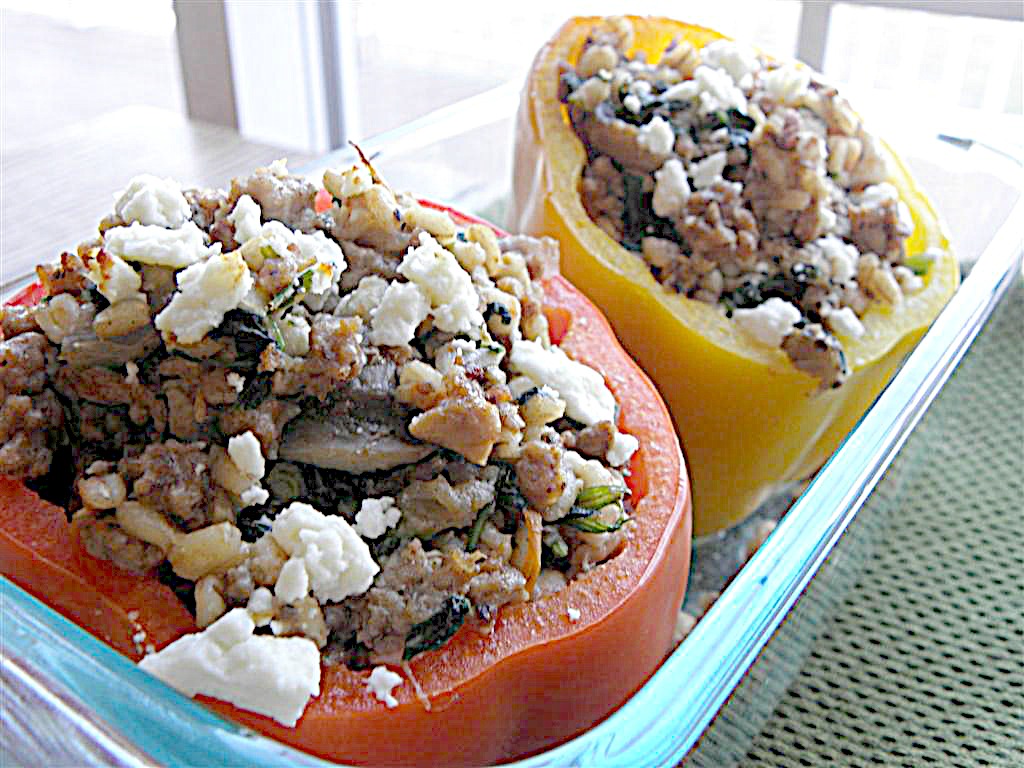 If you have room for it a yummy Fennel Salad would be perfect with this!
Have you ever made stuffed eggplant or peppers before? What do you usually stuff into them?
Barley Feta Stuffed Eggplant
[sc:Ziplist]
Ingredients
1 medium eggplant, cut in half
2 sweet red or yellow peppers, tops cut off and insides clean out
1 c. tomato, diced
½ c. water
½ c. pearl barley
1 c. spinach, frozen or 2 c. fresh
½ c. mushrooms, sliced
½ c. onion, chopped
2 teaspoon garlic, minced
1 tsp. salt
1 tablespoon extra virgin olive oil
1 lb. ground veal or turkey
1 c. feta cheese
Directions
Wash the eggplant and slice it in half. Using a sharp knife cut all around the eggplant half ¼ inch from the skin.
Slice the inside lengthwise and horizontally. Use a large spoon to scoop out the middle and place in a bowl.
Spray a baking pan with nonstick cooking spray. Lay the eggplant halves on the baking sheet, scooped side up. Spray the inside of the eggplant.
Broil for 7 minutes then flip them over and broil another 6-7 minutes until tender. Set aside.
Preheat the oven to 350 degrees. Place the peppers in a small loaf pan with ¼ c. of water at the bottom. Bake for 25- 30 minutes until a knife can easily be inserted into the pepper.
Heat the oil in a large saute pan. Cook the ground veal until browned, remove from pan and set aside.
Add the garlic, onion, eggplant insides, mushrooms and cook until tender.
Add tomato, water and barley and bring to a boil. Cover and reduce heat to simmer mixture for 30 minutes or until barley is tender.
Uncover adding, salt, spinach and feta, cook 5 minutes until spinach and feta are heated throughout mixture.Divide the mixture.
Place the mixture into the peppers and eggplant and bake them for another 15 minutes.