This recipe is a great make ahead meal that is easy to reheat in the microwave for lunch the next day or take with you in a thermos. The flavors are fantastic and develop even more after sitting overnight in the fridge. I couldn't wait to make this soup with my New Dutch Oven I received for a birthday gift from my mom. I had been drooling over one FOREVER! Nothing compares to the quality of a dutch oven!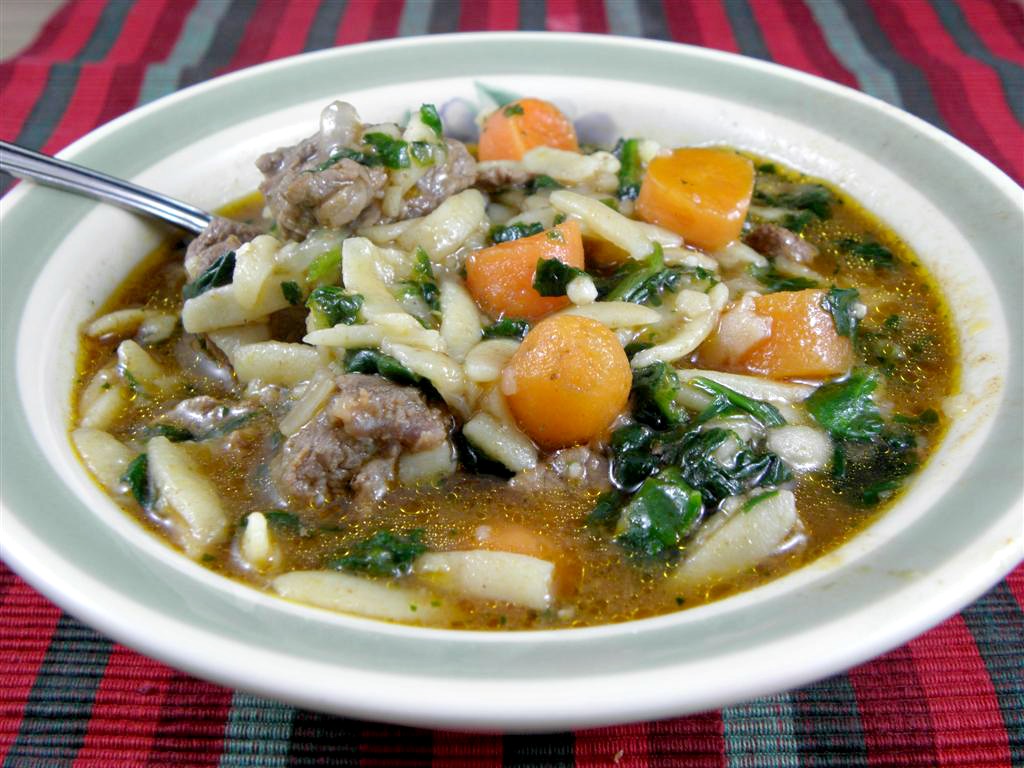 You could serve this with a nice crusty whole grain bread, whole wheat pita chips or make your own whole wheat buns.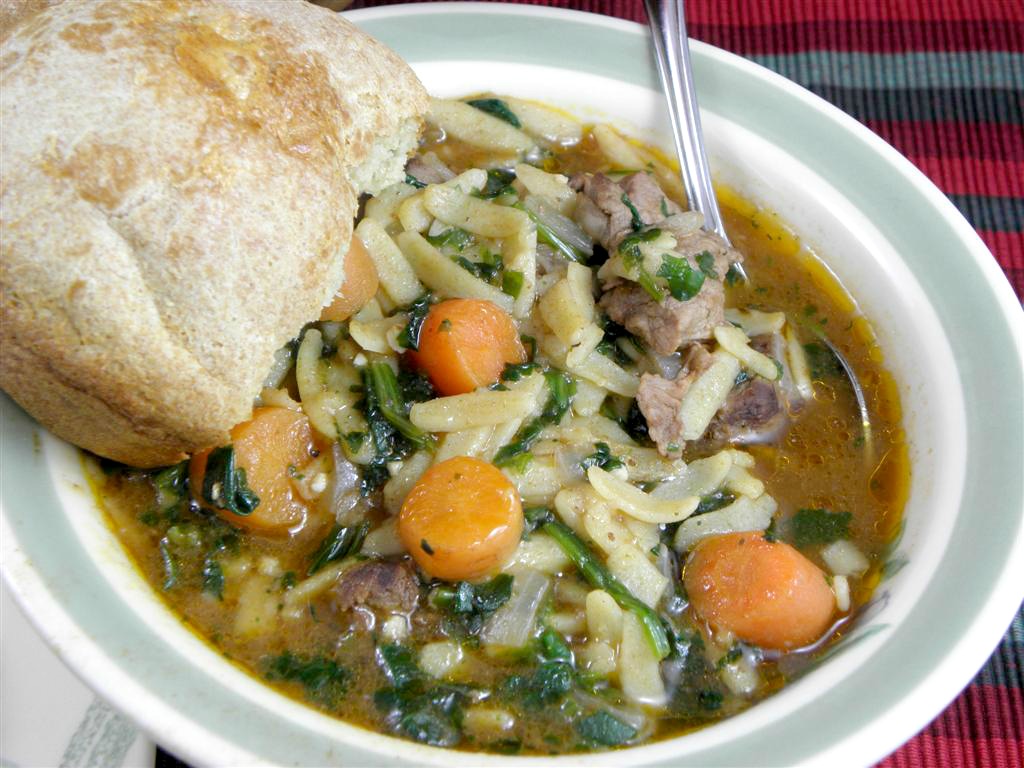 This soup could also be made with regular orzo as opposed to the whole wheat, but of course you know my take on that by now I hope. I won't advocate for anything made with white flour products. You could always substitute barley instead of orzo, but since I wanted my kids to eat it and they are not fond of barley, I chose orzo and they loved it!
This soup is scrumptious, but not the quickest meal to get on the table. Once everything is nicely chopped and comes to a boil then letting it simmer on the stove is the easy part. I would recommend making this on a weekend when you may have more time. All in all from prep time to cook time, it took me about an hour. It's well worth the time to make it, especially when you can enjoy having fantastic left overs for lunch over the next few days!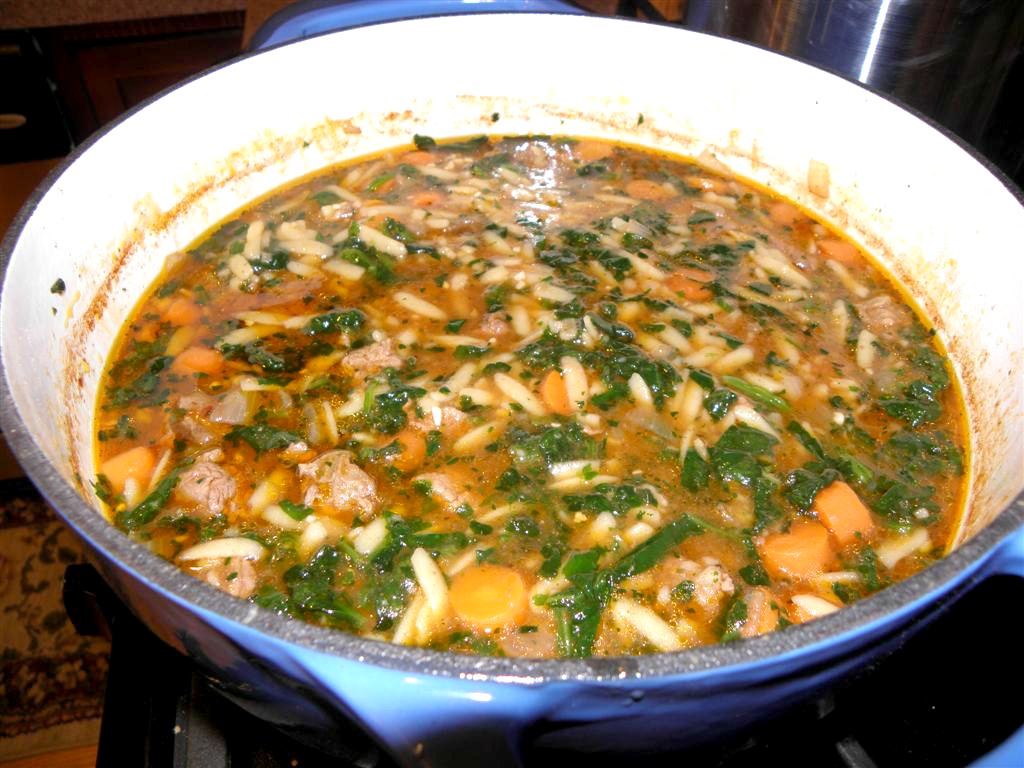 A reader sent me this message on Facebook in case you're interested in trying this in the crock pot:
"I made your Spinach Beef Orzo soup yesterday in the crockpot. Using pearl barley. YUM!! Came out soooo good! Browned the meat first, cooked on low for about 5 hrs (soaking the barley too). Then added the spinach let cook about 30 min and then added the barley for the last 30 min. 6 hours total. I would recommend using little more broth cause the barley absorbed the broth. Great recipe!"
Nutrition Info
Servings: 10 ( about 1 cup each) Calories per serving:258* Fat: 12g* Fiber: 5g* Carbs: 24g* Protein: 14g* Points+: 7* Old Points: 5*
Beef Spinach Whole Wheat Orzo Soup
[sc:Ziplist]
Ingredients
1 c. chopped onion
2 c. chopped carrots
1 pound chuck steak trimmed of fat, cut into ½ inch cubes
2 c. frozen or fresh spinach
5 cloves of garlic, minced
1 c. uncooked whole wheat orzo or pearl barley
5 c. beef broth, low sodium
1 ½ c. V-8 vegetable juice or tomato puree
½ tsp. salt
¼ tsp. pepper
Directions
Heat a large Dutch Oven over medium heat. Coat pan with cooking spray.
Add chopped onion and beef and cook about 10 minutes or until onion is tender and beef is browned.
Add chopped carrots and garlic, continue to stir about 5-10 minutes.
Stir in beef broth, v-8 juice, salt, pepper and orzo and bring to a boil.
Cover and reduce heat and simmer for 20 minutes.
Add spinach and cook 10 more minutes or until orzo is done and vegetables are tender. Enjoy or store in airtight container for the next day's lunch!