I LOVE BACON AND I'M NOT ASHAMED TO SAY IT! Whew! I'm glad to finally get that off my chest and confess it because being a confessed healthy eater some people will frown on my bacon loving ways.
So although I do love REAL bacon, I do not eat it regularly for the obvious reasons.
I TRULY do love turkey bacon and use that regularly. But once in awhile, every so often, I NEED to have some REAL bacon, do you know what I mean?
Hubby brought home some fresh brussels sprouts, which is not what I usually buy. I usually opt to buy frozen so I'm not under the gun to cook them up before they go bad. The fresh were terrific, but to be honest my kids prefer the frozen ones! Anyway, I simply cut off the stems and sliced them in half, cooked up that bacon nice and crisp and wah la.....a delicious side! Simple, easy and quick!
So if your hubby or significant other decides to bring home some fresh sprouts, cook it up with some yummy bacon and you've got a great side! Make up some delicious oven garlic fries and healthy baked chicken tenders and you've got an awesome dinner!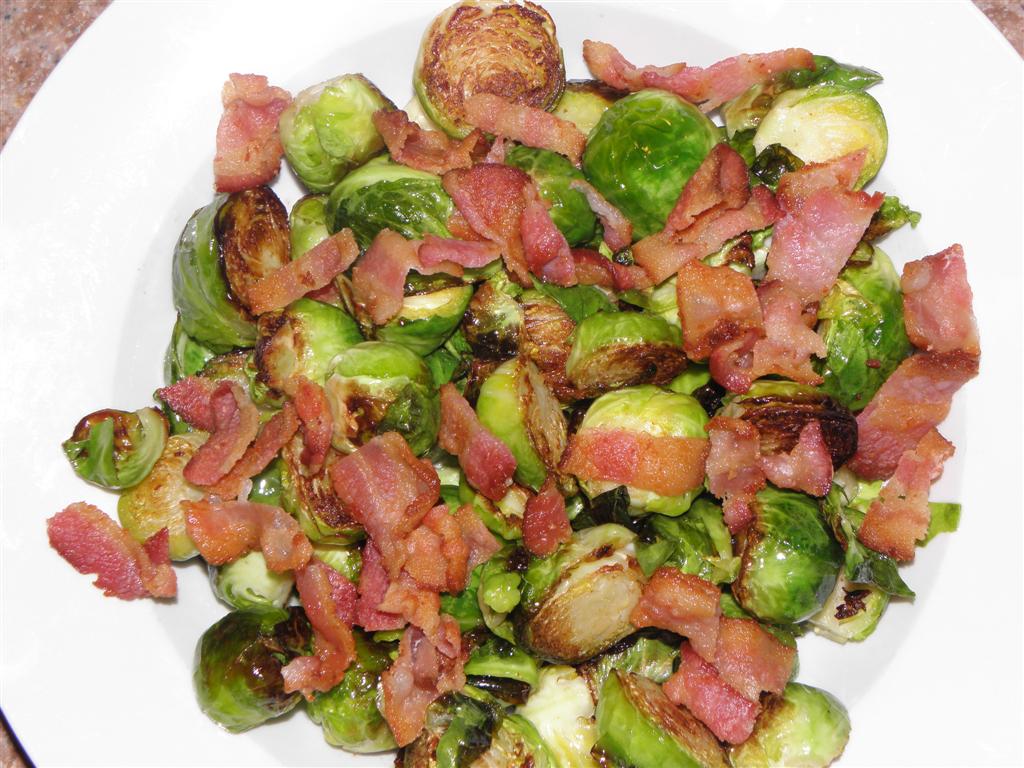 Nutrition Info
Servings: 4* Calories per Serving: 79* Fat: 3g* Fiber: 3g* Carbs: 8g* Protein: 6g* Points+: 2* Old Points: 1*
Ingredients
4 c. Brussels Sprouts, sliced in half
4 slices bacon
Directions
Cook up the bacon in a saute pan until crisp. Lay the strips on paper towel and set aside. After they cool, cut them into bite size pieces.
After the saute pan has cooled a bit off the heat, add the brussels sprouts to that very pan. If you'd prefer you can skip this and just saute the sprouts in about a tablespoon of extra virgin olive oil, but I just used the bacon drippings to make it tasty!