This Copycat Starbuck's Keto Gingerbread Loaf is easy to make at home without all the carbs! The keto mascarpone cream cheese frosting is outstanding on top of this sugar free gingerbread loaf!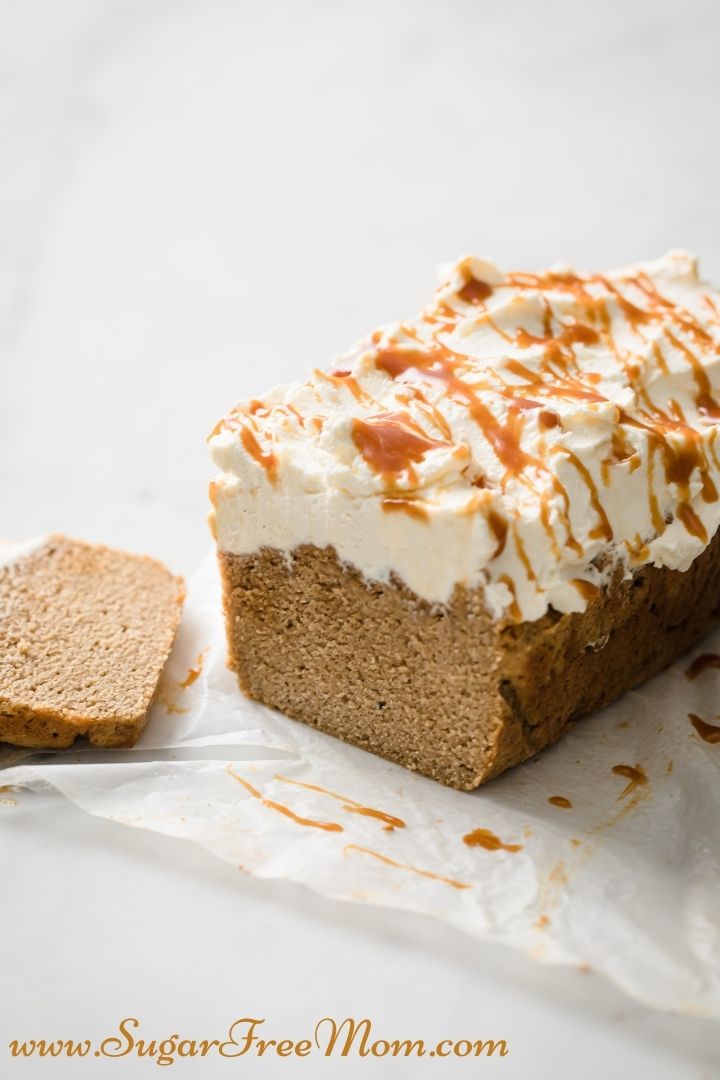 Copycat Starbuck's Gingerbread Loaf
Lately, I've been all about creating keto copycat recipes from Starbuck's. I've created a Keto Peppermint Mocha Frappuccino and a Keto Pumpkin Spice Frappuccino and now this tasty keto gingerbread loaf, which is basically an amazing spice cake with an incredible cream cheese frosting! I also have a Sugar Free Starbuck's Cool Lime Spritzer drink you might enjoy as well!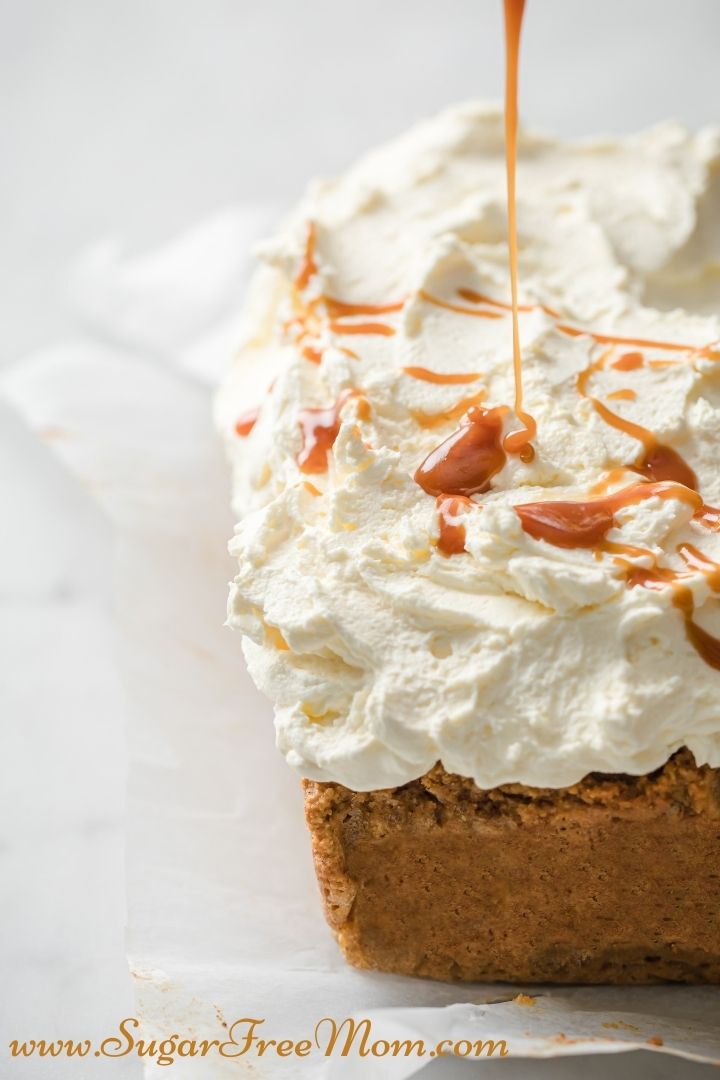 Low Carb Sweetener Options
This moist delicious keto gingerbread cake has all the warm spices you love for the holidays. Making this incredible keto cake at home is not difficult at all and the sweetener options can be adapted to your preferences. Traditional gingerbread cake uses sugar sweeteners like honey or maple syrup, but to make this keto friendly we opt for low carb sweeteners like Allulose and Swerve brown sugar sub. Either will work well in this gingerbread loaf, but you can also try Lakanto Golden Monk Fruit sweetener if you prefer. None of these sweeteners will spike your blood sugar and will not kick you out of ketosis.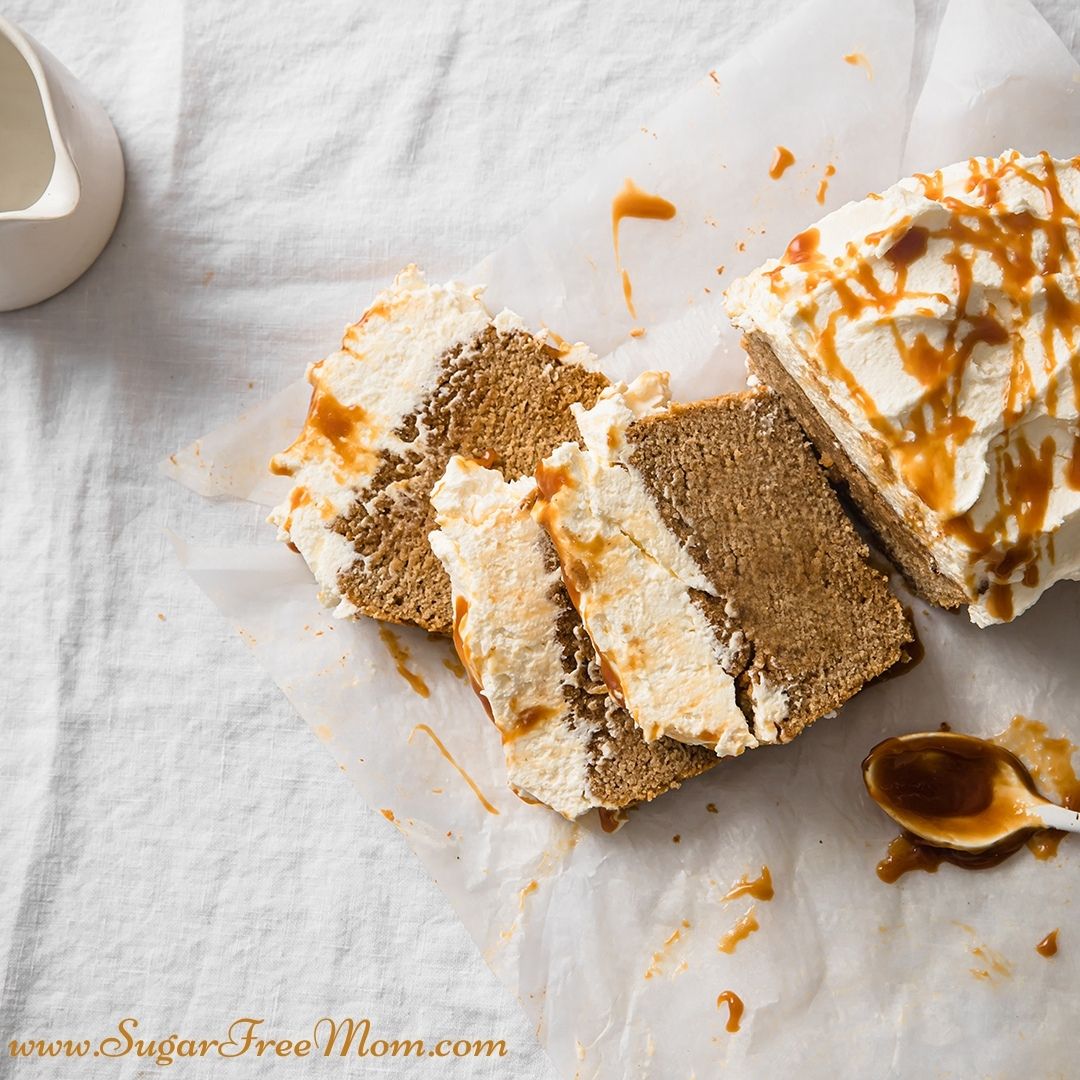 Tools to Make Low Carb Keto Gingerbread Loaf
4 by 8 inch Loaf Pan- This is the perfect sized loaf pan to get nice height for this delicious gingerbread loaf!
Unbleached Parchment paper-Using unbleached parchment without toxic chemicals is best for your health!
Electric Hand Whisk-This gadget is also a frother too!
Small stainless steel saucepan- Best saucepan without chemicals is stainless steel!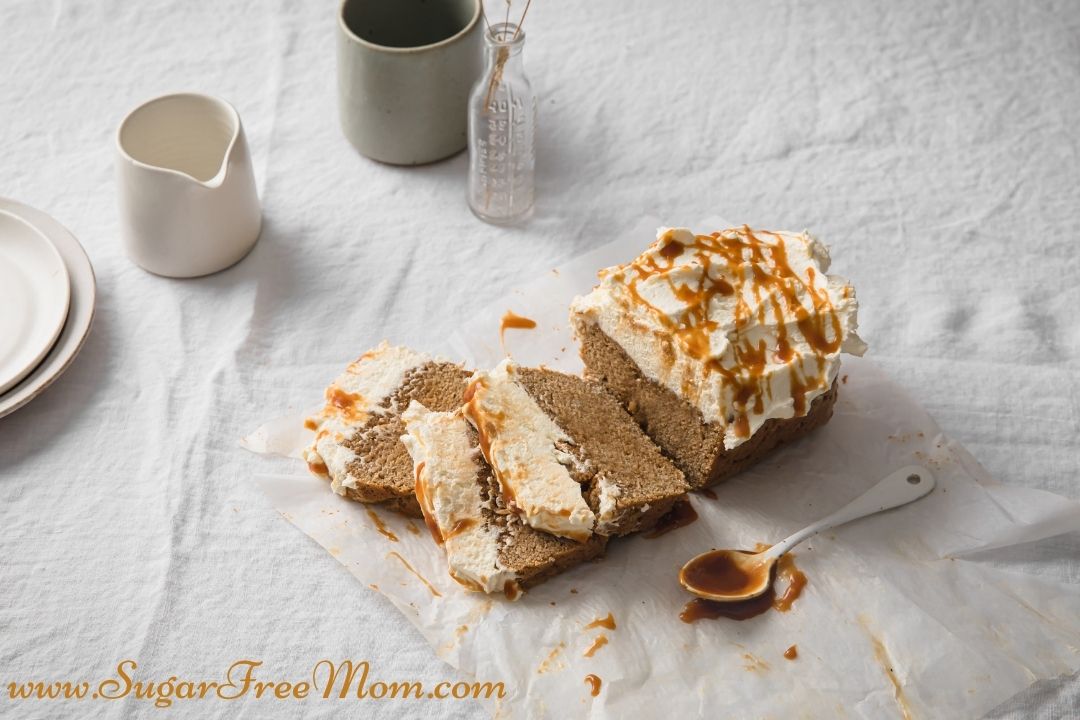 How to Store Keto Gingerbread Loaf
To keep this tasting it's best, make sure to cover in an airtight container and store in the refrigerator. Use within 4 days. If you wanted to freeze the loaf, best to not make the mascarpone frosting until you are ready to serve. Once you make the loaf and it's completely cooled, wrap in plastic wrap or parchment first then store in an airtight container in the freezer. Thaw overnight in the fridge for when you are ready to serve and make the frosting. This can be frozen for up to a month.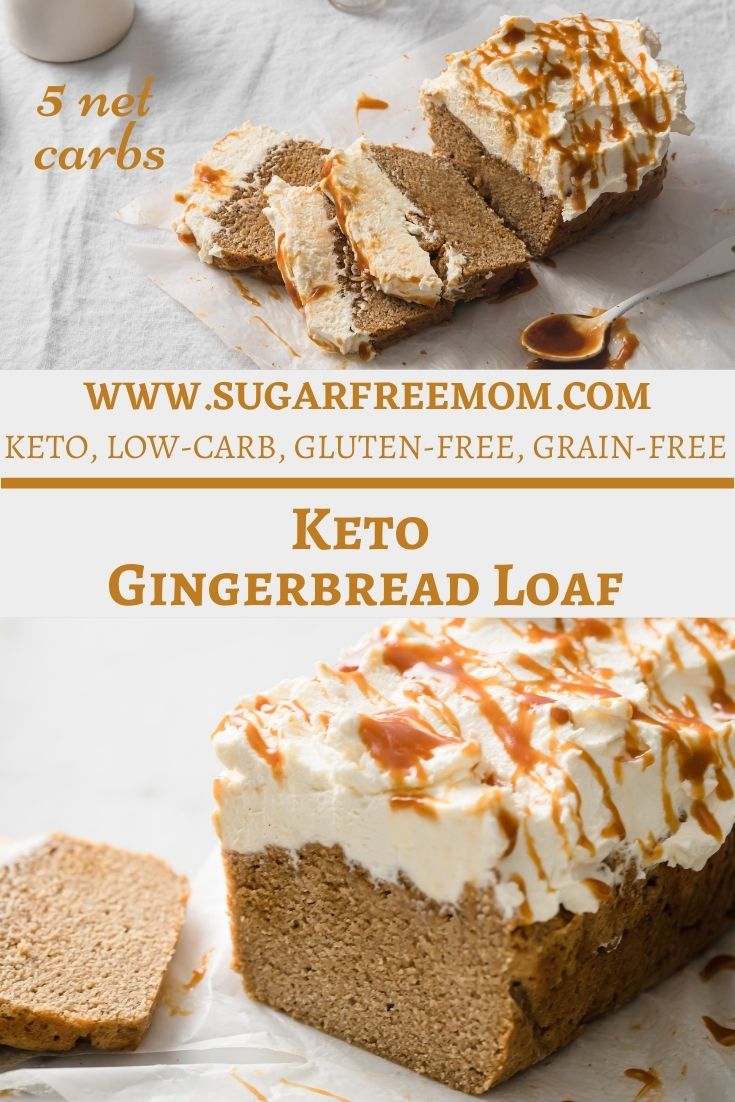 Low Carb Keto Meal Plans
Our membership is simple. You can subscribe for a month to try it out or you can subscribe for a yearly membership. Each Friday you will get a meal plan that comes to your email. You'll have that early in order to go food shopping before the meal plan begins on Sunday. You will be able to view and print the meal plan and the shopping list. If you don't like a meal, simply delete it and swap it with another meal you like. The shopping list will automatically adjust. It's the best software available out there for a customizable menu plan. Not many other low carb or keto meal plans allow you the option to remove, add, start with a blank menu and create your own if you so wish. Learn More about our meal plans!
Low Carb Keto Gingerbread Loaf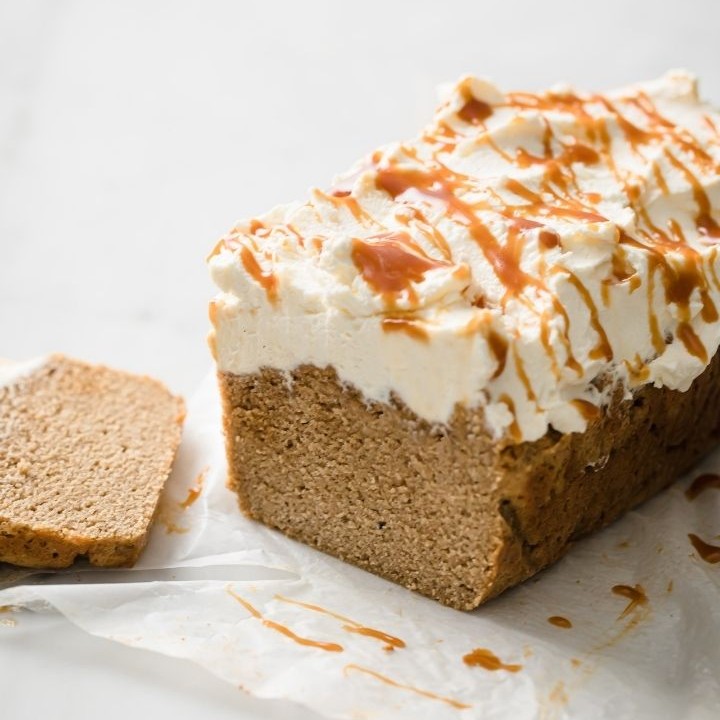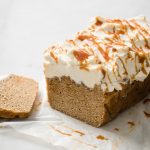 Print
Low-Carb Keto Gingerbread Loaf with Mascarpone Cream Frosting and Salted Caramel
There's nothing quite like a good slice of cake to cheer you up… and this is a really good cake! This Low-Carb Keto Gingerbread Loaf is perfect for fall and dressed to impress with a mascarpone cream frosting and the dreamiest keto caramel. Enjoy this Keto Gingerbread Cake for afternoon tea, dessert or even breakfast. It's the cake for all occasions and really easy to make.
Ingredients
Mascarpone Cream Frosting
½

cup

heavy cream

or (120g)

½

cup

mascarpone cheese

or (120g)

2

tablespoon

allulose

(Optional)(2-3 tablespoon powdered allulose or erythritol, to taste)
Instructions
Gingerbread Loaf
Preheat the oven to 350 F / 180C / 160 fan.

Line a loaf pan (4 by 8 inch)with greaseproof paper and grease with a little butter or oil.

Place the low-carb sweetener, egg yolks, vanilla and butter in a mixing bowl and cream with an electric whisk until pale.

Add all the dry ingredients to the wet(almond flour, coconut flour, baking powder, ginger, cinnamon and salt) and whisk with your electric whisk until just combined.

Whisk the egg whites until just below stiff peaks. Whisk into the batter until just combined, do not overcook or they will deflate.

Bake in the oven for 30 - 35 minutes until you can insert and remove a skewer without many crumbs sticking. Don't overcook as it will firm up as it cools. If you're using a wider loaf pan the cooking time may be less.
Mascarpone Cream Frosting
Whisk the cream in bowl with electric whisk until just below firm then fold through the mascarpone with a silicone spatula.

Use a palate knife to add the frosting to the cooled low-carb gingerbread loaf.
Salted Caramel
Place the granulated allulose and butter in a pan. Stir over a low/medium heat with a balloon whisk, about 3minutes, until golden. If the butter separates, take off the heat and whisk vigorously to combine.

On a low heat, slowly add the cream whilst whisking. The mix will bubble so be careful. Take off the heat and whisk if it looks like it's separating. Cook for about 1.5 minutes until the caramel starts to thicken and coats the back of a spoon. It should be a runny (not solid) caramel, as it will thicken as it sets. Cooking times will vary depending on your room temperature too.

Remove from the heat and stir in the salt. Pour into a bowl and place on an ice pack to stop the cooking process. Allow to cool down slightly before drizzling over the frosting. If you find the caramel thickens and cools a bit much just pop in the microwave for 5- 10 seconds to warm back to runny.

Any remaining caramel you can spoon over the cake to serve and remember you can always heat for a few seconds to make the caramel runny again. Store any leftover caramel in a glass jar in the fridge for a week until ready to use.
Storage
Store in the fridge for up to 4 days
Notes
Nutritional information includes frosting and caramel
Net Carbs 5g
Nutrition
Serving:
1
slice
|
Calories:
332
kcal
|
Carbohydrates:
8
g
|
Protein:
8
g
|
Fat:
31
g
|
Saturated Fat:
15
g
|
Cholesterol:
152
mg
|
Sodium:
272
mg
|
Potassium:
109
mg
|
Fiber:
3
g
|
Sugar:
1
g
|
Vitamin A:
835
IU
|
Calcium:
108
mg
|
Iron:
1
mg