Easy Low Carb Cheesy Pizza Chicken Bake is an easy weeknight meal that will please the whole family!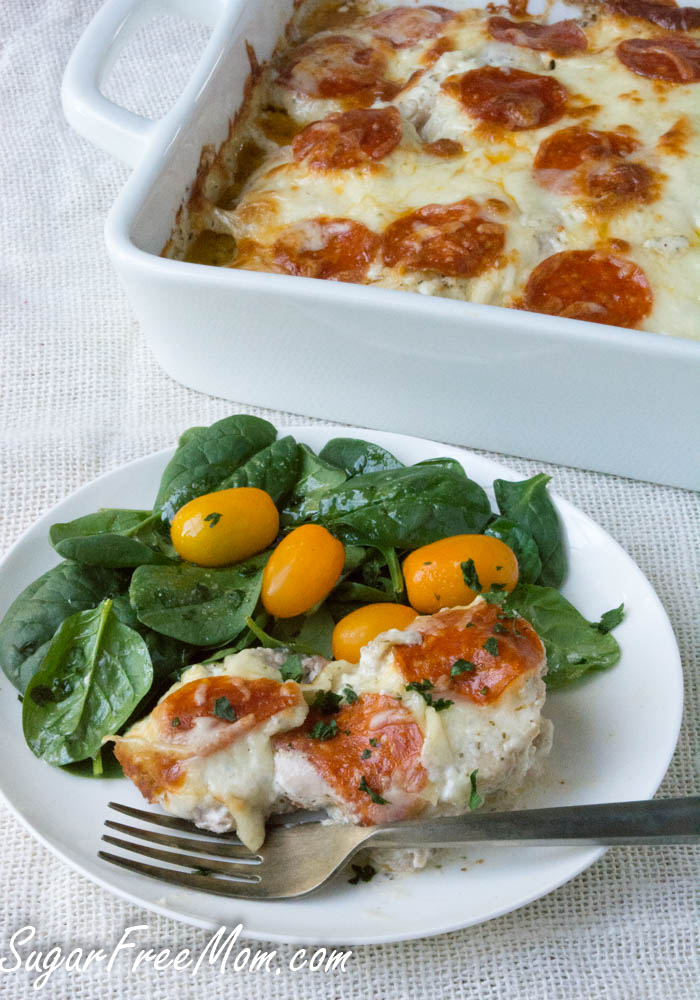 You might be surprised by this little tid bit of info, but in my house, my kids actually don't like tomato sauce.
Unless it's on pizza, they don't want saucy kind of recipes.
Being full blooded Italian, this wierd phenonomon is quite appalling to me. Nonetheless I must cook for my crew, non tomato sauce lovers and all.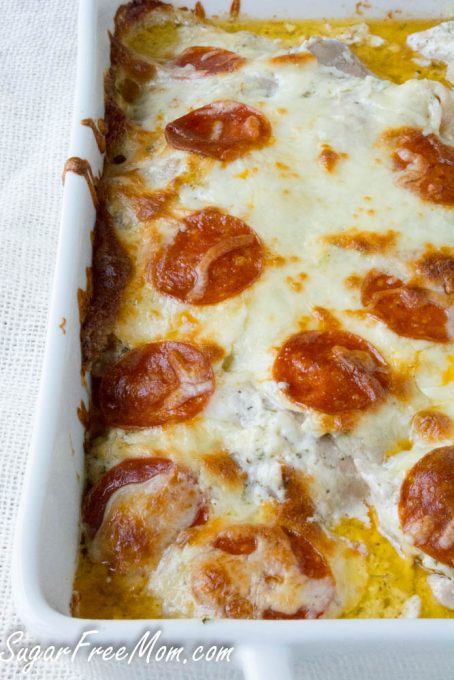 The idea for the mayo and parmesan was from a video I had seen around Facebook, yet was never able to find it again when I wanted to try something like this. I coulnd't even rememebr the name of the dish. All I rememebered was it had mayo on the chicken without flour and it made this terrific looking crust on the chicken. So I made some guesses and threw in some grated parmesan to give the mayo some substance. All in all it worked perfectly forming a nice brownish type crust before topping wth cheese and pepperoni.
While this recipe could easily have some subsititions if you in fact have a family who loves sauce then by all means simply sub out my "white" sauce ingredients.
Basically leave out the mayo and sub it for tomato sauce.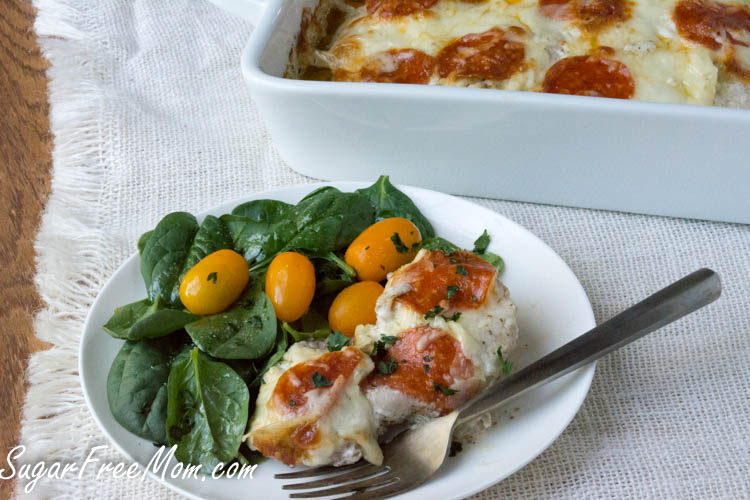 The first time I made this, I did not first bake the chicken with the mayo and parmesan mixture, I just added the cheese and pepperoni and baked all at once. While it was good, it didn't make a nice top crust I was looking for. So baking for 30 minutes before adding the cheese and pepperoni is the way to go! My family loved it!
You will find, whether with sauce or without, this recipe is a sure fire winner with everyone!
Easy to make with simple ingredients and topped with what makes a pizza rock, CHEESE!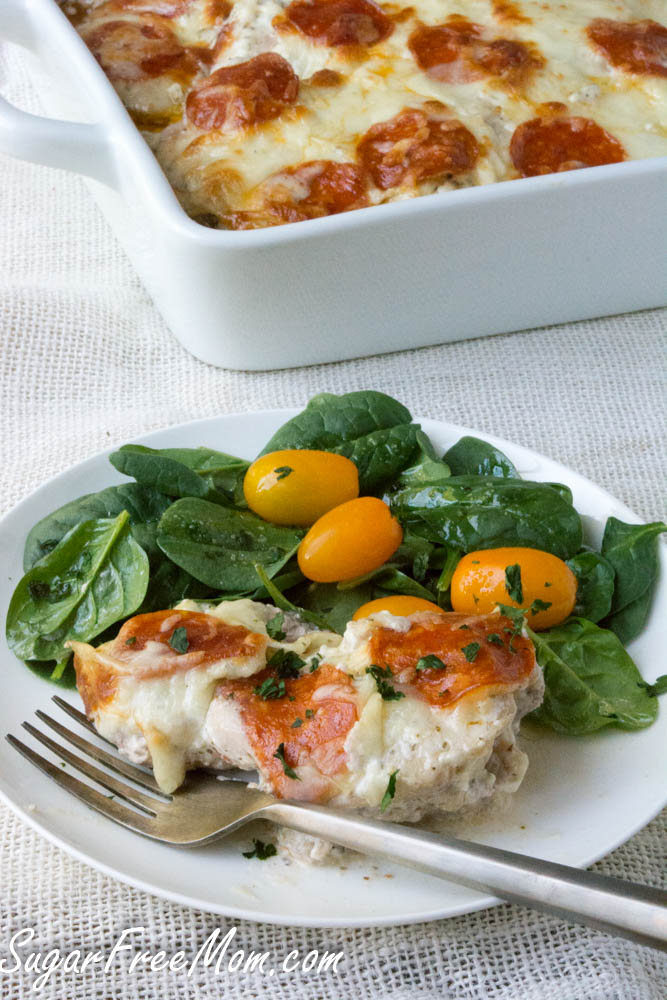 Keep it low carb by adding a simple salad as a side or if you have hungry kids who won't eat salad, try some low carb pasta or gluten free pasta.
Whatever you prefer this makes for an easy weeknight meal.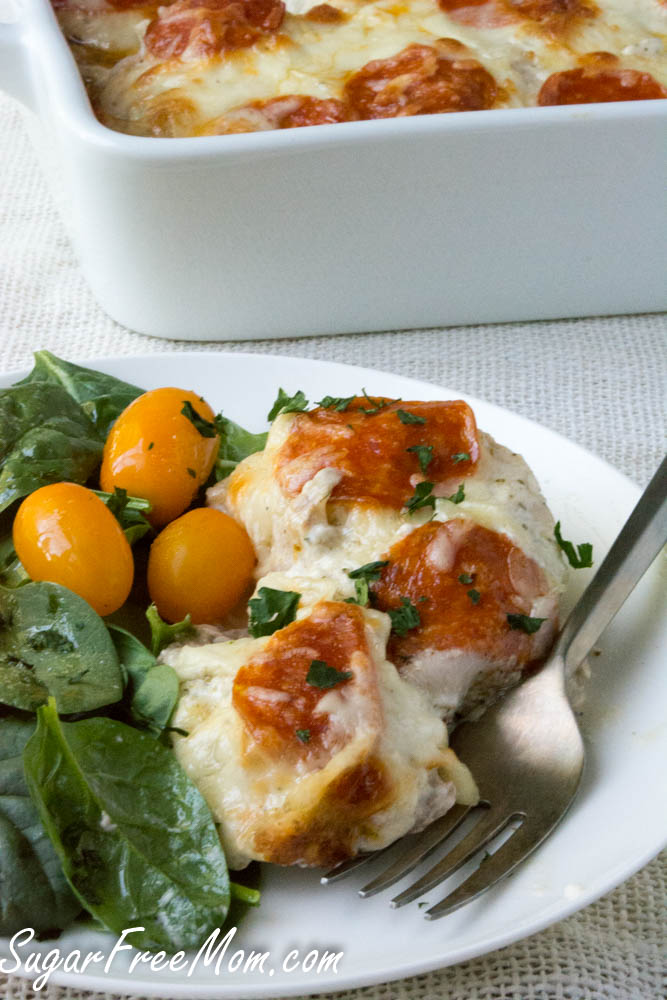 Brenda's Notes:
You can sub the mayonnaise for tomato sauce if you prefer.
You can also sub the chicken thighs for chicken breasts.
Pepperoni is optional as well. 🙂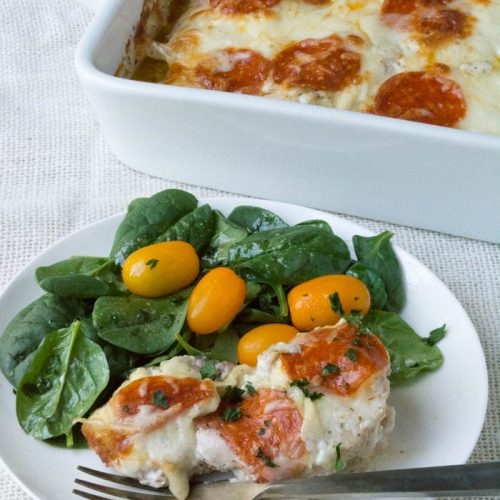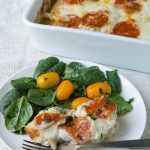 Print
Easy Low Carb Cheesy Pizza Chicken Bake
Ingredients
3

pounds

boneless

skinless chicken thighs

1

cup

organic mayonnaise

½

cup

grated Parmesan cheese

1

teaspoon

Italian seasoning

1

teaspoon

garlic powder

1

teaspoon

onion powder

½

cup

shredded mozzarella cheese

1

ounce

sliced pepperoni
Instructions
Preheat oven to 400 degrees.

Place the chicken thighs in a 9 by 13 baking pan.

In a bowl, mix together the mayo, parmesan, Italian seasoning, garlic and onion powder.

Evenly spread this over the chicken.

Bake the chicken for 30 minutes until the top is slightly browned.

Remove from oven and top with mozzarella cheese and pepperoni.

Bake for another 5 minutes or until cheese is melted.

Enjoy!

Make Ahead: Follow recipe to step 5. Cool completely then cover with plastic wrap. Freeze or refrigerate until the night you want to serve. Then reheat at 350 for 30 minutes and top with cheese and pepperoni.
Nutrition
Serving:
6
g
|
Calories:
476
kcal
|
Carbohydrates:
0.9
g
|
Protein:
39.7
g
|
Fat:
34.5
g
|
Saturated Fat:
8
g
|
Cholesterol:
171
mg
|
Sodium:
626
mg
|
Fiber:
0.1
g
|
Sugar:
0.3
g