Low Carb Caramel Cheesecake Stuffed Apples have no added sugars, are gluten free, grain free and a perfect Autumn dessert!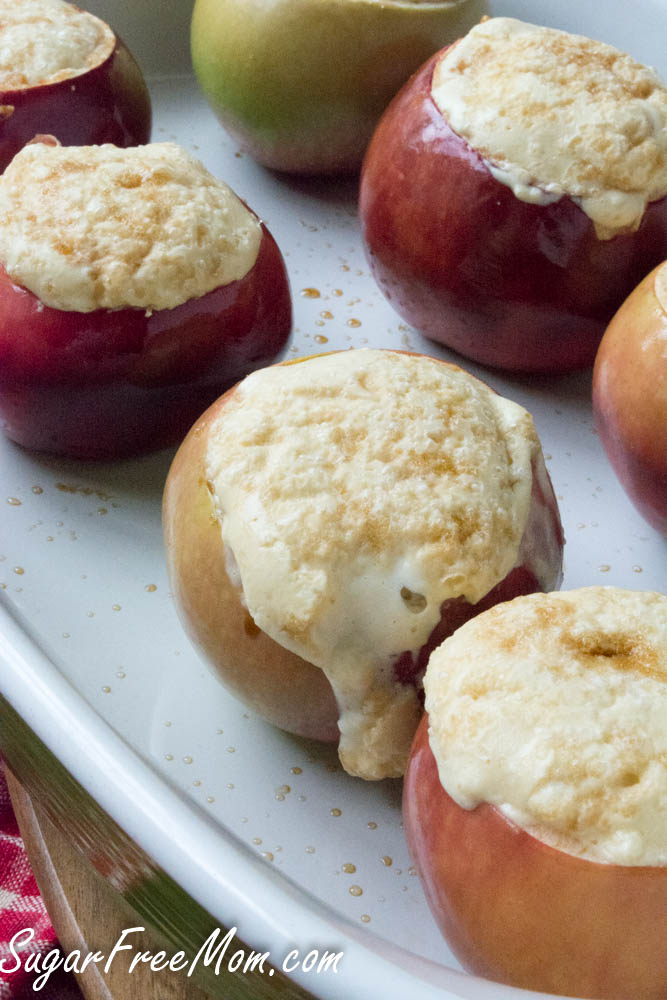 A ripe baked apple, especially in fall, makes for a tasty treat! But when you take that perfectly baked apple and use it as a shell for a caramel flavored cheesecake, well that my friends is the icing on the cake. It truly doesn't get any better than a creamy cheesecake made without any added sugars and the natural sweetness from the apple all soaked into to it.
I'm drooling just thinking about a bite of these!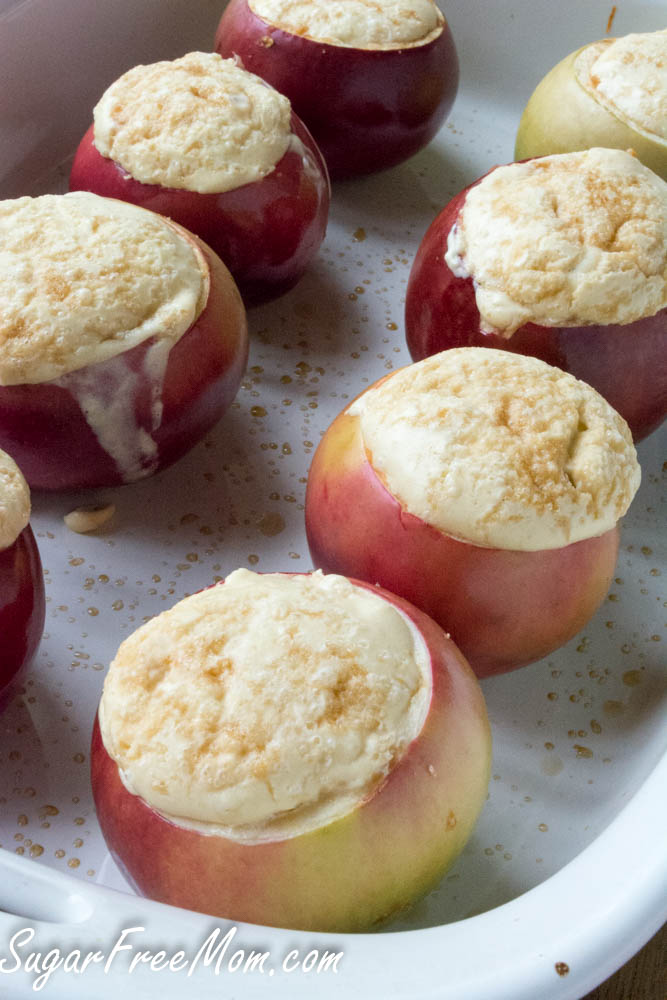 Recently I was provided some samples to review of Sukrin USA, Non GMO sugar free products. My first experience was using their brown sugar substitute called Sukrin Gold. I made some incredible tasty PUMPKIN DONUTS that were a big hit with my family!
Today I'm sharing about my experience using the Sukrin Gold Fiber Syrup that is just pure delicious sugar free syrup that reminds me of maple syrup only better! Better because it doesn't spike my blood sugar causing me to crave and crash from a sugar coma!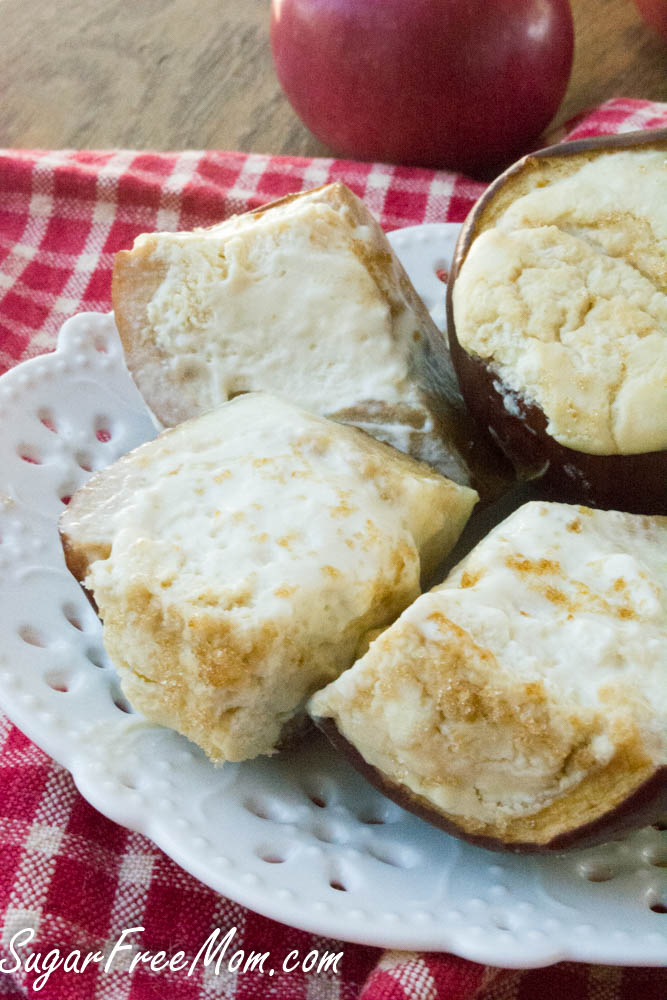 The best part about this recipe is that once you do the hard work of scooping out the insides of the apples, the rest is super easy. Your mixer will do the work and you will fill, bake, chill and enjoy hearing the oohs and aaahs from your family!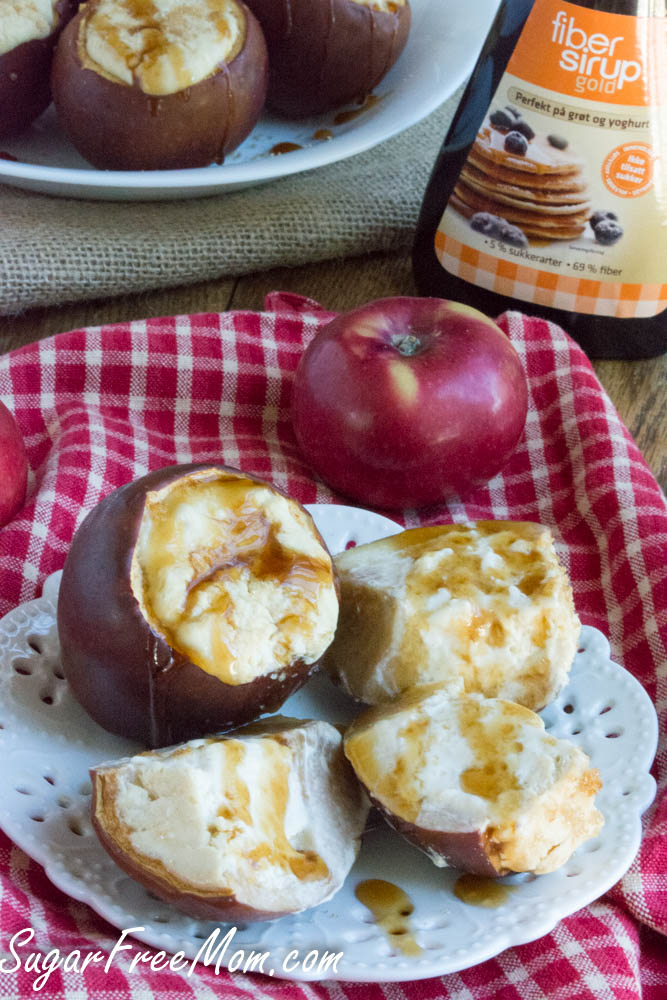 This Sukrin Gold Fiber Syrup is perfect on anything where you would typically add some maple syrup, like here in my Grain Free Pumpkin Pancakes! But on top if these apples, oh my, it's magical!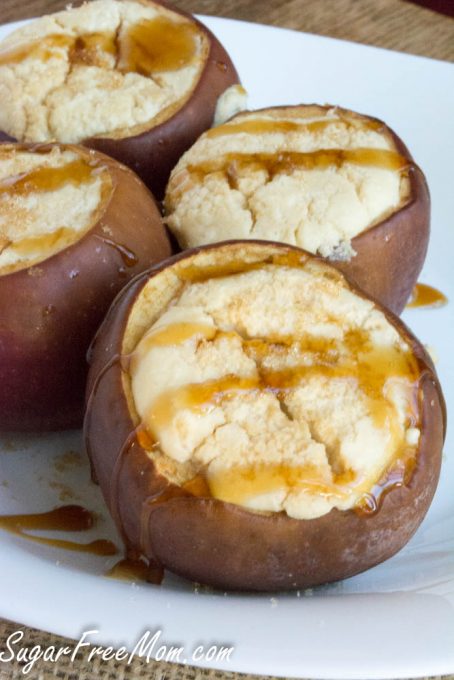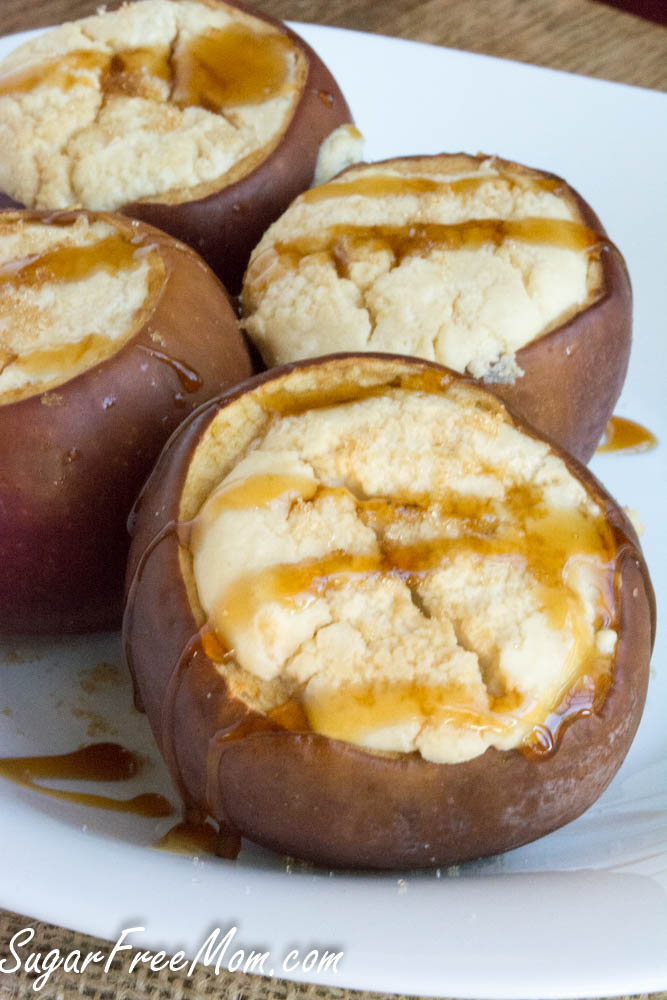 This recipe almost reminds me of a caramel apple on a stick, but my difference is the apple has been hollowed out and filled with luscious cheesecake! My kids and friends who came over ate these up with their fingers! No fork needed and they ate all of the apple as well!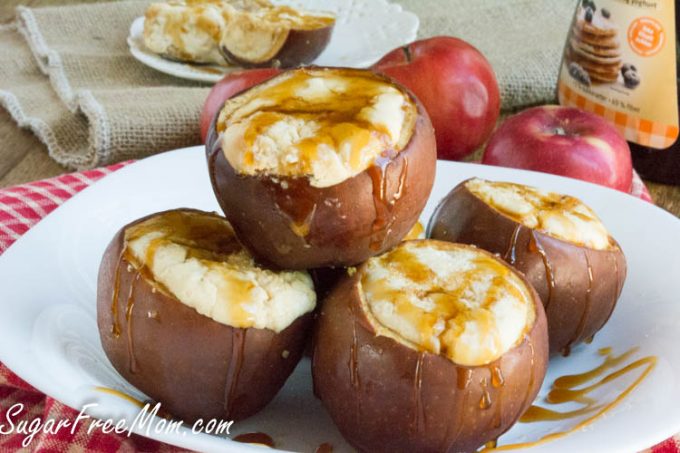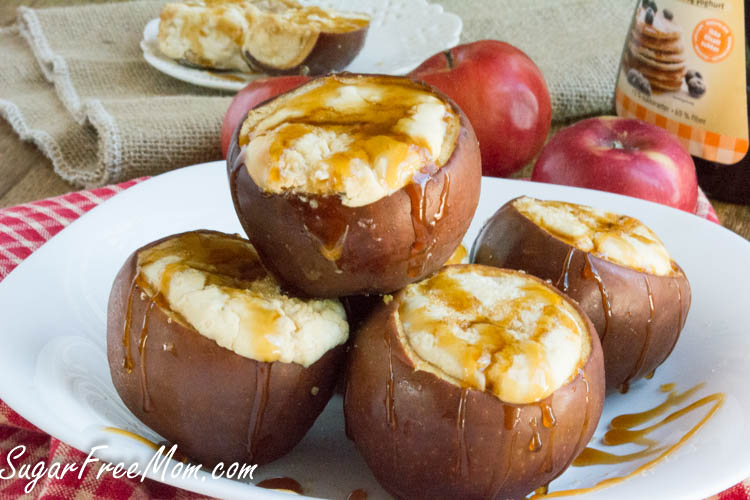 Brenda's Notes:
The first time I made this recipe I used Macintosh apples. The kids liked the soft exterior but I found them to be a bit mushy. The second time I made this I tried Red Delicious apples and the firmer apple appealed more to me then the kids. Any apple that you personally enjoy will work here.
If you don't have cinnamon steiva, add a ½ teaspoon of ground cinnamon.
If you don't have the Surkin Gold Fiber Syrup which provides the caramel flavor you might want to add another teaspoon of the maple extract I used below to add that flavor or use Lakanto Sugar Free maple syrup.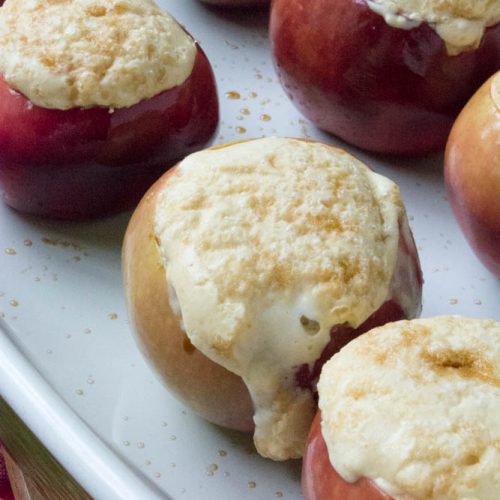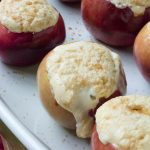 Print
Low Carb Caramel Cheesecake Stuffed Apples
Servings
8
stuffed apples
Instructions
Chop off the tops of the apples, scoop out center to ¼ inch from edges and discard. Place them in a baking dish.

Preheat oven to 350 degrees.

In a stand mixer add the cream cheese and mix until smooth.

Add remaining ingredients and mix until well combined.

Cool then refrigerate for at least 3 hours or overnight.

Enjoy with a drizzle of Surkin Gold Fiber Syrup.
Nutrition
Serving:
1
stuffed apple
|
Calories:
139
kcal
|
Carbohydrates:
9
g
|
Protein:
3
g
|
Fat:
11
g
|
Saturated Fat:
6
g
|
Polyunsaturated Fat:
0.4
g
|
Monounsaturated Fat:
3
g
|
Cholesterol:
29
mg
|
Sodium:
235
mg
|
Potassium:
98
mg
|
Fiber:
1
g
|
Sugar:
7
g
|
Vitamin A:
411
IU
|
Vitamin C:
3
mg
|
Calcium:
31
mg
|
Iron:
0.1
mg