These Easy Cinnamon Roll Muffins are made without any grains or flour and made completely keto, sugar-free, gluten free, nut free and low carb too!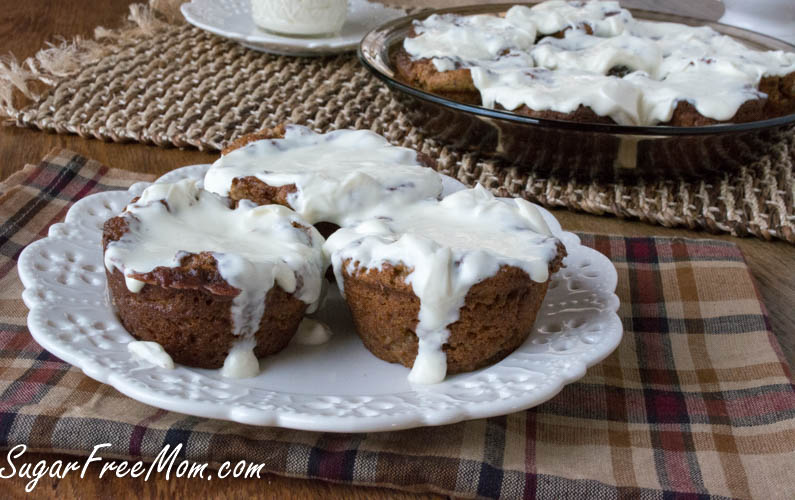 Easy Cinnamon Roll Muffins
When you ask someone who is on the standard American diet, what they will have on Christmas morning for breakfast, almost everyone would say Pillsbury Cinnamon rolls in the can. I dislike them with a passion. Hate them is a better word for it.
Good thing I have a fabulous Keto Cinnamon Roll Recipe for those of us on a low carb diet and I would dare say they taste even better than any store bought. The reviews for those rolls speak for themselves as well with many many positive comments. The only deal with them is they do require a few steps to make the dough and roll. So this recipe is a little less work but still with all the flavor of the typical cinnamon roll only in muffin form!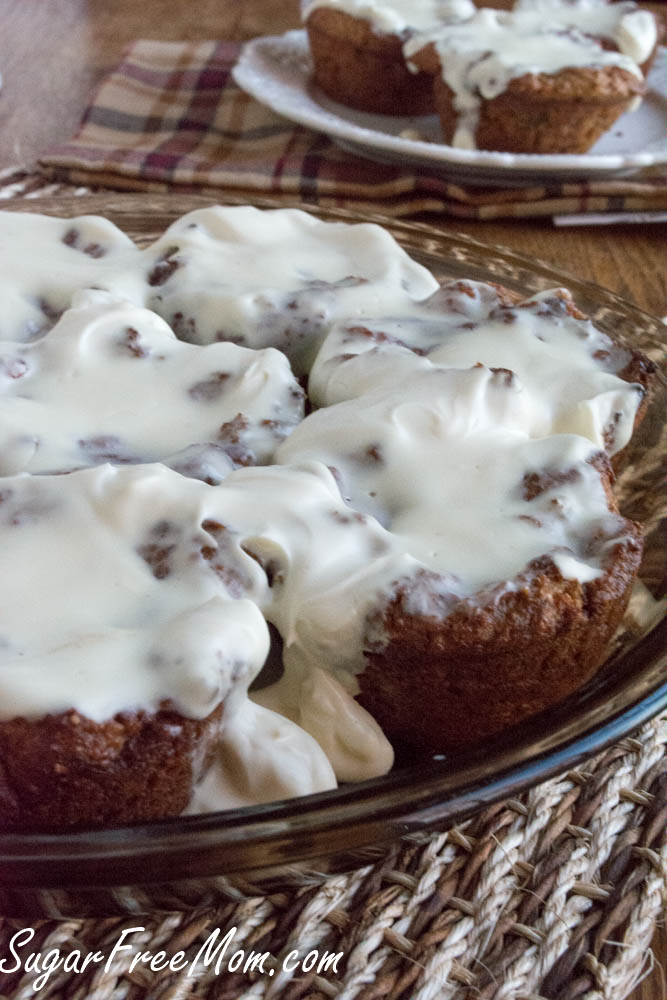 This recipe is more of a mock cinnamon roll, but once iced and covered with cream cheese frosting, no one will even notice it's not all swirled up like a typical cinnamon roll.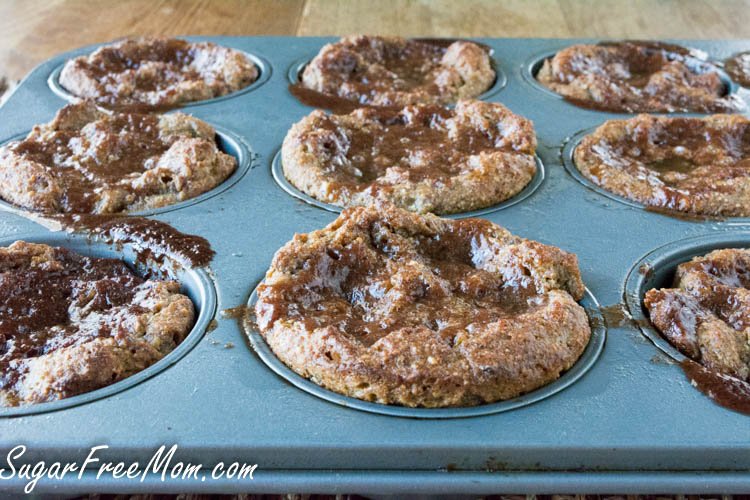 Cinnamon Roll Muffin Recipe
You could skip the icing as well as just eat them like this above with the cinnamon-y topping. But then without the icing it's just a cinnamon muffin.
You see I think it's all about the flavor. The topping and the icing makes a cinnamon roll authentic. Yes there is that minor detail for the "roll" part in the word, but whatever. I'm sticking with the much easier and less time consuming muffin.
Mix the batter, dump and bake, add the icing, DONE. Enjoy the morning with your loved ones. Easy peasy!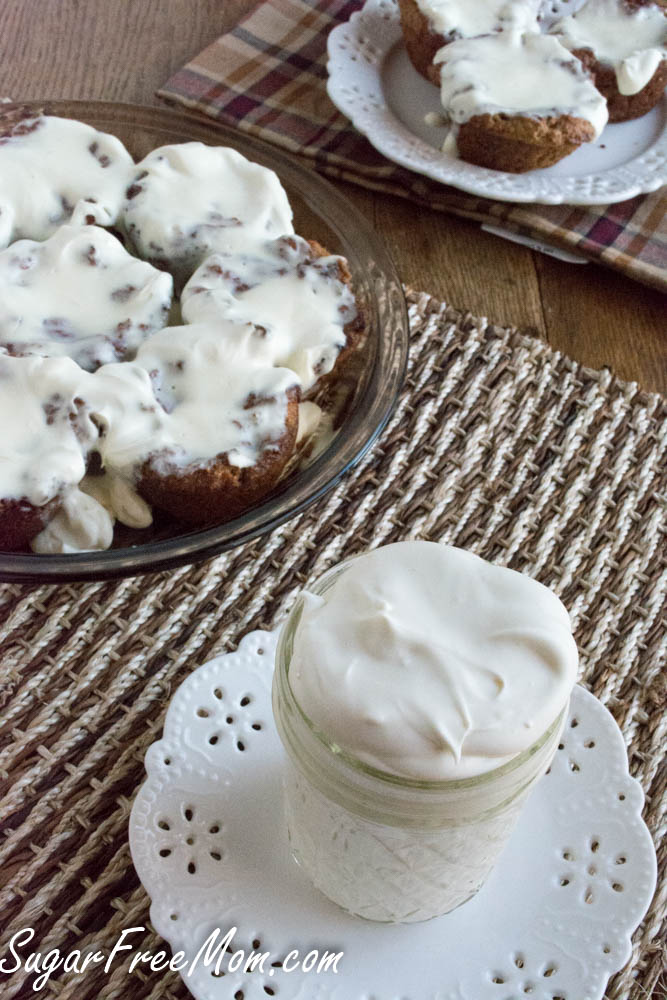 Cream Cheese Icing
I worked on the icing 3 times using different sugar free sweeteners. But I'm only sharing the one I liked the best. This icing is creamy, not gritty, just as smooth as any typical cinnamon roll frosting, but knowing it's made sugar free and keto, should leave you feeling satisfied and pleased and content.
It's so good, be careful you may just want to eat that icing with a spoon from the jar!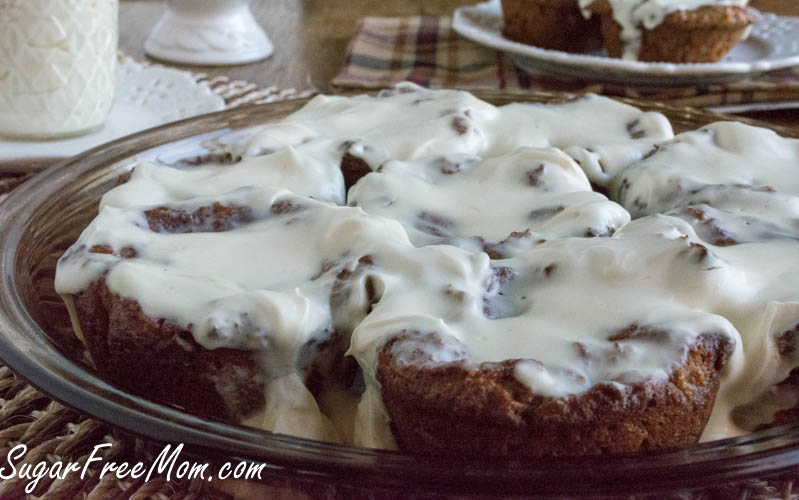 The trick to making them look more like cinnamon rolls is after baking in their own muffin cup, remove and add to pie plate! Top with icing and you're done! It's certainly no work of art to add icing gracefully. It's supposed to be a hot mess right? I think that's what everyone loves about them!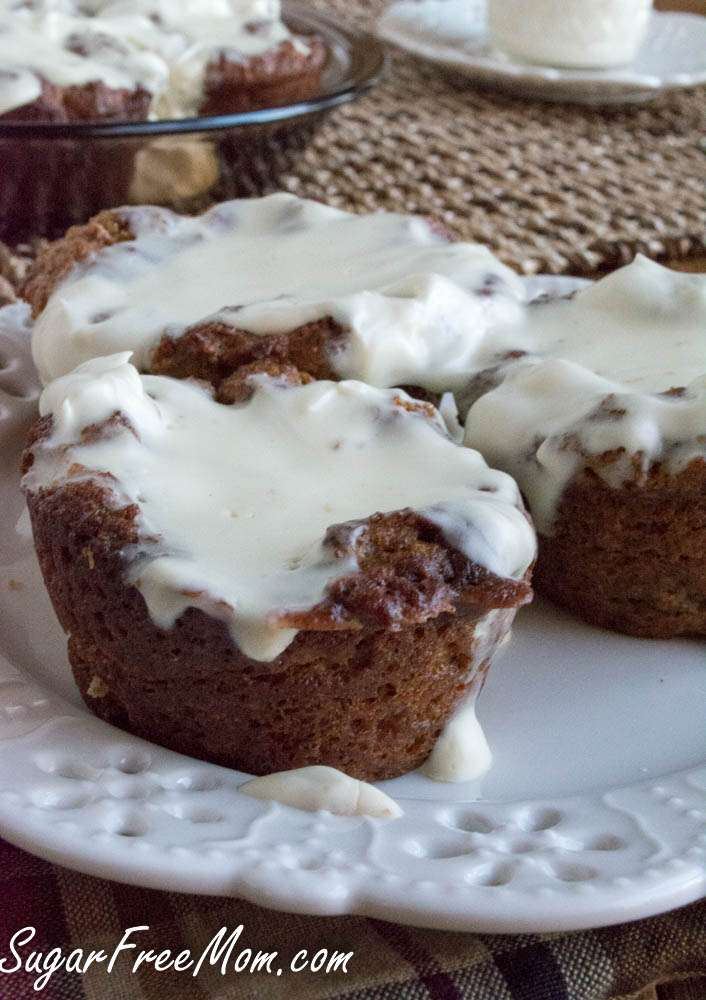 Keto Sugar Free Cinnamon Roll Muffins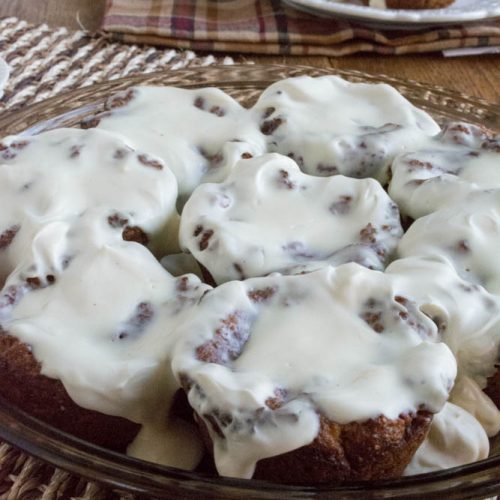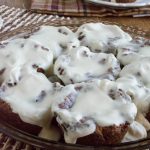 Print
Grain Free Sugar Free Cinnamon Roll Muffins
Ingredients
Topping
½

cup

Swerve

1

teaspoon

ground cinnamon

3

tablespoons

butter

softened
Optional Cream Cheese Icing
Instructions
Preheat the oven to 350 degrees.

In a small bowl add the heavy cream and apple cider vinegar. Set aside.

Whisk together the next 8 dry ingredients in a large bowl and set aside.

Add the butter, oil, eggs, syrup and ½ cup Swerve to a stand mixer and blend until incorporated well.

Add the heavy cream and vinegar into the stand mixer and blend until smooth.

Gradually pour in the dry ingredients into the stand mixer and blend until combined.

Grease a 12 capacity muffin pan and pour batter evenly into each cup.

In a small bowl stir the topping ingredients together and spread on about a teaspoon to each muffin top.

Bake 25 minutes.

While the muffins are baking , mix the icing ingredients together in a stand mixer until smooth, no lumps. Set aside until muffins are ready.

Allow muffins to cool about 5 minutes then loosen around edges with a butter knife.

Remove to a pie plate if desired to top with Icing and enjoy!

If making ahead, keep muffins and icing in the refrigerator, reheat muffins in oven at 350 for 10 minutes and add icing when ready to serve.
Notes
NET CARBS: 6g
Brenda's Notes:
This recipe was first posted on my blog in December of 2014 and updated with video in September 2018.
Nutrition info does not include the icing.
If the icing is made ahead and kept in the refrigerator you may need to allow it to get to room temperature or microwave it for just a minute.
If you don't have Swerve for the muffin part, you could use this powdered stevia, 1 tablespoon or pure stevia extract, just ½ teaspoon.
Please note: I can not use almond flour since my youngest has a tree nut allergy so I used sunflower seeds one time I made them and I've also used sesame flour, I liked the sesame flour best for the texture.
Nutrition
Serving:
1
muffin
|
Calories:
272
kcal
|
Carbohydrates:
9
g
|
Protein:
8
g
|
Fat:
22
g
|
Saturated Fat:
11
g
|
Cholesterol:
68
mg
|
Sodium:
227
mg
|
Potassium:
139
mg
|
Fiber:
3
g
|
Vitamin A:
385
IU
|
Calcium:
62
mg
|
Iron:
0.7
mg