These flourless cookies are easily adapted with any nut butter or even sunflower butter for a nut free version if you prefer. Gluten free, grain free, free of refined sugars, sweetened slightly with applesauce and some natural jam.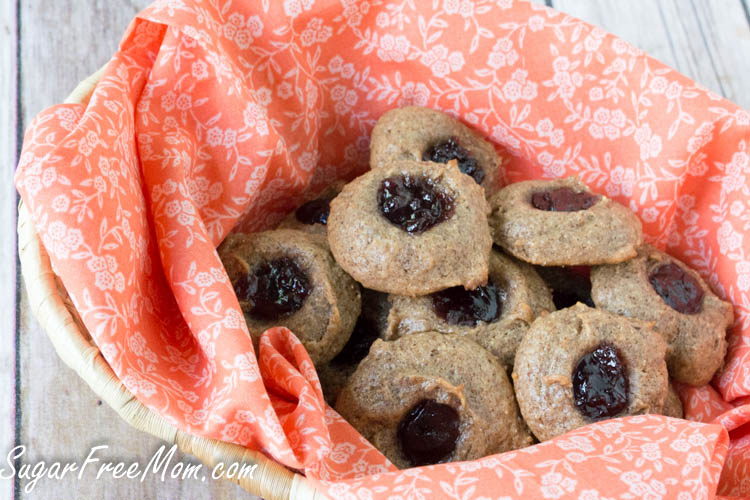 Recently I was reading the June issue of Cooking Light and saw a recipe for simple peanut butter cookies without flour. They of course contained regular white sugar as well as brown sugar. Since I haven't made a cookie recipe for the blog since Christmas I thought adapting them would be simple enough to make without sugar. Not only that but they took little time, few ingredients and are so versatile you'll be in love with them as much as I am.
Being a food blogger, a nut butter lover and a mother with children who have peanut, soy and tree nut allergies is quite the task I must say. Many low carb recipes contain almond flour which I will never use in my house for obvious reasons. But since my oldest picky teen has a peanut and soy allergy, other nut butters are still fine for him to enjoy. My hubby, my girl and myself all love peanut butter, but since the picky teen wouldn't be able to have them these pictured here are with almond butter. If using peanut butter they will have a slightly lighter color than what you see in my photos. I've made these twice now and the first time I used sunbutter which is basically sunflower seed spread. My youngest typically hates sunbutter. He would rather starve than eat a sandwich with sunbutter and jelly so he pretty much jumped off his seat with shock after eating two then asking me what they were made with to find out it was his despised sunbutter!! Quite the giggle we had!
My girl was able to try both and although no allergies to nuts she preferred the sunbutter ones. My hubby and picky teen preferred these almond butter ones and little man proceeded to enjoy a few more sunbutter ones the following day deciding that he no longer hates sunbutter, especially in these cookies.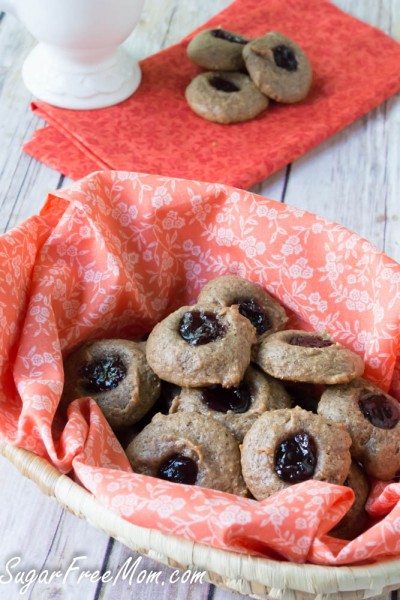 During my time at the BlogHer Food conference I met with the president of the Swerve company which makes erythritol. Despite it's difficult pronouncing name, it is a natural sugar alcohol found in food starches. When I first began eating sugar free 10 years ago I had never heard of it nor did I want to learn about it. Even 2 ½ years ago when starting my blog I was leery of this ingredient. But after reading more about it and trying out recipes using it, I'm happy to say I am loving using it! It works well to replicate the bulk that typical white sugar would provide in baking. It doesn't cause your blood sugar to spike so it's comparable to stevia in that respect. I'm still experimenting with it and adding it with stevia in my baked goods. I still love my liquid stevia, especially the vanilla stevia which just provides such a nice compliment to most baked goodies. I believe both can be used in baking with wonderful results. If you've been uncertain as to whether or not to try it, I recommend the Swerve brand of erythritol which is what I used in these cookies. They have not sponsored this post so I'm not getting paid to recommend them. I've tried another brand of granulated erythritol and the results were not as smooth to incorporate into my baked products. Swerve seems to be the most fine in texture and that's what won me over to using it.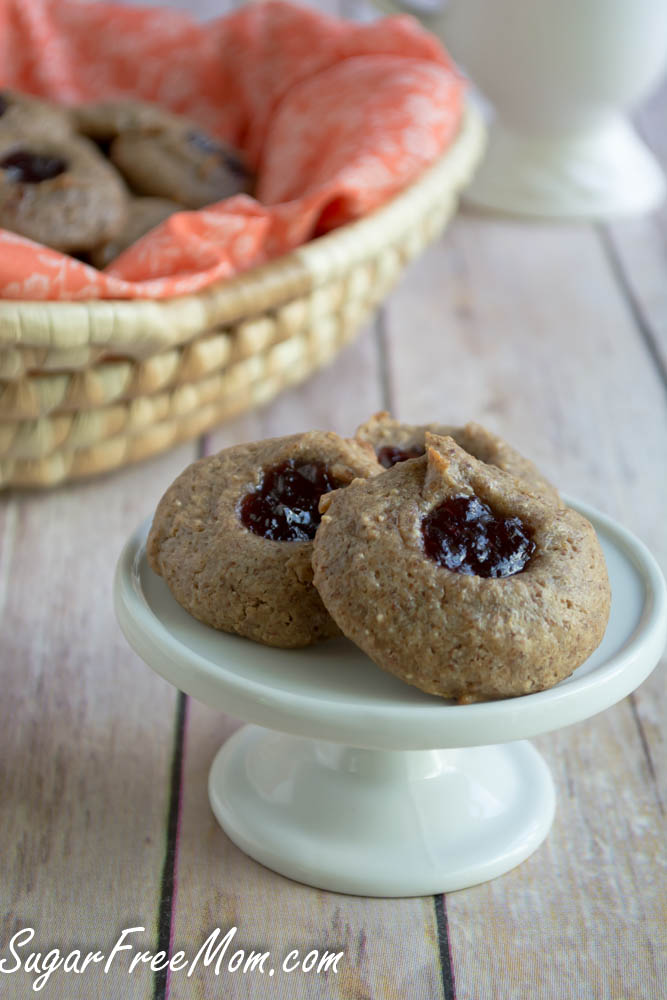 Making cookies always has been a love hate relationship with me. For someone like myself who's a foodie that is trying to maintain a healthy weight, cookies even without sugar and flour are still cookies and I have to place them out of sight or I will just overindulge. Making them when my kids have friends over or we have guests is always the safest. Otherwise I must hide them away somewhere out of sight or the inevitable will happen. I'm pretty happy that these are low in carbs because then eating safe extra than 2 won't ruin my day.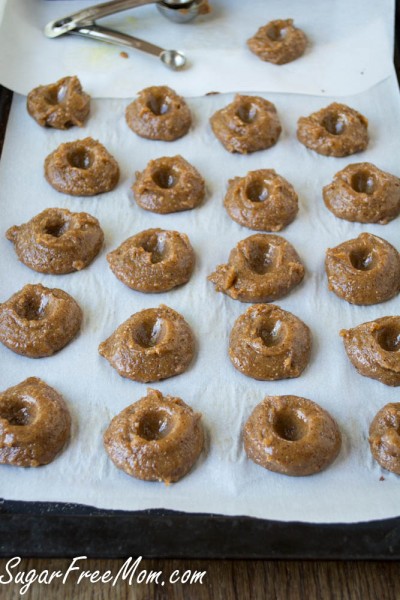 I always use measuring spoons to make cookies. The batter for these was scooped out of a round tablespoon then the indent was the bottom of a ¼ teaspoon. You could certainly add chocolate instead of jam or jelly if you like.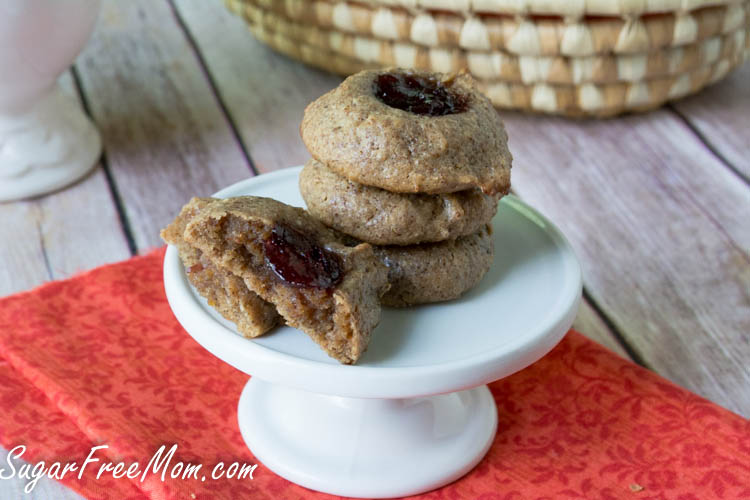 Once baked and cooled I was thrilled no jelly really spills anywhere so traveling or packing them is not a problem.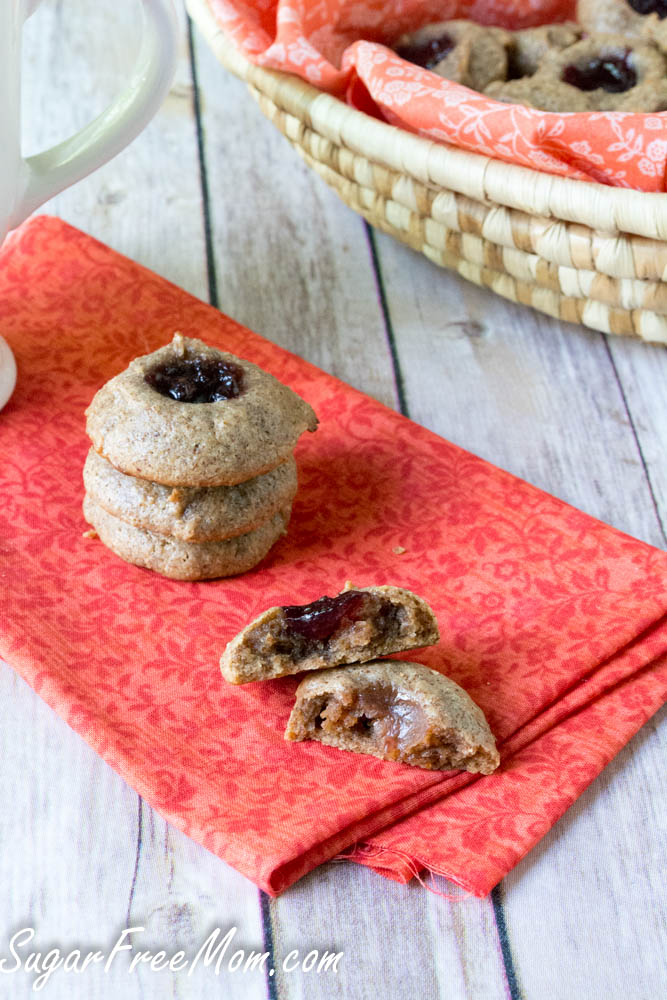 I think this is the perfect allergy friendly type cookie when using the sunbutter. If you do know someone who have an allergies to apples I would suggest replacing it with honey or more erythritol.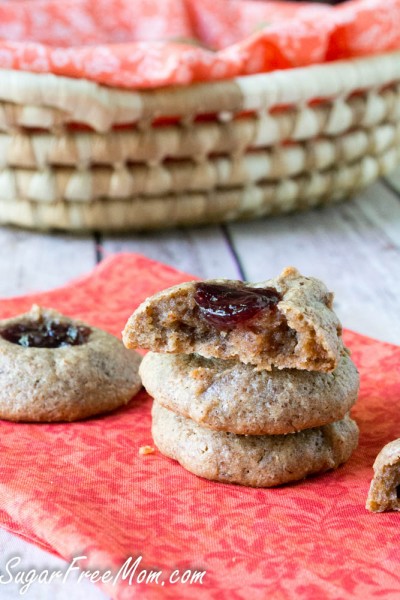 Soft and moist and perfect for picnics!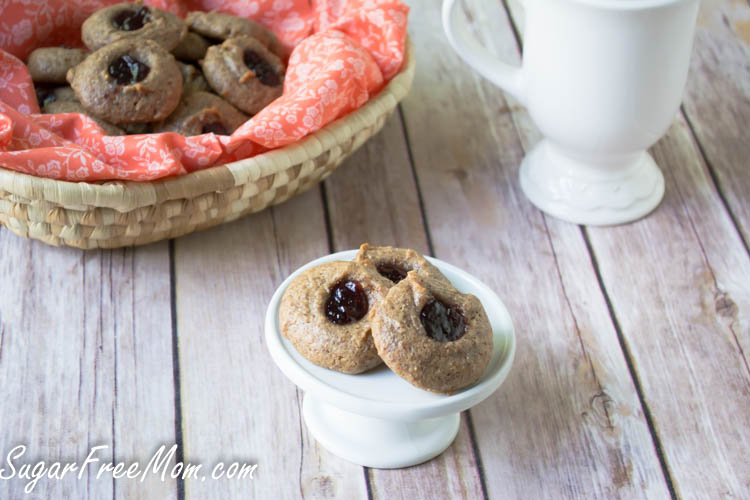 Since little mans tree nut allergy has gotten worse with exposure in products manufactured in a facility that processes tree nuts and peanuts, cookies and I will just have to make peace. I was purchasing cookies from Whole Foods and Trader Joes but with some recent scary reactions he has had, that is out of the question now. Did you know that companies are legally held accountable by the FDA to share if tree nuts and peanuts are IN the product, BUT they have a CHOICE whether to tell us if the product has been manufactured in a facility that also processes tree nuts and peanuts on shared equipment!! Isn't that ridiculous? I learned that at an allergy friendly workshop at BlogHer Food last weekend.
Quick cookies that can be made in under 20 minutes, allergy friendly, safe to take to schools or parties and so versatile you can use whatever nut butters or non nut butters you like is a recipe that will be a staple in my home from now on. 🙂
Brenda's Notes:
You can literally substitute any nut butter you like or sunbutter for nut free.
You could replace the erythritol with honey if you prefer.
If someone has an allergies to apples, replace it with more erythritol or honey.
If you skip the liquid stevia here, these will be only be slightly sweet.
If you don't have liquid stevia you can use pure extract, just ¼ teaspoon would be all you need here.
If you only have packets of stevia, I would suggest 4.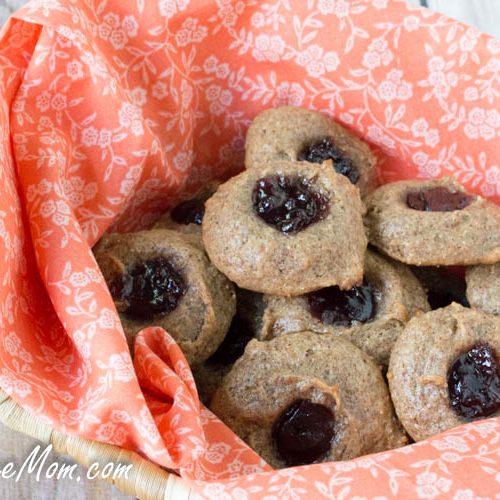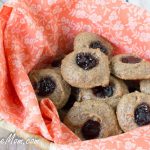 Print
Flourless Peanut Butter & Jelly Cookies
Ingredients
¼

teaspoon

salt

1

egg

¼

cup

erythritol

I used Swerve

½

teaspoon

liquid vanilla stevia

1

cup

unsweetened peanut butter or choice

¼

cup

unsweetened applesauce

5 -¼

teaspoons

all natural jam or jelly

divided (I used Polaner)
Instructions
Preheat oven to 350 degrees.

In a bowl whisk the salt and egg together then add the erythritol and stevia until combined well.

Stir in the nut butter of choice and applesauce until completely incorporated.

Using a tablespoon, scoop out batter into mounds on a parchment lined baking sheet. (Should make 20-21 mounds)

Spray the outside bottom of a ¼ teaspoon measuring spoon with nonstick cooking spray and push the bottom into the center of each cookie to create an indent for the jam.

Using the same ¼ teaspoon, spoon jam into each cookie in the indent you made.

Bake for 10 minutes, let cool slightly then transfer to cooling rack.
Notes
Net Carbs for 2 cookies: 5.1g
Nutrition
Serving:
2
g
|
Calories:
160
kcal
|
Carbohydrates:
7.4
g
|
Protein:
6.7
g
|
Fat:
12.6
g
|
Saturated Fat:
1.6
g
|
Cholesterol:
17
mg
|
Sodium:
107
mg
|
Fiber:
2.3
g
|
Sugar:
2.3
g