I must confess, until I started following some great blogs about freezer cooking, I never did it much at all. Oh there was the occasional meal I often doubled like meatballs or meatloaf and froze, but I never had a cooking day devoted to freezer cooking meals for the week or month ahead.
My sister-in-law was the one who motivated a very big freezer cooking marathon day last weekend and boy am I ever so glad she was with me to do it all. But the benefits of a little extra cooking one day a week or even once or twice a month will save you an enormous amount of time during the week. Of course the benefit of cooking healthier meals at home is the key to losing weight and more importantly at this point in my life anyway, keeping it off!
My sister-in-law bought about 5 lbs of chicken breast, 16 chicken thighs, 3 lbs of ground hamburger, and 4lbs of ground turkey. We made up some easy meals and baked everything in the same oven at the same temp and it was all done within an hour! The prep time took about an hour, but for that amount of time, this is what we now have in our freezer:
16 seasoned cooked chicken thighs
2 cooked meatloaves (We could have made 2 more but decided to just freeze the rest of the meat)
24 large, cooked turkey meatloaf muffins
2 ½ pounds of sliced, seasoned cooked chicken breast
18 chicken burrito's individually wrapped for easy reheating.
It's very simple to prepare the chicken breast to make the burrito's. All you need is 2 casserole dishes, 9 x 13, and slice the breasts. Lay them in the dish sprayed with some nonstick cooking spray, some overlapping is fine. We used one bottle of Italian Greek dressing (no added sugars) and poured half the bottle over one dish then the other. Bake at 350 degrees for an hour. I should mention I was inspired to make the burrito's because of the wonderful Money Saving Mom who has some fantastic ideas about freezer cooking.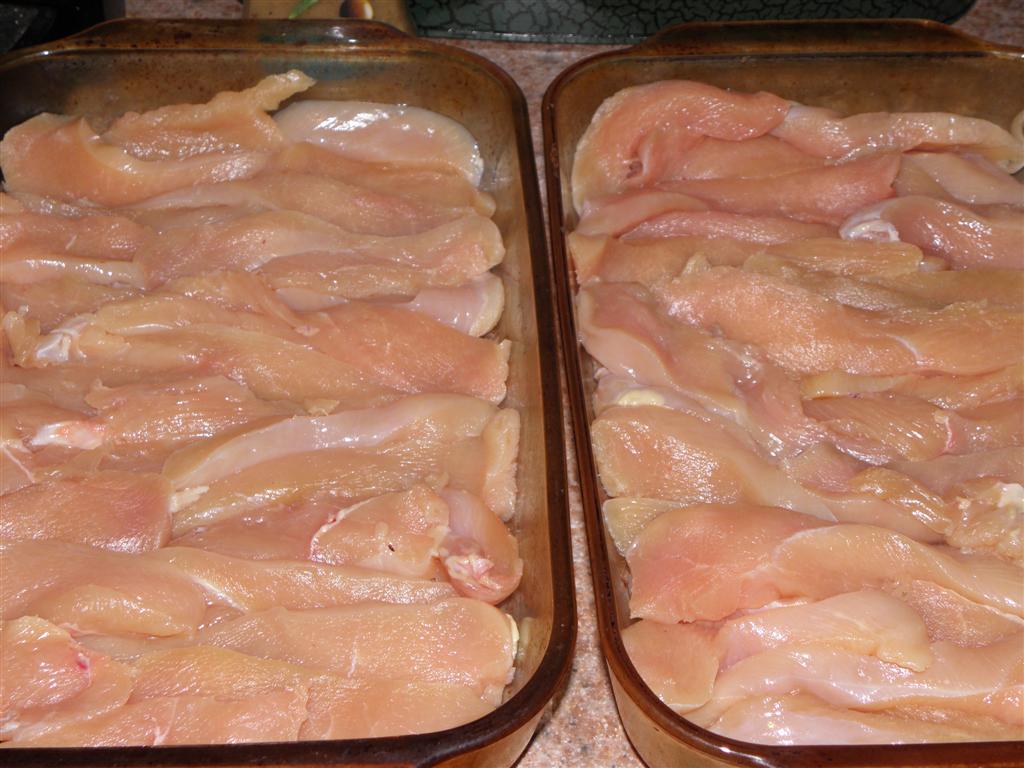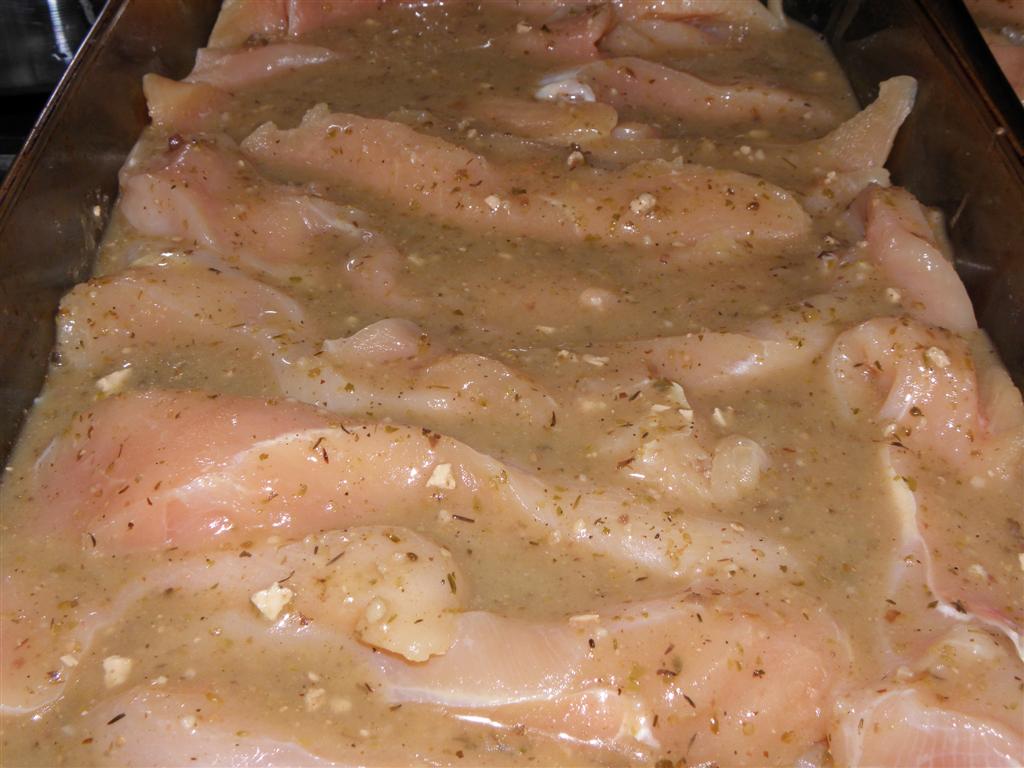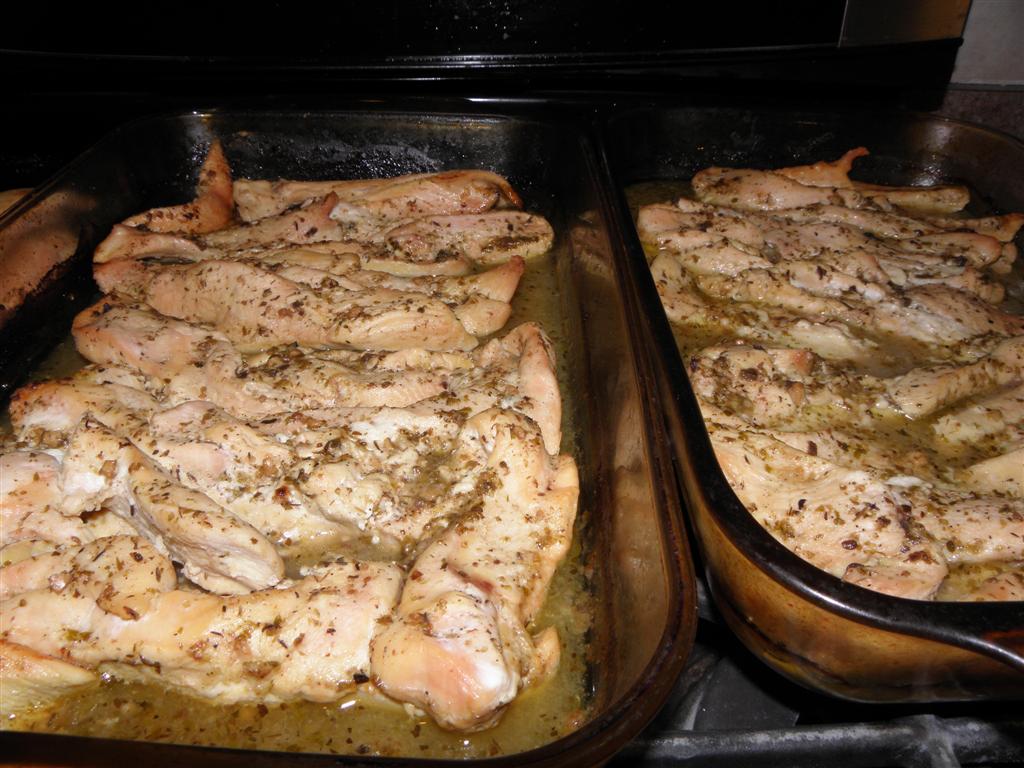 We cut the chicken into smaller bite size pieces and simply placed some chicken on a tortilla then added about ¼ c. cheddar cheese and folded them up. Of course, you could add some nice veggies like onion, peppers, and/or re-fried beans if you like, but my kids just wanted it plain with cheese.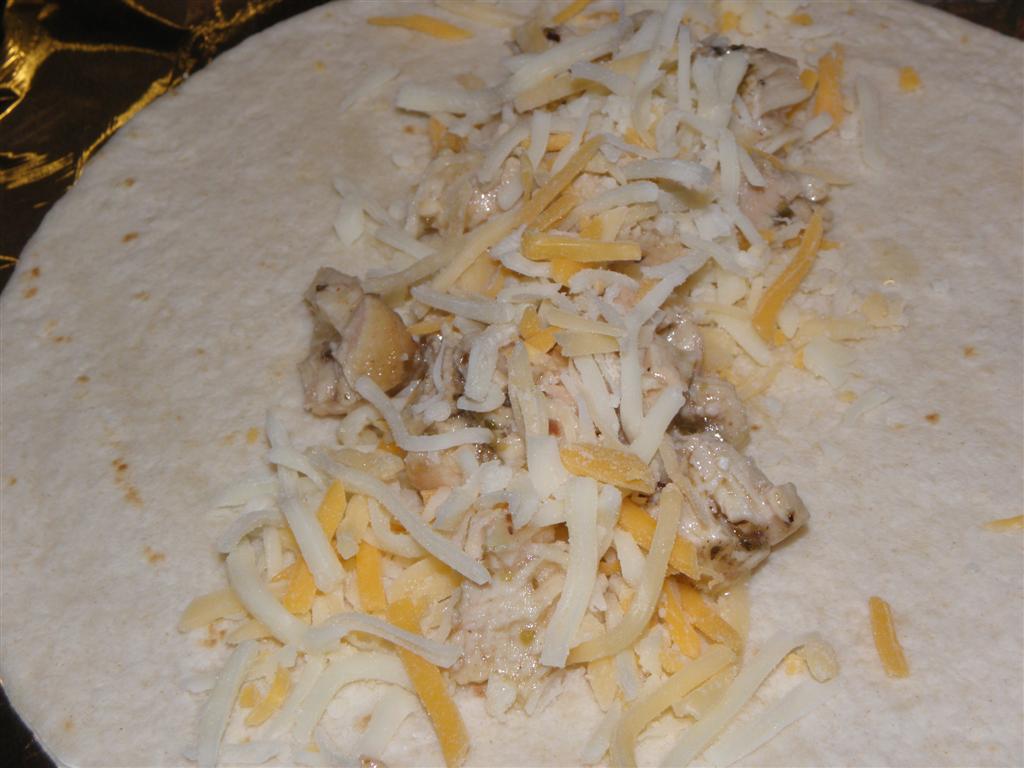 We wrapped them individually with aluminum foil and placed them in a Ziploc gallon bag.To reheat, I thawed them the night before, took them out of the foil and rolled them up in a paper towel. Microwaved them for about a minute to warm them through and melt the cheese. They were perfect!
Ok I've got some interesting Nutrition facts for you as I was interested in how much of a difference using different tortillas would make. Hubby and kiddies wouldn't budge on using anything other than white flour tortillas! I can't seem to convert them to switch to whole wheat, but they do eat whole wheat bread at least. SO I made my own using low carb, whole wheat tortilla's. You will notice what a HUGE difference in using a healthier tortilla makes when you read over this info for one single burrito! These are all with ¼ c. shredded cheddar and 2 oz. chicken breast in each, not counting re-fried beans or any veggies either. Not only do you reduce your fat by more than half, you increase your fiber as well! If that doesn't win you over to convert to whole wheat I don't know what can. Just sayin'!
Nutrition Info for one White Flour Burrito:
Calories: 368* Fat: 15g* Fiber: 1g* Carbs: 36g* Protein: 21g* Points+: 10* Old Points: 8
Nutrition Info for one Whole Wheat Burrito:
Calories: 241.2* Fat: 5.7g* Fiber: 4g* Carbs: 24.5g* Protein: 24g* Points+: 6* Old Points:5
Nutrition Info for one Low-Carb Whole Wheat Burrito:
Calories: 201.2g* Fat: 5.4g* Fiber: 8.4g* Carbs: 14.5g* Protein: 27.2g* Points+: 5 Old Points: 4
Ingredients
2 ½ pounds boneless chicken breast, sliced like tenders
bottle of Italian dressing of choice
package of tortilla's of your choice
package of shredded cheddar cheese
optional: cooked sweet peppers, onions, mushrooms, re-fried beans
Directions
Preheat oven to 350 degrees.
Place sliced chicken breast in a 9 x 13 baking dish. Cover the chicken with half the bottle of dressing. If you have up to five pounds of chicken breast and using another baking dish use the rest of the dressing on that chicken.
Bake for 1 hour until chicken is cooked through and no longer pink when sliced.
Chop up the chicken when done and lay 2 oz. of chicken on a flat tortilla under a piece of aluminum foil if you are freezing them. Place ¼ c. shredded cheese on top of the chicken and any other optional ingredients. Fold lengthwise, then fold the two ends and fold over final piece lengthwise.
2 ½ pounds of chicken makes about 18 tortilla's.