These Sugar-Free Keto Copycat Tagalong Girl Scout Cookies are easy to make at home and taste just as good as traditional sugar filled Tagalongs! Read my best tips below for fail proof keto Tagalong cookies!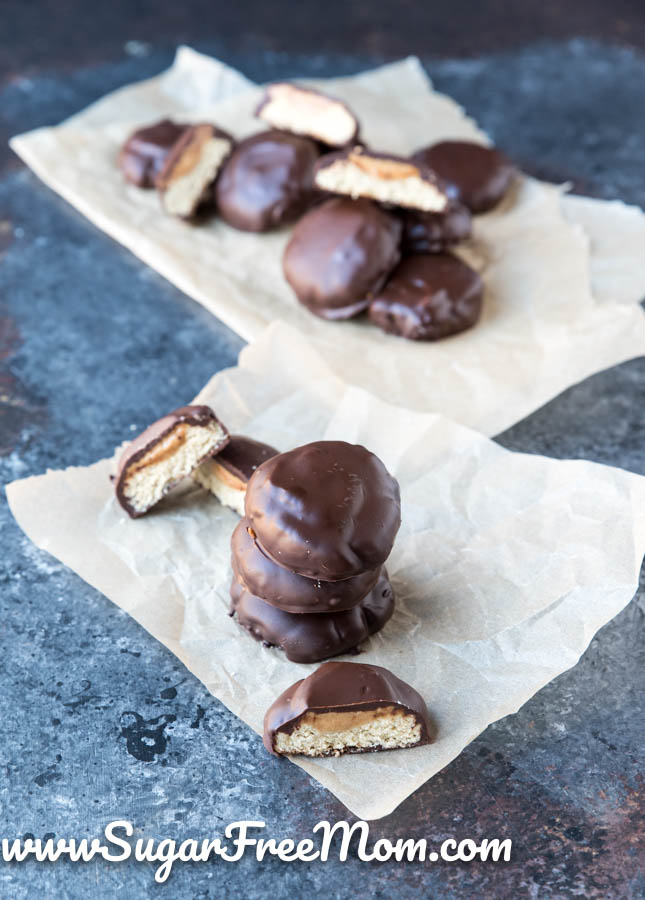 KETO HOMEMADE TAGALONG COOKIES
Tagalong cookies or Peanut Butter Patties, whatever name you prefer to use, are delicious vanilla flavored cookies layered with peanut butter and covered in chocolate. The Girl Scouts made them popular and are still one of their top 3 selling cookies, after Thin Mints and Samoas.
Today I am sharing my Keto Tagalong version that can easily be made at home and won't leave you feeling like your missing out on all the goodness of those infamous Girl Scout cookies!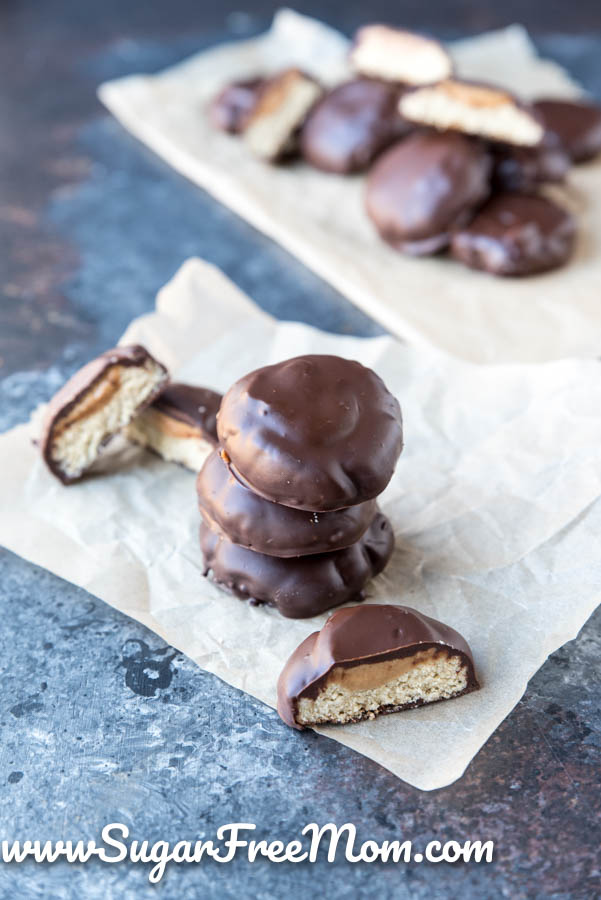 TIPS FOR SUGAR FREE KETO TAGALONGS
When you start with a fantastic sugar free, low carb cookie as the base for these keto tagalongs, you can easily make these at home. I felt that my keto thumbprint cookies would work best for this recipe because of the fact, you are making an indent in the center to fill with jam. Easy enough to make those cookies then swap out the jam for the peanut butter filling.
Be sure to try and make the indent in the center of the cookie, shallow and wide so that the peanut butter filling is spread over most of the cookies, but not to the edges.
Allowing the cookies to cool completely will make them less likely to crumble and they will be more able to handle the weight of the peanut butter.
Do not skip the step to freeze the cookies after adding the peanut butter filling or the melted chocolate coating will eat up that peanut butter causing it to fall off the top of the cookies.
Do not flip your cookie over in the melted chocolate when coating them. This will cause lumps and bumps. Follow my instructions below when coating and just lay the bottom of the cookie in the melted chocolate and spoon over the top of the cookie. Lift gently with a fork underneath the cookie and tap gently to remove excess chocolate and allow the melted chocolate to run down over the top and edges perfectly.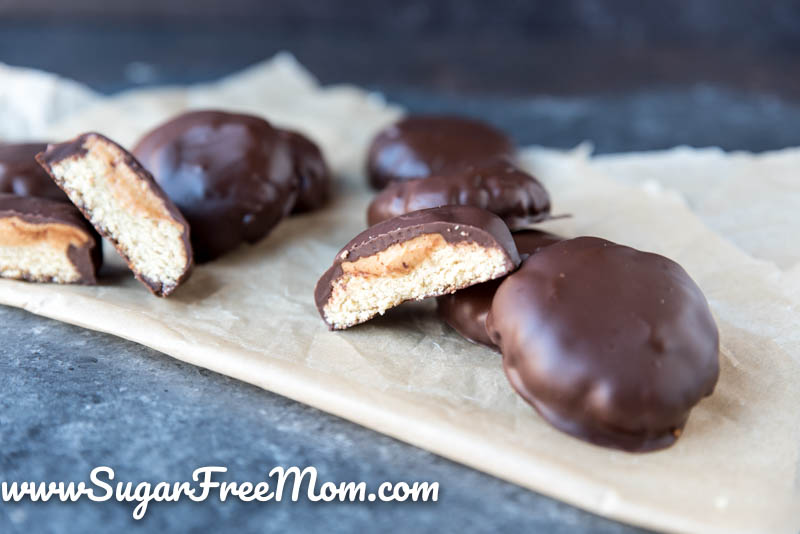 CAN YOU USE ANOTHER COOKIE BASE?
Of course! My keto cookie base for this recipe was created for my Easy Keto Thumbprint Cookies and is super delicious. Another recipe that would work really great as a cookie base for these Keto Tagalongs is my Keto Vanilla Wafers recipe. If you remove the lemon from these Keto Air Fryer Lemon Slice & Bake Cookies, that would work as well.
CAN YOU REPLACE THE PEANUT BUTTER?
Absolutely you can replace peanut butter in these keto Tagalong cookies! Whether you have an allergy to peanut butter or just don't like peanut butter, feel free to swap with any nut butter of choice. Macadamia nut butter would be the lowest in carbs, but almond butter would also be fantastic in these homemade keto tagalong cookies! You could also use Sunbutter which is sunflower seed butter and a great tree nut and peanut alternative. Use the links provided as these are the ones without added sugars.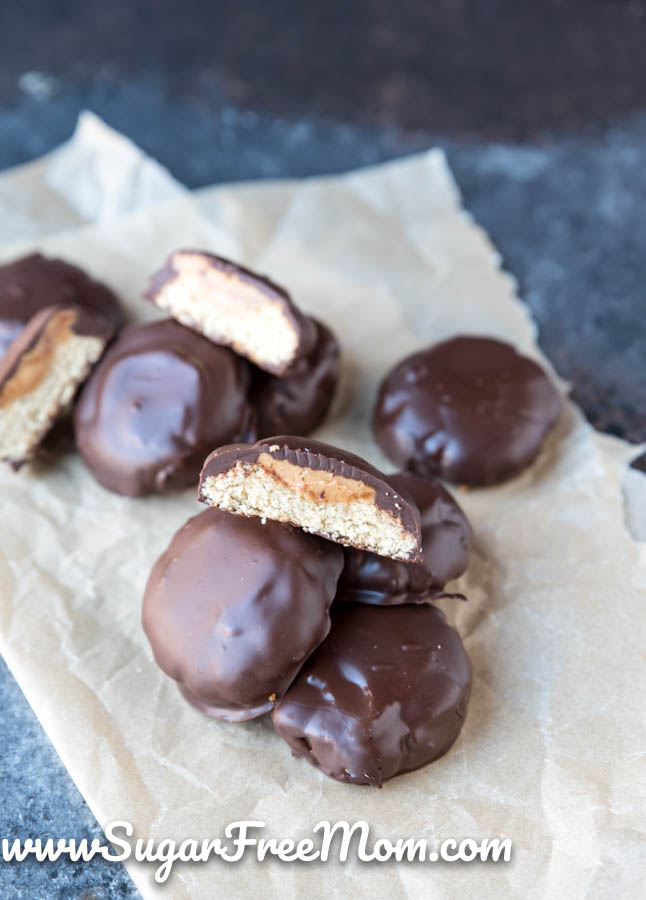 SUGAR FREE CHOCOLATE CHIPS
There are many brands of sugar free chocolate chips out on the market today. Unfortunately many contain unhealthy, artificial ingredients that can cause a lot of stomach and GI distress in the body. Make sure to avoid Sorbitol, and Maltitol because both will wreak havoc on your digestion, especially if you consume a few too many chocolate chips. The brands that do not contain those sugar alcohols are Lily's Sweets Sugar Free Chocolate Chips , Luv and ChocZero chocolate chips which actually uses Monk Fruit to sweeten.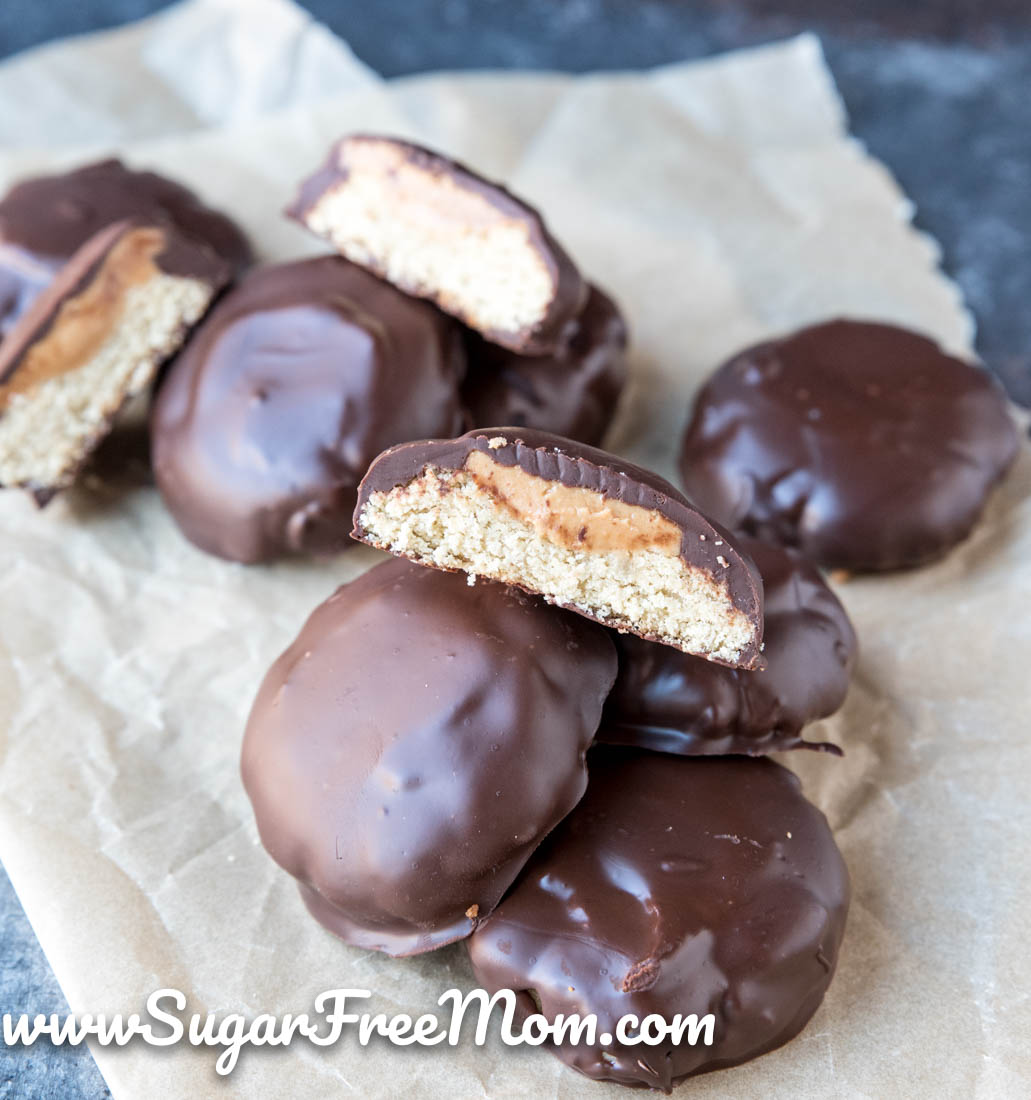 LOW CARB SWEETENER OPTIONS
You can really use any sweetener you like, to taste, for the peanut butter filling of these tagalong cookies. For the cookie base, you can certianly swap out any granulated or confectioners low carb sweetener that you prefer. One of our newer favorite low carb sweeteners that doesn't leave an aftertaste, is Better than Sugar by Sweetleaf. They have a confectioners powdered sweetener which would be best for this recipe and they also have a granulated option. It's a combination of erythritol and stevia and has plenty of sweetness as sugar would provide. Swerve confectioners sweetener is also low carb, but doesn't have as much sweetness and you may need to use a bit more to get this as sweet as you like. Allulose would be another option, but again it isn't as sweet as using the Better than Sugar sweetener. Allulose comes in a liquid, which would probably work best in the filling of these keto tagalongs, but it also comes granulated if you prefer.

SUGAR FREE KETO TAGALONG COOKIES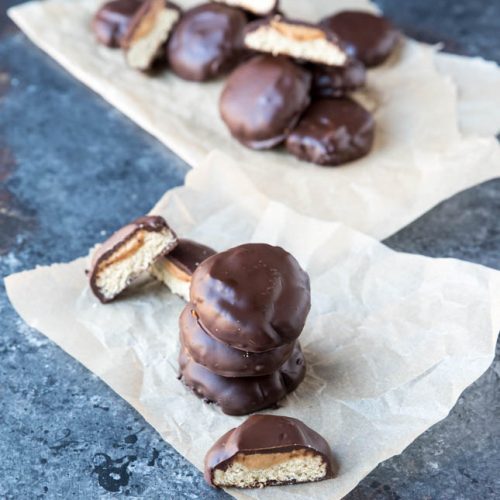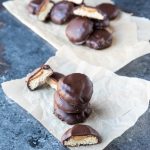 Print
Sugar Free Keto Tagalong Cookies (Gluten Free, Low Carb)
Instructions
Make the recipe for the Thumbprint cookies but do not add any filling in step 5. Once out of the oven, allow to cool completely before proceeding.

Mix the filling ingredients together and taste and adjust sweetener as needed. Fill the 18 cookies with about a teaspoon of the peanut butter filling. Freeze for 30-60 minutes, or until the peanut butter is frozen and no longer wet to the touch.

Combine the coating ingredients together in a shallow bowl and melt for 30 seconds intervals in the microwave, (of course you can also melt on the stove over low heat if you prefer) stir until smooth and no lumps of chocolate are visible.

Remove the frozen cookies and place one at a time into the melted chocolate. Spoon the chocolate over the top of the cookie. Use a fork to lift the cookie out of the chocolate and gently tap the fork on the side of the bowl to allow the chocolate to flow over the sides while removing excess from the bottom of the cookie. Place back onto parchment lined baking pan. Once all the cookies have been coated, place pan in the fridge to set for about 30 minutes.

Storage: Best if kept in the refrigerator in an airtight container for up to 7 days.
Nutrition
Serving:
1
cookie
|
Calories:
141
kcal
|
Carbohydrates:
4
g
|
Protein:
3
g
|
Fat:
10
g
|
Saturated Fat:
5
g
|
Trans Fat:
1
g
|
Cholesterol:
19
mg
|
Sodium:
49
mg
|
Potassium:
3
mg
|
Fiber:
1
g
|
Sugar:
1
g
|
Vitamin A:
15
IU
|
Calcium:
1
mg