Keto Chocolate Toast Crunch Cereal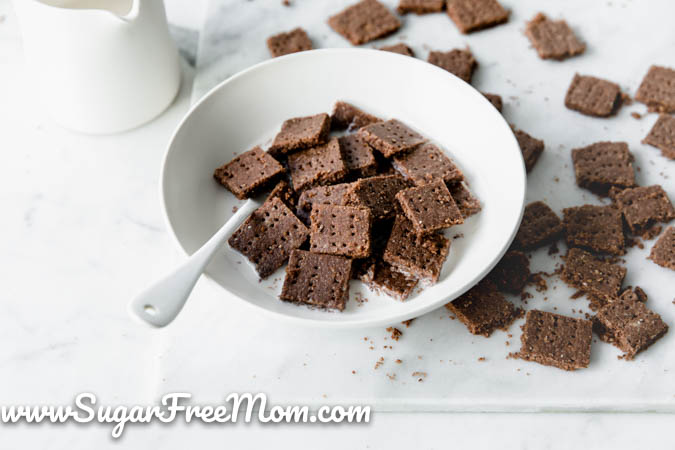 Keto Chocolate Cereal
Cereal on a keto diet? If you're new to keto, you may be thinking, it's not possible to enjoy cereal on a ketogenic diet. But today this recipe will rock your world! It's like Cinnamon Toast Crunch Cereal but in Chocolate Flavor and made with keto ingredients like almond flour, ground flax, chia and a keto approved sweetener.
Planning ahead is the key to sustaining a ketogenic lifestyle. If you know you've always loved cereal and quite miss it, this recipe is for you! Make it on the weekend, package it up into appropriate serving sizes and enjoy all week long!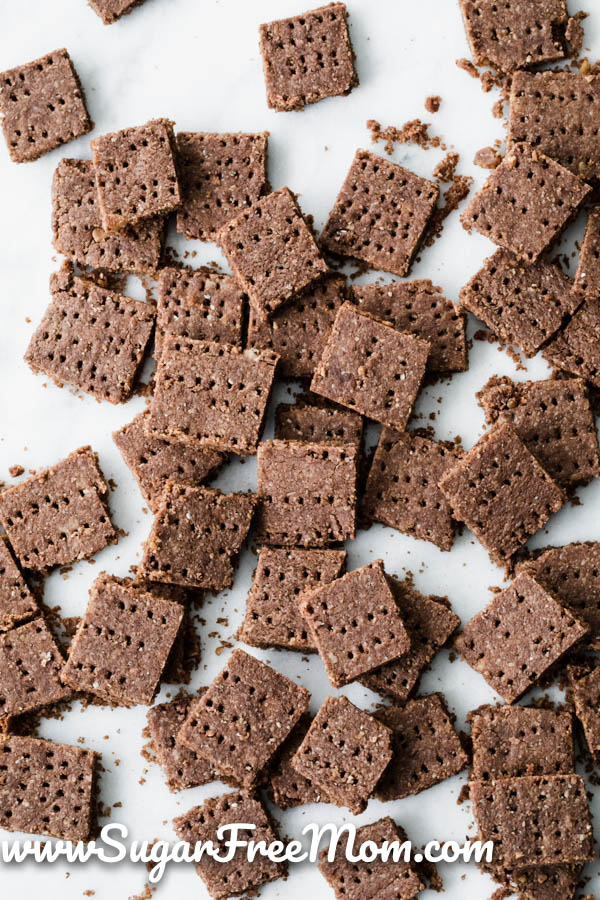 Chocolate Toast Crunch Cereal
This crunchy chocolate toast cereal is everything you hope it will be. Perfect with some cold nut milk and satisfying to enjoy any morning of a busy week or even just as an afternoon snack. When I can call a recipe with chocolate in it, a meal, especially a breakfast meal, I am one happy woman! I love my chocolate and you shouldn't have to ever feel deprived on a keto diet. It's not about deprivation, but instead just keto-fying carb filled recipes from your past you used to love. While of course it won't taste exactly like your sugar and carb cereal you used to enjoy, it's a pretty close alternative without any of the guilt!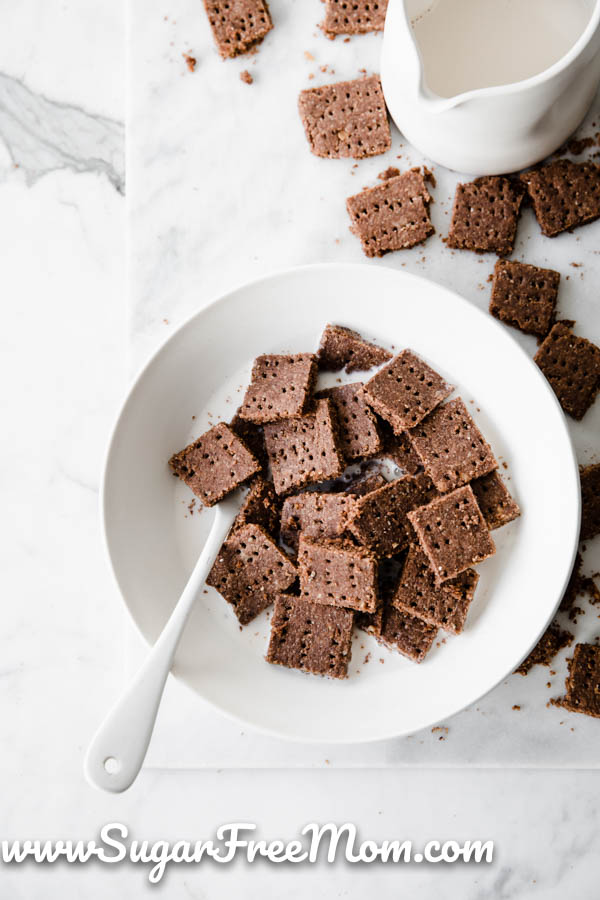 Keto Make Ahead Cereal
I can't tell you it's a very quick recipe in the kitchen to make this, it will be worth it when you have 8 servings for the rest of the week. Like I said, prep it on the weekend, package it up for easier grabbing in the morning. Don't have time for a bowl with milk? No problem, and take it to go in a container, more like granola and add some nuts if you want.
I don't have many cereal recipes on my blog as I often don't eat breakfast and prefer to fast or enjoy my Bulletproof Coffee. But if you're craving oatmeal, this keto hot cereal will be a winner for you.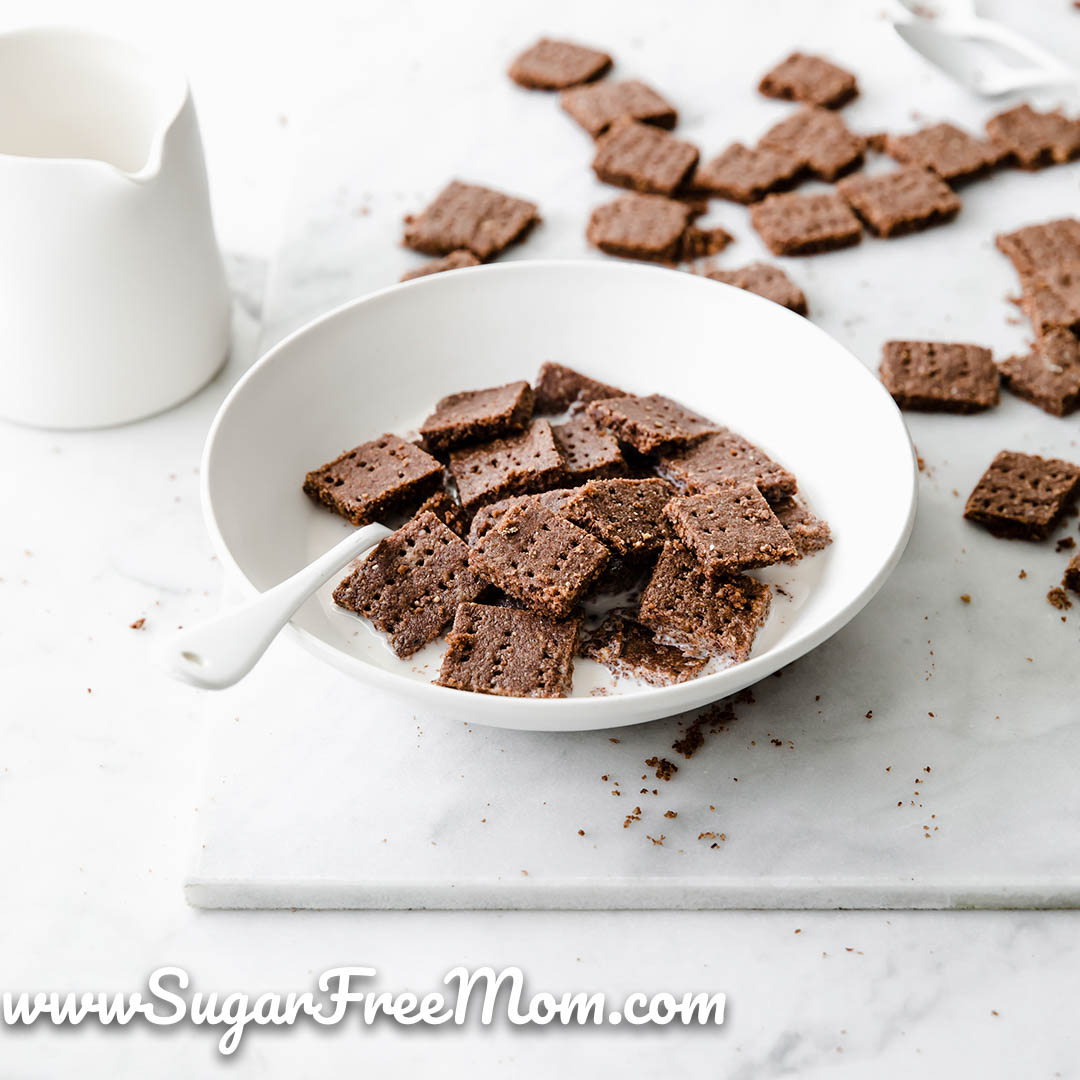 Meal Planning
If you love meals like this for yourself and family, you might be interested in my meal planning membership. Weekly low carb keto dinner meal plan sent to your inbox every Friday with shopping list. The best part about my meal planning feature is that if you aren't interested in one of the dinner meals you can swap it out for something else! You can even change serving sizes and the shopping list will adjust! It pretty amazing software and I hope you'll take advantage of it. You can have a sustainable low carb/keto lifestyle when you're well prepared and planning meals is the key! LEARN MORE TODAY!
Keto Chocolate Toast Crunch Cereal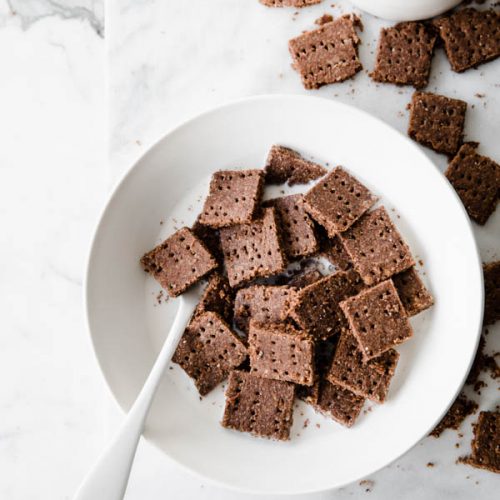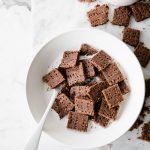 Print
Keto Chocolate Toast Crunch Cereal
Instructions
Preheat the oven to 315 degrees F.

Mix all the dry ingredients together in a large bowl.

Add the oil (reserving about 1 tablespoon to brush on top,) almond butter and almond milk. Mix to form a dough. Place in the fridge to chill for an hour or freezer for about 20 - 30 minutes (just so it firms up but not freezes.)

Split the dough in half and warm the dough in your hands slightly so it forms two balls. Roll one ball between two sheets of greaseproof paper or use a silicone matt and rolling pin. Fold over the edges to make a rectangle and re roll to about ⅓ cm in height.

Using a fork gently make lots of surface pricks in the dough. Try not to pierce all the way through as this makes the dough more fragile.

Repeat for the other piece of dough.

Bake in the oven for 20 - 25 minutes until golden.

Allow to fully cool (this is important) and then using a sharp knife cut into 1 inch rectangles. You will get some crumbly bits, best bits I think because they soak up all the yummy milk! You can experiment with adding a little xanthan gum if you prefer, I just wanted to keep this version as clean as possible.

If you cut into 1 inch squares, you should get 120 squares on one rolled out sheet of dough. One sheet of dough is divided into 4 servings, about 30 pieces each.

Store in a glass jar for 3-5 days.
Nutrition
Serving:
1
serving
|
Calories:
282
kcal
|
Carbohydrates:
9
g
|
Protein:
7
g
|
Fat:
26
g
|
Saturated Fat:
9
g
|
Sodium:
73
mg
|
Potassium:
62
mg
|
Fiber:
5
g
|
Sugar:
1
g
|
Calcium:
99
mg
|
Iron:
1.3
mg
Jo is the creative food photographer and stylist behind the healthy eating blog, Modern Food Stories. Jo's a testament that once you find the right approach for you, you can overcome chronic illness through the healing power of food. She believes the secret to radiant health starts and ends with a healthy gut so all her recipes are grain, gluten and refined sugar free. Many are also dairy-free.