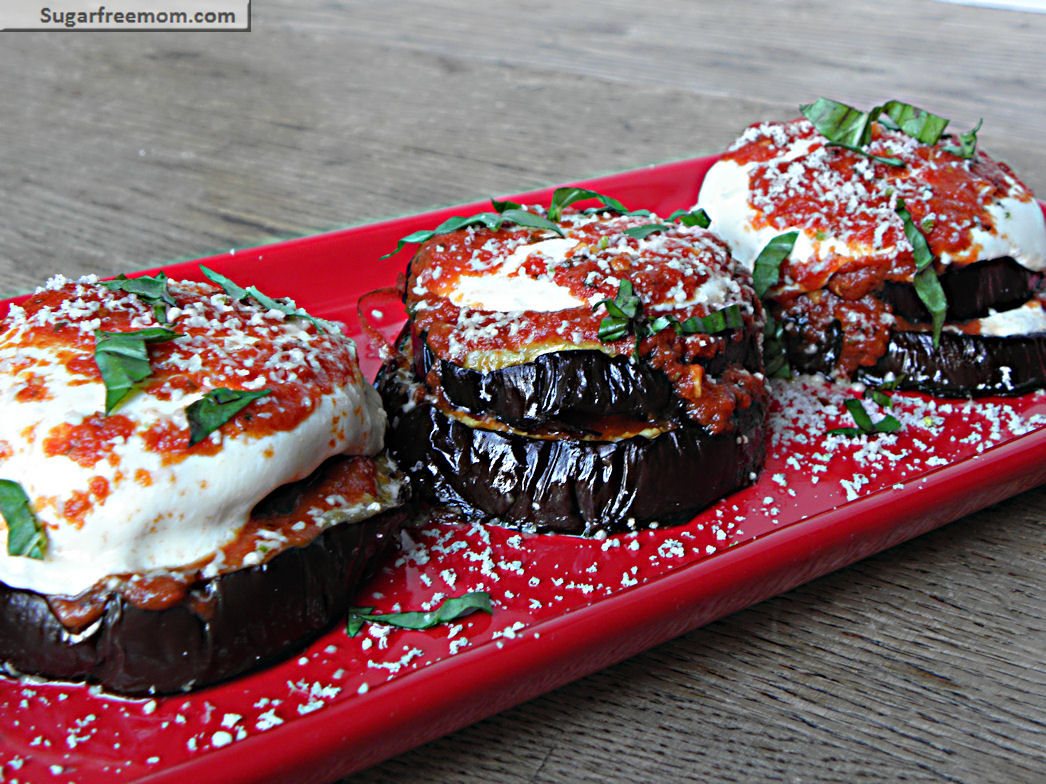 Do you have any favorite recipes that remind you of a particular person in your life? Eggplant Parmesan always reminds me of my sweet grandmother who loved it and loved to make it for the family. It was comfort food all the way for me whenever I ate it!
Gram always taught me to slice and salt the eggplant slices on paper towels to take that bitterness out which is often associated with eggplant. She'd lay them on towels, salt them, and lay the rest of them on top of one another and then wait about a half an hour. It ALWAYS made the most tender eggplant parmesan you ever had!
Most of us in today's busy world don't have the time for that, BUT if you do have time I totally recommend it and promise a fantastic eggplant every time! I didn't add that to the directions simply because this recipe still makes them tender and delicious even without the typical frying. If my grandmother were alive she of course would probably fight me on that one for sure, BUT it is true! You can still have that incredible taste but cooking in a healthier way!
Even my hubby who is not even a fan of eggplant thought these were really good and was shocked to find out how low in calories they were!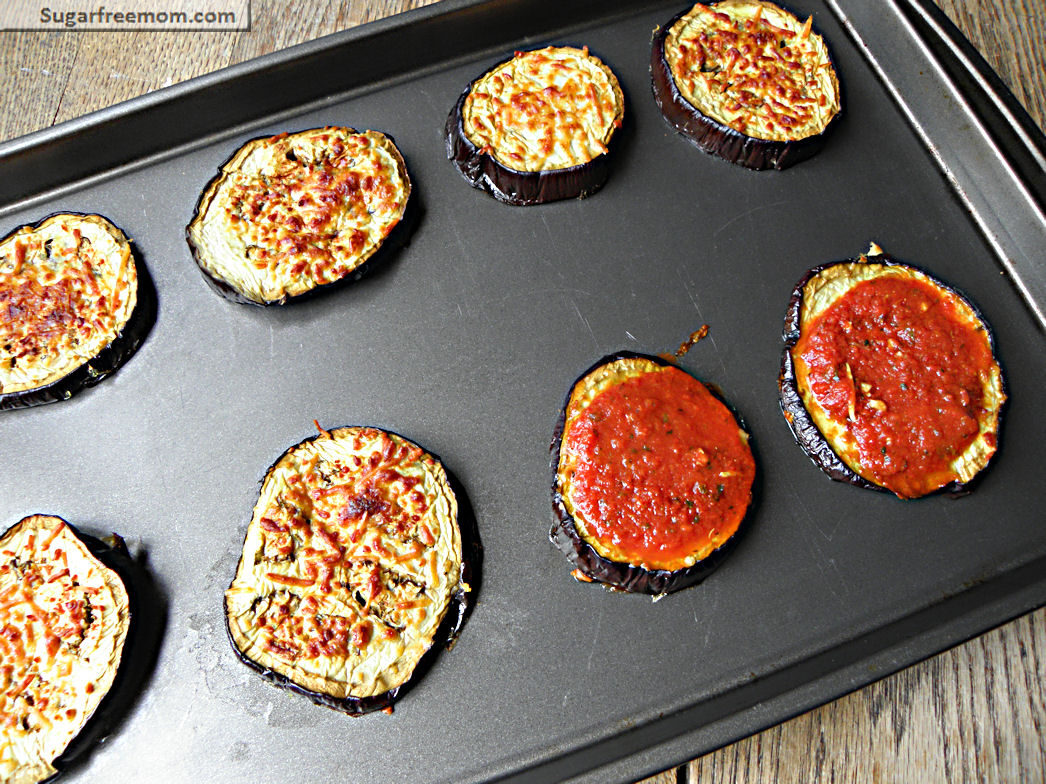 This is super simple to assemble and honestly that you don't have to be at the stove frying up slices one at a time is a huge time saver too! No oiled needed in these babies! The slices are baked first them assembled with my homemade marinara sauce or use your favorite sauce, (but mine is REALLY quick and delish!)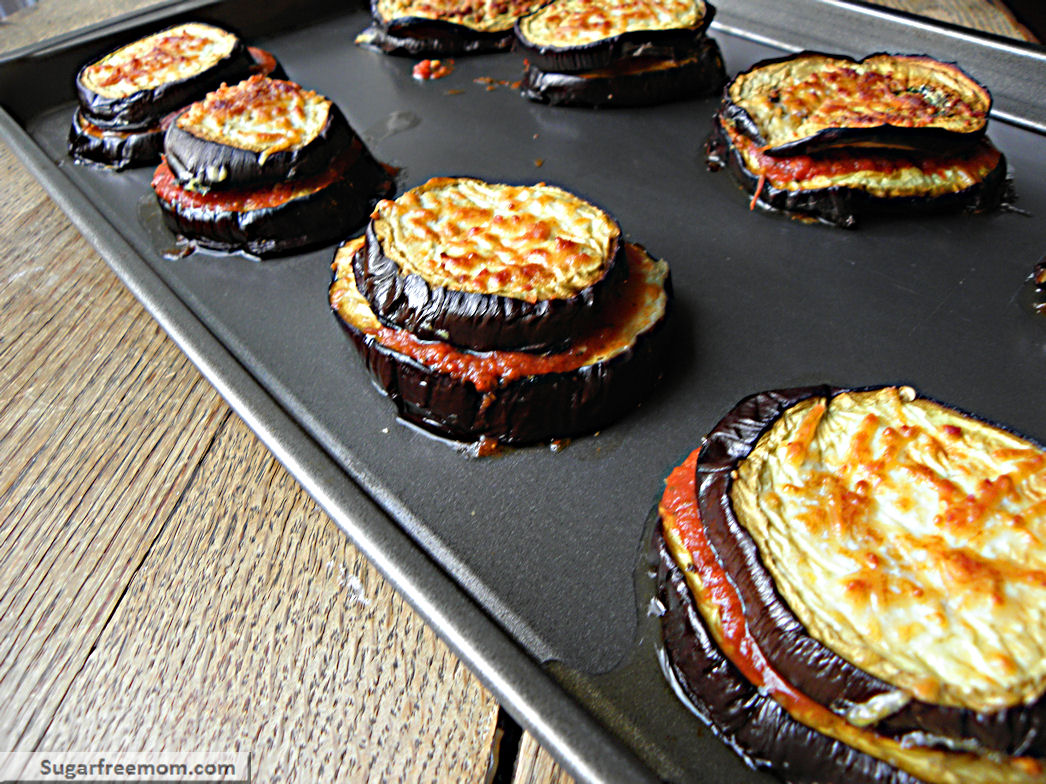 Calorie Count is a great resource for you to look up anything for its nutrition info! It has a database of over 250,000 food items! Here's a great link for you to compare Store Bought Eggplant Parmesan. It has over 400 calories per serving and 28 grams of fat!
Mine has only 130 calories and less fat, carbs and sodium than any others I've seen online! About 100 of the calories are coming from the ounce of delicious cheese! But a little of the good stuff goes a long way and you will honestly feel like you are indulging when you eat this! You don't have to give up on TASTE or use fat free cheese! So enjoy some pasta and salad and have a wonderful Meatless Monday dinner!
And as my sweet grandmother would say, Bon Appetit....oh and MANGIA!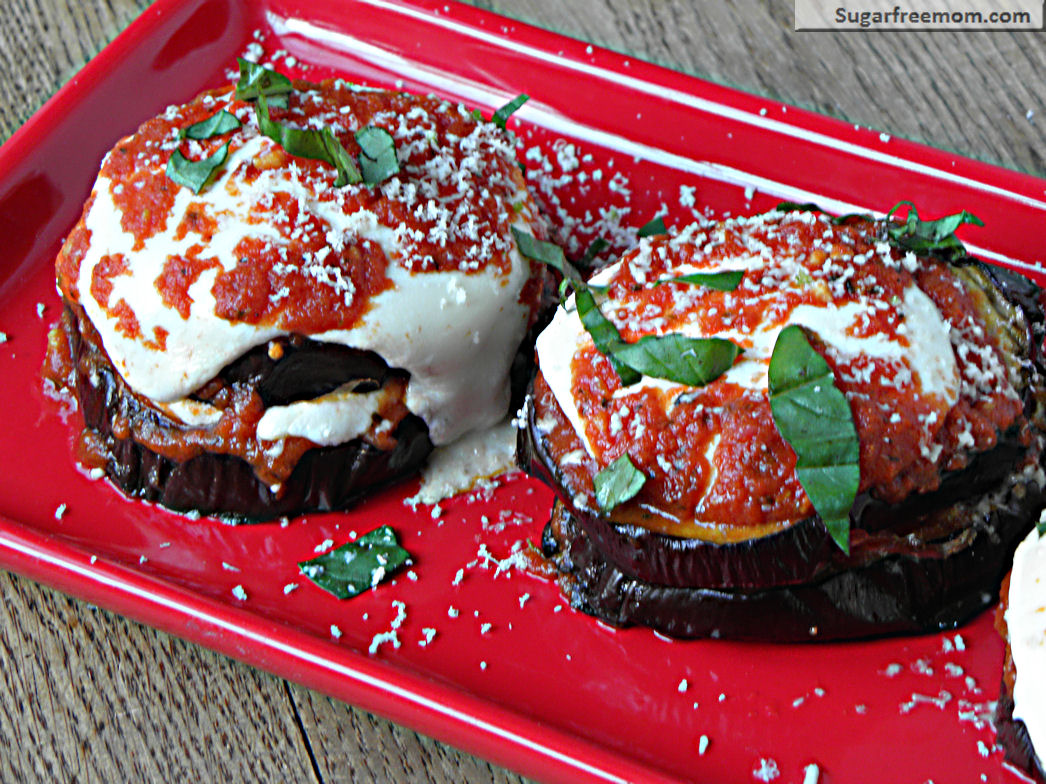 Healthier Baked Eggplant Parmesan
Author:
Prep time:
Cook time:
Total time:
Ingredients
1 medium eggplant, (16-½ inch sliced pieces)
¼ cup egg whites
¼ cup grated Parmesan cheese
1 cup Quick Italian Marinara Sauce
8 ounces part skim mozzarella cheese, sliced into 1 ounce pieces
nonstick cooking spray
Instructions
Preparing Eggplant:
Slice your eggplant into 16 half inch slices.
Dip them one at a time into egg whites and lay them on a baking sheet sprayed with nonstick cooking spray.
Evenly sprinkle the grated Parmesan over the tops of each slice.
Bake at 425 degrees for 15-20 minutes until softened and cheese is melted.
Assembling Individual Stacks:
Add about a tablespoon of sauce to 8 larger eggplant slices.
Lay a smaller eggplant slice over the sauce.
Pour another tablespoon over this eggplant slice.
Place 1 ounce of mozzarella cheese over the top.
Continue until you have 8 stacks.
Bake at 350 degrees for 15 minutes or until cheese is melted.
Sprinkle with chopped basil and Parmesan to serve.
Serving size:
1 stack
Calories:
131
Fat:
7g
Carbohydrates:
8g
Sugar:
3g
Sodium:
213mg
Fiber:
3g
Protein:
10g
Cholesterol:
18mg
Notes
Weight Watchers PointsPlus: 3*