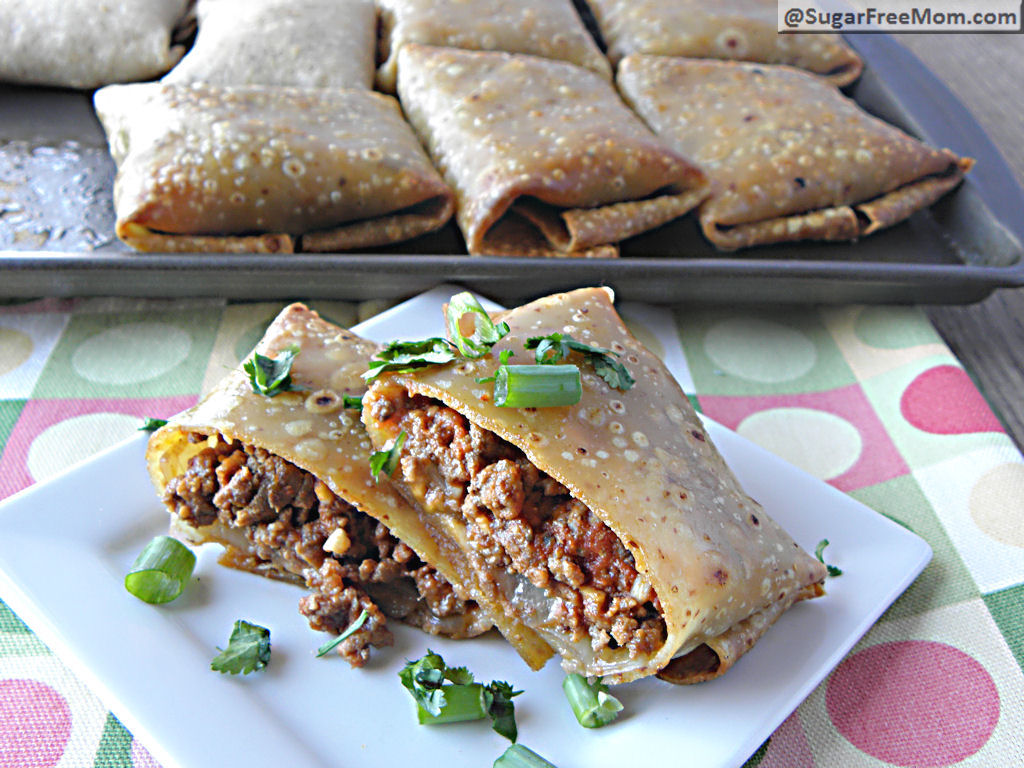 Are you wondering what a chimichanga actually is? Here's the definition from Merriam-Webster online: " a tortilla wrapped around a filling (as of meat) and deep fried". Definitely not the healthiest food for someone watching their weight or trying to loose right?
But it IS a quick meal to get on the table for your family during the week and it IS a guaranteed "family-friendly, please everyone" kind of meal. So I, of course had to try to health-ify it!
I was not surprised by what I found when I looked up a chimichanga on nutritiondata.com.
A typical fast food chimichanga with beef and cheese:
Calories: 443*
Fat: 23g* (11 saturated)
Carbs: 39g*
Sodium: 957g*
Fiber: 0*
Protein: 20g*
Points+: 12*
Here's how my version make over stacks up against the fast food version:
275 calories
Fat: 11g* (4 saturated)
Carbs: 28g*
Sodium: 508g*
Fiber: 3g*
Protein: 14g*
Points+: 7*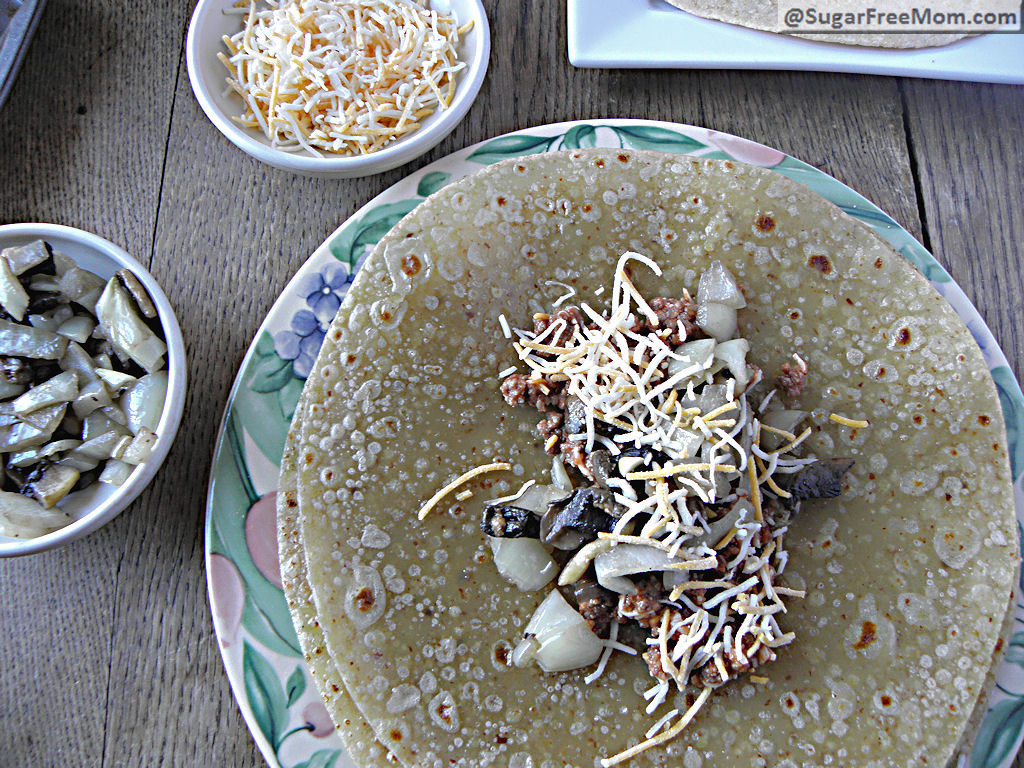 *NOTE: In this pic you see the onions and mushrooms are separate from the beef since my children wouldn't eat it otherwise. I cooked my veggies separately and added only to about half of the tortillas.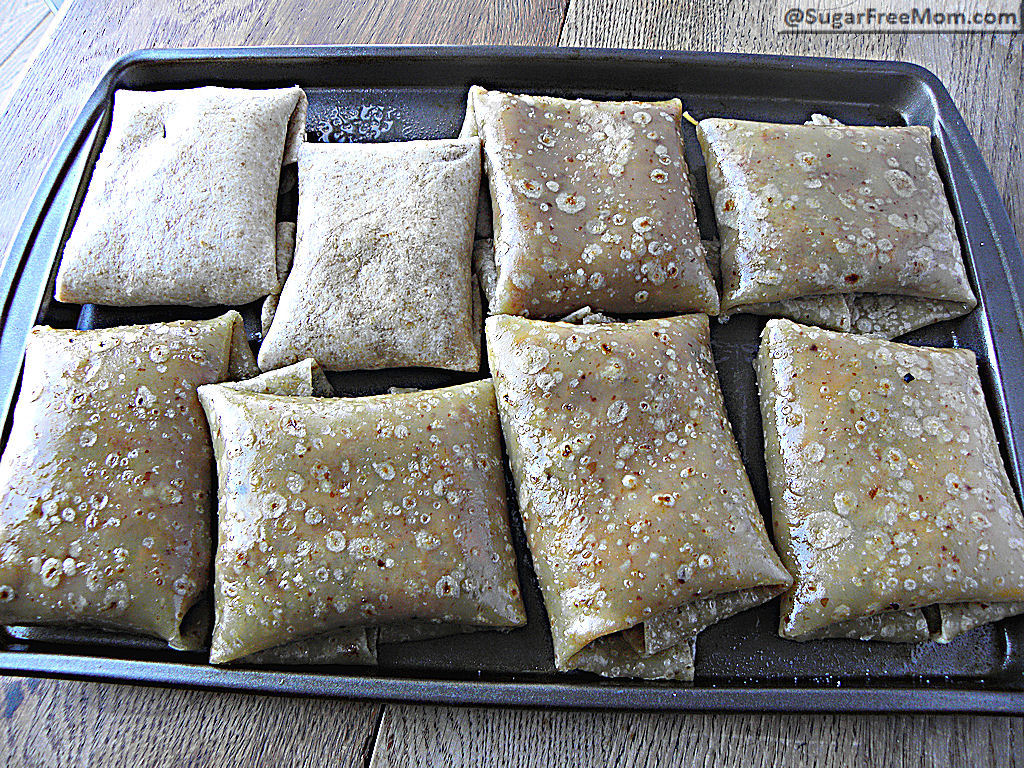 I made 6 with brown rice and 4 with whole wheat to see the difference. The whole wheat were softer and didn't get as crispy as the brown rice. Both were delicious, but if you want a softer chimichanga choose whole wheat tortillas instead.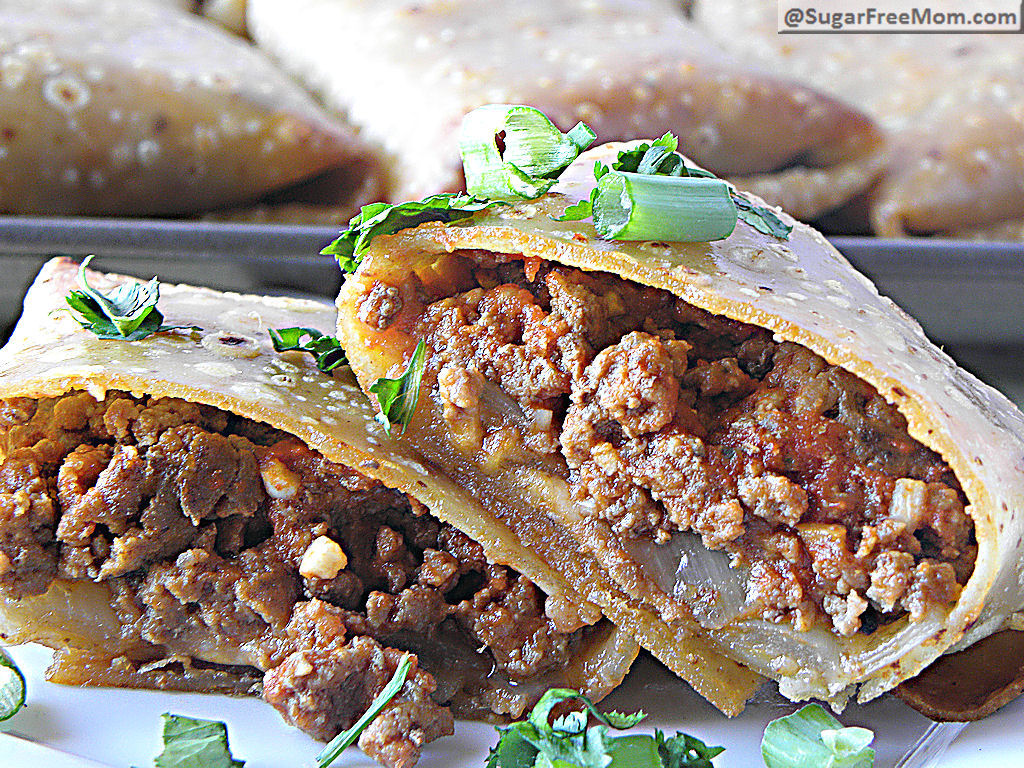 Healthy Oven Fried Chimichangas
Author:
Prep time:
Cook time:
Total time:
Ingredients
10 brown rice tortillas or whole wheat [I used Trader Joe's Brand]
1 pound lean ground turkey or beef
1 cup chopped onion
1 cup mushrooms, sliced
1 garlic clove, minced
1 teaspoon dried oregano
½ teaspoon salt
1 cup tomato sauce
1 cup shredded Mexican Blend style cheese, reduced fat
Optional: 1-2 teaspoons chili powder
Instructions
Preheat oven to 350 degrees.
[Skip this step if not using brown rice tortillas] Saute brown rice tortillas until softened, using non stick cooking spray in a saute pan, set aside.
Spray a baking sheet with nonstick cooking spray. Set aside.
In a saute pan, add ground turkey, onion, garlic, mushroom and cook until meat is browned.
Stir tomato sauce into the beef and veggies, add oregano and chili powder if using.
Bring sauce to a boil, reduce heat and simmer about 5 minutes until sauce thickens.
Remove from heat and set aside.
Spoon about a ½ cup of filling down center of each tortilla. Add cheese to each. Fold in sides and roll up to enclose filling.
Bake for 20-30 minutes until crispy. Top with salsa, scallions, or tomatoes.
Serving size:
1
Calories:
275
Fat:
11g
Saturated fat:
4g
Carbohydrates:
28g
Sodium:
508g
Fiber:
3g
Protein:
14g
Notes
Weight Watchers PointsPlus: 7*
Add a nice healthy Citrus Fennel salad or some Oven Fried Parmesan Zucchini Rounds and you've got a great meal here!