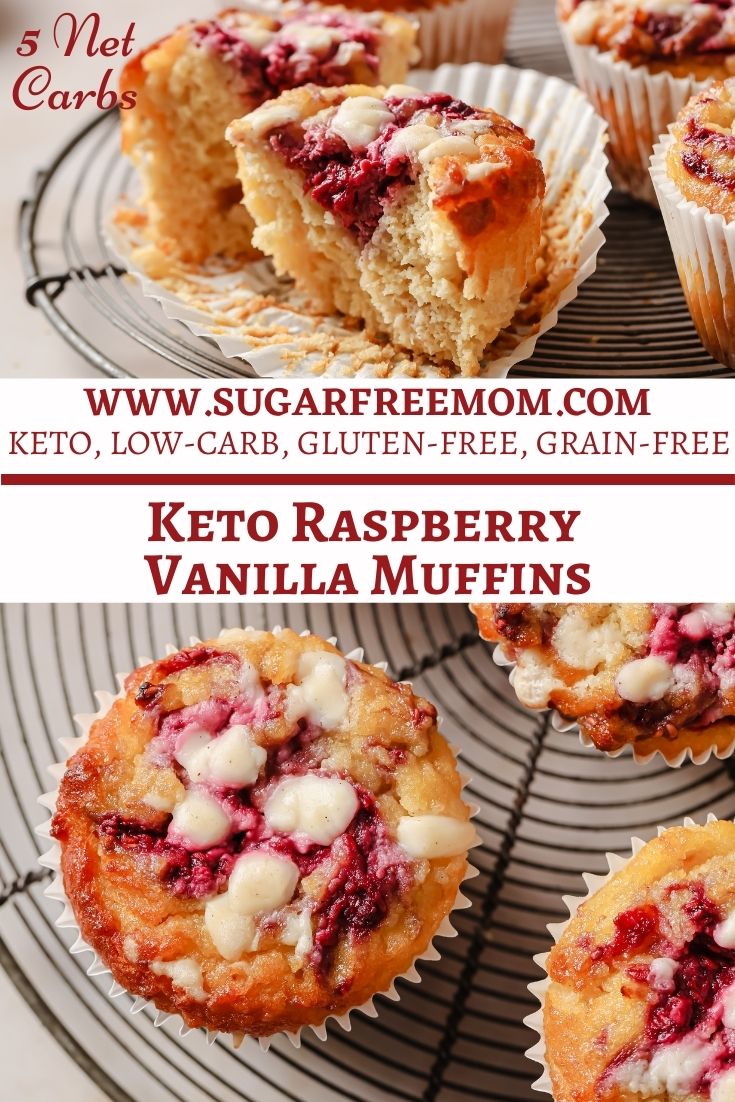 These simple and delicious keto muffins have a raspberry filled center keeping them perfectly moist and topped with sugar free white chocolate chips. These low carb muffins are delightful with a cup of coffee or tea!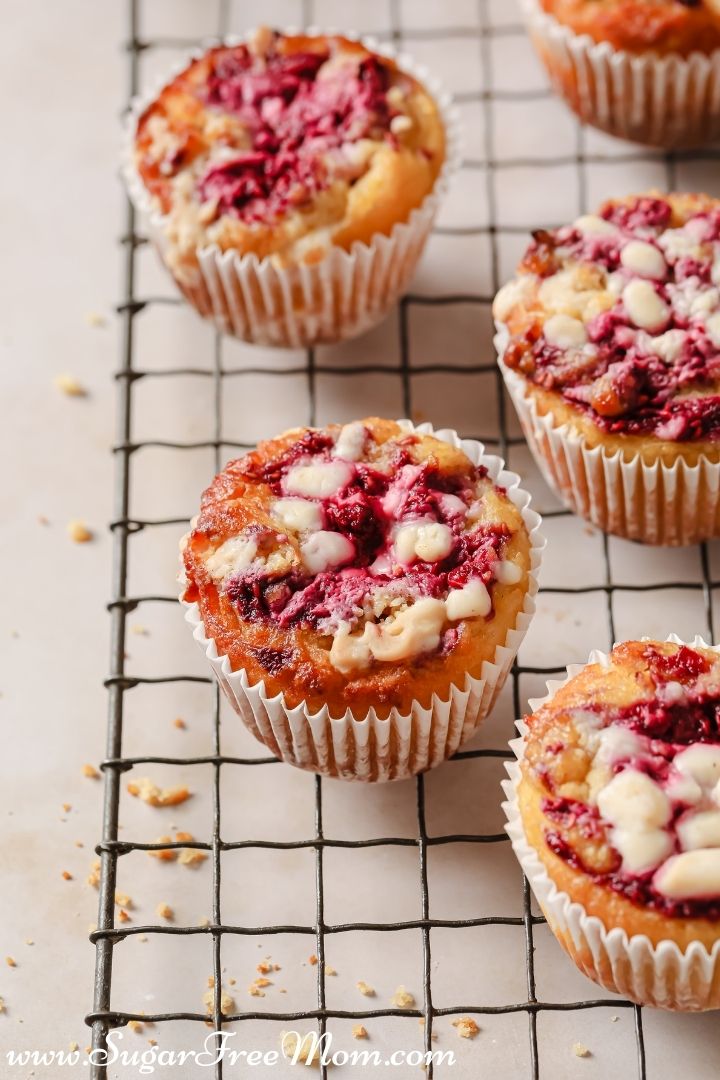 Best Low Carb Vanilla Muffin
A lovely and moist low-carb vanilla muffin flavored with white chocolate and a fresh raspberry center. Perfect with a cup of tea for a well deserved treat. No fuss, easy to make.
The whole family will enjoy these whether they're low-carb or not and being sugar-free they are perfect for diabetics and those watching their sugar intake.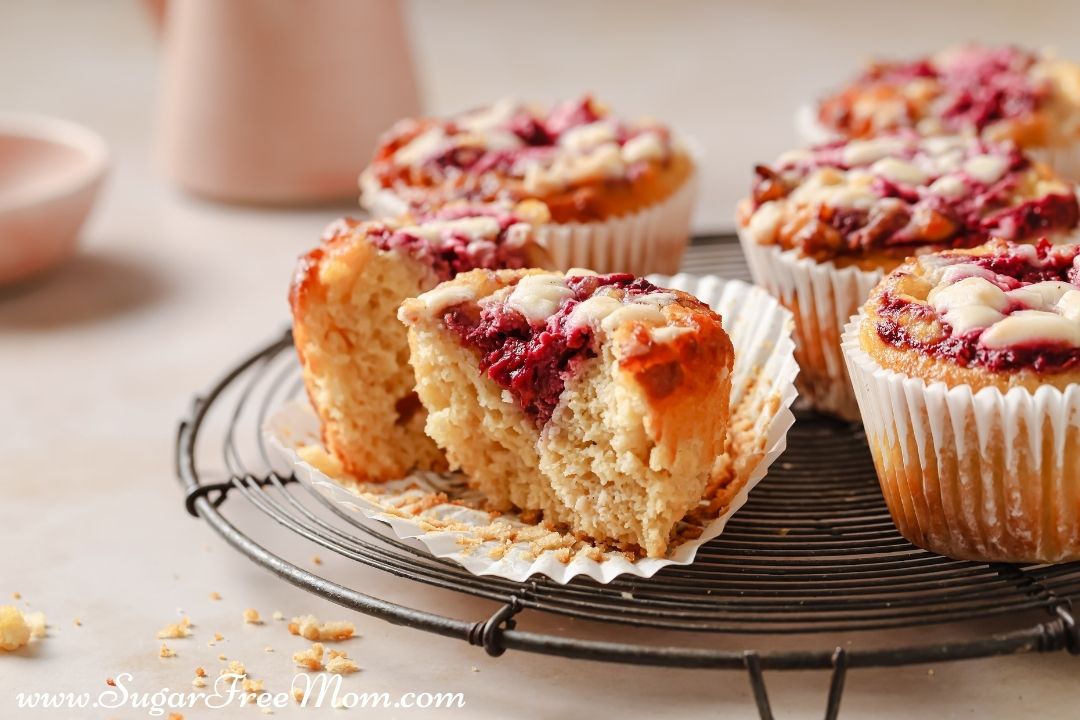 Is White Chocolate Keto?
White chocolate is made from cocoa butter, sugar, milk solids and vanilla. In just 1 ounce of white chocolate you are looking at 150 calories, 17 grams of carbohydrates, no fiber, and 1 gram of protein. 1 ounce has 17 grams of sugar. White chocolate is not keto friendly.
Lily's Sugar Free white chocolate chips are sweetened with stevia and erythritol. According to their label, 14 grams or 30 chips have just 50 calories, 9 total grams of carbohydrates, 3 fiber grams and no sugar.
When you subtract the erythritol grams and the fiber, net carbs are 2 grams per serving. These sugar free chocolate chips can fit nicely into a keto diet or low carb lifestyle.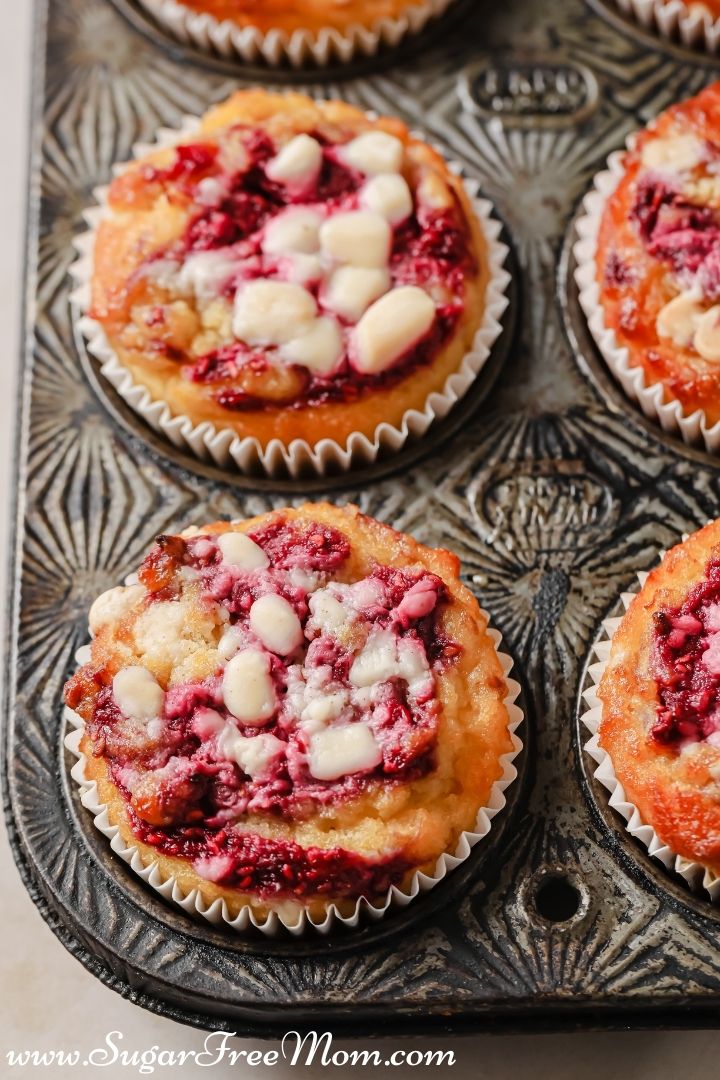 How to Make Raspberry Vanilla Muffins
Ingredients
Frozen raspberries, chia seeds, almond flour or see below for nut-free option, coconut flour, low-carb sweetener, baking powder, eggs, butter, yogurt, vanilla extract, sugar-free white chocolate chips or a bar.
Directions
Step 1
Preheat the oven to 350 F / 180C / 160 fan and line a muffin pan with paper muffin baking cups. Note: you can add a little oil to the baking cup so they stick a bit less.
Place the frozen berries and water in a small saucepan and cook on a medium / low heat for about 4 - 5 minutes until soft.
Turn off the heat and add the ground chia. Allow to fully cool to firm up. Option to add a little powdered sweetener to taste if you like.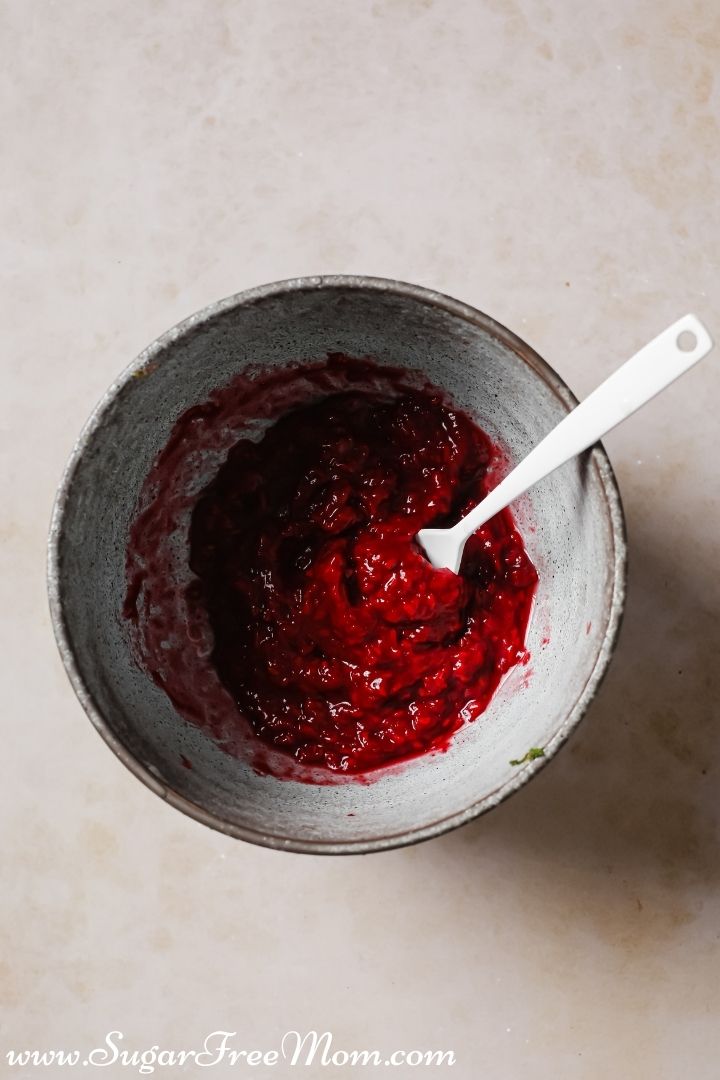 Step 2
Stir the dry ingredients together in a mixing bowl (almond flour, coconut flour, sweetener and baking powder).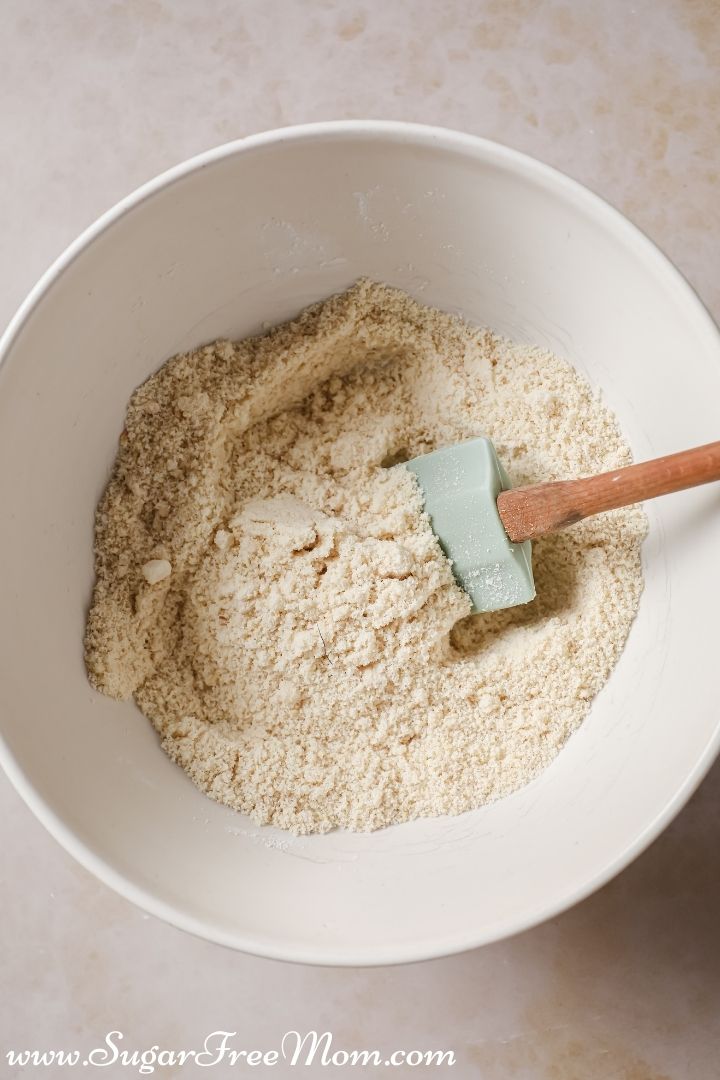 Step 3
Whisk the eggs with an electric mixer for about 2-3 minutes until super fluffy.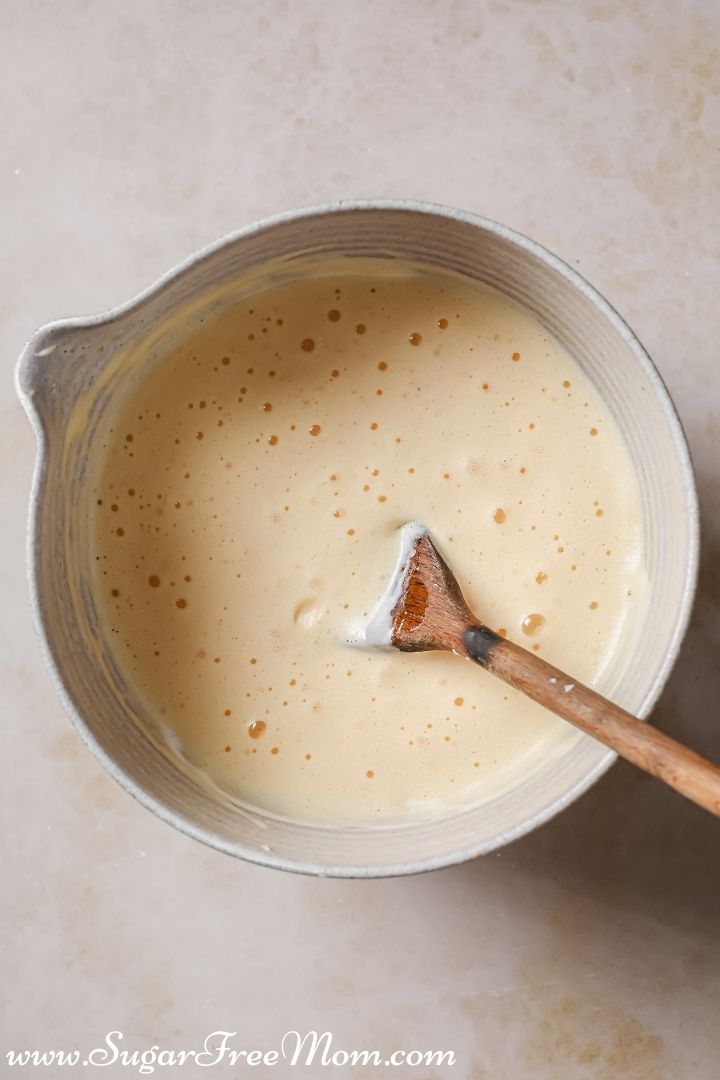 Step 4
Add the dry ingredients to the wet and blend to a smooth batter. Don't over mix. Fold through two thirds of the white chocolate using a spatula.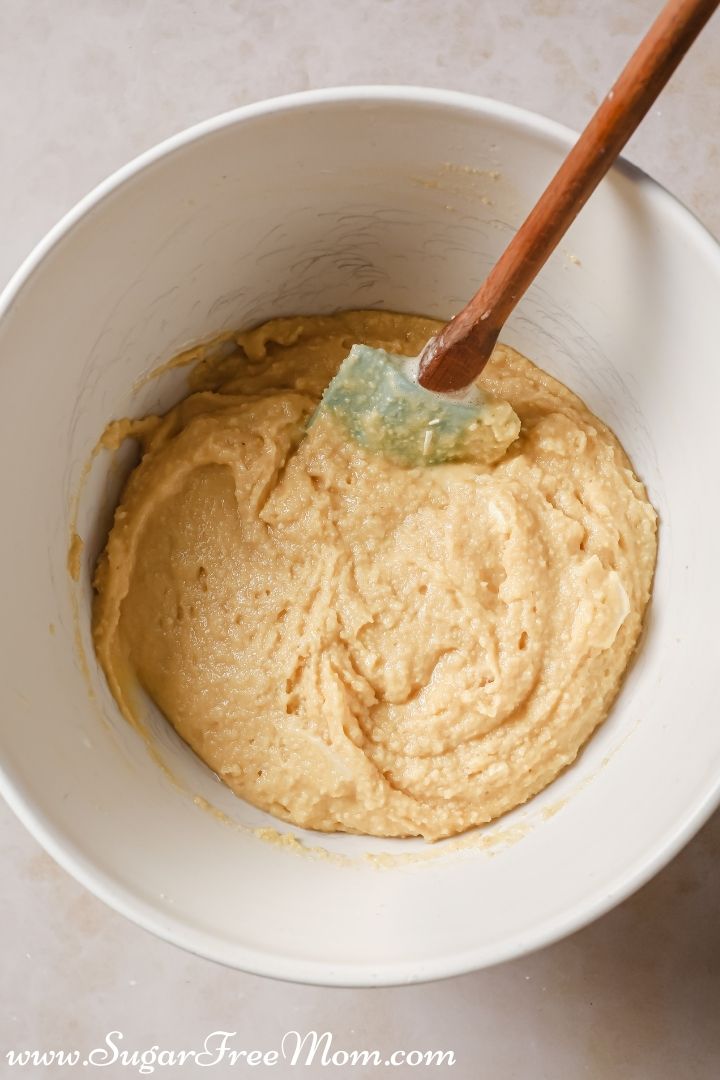 Step 5
Spoon the mix into the paper baking cups. Make a little well in the center with a spoon and add a dollop of raspberry mix. Top with the remaining white chocolate.
Bake for about 35 minutes or until you can insert a skewer and it comes out almost clean. Don't overcook. They should be a little moist as they will firm up as they cool.
Note: If your muffins are starting to brown quite quickly on top, cover loosely (do not seal) with tin foil until cooked. I covered mine from about 20 minutes.
Remove from the oven and allow to sit in the pan for 5 minutes then transfer to a wire rack to fully cool.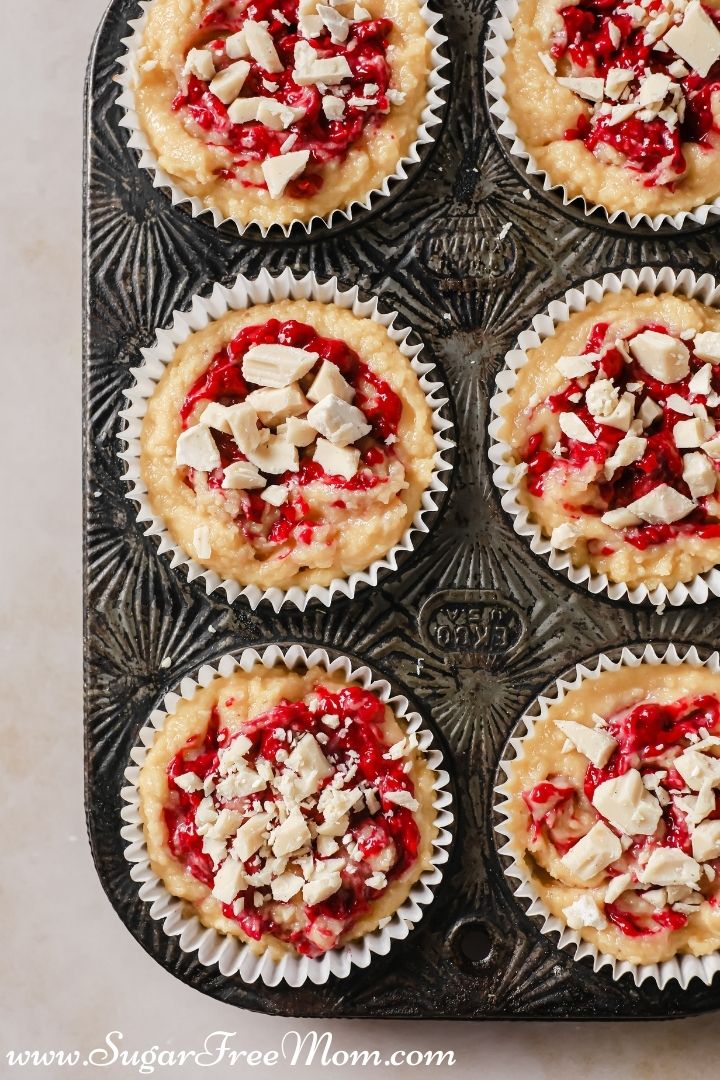 Can I change the Low-Carb Sweetener?
If you aren't interested in using the Swerve confectioners sweetener I've used, no problem. You can change it out for any low carb sweetener you enjoy.
Use my sweetener guide and conversion chart which will help you decide how much to use of another sweetener in comparison to the amount I used of Swerve in this recipe.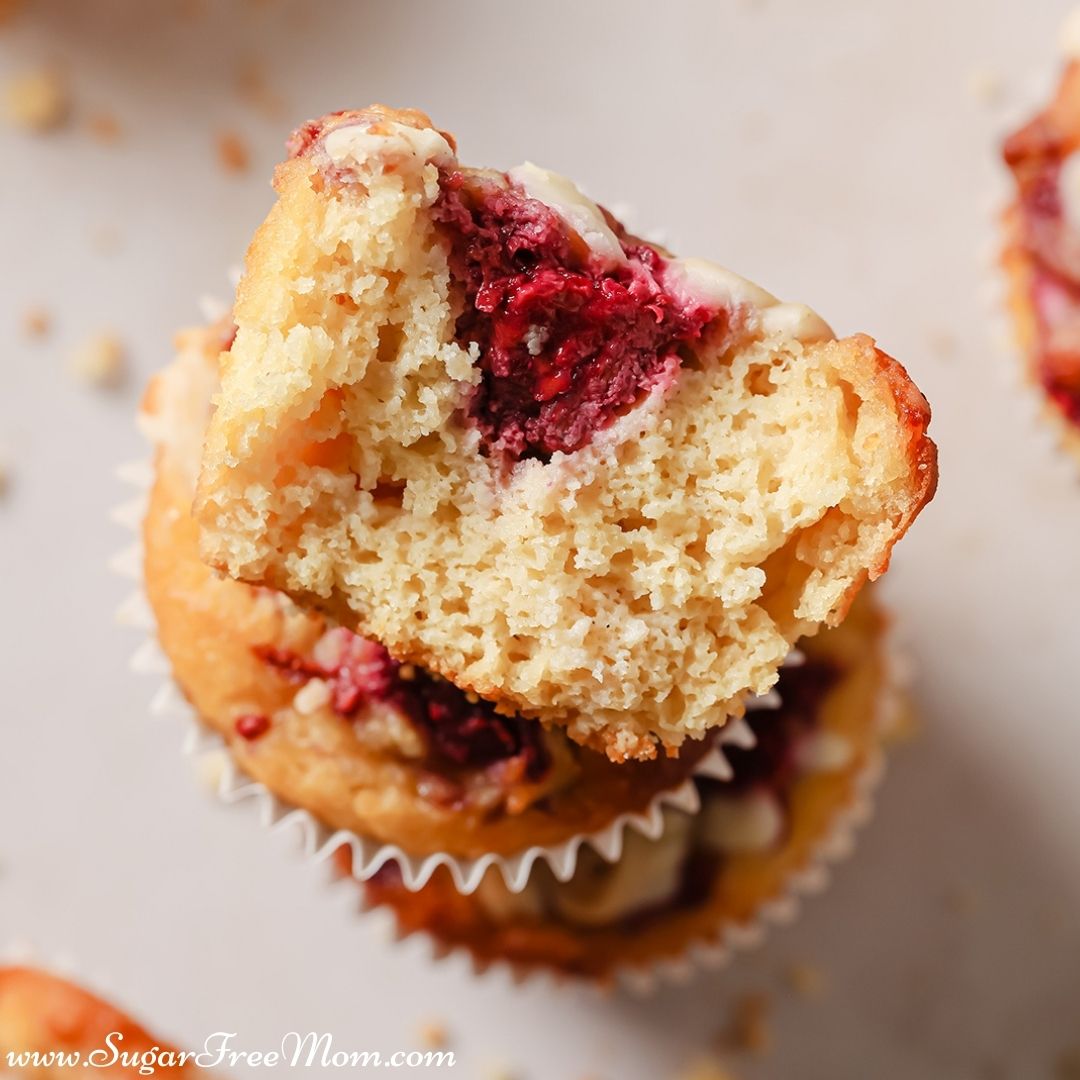 Can I make these Keto Muffins Nut Free?
You can easily make these sugar free keto muffins nut free and you just have to swap out one ingredient. Replace the almond flour with the same amount of sunflower seed flour.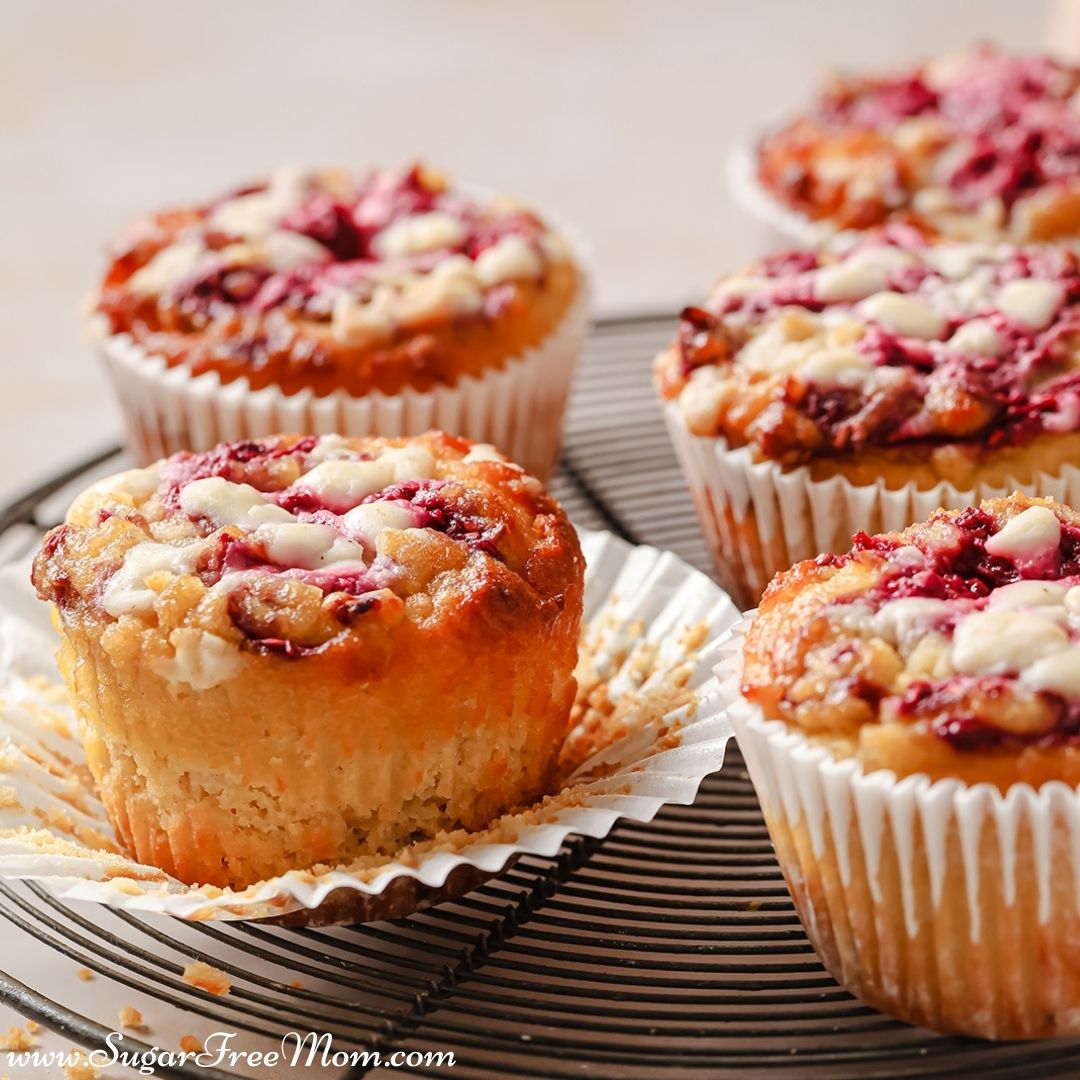 Can I Make these Keto Vanilla Muffins Dairy Free?
Yes you can make these low-carb muffins dairy free by swapping just a few ingredients.
You can swap the butter with melted coconut oil or use avocado oil. You can swap the yogurt with coconut yogurt or a vegan yogurt of choice.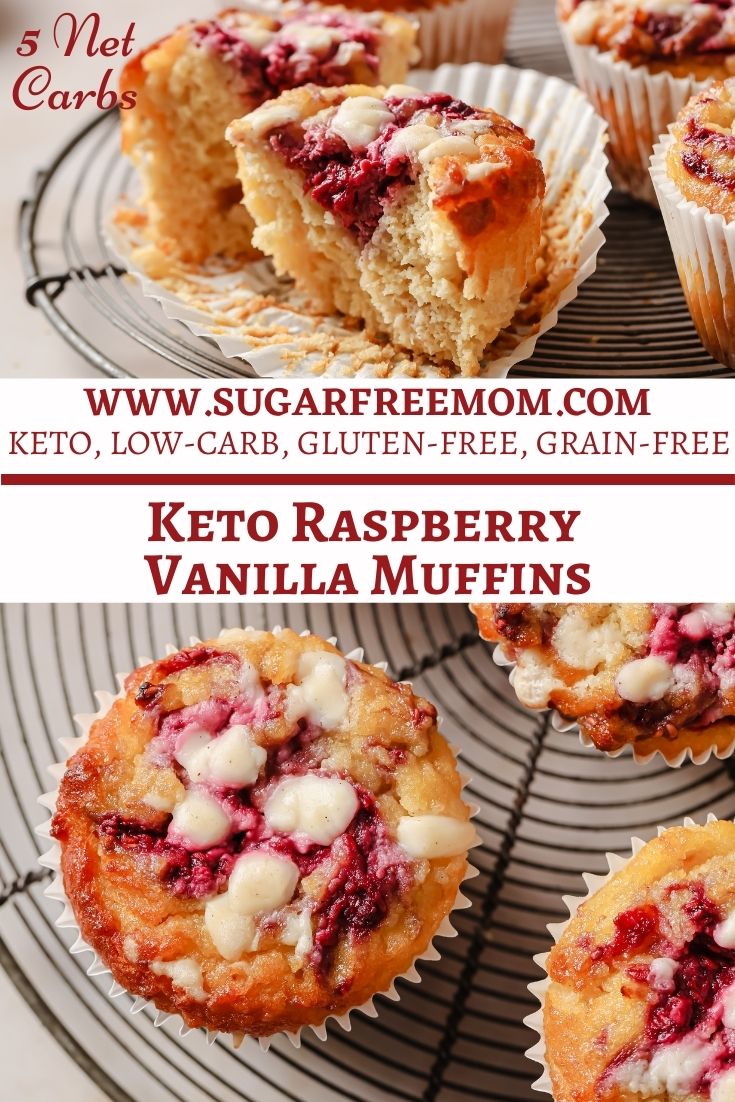 Storage
Store these lovely keto muffins in an airtight container for up to 4 days. You can also freeze these for up to a month.
Keto Raspberry Vanilla Muffins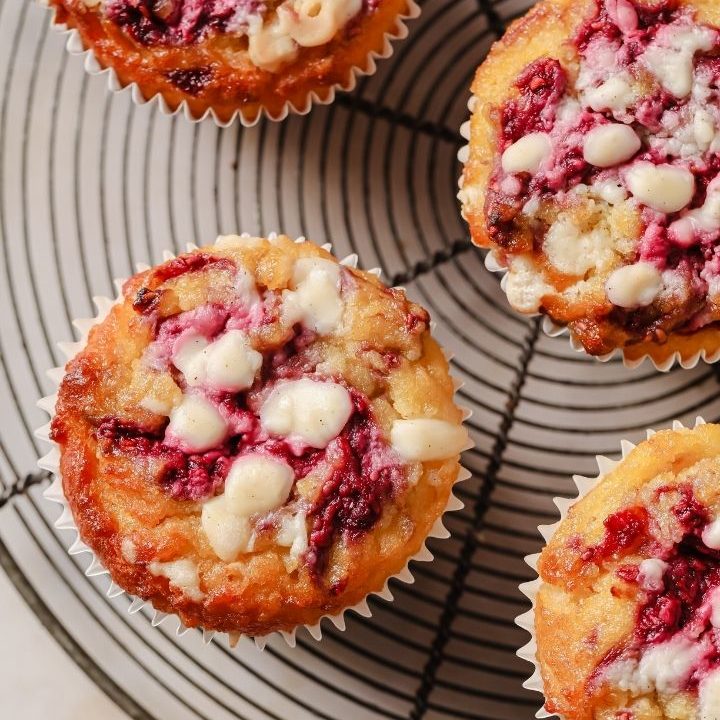 Print
Keto Raspberry Vanilla Muffins
A lovely and moist low-carb vanilla muffin flavored with a fresh raspberry center and topped with white chocolate chips which are optional.
Instructions
Preheat the oven to 350 F / 180C / 160 fan and line a muffin pan with paper muffin baking cups. Note: you can add a little oil to the baking cup so they stick a bit less.

Place the frozen berries and water in a small saucepan and cook on a medium / low heat for about 4 - 5 minutes until soft. Turn off the heat and add the ground chia. Allow to fully cool to firm up. Option to add a little powdered sweetener to taste if you like.

Stir the dry ingredients together in a mixing bowl (almond flour, coconut flour, sweetener and baking powder).

Whisk the eggs with an electric mixer for 2.5 minutes until super fluffy.

Add the melted butter, yogurt and vanilla and whisk until fully combined.

Add the dry ingredients to the wet and blend to a smooth batter. Don't over mix. Fold through ⅔ of white chocolate using a spatula.

Spoon the mix into the paper baking cups. Make a little well in the center with a spoon and add a dollop of raspberry mix. Top with the optional white chocolate.

Bake for about 35 minutes or until you can insert a skewer and it comes out almost clean. Don't overcook. They should be a little moist as they will firm up as they cool.

Note: If your muffins are starting to brown quite quickly on top, cover loosely (do not seal) with tin foil until cooked. I covered mine from about 20 minutes.

Remove from the oven and allow to sit in the pan for 5 minutes then transfer to a wire rack to fully cool.

Storage: Tupperware for up to 4 days
Nutrition
Serving:
1
muffin
|
Calories:
264
kcal
|
Carbohydrates:
10
g
|
Protein:
9
g
|
Fat:
22
g
|
Saturated Fat:
6
g
|
Polyunsaturated Fat:
1
g
|
Monounsaturated Fat:
3
g
|
Trans Fat:
1
g
|
Cholesterol:
112
mg
|
Sodium:
99
mg
|
Potassium:
150
mg
|
Fiber:
5
g
|
Sugar:
3
g
|
Vitamin A:
356
IU
|
Vitamin C:
5
mg
|
Calcium:
114
mg
|
Iron:
2
mg