This easy 3 Ingredient Keto Peanut Butter Fudge is low carb, sugar free and dairy free!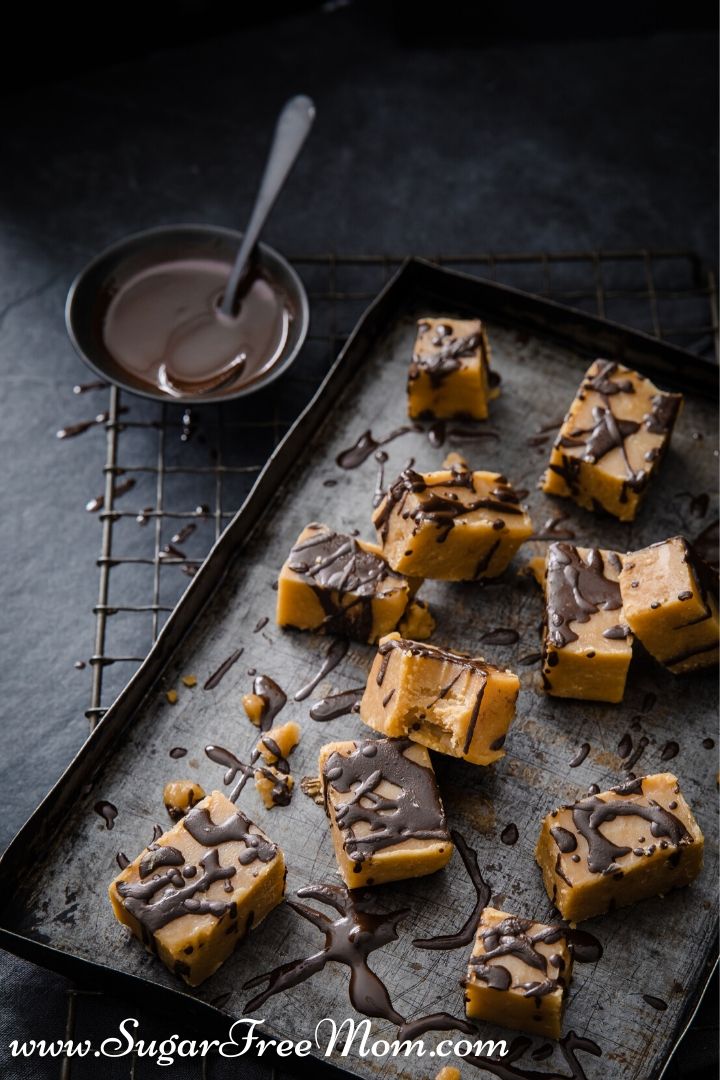 Eating Fat for Weight Loss
If I could eat peanut butter and chocolate every day I most certainly would.
I don't, but I'd love to be able to be...... you know that girl.......eat whatever she desires, doesn't exercise, stays perfectly tiny, has a few babies, slims down without even trying......yeah, you have someone in your life like that just as we all do, am I right?
I've never been blessed to have a skinny frame. I've never been able to eat whatever I've wanted without consequences. I've had to work off every.single.pound of pregnancy weight. 3 times.
Oh before babies I was able to lose weight effortlessly. I remember being fed up at 22. Being overweight and unhappy. Hating living in my own skin. I had just graduated college. I weighed 159 pounds on my 5 foot 2 and ½ inch frame. I was ready and I went for it for the first time with a healthy life style change. I exercised and ate nothing in between meals. I could still eat whatever I wanted, sugar included and in 6 months I was down to 124 pounds.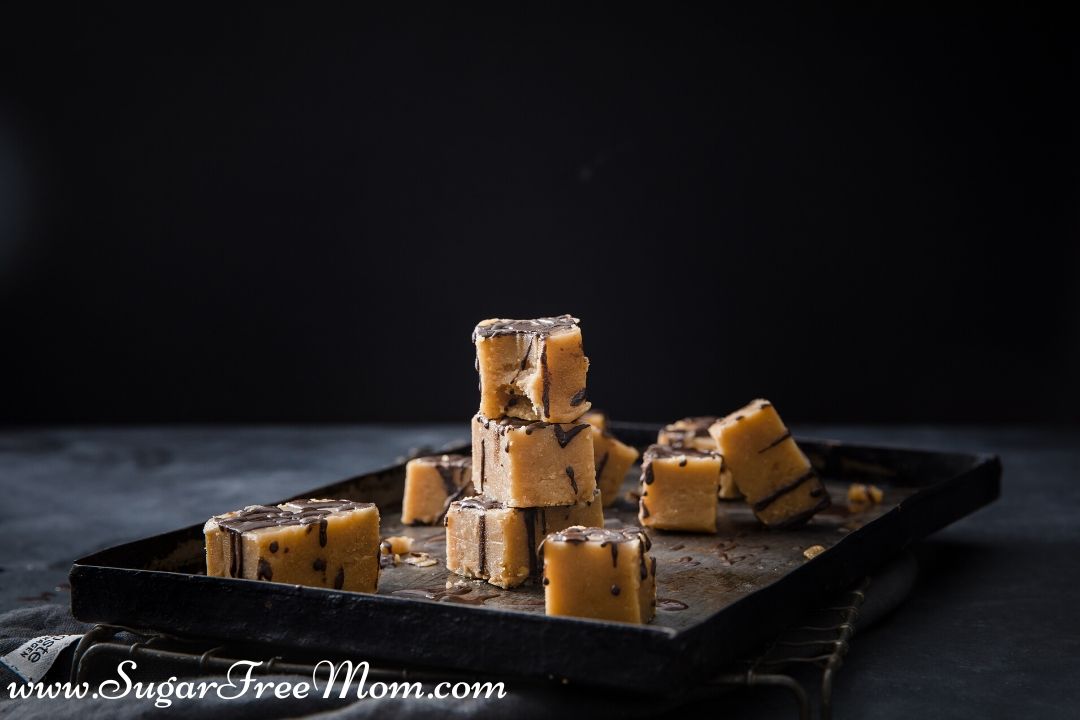 Fat Bombs
But I was also 22. I am maintained that weight for 7 years before the first baby.
That was then, this is now. And being 43, it's a lot harder to lose without a concentrated effort. And as time has gone on, I've come to realize the things that worked to lose weight after my 3rd baby 9 years are not helping me working for me now. Bodies do change over time. I've come to the conclusion my body at this age needs a whole lot less carbs to see the scale move where I want it.
That's where this recipe comes in.
If I'm cutting carbs to lose weight I need healthy fats to keep me satiated so I don't turn to carbs.
Hence, comes in the FAT BOMBS! Just a small piece is enough to make you feel satisfied!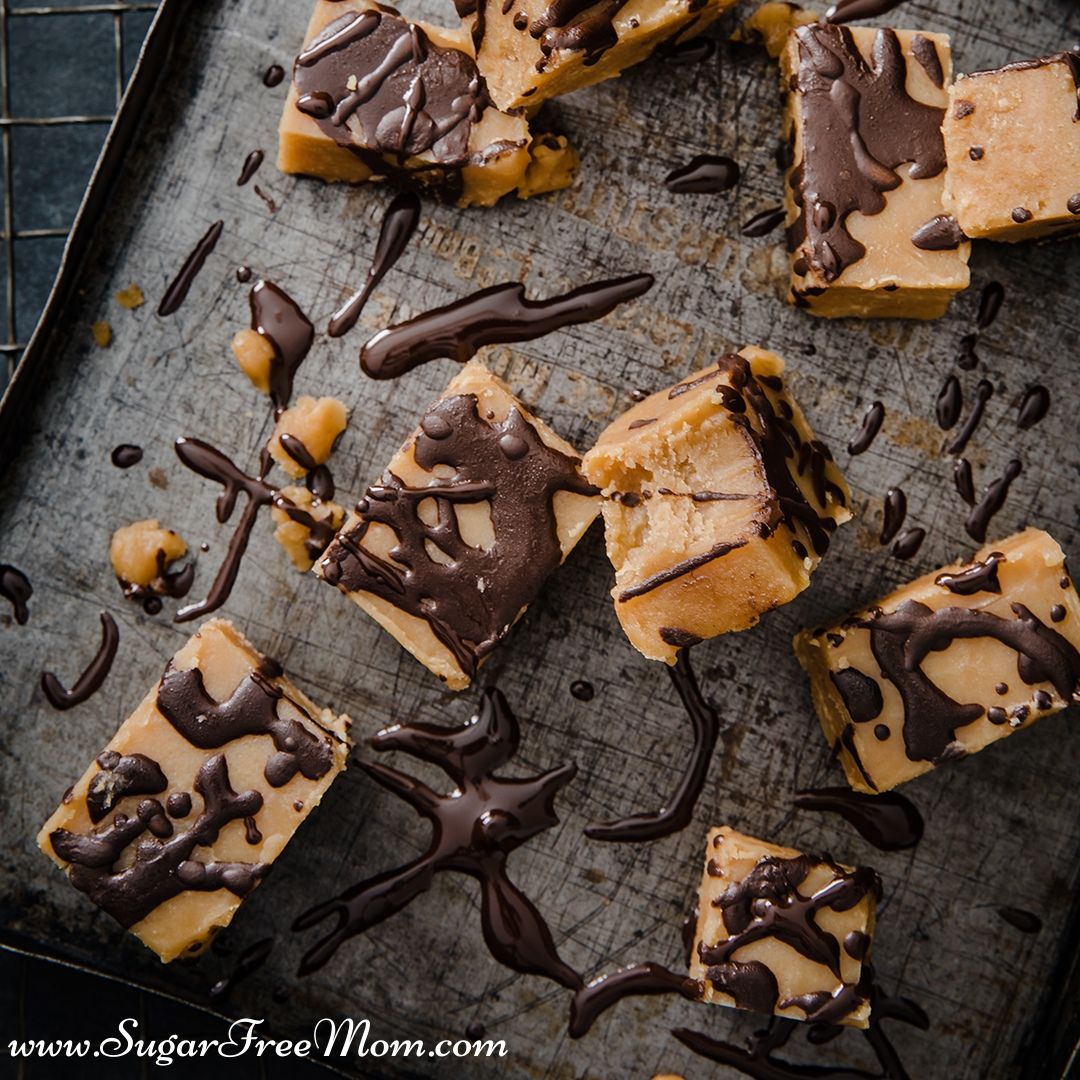 Keto Fudge
This is one of those recipes that you need in your life.
Sharing food is good, but keeping a secret stash of this in the fridge for when a craving hits is sometimes how you need to play this game.
Here are some other fudge recipes you might like: Chocolate Peanut Butter Protein Fudge, Chocolate Fudge Protein Bars, Maple Coconut Refrigerator Fudge, Salted Caramel Cashew Fudge, and one of my favorites, White Chocolate Coconut Fudge!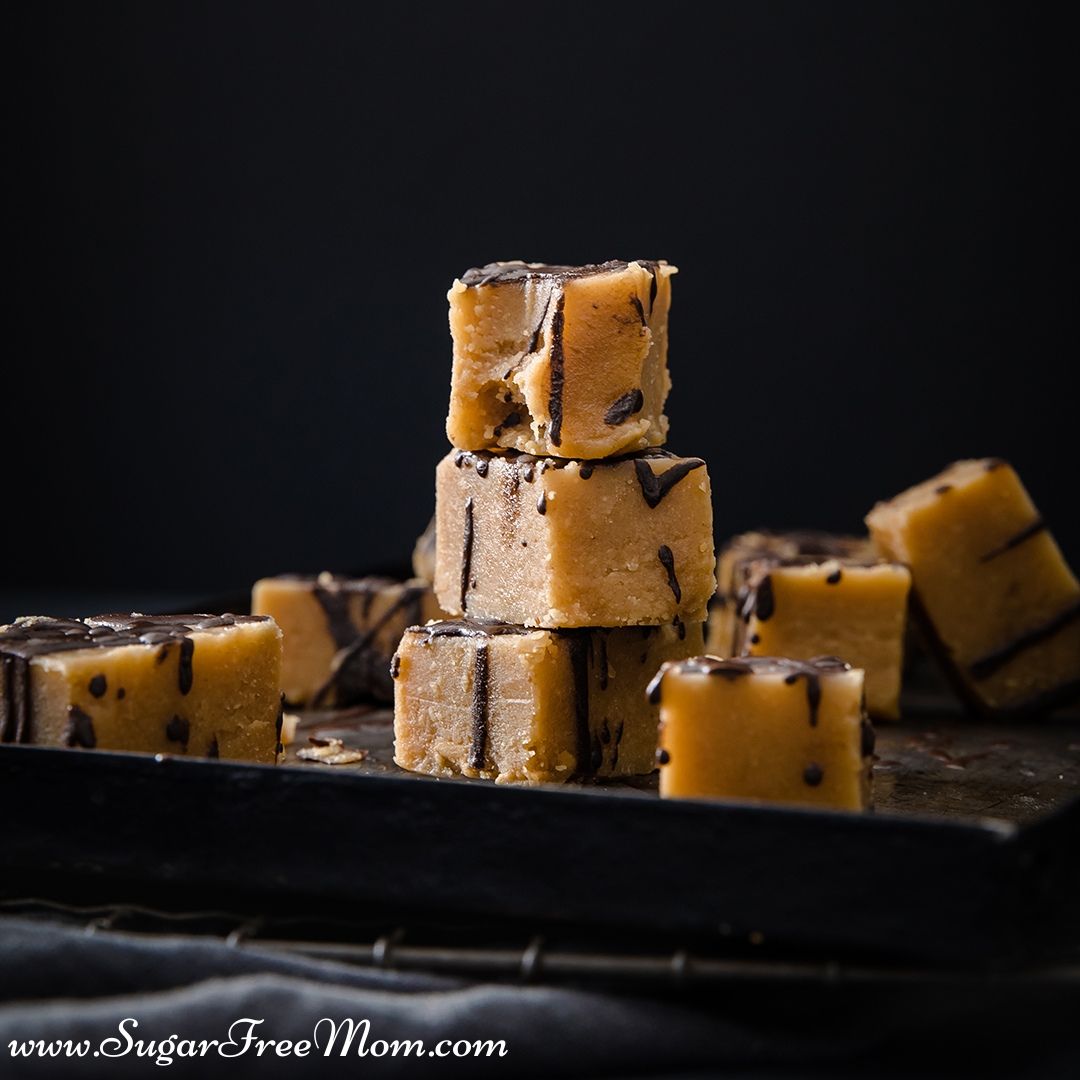 You don't need to add this chocolate sauce drizzle, but of course I did. I'm a lover of chocolate ya know.
As far as losing weight and eating peanut butter and chocolate like this fudge, well, if you can handle a piece a day without overindulging in more than that then by all means knock yourself out.
Or just enjoy some on the weekend for a little indulgence. Whatever makes you happy friends.
But for only 3 grams of net carbs and a good amount of healthy fat from the coconut oil and peanut butter, just a piece will be completely satisfying.
And you will be smiling and thanking me in each creamy bite!
Nutrition information is without optional chocolate sauce.
One more thing! I was called out on the fact that there are more than 3 ingredients here so I must respond to that by saying, I did not count salt as it can be left out for lower sodium and not needed unless you peanut butter is unsalted. Stevia is completely optional and many of you may choose no sweetener at all and the chocolate sauce is optional as well. So technically it might look like more than 3 ingredients but the main 3 are all you really need to make this fudge. The end.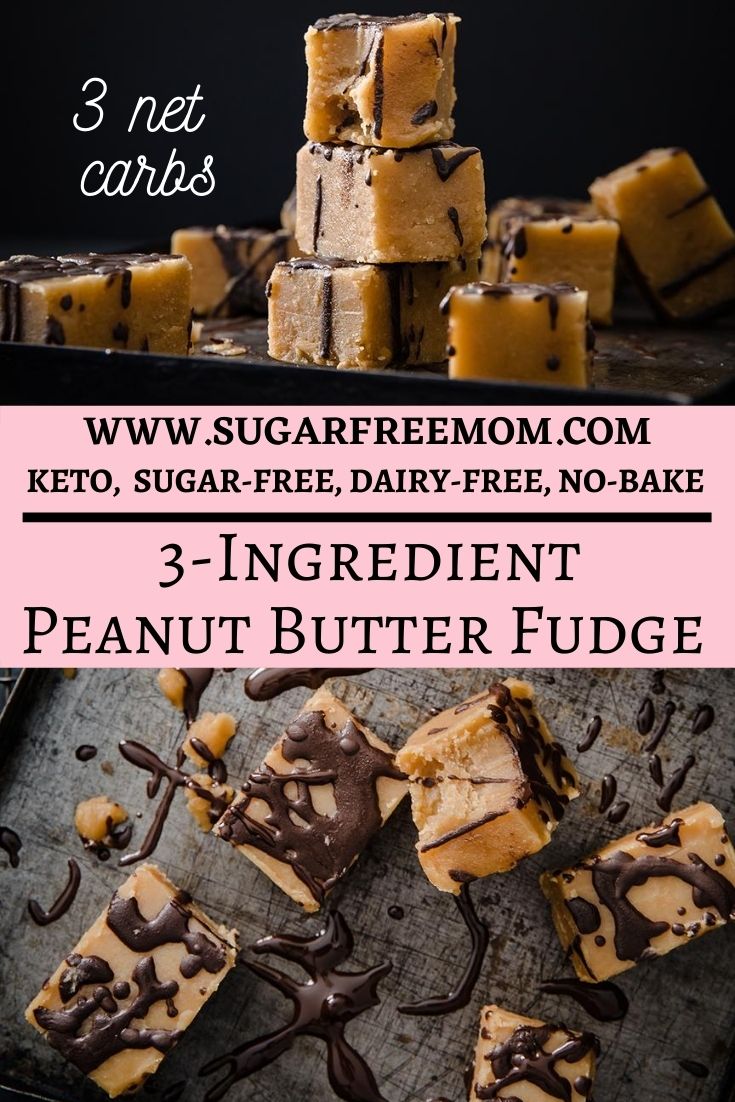 3 Ingredient Sugar Free Peanut Butter Fudge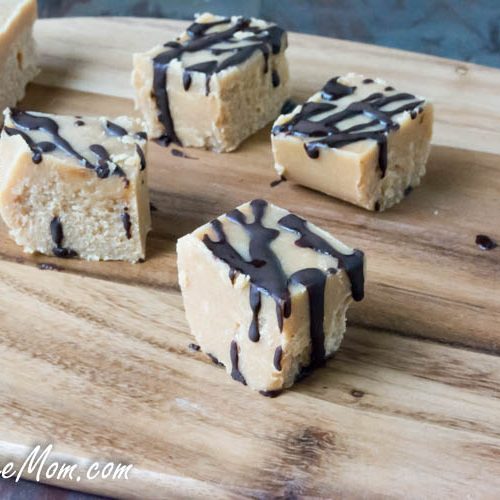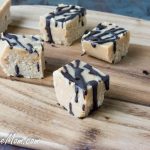 Print
3 Ingredient Sugar-Free Peanut Butter Fudge
Ingredients
1

cup

coconut oil

¼

cup

unsweetened almond milk

optional: pinch salt

only if your peanut butter is unsalted

vanilla liquid stevia

optional or sweetener of choice to taste
Optional Topping: Chocolate Sauce
Instructions
Slightly melt or soften the peanut butter and coconut oil together in the microwave or low heat on the stove.

Add this to your blender and add the rest of the ingredients.

Blend until combined.

Pour into a parchment lined 8 by 5 loaf pan.

Refrigerate until set, about 2 hours.

If using chocolate sauce, whisk ingredients together and drizzle over fudge after it's been set.

Best if kept refrigerated.
Notes
Net Carbs: 3g
This recipe was first published in January 2015 and updated in July 2020 with new pictures and video. 
Nutrition
Serving:
1
serving
|
Calories:
290
kcal
|
Carbohydrates:
4
g
|
Protein:
5
g
|
Fat:
29
g
|
Saturated Fat:
17
g
|
Cholesterol:
1
mg
|
Sodium:
70
mg
|
Fiber:
1
g
|
Sugar:
1
g