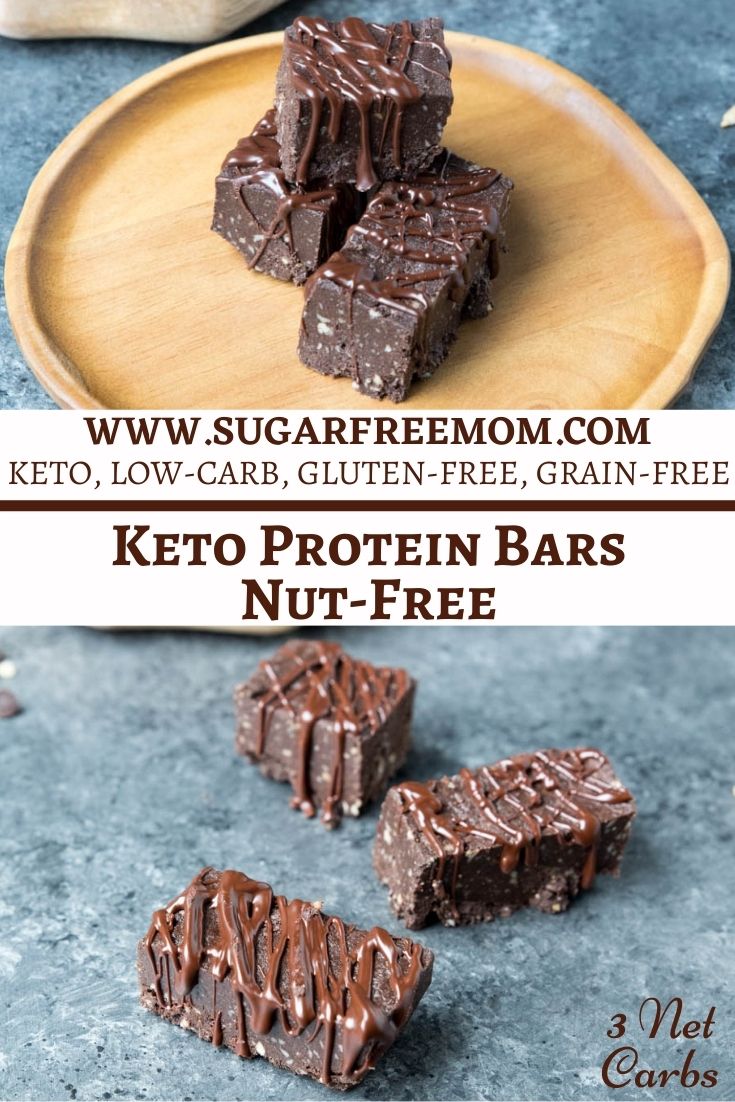 These delicious Homemade Keto Protein Bars are a no bake recipe that's low carb, sugar free, gluten free and nut free as well! Just 5 minutes of prep time to make a perfectly healthy no-bake energy bar for a grab-n-go snack! Just 5 total grams of carbs or 3 net grams of carbs per serving and 6 grams of protein per bar!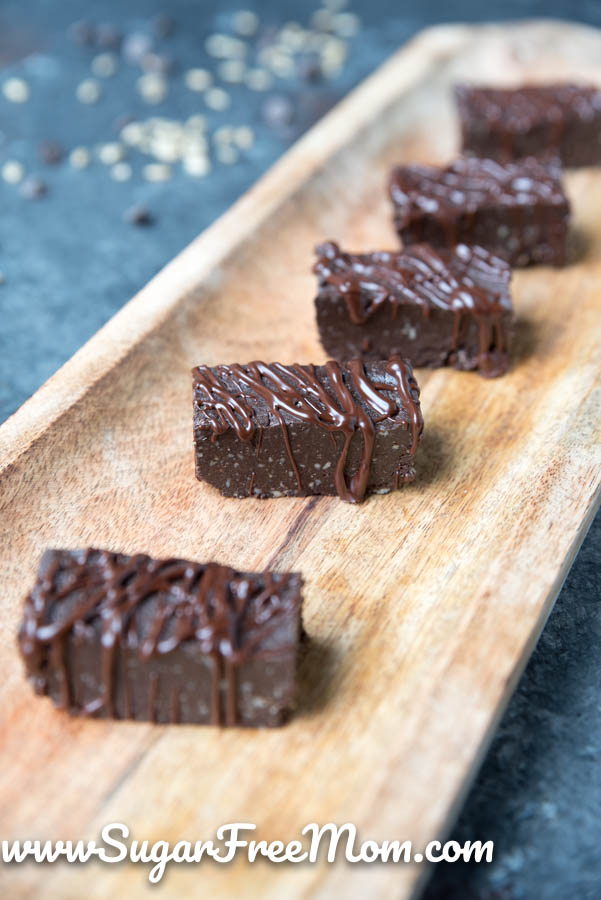 Homemade Keto Protein Bars
When it comes to low-carb bars, I love them all; creamy, salty, chewy, nut filled, coconut filled, etc. I'm all in, but especially if it's chocolate flavored.
But I'm not all in when it comes to sugar. Making a dark chocolate candy bar for just the sake of snacking wasn't my plan here. If I'm going to have a low carb snack I want it to include a high protein amount, with healthy fats, no artificial sweeteners or added sugar and of course low in grams of net carbs to fit into my low-carb diet.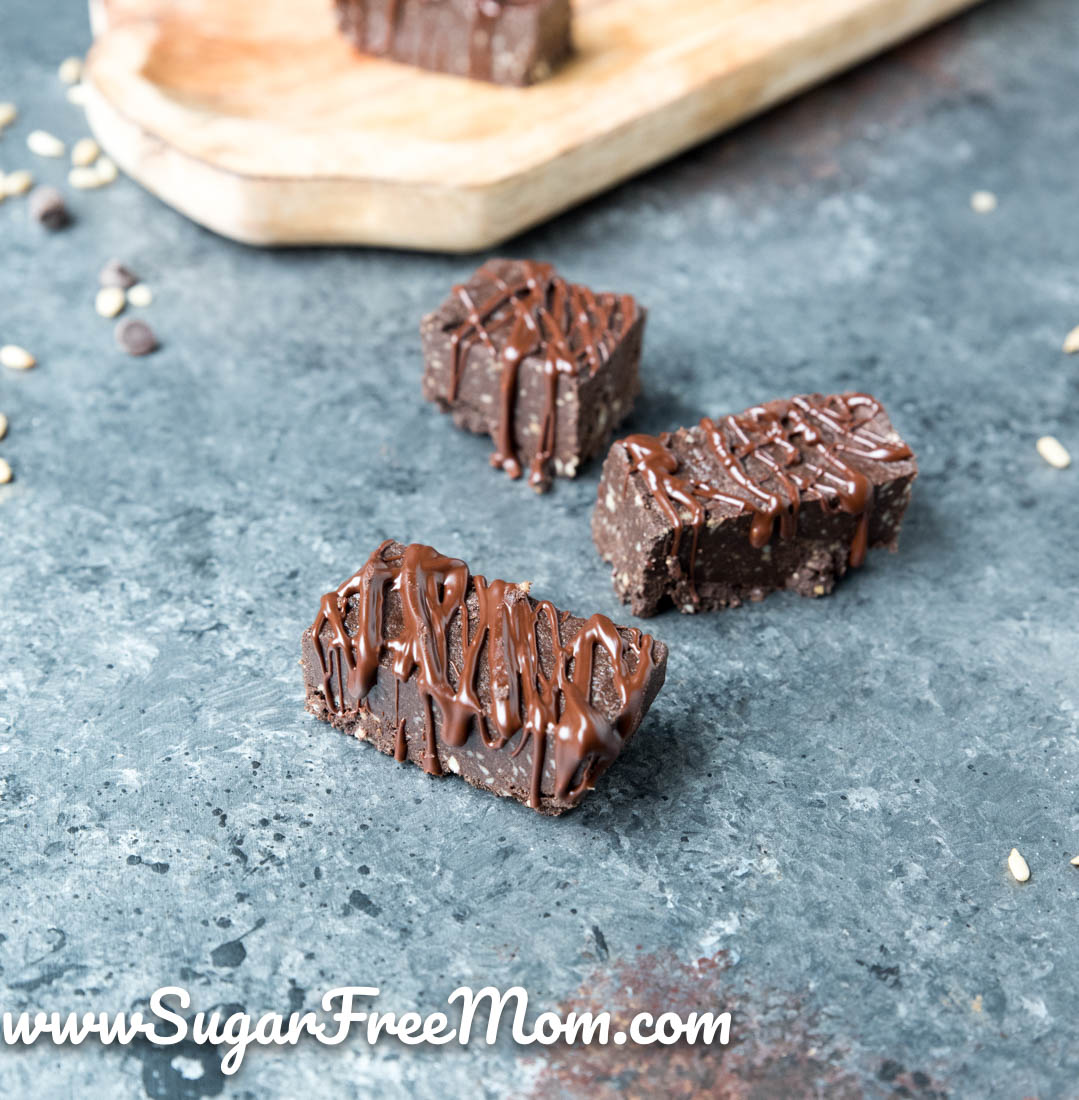 The Best Low Carb Protein Bars
Most store bought keto protein bars on the market today contain nuts. Often they include either almond flour or almond butter or cashews or some form of nut butters.
I love that we can now find so many delicious keto protein bars online, but when you have a nut allergy or your child or spouse does, it makes it impossible to purchase most granola bars and low carb keto protein bars available.
When you're eating a keto diet and even a low carb diet, getting in a good amount of protein and healthy fats will help with satiation.
Keeping the carbs low, these bars have a total of 5 carbs with dietary fiber at 2 grams. If you count net carbs, these have 3 grams per serving. If you are also tracking calories, one of my keto protein bars has just 150 calories.
The great thing about my keto protein bars is they do not need refrigeration making them easy to grab and go!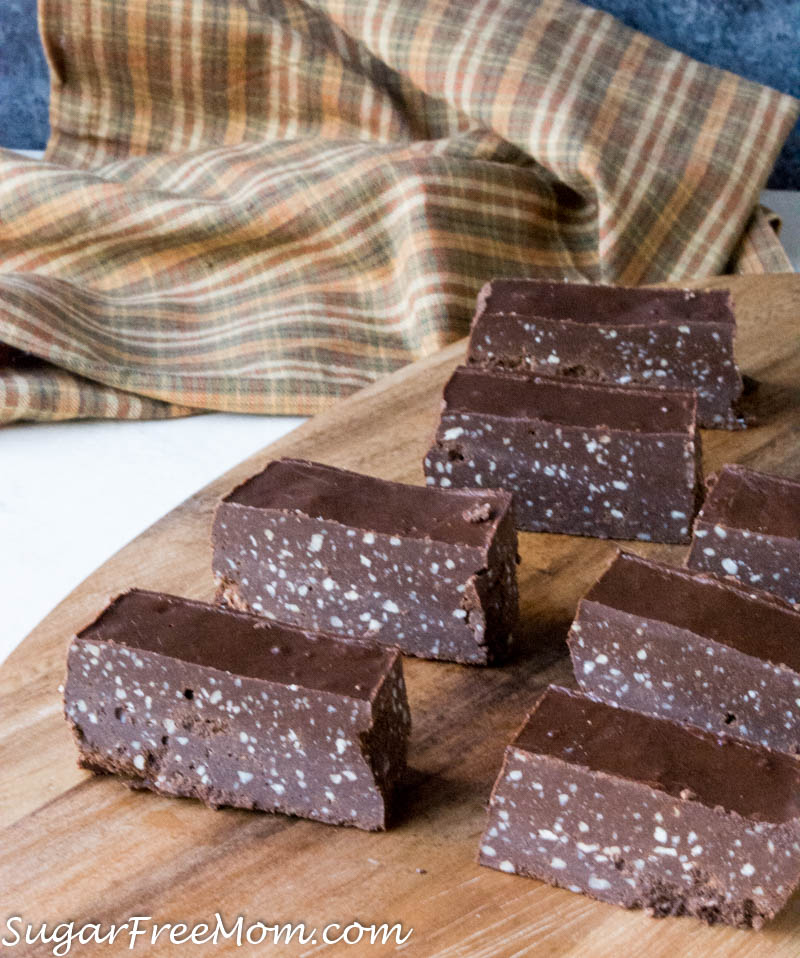 Nut Free Keto Delicious Recipes
This recipe came out of a little desire for my youngest to have some nut-free, chocolate gluten-free protein bars that were homemade knowing exactly what was in it.
If you've not followed me for very long you might not know my youngest has a tree nut and peanut allergy.
It's been a few long years of struggle trying to find anything store bought that didn't cause a reaction for him. My desire has always been to make most of the recipes on my blog nut free for him.
I'm particularly proud of these little healthy protein bars. They have great texture and a smooth creamy fudge feel in your mouth.
Have you ever had a Nestle crunch bar? Well, these low carb bars have a slight crunch to them coming from the grounds sunflower seeds and remind me of those crunch bars. Having some difference in texture really makes this a satisfying snack.
I try to use sunflower seeds often as a wonderful replacement for what most nuts do in a recipe. Some other recipes you might like: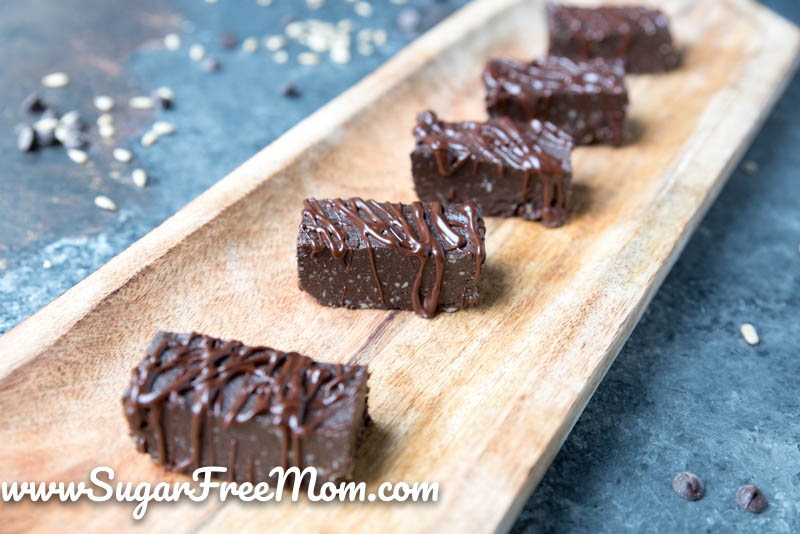 HOW TO MAKE KETO NUT FREE BARS
This is a super simple recipe to make at home! To view exact measurements, nutritional information and print recipe please scroll down to the bottom of the blog post for the recipe card.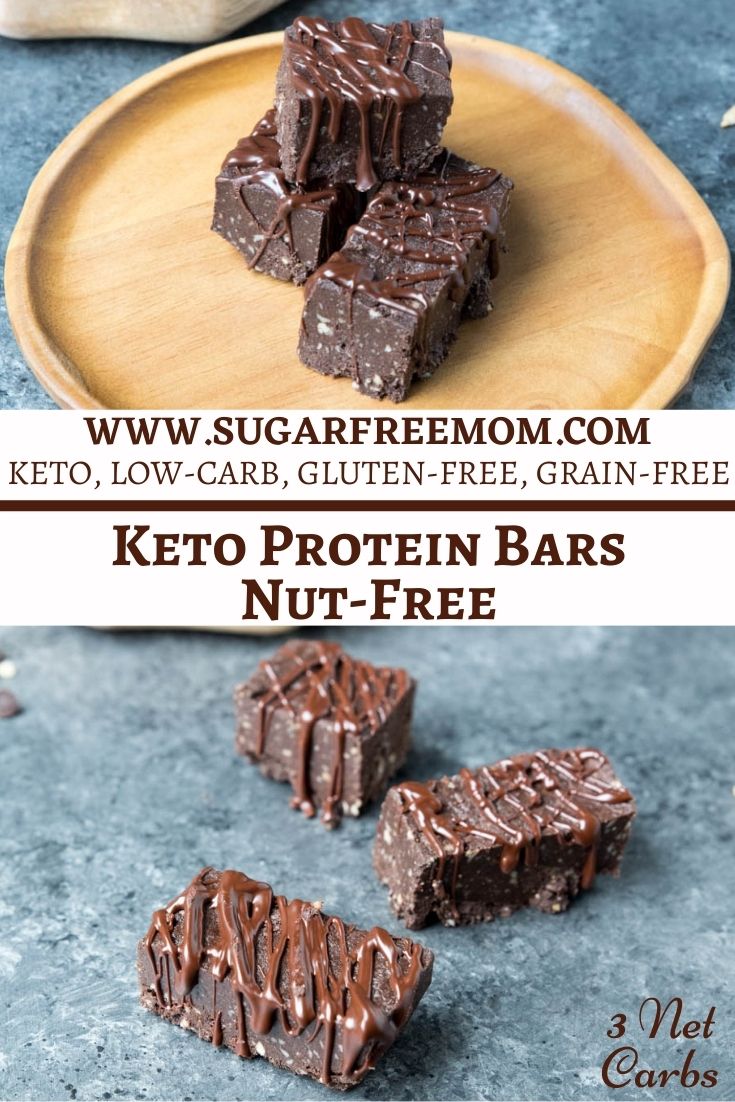 Simple Ingredients Needed:
Sunflower seeds -Make sure to purchase raw and unsalted
Sunflower seed butter or tahini which is ground sesame seeds
Chocolate protein powder- My favorite protein powder is the Jay Robb brand as it has very few ingredients and no junk or artificial ingredients.
Swerve confectioners sweetener -See my Sweetener guide & Conversion chart to swap this with another low carb sweetener.
Butter- Having your butter soft or room temperature will give you the best results when combining in food processor. Coconut oil could also replace butter.
Optional Coating: ½ cup sugar free chocolate chips and 1 tablespoon butter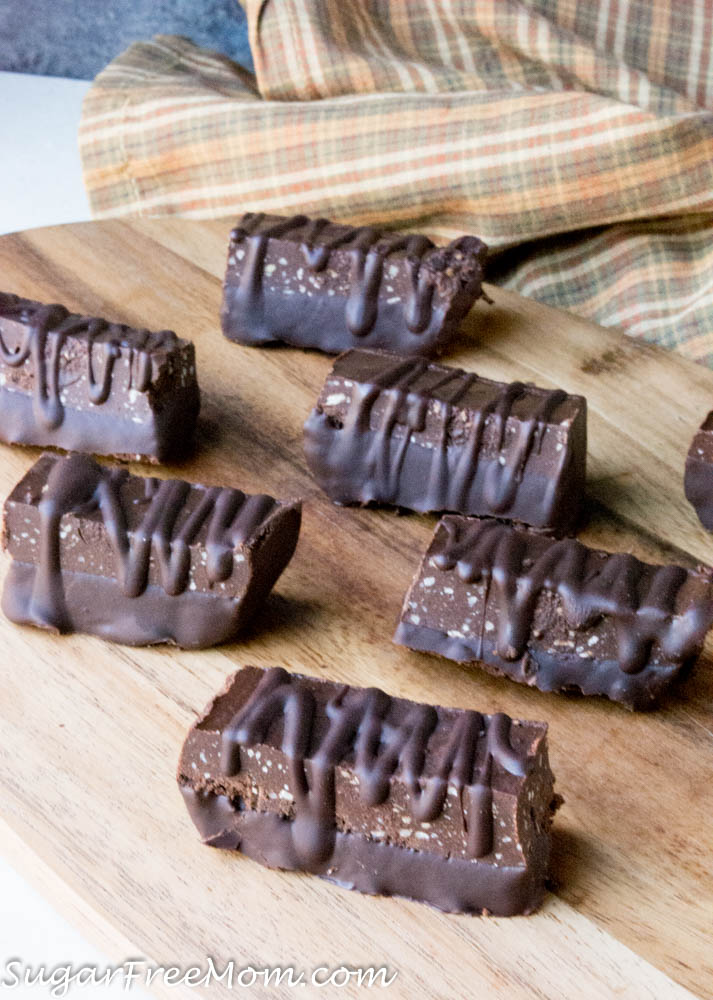 Directions
How to Make your own protein bars at home;
Place all keto-friendly ingredients into a food processor and blend until smooth. If you don't have a food processor, use a sharp knife and chop the sunflower seeds as best you can.
Scrape down the sides of the processor and blend again until it looks shiny and slightly wet. You could try placing all your ingredients into a blender but you may need to do that in batches since there isn't much surface area.
Taste and adjust sweetener if needed.
Spread batter into a parchment lined 8 by 4 inch loaf pan. I have tried these in a square 8 by 8 baking pan, but for me I felt the bars were a bit too thin for my liking. I prefer using the loaf pan instead for nice height.
Use the sides of the parchment paper over the top of the batter and then you can press it down to flatten evenly without getting your hands dirty.
Refrigerate for 30 minutes. Slice into 8 bars, then cut these keto protein bars in half to make 16 bars.
If using optional coating, melt sugar free chocolate chips and butter in microwave for 1 minute or on the stove top. Stir until smooth and no lumps.
Drizzle sugar-free chocolate on top of the bars and/or dip the bottom half of the bars into the melted chocolate and lay on a parchment lined baking sheet.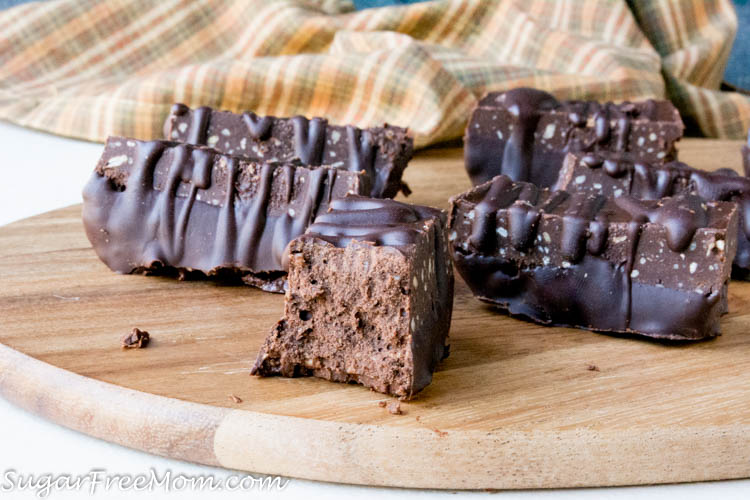 How to Store Keto Protein Bars
This picture makes me think of those 3 Musketeer bars from when I was a kid. But the recipe today doesn't have that light and airy texture as a 3 Musketeer would have. These are dense with a slight crunch and complete fudginess through and through.
Whether you're just having a craving for chocolate or need a little afternoon pick-me-up or simply want a treat, these allergy friendly protein bars are the perfect thing!
Store them in an airtight container on your counter for up to 5 days or in the fridge for up to 2 weeks or freeze for a month and thaw whenever you like.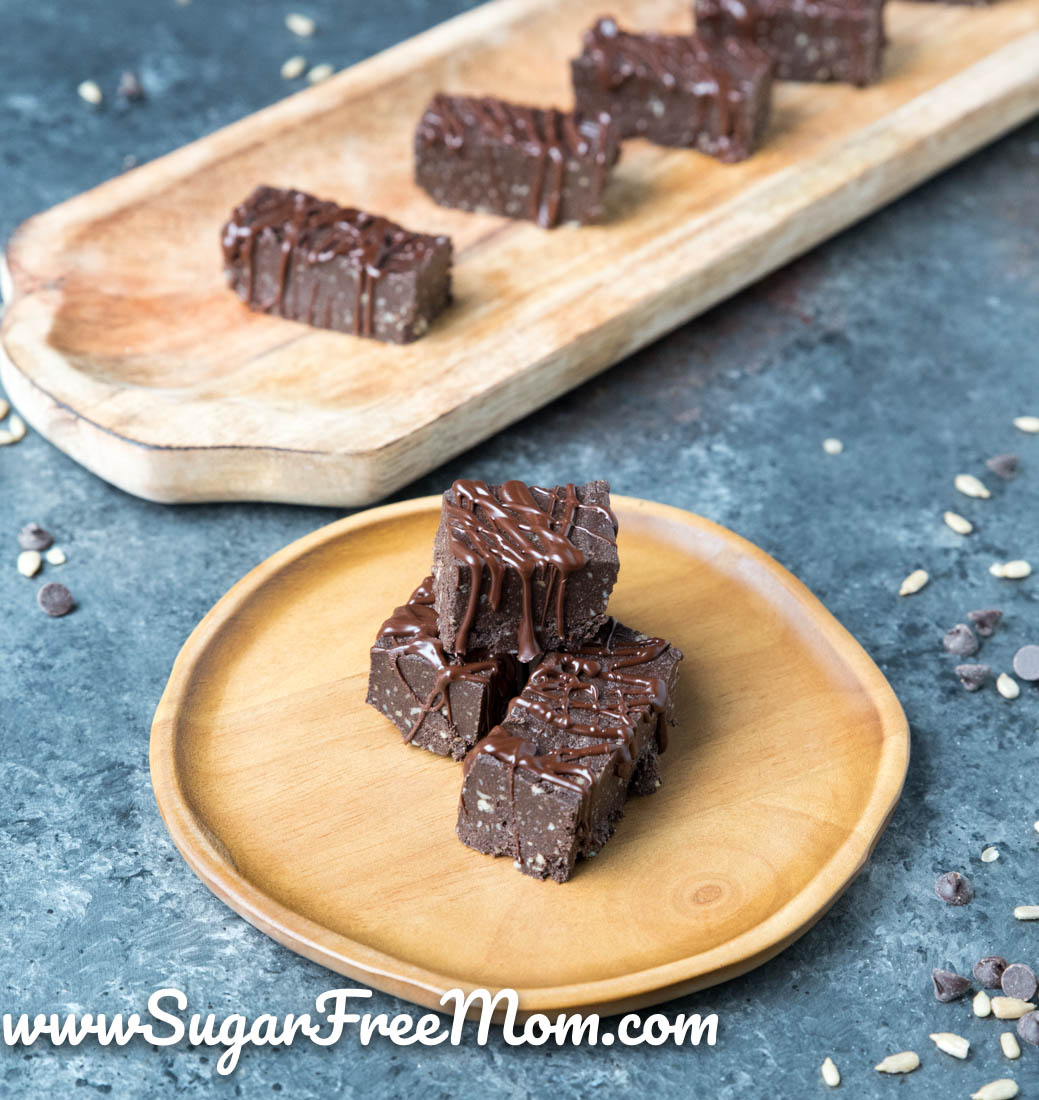 Swapping Ingredients
If you don't have nut allergies in your family you can sub the sunflower seeds for any nut of choice you like. You can also replace the sunflower seed butter with any nut butter you like.
If you don't have Swerve, you can use another confectioners style keto sweetener. I'd recommend Monk Fruit or Allulose.
You could also just choose a sweetener you enjoy, add a small amount then taste and adjust to your liking. Here's my sweetener guide and conversion chart.
Butter can also be replaced for the coconut oil to make these dairy free keto protein bars.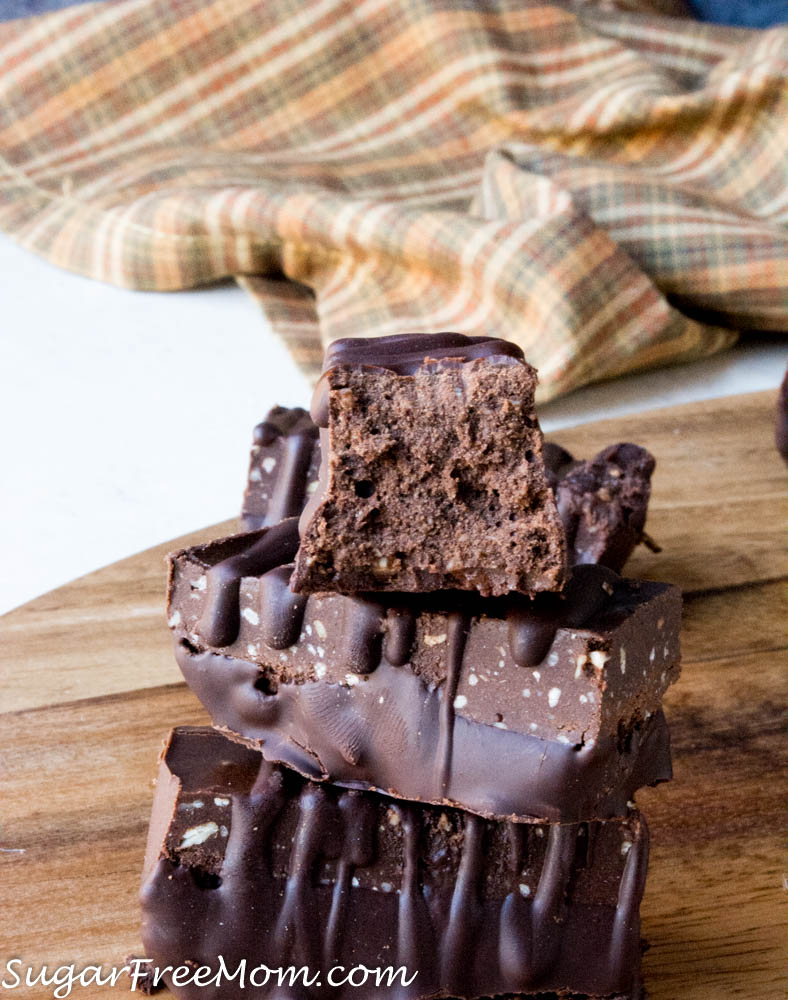 Low Carb Easy Keto Protein Bars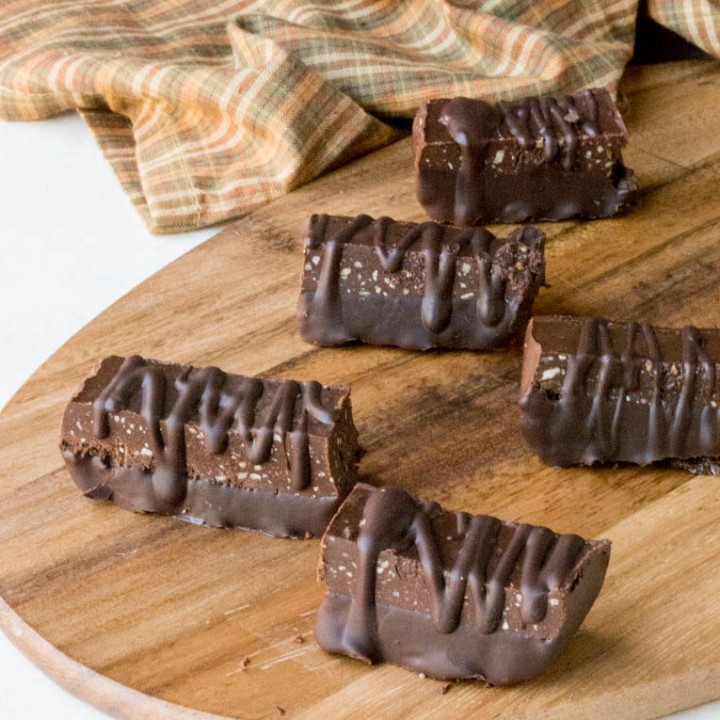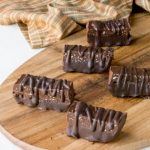 Print
Low Carb Keto Chocolate Protein Bars (Nut Free)
Instructions
Place all ingredients into food processor and blend until smooth.

Scrape down sides and blend again.

Taste and adjust sweetener if needed.

Spread batter into a parchment lined loaf pan.

Refrigerate for 30 minutes.

Slice into 8 bars then cut bars in half to make 16 bars.

Freeze for 30 minutes if you are planning on making optional coating.

If using optional coating, melt chocolate chips and butter in microwave for 1 minute or stove top. Stir until smooth and no lumps.

Dip the bottom half of the bars into the melted chocolate and lay on a parchment lined baking sheet. Drizzle more chocolate on top of bars if desired.

Storage: Refrigeration is not needed and these can stay on your counter in an airtight container, but in hot summer months it is best to keep them refrigerated.
Notes
Net Carbs: 3g
This recipe was first published in February of 2017 and updated in July 2021.
Nutrition
Serving:
1
bar
|
Calories:
151
kcal
|
Carbohydrates:
5
g
|
Protein:
6
g
|
Fat:
13
g
|
Saturated Fat:
4
g
|
Polyunsaturated Fat:
2
g
|
Monounsaturated Fat:
3
g
|
Trans Fat:
1
g
|
Cholesterol:
15
mg
|
Sodium:
132
mg
|
Potassium:
78
mg
|
Fiber:
2
g
|
Sugar:
1
g
|
Vitamin A:
182
IU
|
Vitamin C:
1
mg
|
Calcium:
30
mg
|
Iron:
1
mg