Kristi has dropped 3 dress sizes, lost 32 pounds, her Fibromyalgia pain is almost gone and her sugar cravings have disappeared!
I think I've had sugar issues for years. I loved chocolate cake and my sodas. Sonic knew me by my name and they'd have my order ready when I pulled in every day. I would drink so many sodas, big 32 ounce drinks every day.
I was a size 0 and could eat whatever I wanted until I had my son at the age of 23. The weight gain from that pregnancy and a couple more kids after that just made me struggle with extra weight for all these years.
I've had for Fibromyalgia for 10 years and Rheumatoid Arthritis got diagnosed last year and that's how I found your program.
The doctor wanted me to go on a stronger medication that would require me to do blood work every 4 weeks, but I wasn't convinced I had rheumatoid arthritis so I kept asking the doctor if my diet was what was causing me all of my pain.
The doctor said, not with rheumatoid arthritis. Your diet can't change that, you have to take the medication to control it. So I lied to my doctor and told her I was taking the medication, but I did not and started your program. I went back in a few months and told her I changed my diet and was feeling less pain.
My joint pain is almost gone! I used to be curled up on the couch all day long in pain.
I used to not make it past 3 pm every day because my fatigue was so bad. I couldn't function or even look at my phone and would need a 2 hour nap. Now my fatigue is gone!
What is you age and where do you live?
I am 45 and from South Texas.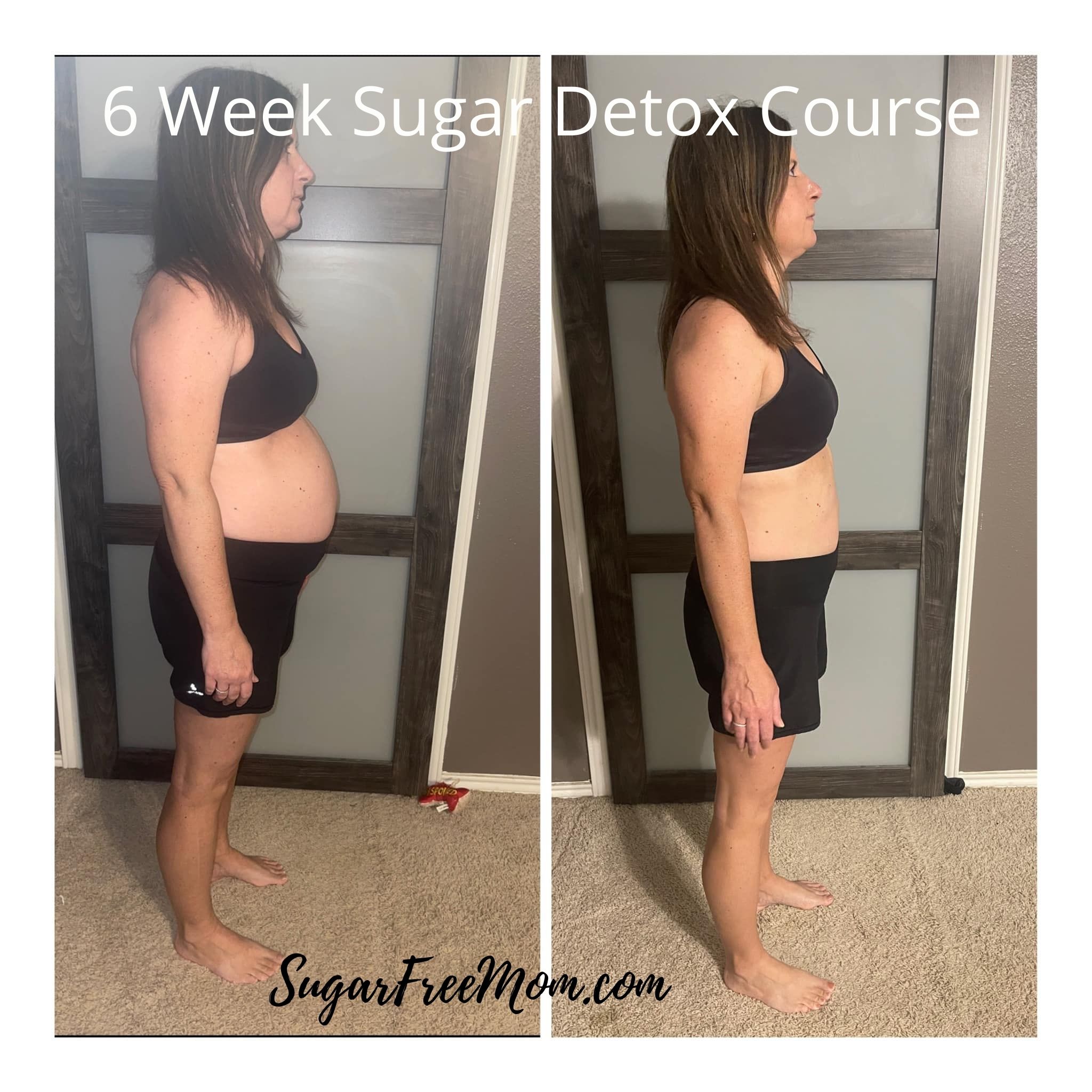 How did you find Sugarfreemom.com and when did you decide to join the 6 week Sugar Detox course?
I was talking to a friend of a friend who is a Dietician and she mentioned it. She said she had a $50 off coupon and I decided try it. I only had 2 days to think about it before the next session started in January 2022 and I did not want to go on a stronger medication. (Next course starts 9/28/22, Get $50 Off here)
Did you have any health or weight struggles before joining the course and membership?
Diagnosed with Fibromyalgia and Rheumatoid Arthritis. Was also told I had celiacs, but never tried a gluten free diet as I didn't think I could stick with it. I always looked bloated and my weight was rising to highest I had ever been.
What other programs have you tried before joining the sugar detox program?
I tried Ideal Protein several years ago (before Keto was a big thing). I didn't like the packets of food and it didn't prepare me for the last stage (being on my own). I would get very sick with horrible withdrawal symptoms, even throwing up. I lost 30 pounds in 3 months but gained it all back.
I did not have any withdrawal symptoms when I started your 6 week detox course, a small headache, but nothing close to what I had on the Ideal protein diet. I stuck to tracking and 20 total carbs a day.
How much weight did you lose and what other non- scale victories have you had?
I have lost 32 pounds now and still counting! I weigh 128 and last year at this time I was 165 pounds! Dropped 3 dress sizes and clothes fit me so much better.
The bloating is gone, fatigue is gone and most of my achy joint pain is gone as well.
What were you typically eating before making this lifestyle change?
I typically ate fast food at least once a day, if not twice a day. It was just easier (or so it seemed). I also loved my sweets and ate brownies, chocolate cake, cookies every single night.
I had a snack bin in my car and always had something to munch on throughout the day. I was hungry first thing in the morning.
What SugarFreemom recipes or resources have helped you?
Your cookbook and website of recipes have helped a lot.
Loaded Cauliflower bake is one of my favorite and replaced mash potatoes. We make it at least once a week because my boys love it! Oh and your cheesecake is great for birthdays and celebrations!
What does a typical day of eating look like now for you?
I'm usually not that hungry. If I have breakfast it's 2 eggs with cheese and 2 slices of bacon. Then I'll have nuts and/or jerky for lunch and have a healthy dinner. Or I drink a Premier Protein shake in the morning, have leftovers for lunch from the night before and healthy dinner.
I always carry jerky sticks with me in my purse if I ever get hungry. I also have a big Yeti cup I keep filled with water and fresh squeezed lemon that I take everywhere with me.
What have you learned from your journey?
That I am stronger than I thought I was. I didn't think that 7 months from starting this I would still be sugar free and eating healthy.
The benefits of less fatigue and less pain outweigh my desire to cheat and eat things I shouldn't.
Final thoughts or takeaways?
I am so happy to come across your program. I tell everyone about it and they usually say "I could never do that".
If I can do it, I believe anyone could! This program works because I was a huge sugar addict. It's not a diet to me anymore. It's a new way of life!
Everything that Kristi learned in the 6 week Sugar Detox Course is now available in my next book coming out December 6th 2022!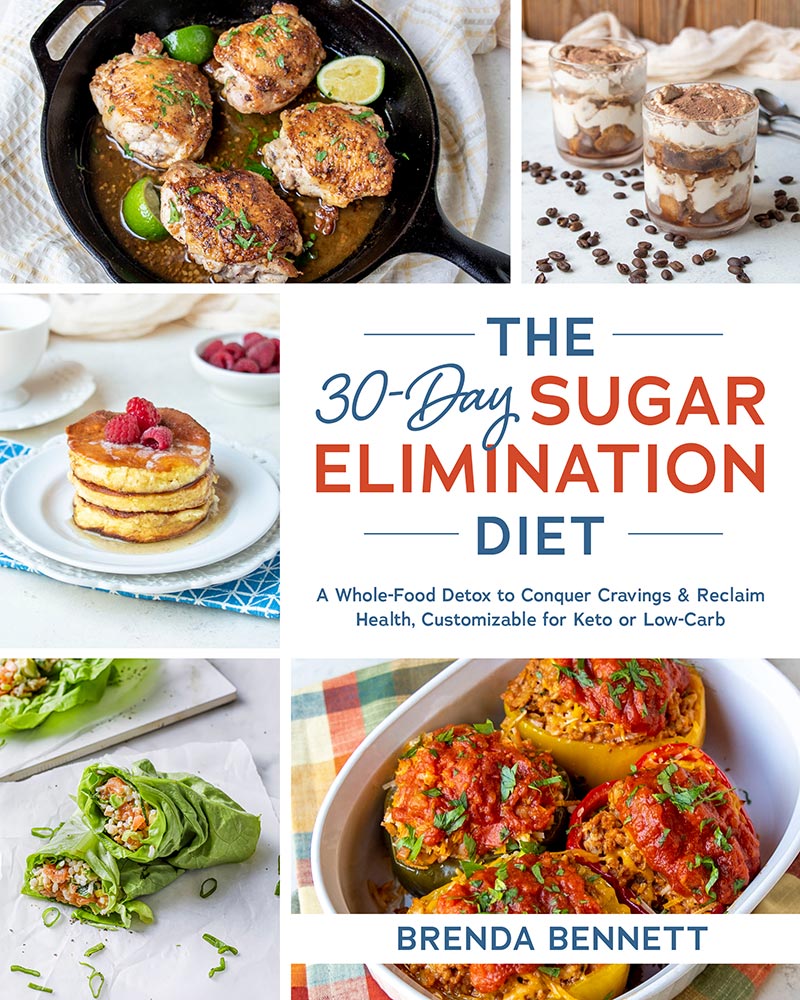 The 30-Day Sugar Elimination Diet is now available for pre-order which guarantees you will receive a copy on release date before they sell out!