These Low Carb Candied Bacon Pecan Pie Bars are grain free, keto, sugar-free and absolutely amazing in texture and taste! Thank you to Atkins Nutritionals for sponsoring todays recipe.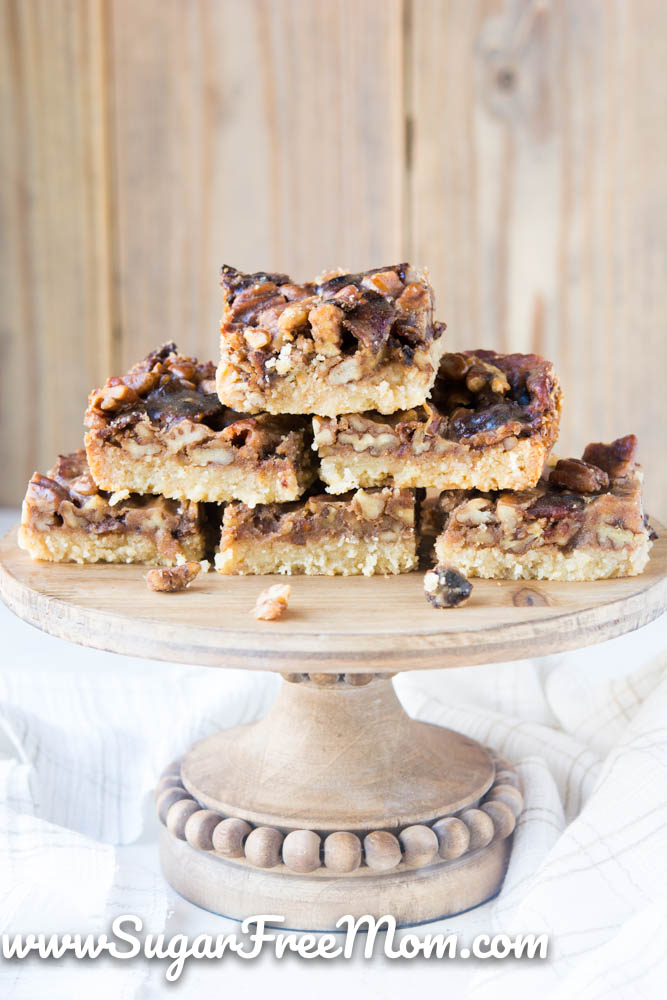 The holiday season can be a difficult one if you're new to a low carb lifestyle and unsure how to deal with all the parties that revolve around eating. Most often every party tends to be centered around high carbs and sugary desserts. The holidays don't have to be stressful if you're prepared with some amazing recipes to enjoy to stay on track with your low carb and/or keto lifestyle. This recipe today will be the perfect option to bring to a holiday party and even your non low carb loving friends will be shocked these candied bacon pecan pie bars are sugar free!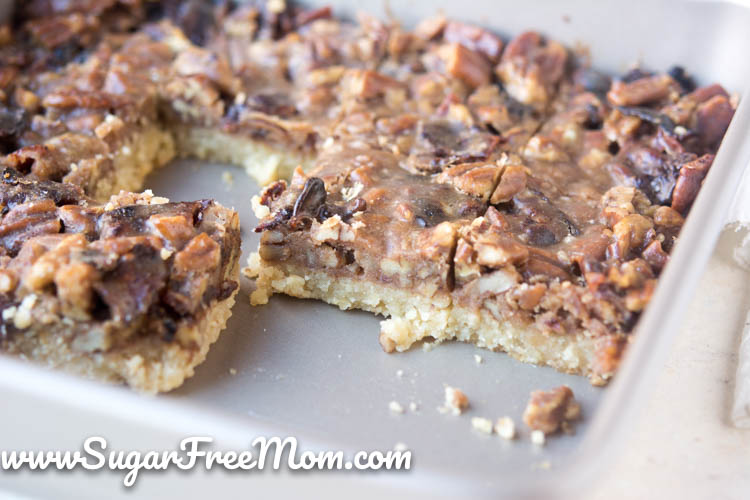 I gave up sugar over 13 years ago and have never looked back. My journey started out with just removing added sugars in my diet and sticking with unrefined sugars like honey and maple syrup, but I was still very high in carbs and didn't realize it. As the years went on, I discovered that I was still craving sugar, I did some research and learned why. Even though I was eating much better without white sugar in my diet, I didn't realize the glycemic impact of all the carbs I was still eating was turning to sugar in my body which then caused those cravings because it was raising my blood sugar levels. Did you know that foods like brown rice, whole wheat, fruit filled yogurt and even oatmeal can cause your blood sugar to spike? You can learn more about Hidden Sugars here.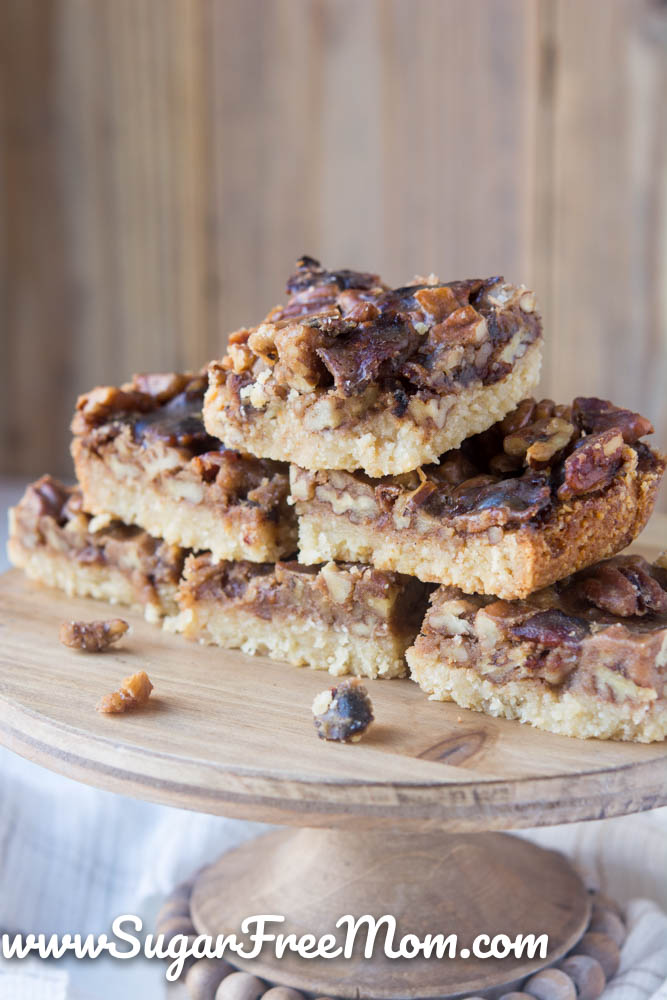 My mom has been an Atkins follower for years so I knew exactly what I needed to do to stop those cravings for sugar. For me it was just the next step that needed to happen in my journey for success in this area of life. Lowering my carbs meant for me going from about 100 grams of net carbs a day down to 40 net carbs. Once I began this lifestyle change, the cravings also stopped and I was able to maintain my weight. You can learn more about The Atkins 40 Low Carb Diet Plan works here.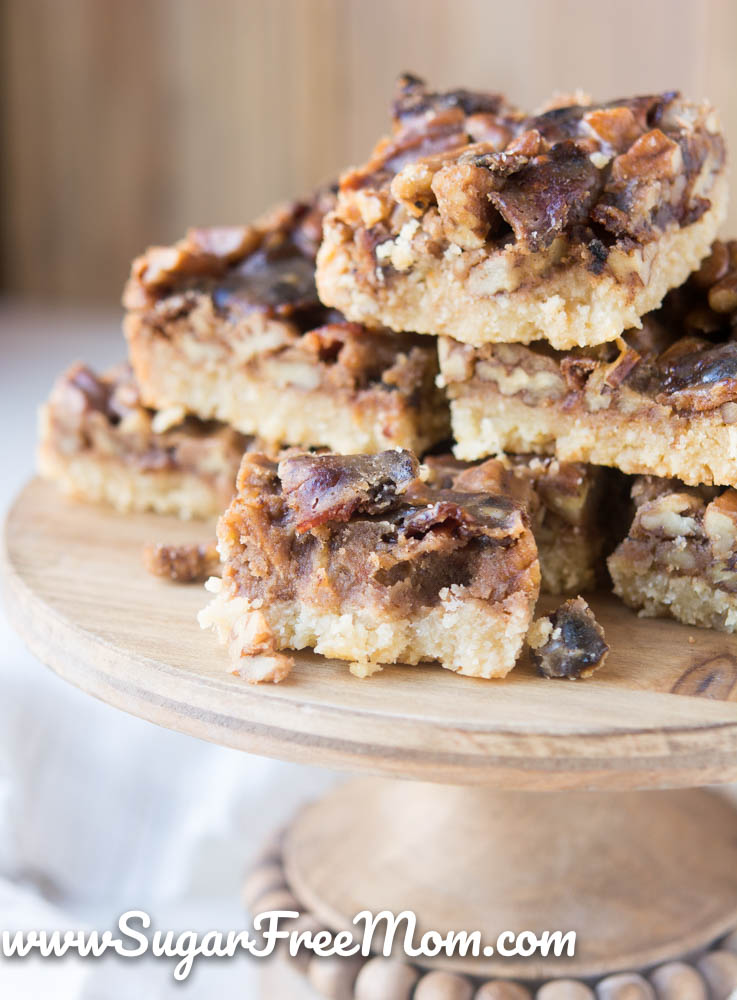 A low carb life style isn't about depriving yourself in the least. It's also not about having to eat less food either. It's really about finding how many carbs your body can handle and everyone is different. Our bodies do change over the years, especially those of us like me who are over 40. But when you're prepared with fantastic recipes like the dessert I'm sharing today, you can go anywhere, even to a holiday party with confidence in yourself and your way of eating and with a pretty fabulous dessert to share that everyone will want the recipe for.
Happy Low Carb Holidays!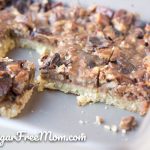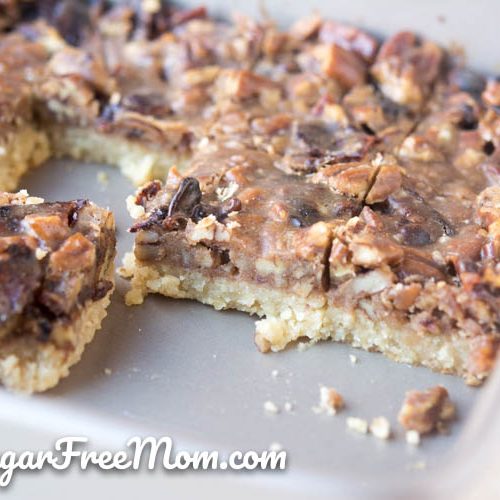 Print
Low Carb Candied Bacon Pecan Pie Bars
Instructions
Preheat the oven to 375 degrees F.

Place bacon on a foil lined baking sheet and spread half of on Sukrin syrup on the bacon strips.

Sprinkle on cinnamon and pepper if desired.

Bake for 10 minutes then flip bacon over and spread on the rest of the syrup, cinnamon and optional pepper. Bake additional 5 minutes or until crisp. Set aside to cool then chop.

Reduce oven to 350 degrees F.

Prepare ingredients for the shortbread crust in the food processor and pulse until fine crumbs.

Press evenly into an 8 by 8 baking dish. Bake 10 minutes and set aside.

Prepare the topping by adding all the ingredients except the pecans to a small sauce pan over medium heat on the stove.

Bring to a boil and continue to stir for 1 minute. Turn off the heat and add in the pecans and bacon. Spread this mixture over the crust.

Bake 20 minutes or until the edges are bubbling and the top is browned.

When cool, cut into servings and enjoy!
Nutrition
Serving:
1
bar
|
Calories:
325
kcal
|
Carbohydrates:
5
g
|
Protein:
5
g
|
Fat:
32
g
|
Saturated Fat:
10
g
|
Cholesterol:
42
mg
|
Sodium:
245
mg
|
Potassium:
74
mg
|
Fiber:
2
g
|
Sugar:
1
g
|
Vitamin A:
420
IU
|
Vitamin C:
0.2
mg
|
Calcium:
46
mg
|
Iron:
0.9
mg
This is a sponsored conversation written by me on behalf of Atkins . The opinions and text are all mine.