Just 6 ingredients are needed to make these low carb, dairy-free Raspberry Truffles! Thank you to Driscoll's for sponsoring today's post!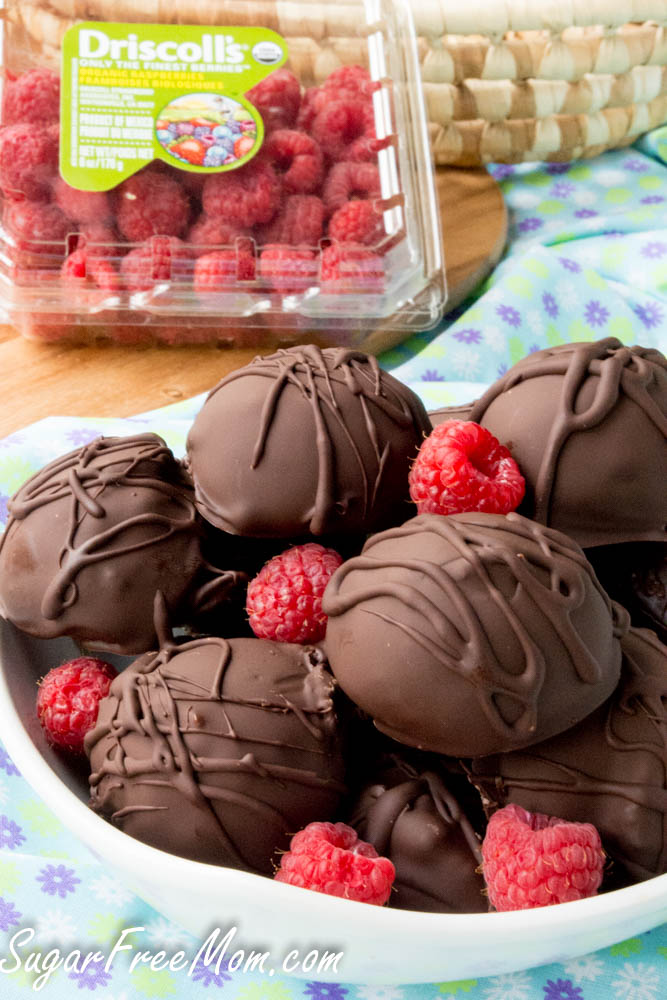 If you had told me a year ago, I could make a creamy truffle without using cream cheese or any dairy for that matter, I would have called your bluff. I just didn't think it was possible or that a dairy free truffle could even compete with a traditional one.
Now don't get me wrong here, I'm a dairy lover all the way. I enjoy dairy products regularly, but I need to limit how much dairy I can have on a daily basis. I also receive comments from many readers asking how to make some of my recipes dairy free. So today's recipe is for all of you who may have allergies to dairy, but even if you don't and may be skeptical, I dare you to try them and NOT be shocked at how creamy these are!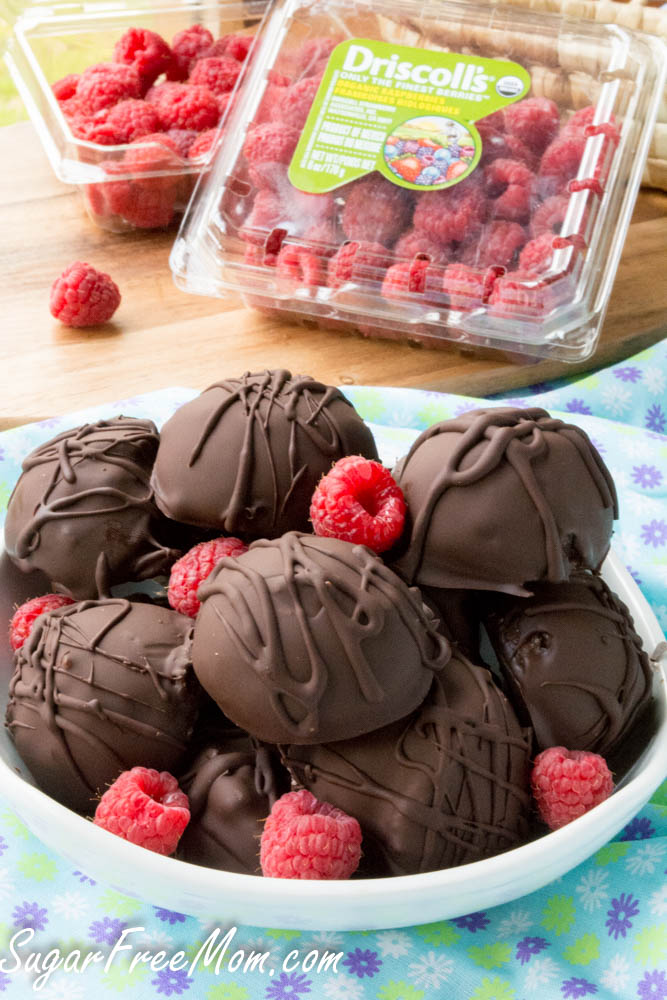 These aren't just any truffles either, these are special. Special because of the little surprise of a fresh berry in the center of each.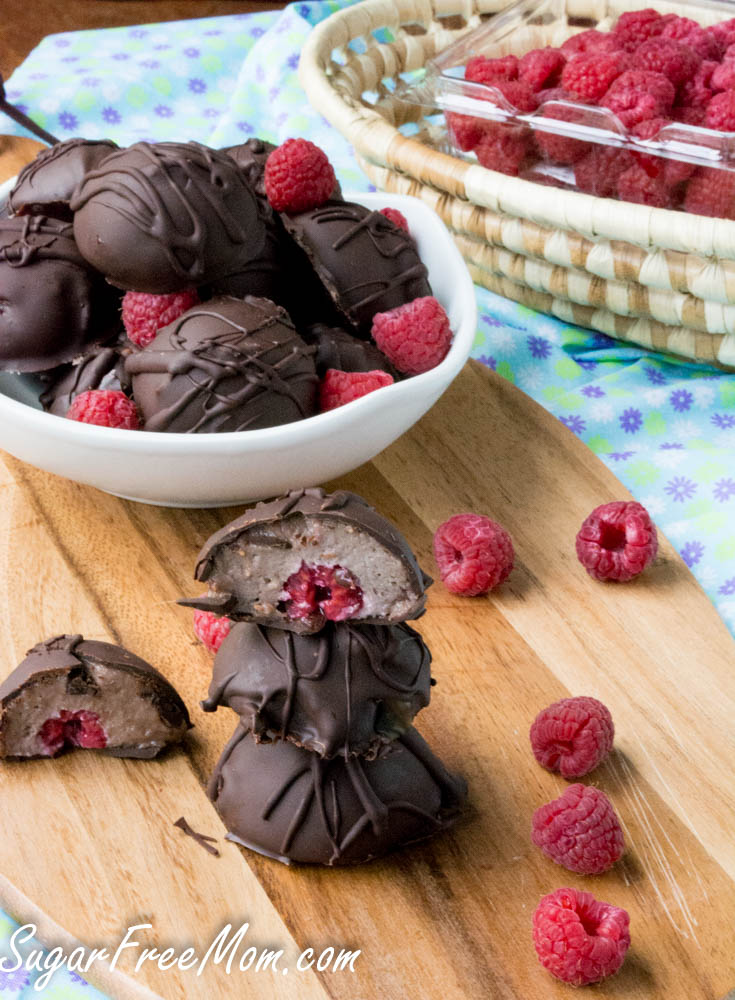 Driscoll's berries are the finest! Every time I purchase a package they are perfection; sweet and juicy like no other!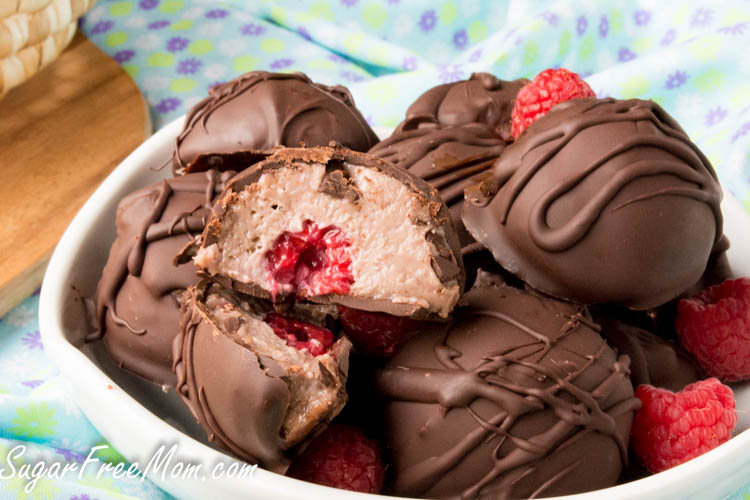 I made these for Mother's Day at my home this year and many of you know, none of my family is low carb or sugar free. My sister in law and her mother loved these truffles! They felt there was just enough sweetness and they loved the texture.
While my dad (Italian from Rome who loves his bread and pasta) enjoyed the flavor, he's not much of a dessert kind of man and said they were too big for him. So he cut one in half, ate half and said, "Wow these are really good, I'm going it eat the rest of it!" I knew if these could pass the picky dad test, we had a winner!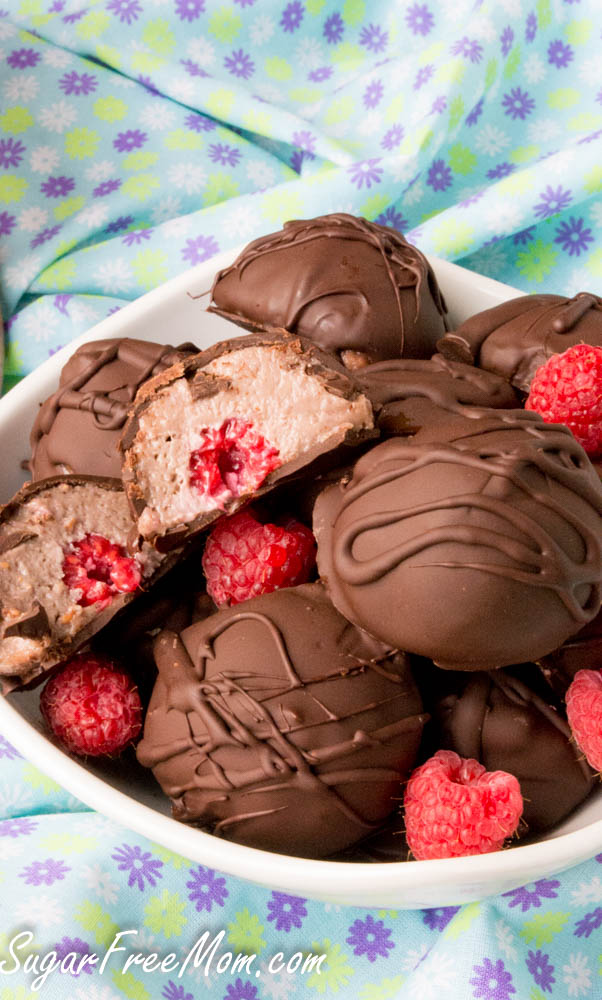 These truffles are a wonderful solution to those times when you need a dessert, have no idea what to make and have little time to make something. They come together so quickly in the food processor. The most time needed is really to let them get cold enough before coating with melted chocolate.
Check Out my Video to see How Easy these really are!

For more fantastic berry recipes check out Driscolls.com! Enter for a chance to win the Sweetest Berry Sweepstakes!
Brenda's Notes:
These truffles in the pictures are large and I made just 12. But the consensus of my family and friends said they were a bit too large. Use a small cookie scoop and this recipe will make 24 truffles.
You don't need the berry flavored stevia, you can use plain stevia or vanilla flavor, but it adds a bit more berry flavor than simply just using the extract.
I've given the nutrition info using 85% dark chocolate as it has lower carbs in it than using sugar free chocolate such as the brand Lily's Sweets. I don't feel there is a difference in taste in using either chocolate but if you want less carbs , the 85% is the way to go.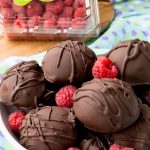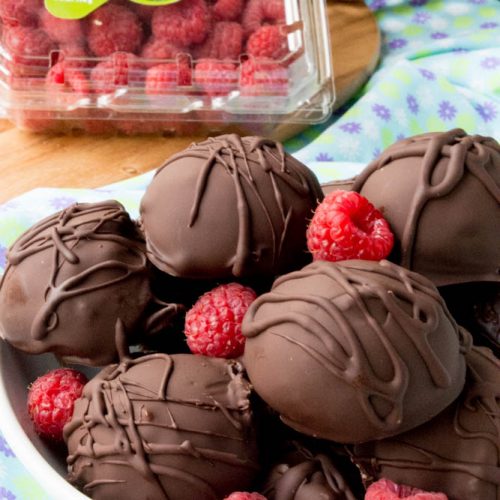 Print
Low Carb Dairy-Free Raspberry Truffles
Instructions
Place raspberries, cashew butter, coconut oil, stevia, extract and salt into a food processor and process until smooth.

Use a cookie scooper to make 24 truffles, press in 1 raspberry into the center of each.

Place on a parchment lined baking sheet and freeze for 30 minutes.

Melt chocolate to coat truffles, by placing in a microwaveable bowl for 30- 60 seconds, stir until smooth.

Use a skewer to place one truffle at a time into melted chocolate.

Tap off excess chocolate and place back on baking sheet.

Drizzle with a little more chocolate if desired.

Keep refrigerated.
Nutrition
Serving:
1
g
|
Calories:
134
kcal
|
Carbohydrates:
7.2
g
|
Protein:
3
g
|
Fat:
10.8
g
|
Saturated Fat:
4.9
g
|
Sodium:
16
mg
|
Fiber:
1.8
g
|
Sugar:
2.1
g
This post has been sponsored by Driscoll's with whom I am honored to be in partnership with. All opinions are 100% my own and always will be. Thank you for supporting the brands I enjoy working with.