This is a guest post from Ayla of Everyday Maternity.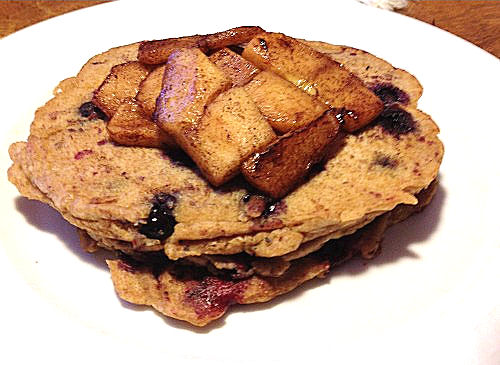 One of my favorite things about the weekend is that its a time to relax with the family. Nothing makes me feel better than a lazy Sunday morning in the kitchen making a delicious (but of course nutritious) breakfast. This recipe, commonly known in my family as ABC pancakes (A is for apple, B is for blueberries, and C is for cinnamon), is a favorite among all because not only is it sweet, but it's healthy too!
In addition, it just so happens to include a fabulous fruit that is one of my favorites: blueberries.
Did you know….
Blueberries are rich in antioxidants
Blueberries are a fat fighting food
Blueberries promote urinary tract health
Blueberries promote brain health (they boost neuron signals)
So this Sunday fill your kitchen with the delicious scent of apples and cinnamon and serve your family this healthy breakfast made with a powerhouse fruit.
Nutrition Info:
Whole Wheat Blueberry Pancakes:Serving Size: 1 pancake* Servings per Recipe: 5 pancakes* Calories: 133* Fat: 2.3 g* Carbs: 24.2 g* Fiber: 4.1 g* Protein: 5.5 g*
Apple Cinnamon Topping:Serving Size: ½ of what the recipe makes* Serving per Recipe: 2* Calories: 139.7* Fat: 8.8 g* Carbs: 16.4 g* Fiber: 3 g* Protein: 0.3 g*
Ingredients
Whole Wheat Blueberry Pancakes
1 and a ¼ cups whole wheat flour
2 and a ¼ teaspoon baking powder
¼ teaspoon salt
1 egg
1 and ¼ cups of almond milk unsweetened*
1 teaspoon vanilla extract
¼ cup of blueberries*
Cooking spray
Apple Cinnamon Topping
1 apple*
1 tablespoon unsalted butter
1 tablespoon water
¼ teaspoon ground cinnamon
Directions
Peel and thinly slice the apple.
Saute the apple, butter, water, and ground cinnamon until tender. Most of the liquid (melted butter and water) will cook out and the apples will be a golden brown shade.
Cover the pan and remove from heat.
In a bowl stir together the flour, baking powder, and salt.
Lightly beat the egg.
Mix all the wet ingredients (egg, almond milk, and vanilla extract) together with the dry ingredients. The batter should be smooth.
Stir in the blueberries.
Grease a nonstick pan (or griddle) with cooking spray.
Heat the pan on medium.
Pour batter onto the pan (I use a scoop of about ⅓ of a cup of batter). * If you are making multiple pancakes on your pan or griddle make sure they are spaced about 1 or 2 inches apart.
Once you see tiny bubbles forming all across the pancake (approximately 2 to 3 minutes) flip the pancake over.
Cook for another 2 to 3 minutes.
Check to make sure both sides are golden brown.
Serve with Apple Cinnamon Topping.
Additional Notes:
For my almond milk I use Almond Breeze original unsweetened
You can use more or less blueberries - it all depends on your tastes
Try a green apple for a little bit of a sweet/sour mix
This recipe was submitted by Ayla Hawkins on behalf of Everyday Maternity. Ayla is just starting out on her sugar-free and white-flour-free journey and is truly enjoying exploring all the great recipes out there.