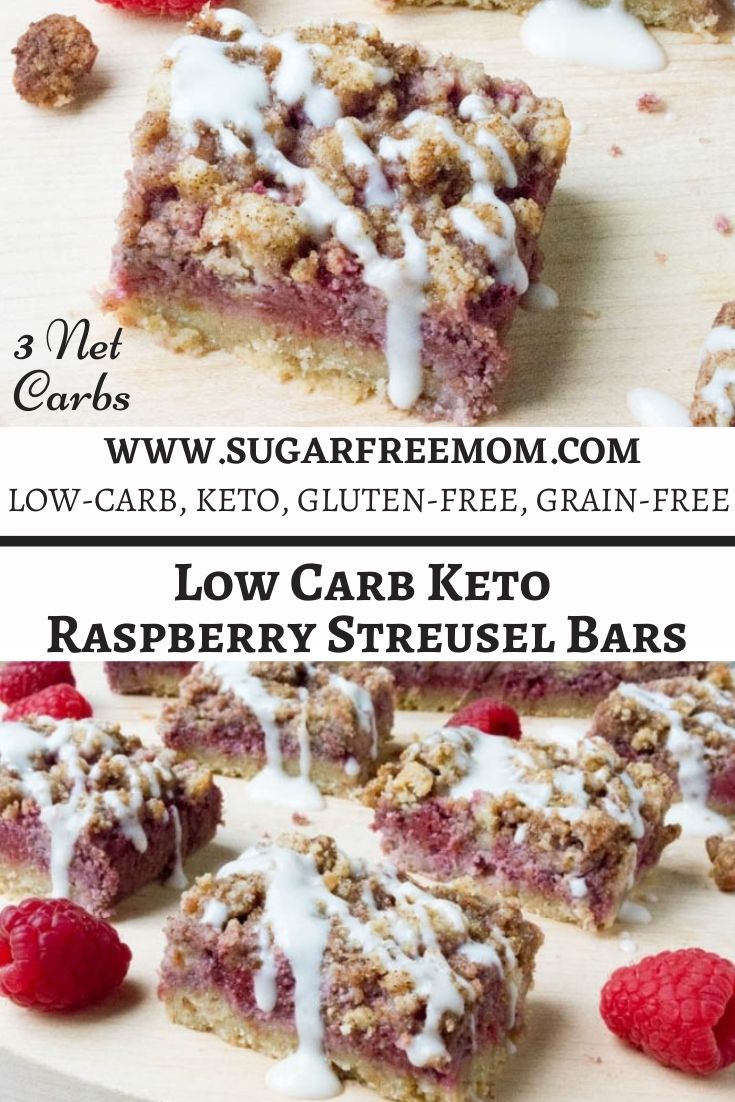 These Gluten Free, Sugar Free, Nut Free, Low Carb Keto Raspberry Streusel bars are a must make for any time of the year!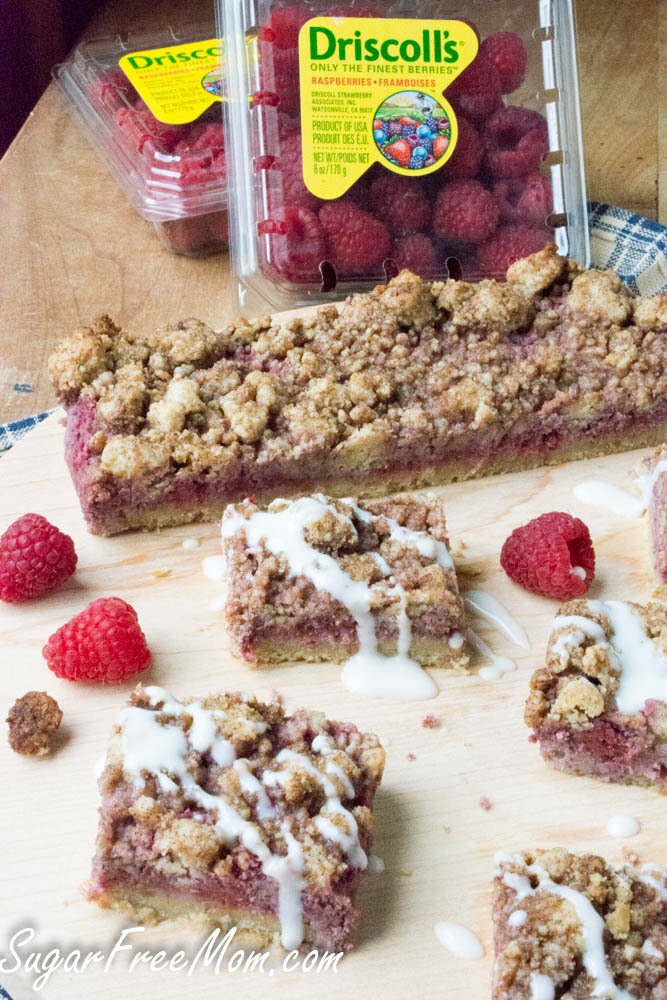 Delicious streusel fruit bars with a drizzle of icing over a crumble topping, all made sugar free, gluten free, and low carb makes for a healthy raspberry dessert that your family and friends will fall in love with!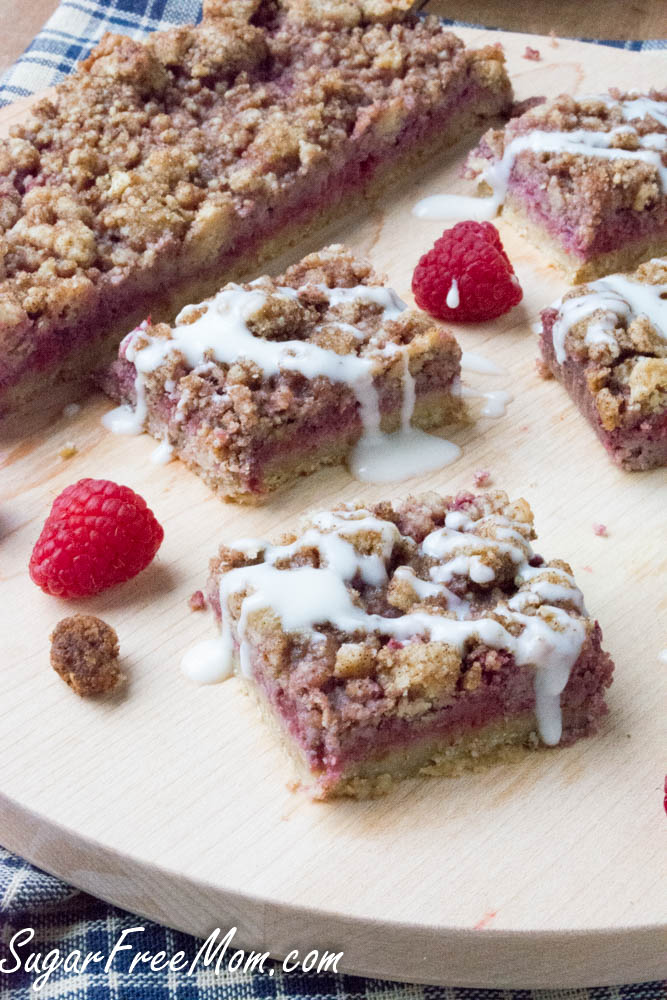 Whenever I see fresh raspberries with all their pretty bright red color at the grocery stores, I can not help it, but always pick up a few packages each time I shop.
They are always perfectly sweet, never sour or tart and always the fresh. They simply evoke happiness and joy, especially lovely with a cup of coffee!
And that's exactly what they bring to the table within this simple recipe!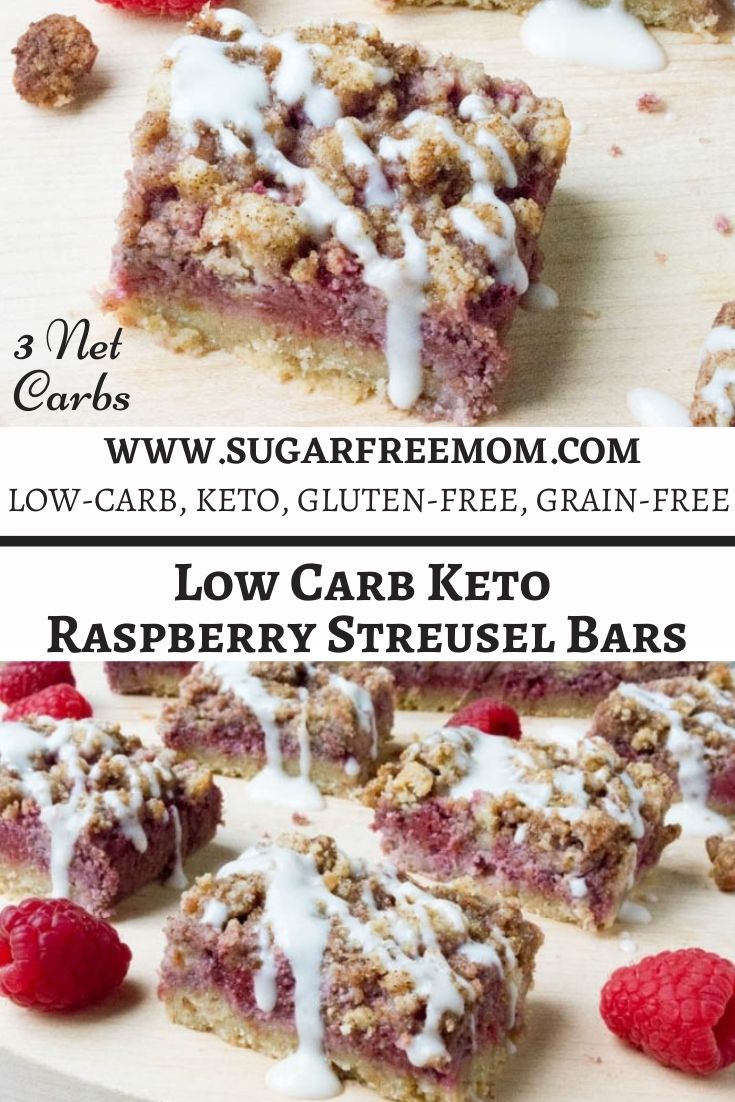 Keto Raspberry Crumble Bars
Raspberries aren't just a summer fruit to be enjoyed! My kids would much prefer raspberries to any other fruit, they would choose raspberries over blueberries, blackberries or cranberries in my recipes any day!
November is actually the peak season for fresh berries in Central California, Baja and Mexico growing regions.
Even if you don't live in those regions you can still find Driscoll's brand in many local markets.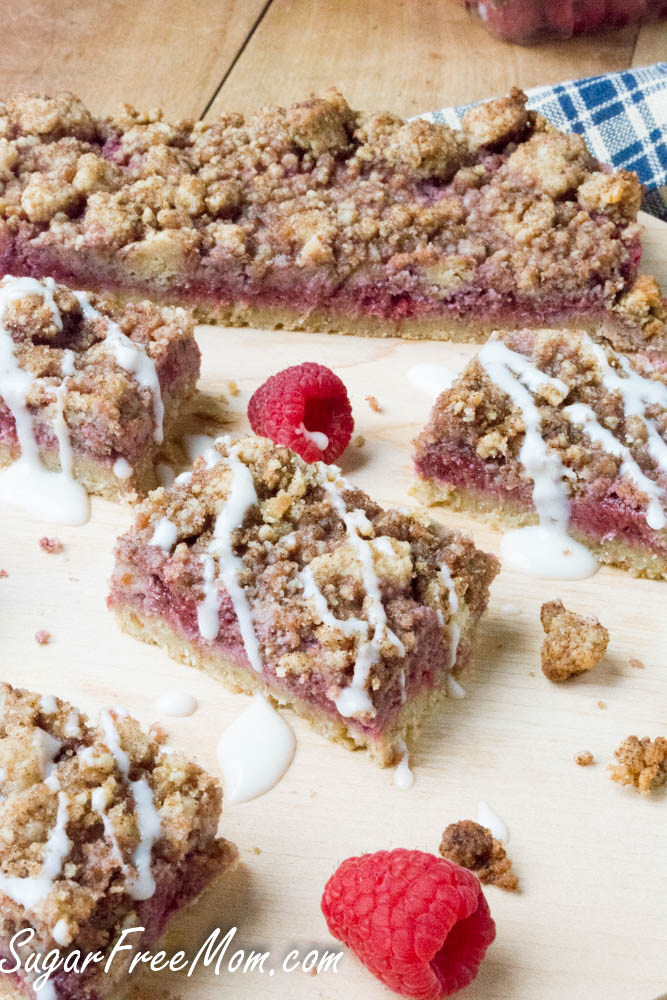 Baking is also what brings joy and happiness when we gather with our family and friends.
Traditional crumble bars are often paired with cranberries during the holidays, but since my kids aren't really fans of cranberries I thought raspberries would be the best substitute and I was right!
The kids loved these raspberry bars!
Almond Flour Free Streusel Bars
If you've been following me long enough you know my youngest has a tree nut and peanut allergy.
Often low carb bakers use almond flour because it is so easy to replace regular white flour in recipes one for one.
I tried this recipe using different amount of coconut flour and sesame, but in the end the addition of the sunflower seeds makes for the best texture. If you do not have tree nut allergies like in my family, feel free to substitute the sunflower seeds with almond flour.
But in my case, I can't use that. I've had to make this delicious dessert bar 3 times before I perfected the tender shortbread crust, but it was worth it.
You have here a delicious, bottom layer shortbread crust, then raspberry layer and on top of the jam, a streusel crumb topping that is a wonderful allergy friendly dessert bar recipe to take to any party.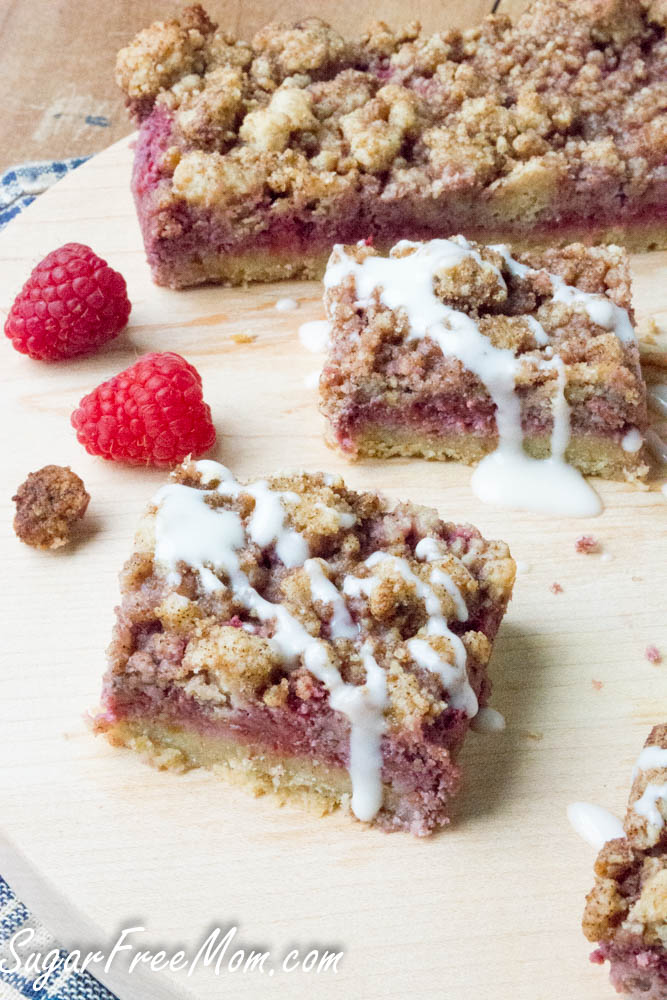 Can I change the low carb Sweetener?
Feel free to change out any sweetener for whatever you like to use. In the batter and filling, I would suggest just ¼ cup of another sweetener as Swerve is not as sweet as other sugar free substitutes.
Please use my Sweetener Guide & Conversion Chart to help you decide how much to use.
If using maple syrup, use just a small amount then taste the raspberry mixture to adjust as needed. Since it's a liquid sweetener it may effect final outcome since I have not tested it myself.
Please be aware that if you are following a low carb diet or keto diet, any sweetener like honey or maple syrup or coconut sugar is still sugar and will spike blood sugar and cause cravings.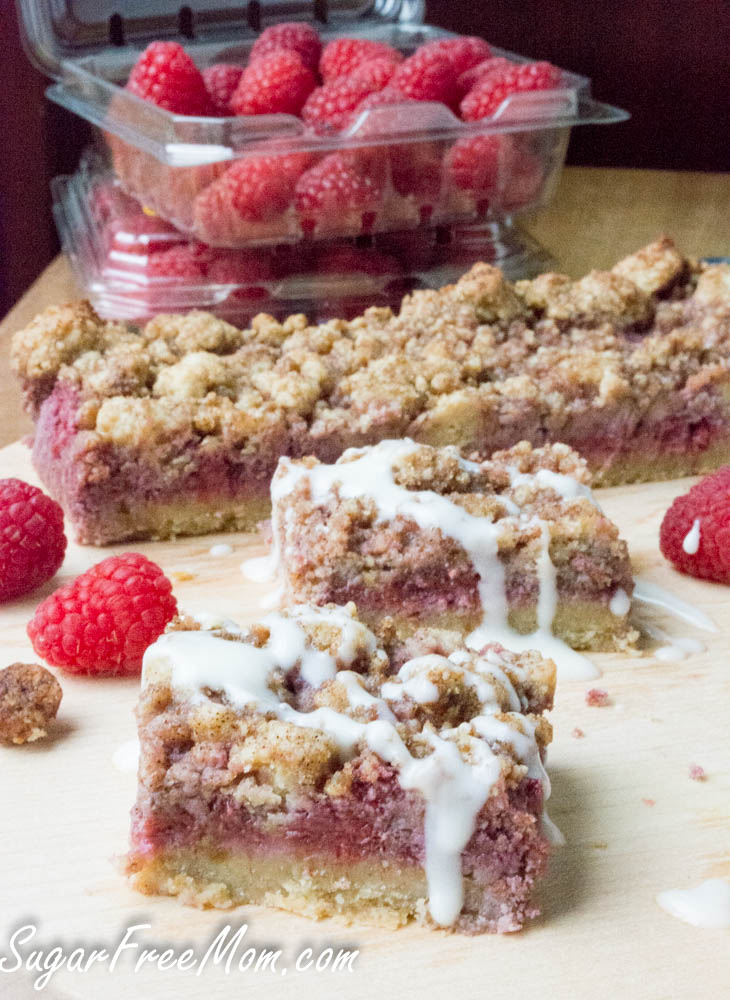 I'm so excited with how these turned out after multiple times and I truly believe these will be your favorite bars. I also think those who aren't sugar free and low carb will be shocked when they try them, because they do not taste like healthy ingredients were used .
Even my picky hubby who often isn't a fan of sugar free baked goods, really enjoyed the texture and taste.
Super Easy too, Watch my video!

Low Carb Keto Raspberry Crumb Bars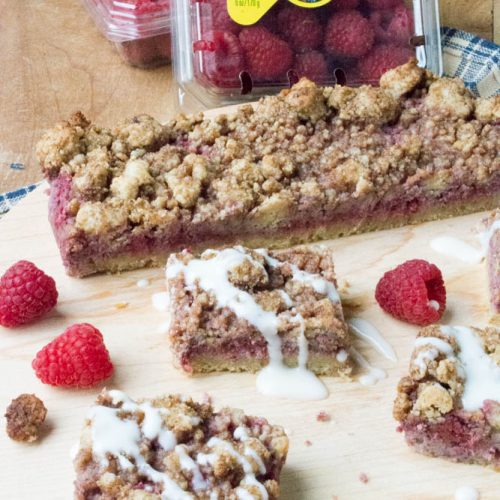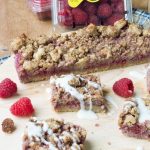 Print
Low Carb Keto Raspberry Streusel Bars
Ingredients
Optional Icing Drizzle: ¼ cup Swerve confectioners sweetener with 1 tablespoon heavy cream
Instructions
Preheat the oven to 350 degrees F. spray bottom of 8-inch square pan with avocado oil cooking spray or use parchment paper if you prefer.

Place all the shortbread ingredients into a food processor and blend until dough forms. Reserve 1 cup of remaining dough for topping.

Spread remaining batter into baking dish in an even layer.

Bake 10 minutes then allow to cool.

Prepare raspberry filling by placing all ingredients into a medium saucepan over medium heat and bring to a boil.

Simmer 10 minutes until thickened.

Pour evenly over crust.

Place reserved shortbread batter in a large bowl with topping ingredients and mix until combined.

Sprinkle over the filling and bake for 20 minutes until golden brown.

Cool 30 minutes to room temperature then refrigerate for 2-3 hours or overnight.

To make optional drizzle topping to serve, simply mix the sweetener and the milk together in a mixing bowl until smooth an drizzle over slices to serve.

Store leftover pieces in an airtight container in the fridge for up to 3 days or freeze for up to 3 months.
Notes
Net Carbs: 3g
This recipe was first published in November 2016.
Nutrition
Serving:
1
serving
|
Calories:
196
kcal
|
Carbohydrates:
9
g
|
Protein:
6
g
|
Fat:
16
g
|
Saturated Fat:
7
g
|
Polyunsaturated Fat:
2
g
|
Monounsaturated Fat:
4
g
|
Trans Fat:
0.5
g
|
Cholesterol:
30
mg
|
Sodium:
146
mg
|
Potassium:
85
mg
|
Fiber:
6
g
|
Sugar:
1
g
|
Vitamin A:
363
IU
|
Vitamin C:
8
mg
|
Calcium:
17
mg
|
Iron:
1
mg