These Gluten Free, Sugar Free, Grain Free and Low Carb Raspberry Streusel bars are a must make for this holiday season! Thank you to Driscoll's raspberries for sponsoring this post!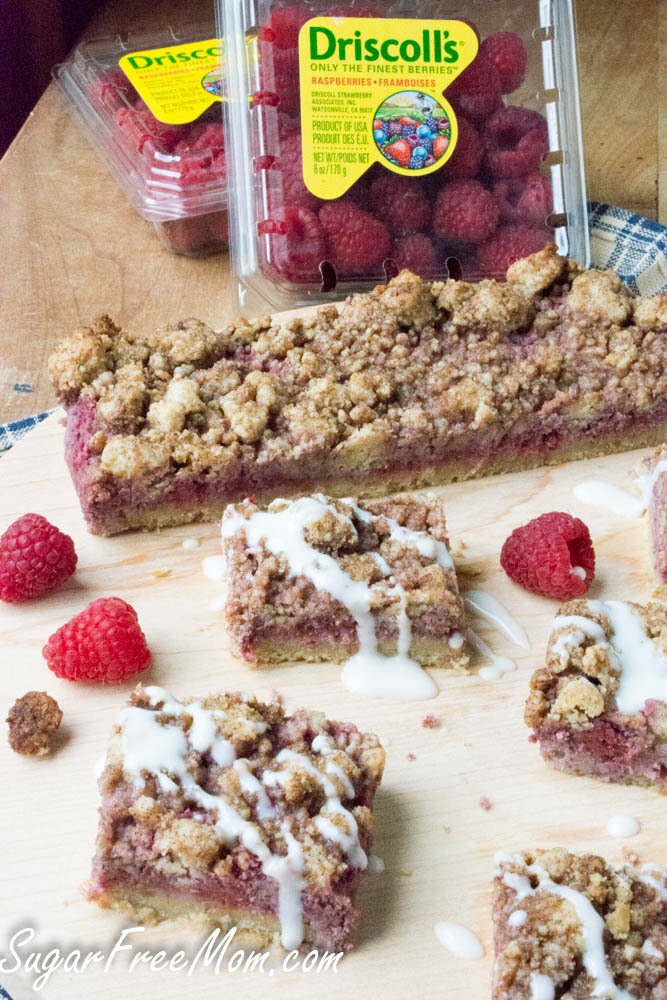 Scrumptious raspberry streusel bars with a drizzle of icing on top, all made sugar free, gluten free, and low carb makes for a healthy holiday dessert that your family and friends will fall in love with!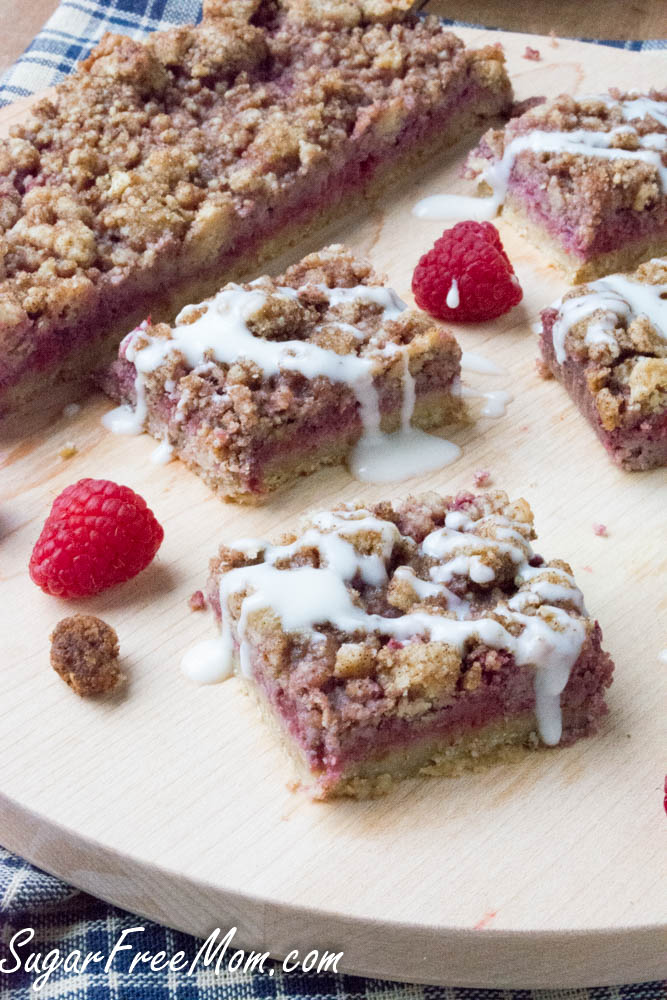 Whenever I see Driscoll's fresh raspberries with all their pretty bright red color at the market I can not help, but pick up a few packages each time I shop. They are always perfectly sweet, never sour or tart and always the freshest. They simply evoke happiness and joy! And that's exactly what they bring to the table within this recipe!
Raspberries aren't just a summer fruit to be enjoyed! My kids would much prefer raspberries to any other fruit and not with the holidays approaching, they would choose raspberries over cranberries in my recipes any day!
November is actually the peak season for Driscoll's Raspberries in their Central California, Baja and Mexico growing regions. Even if you don't live in those regions you can still find Driscoll's brand in many local markets.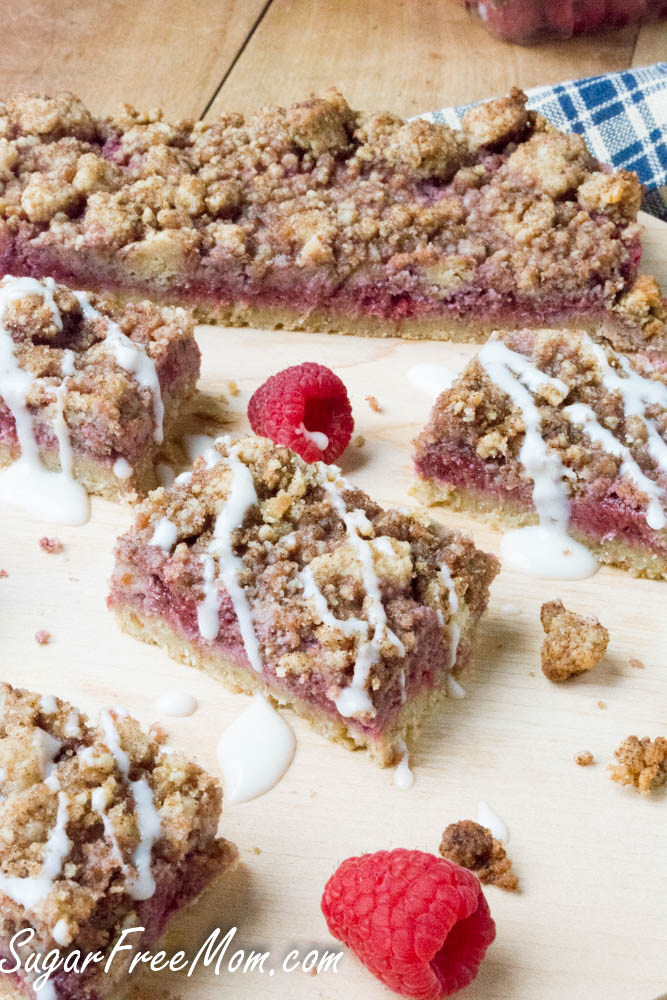 Holiday baking is also what brings joy and happiness when we gather with our family and friends. This streusel bar is often paired with cranberries during the holidays but since my kids aren't really fans of cranberries I thought raspberries would be the best substitute and I was right! The kids loved these bars!
If you've been following me long enough you know my youngest has a tree nut and peanut allergy. Often low carb baking requires the use of almond flour. But in my case, I can't use that. I've had to make these bars 3 times before I perfected the shortbread crust but it was worth it. You have here a delicious shortbread crust, fruity filling and streusel topping that is an wonderful allergy friendly dessert to take to any holiday party.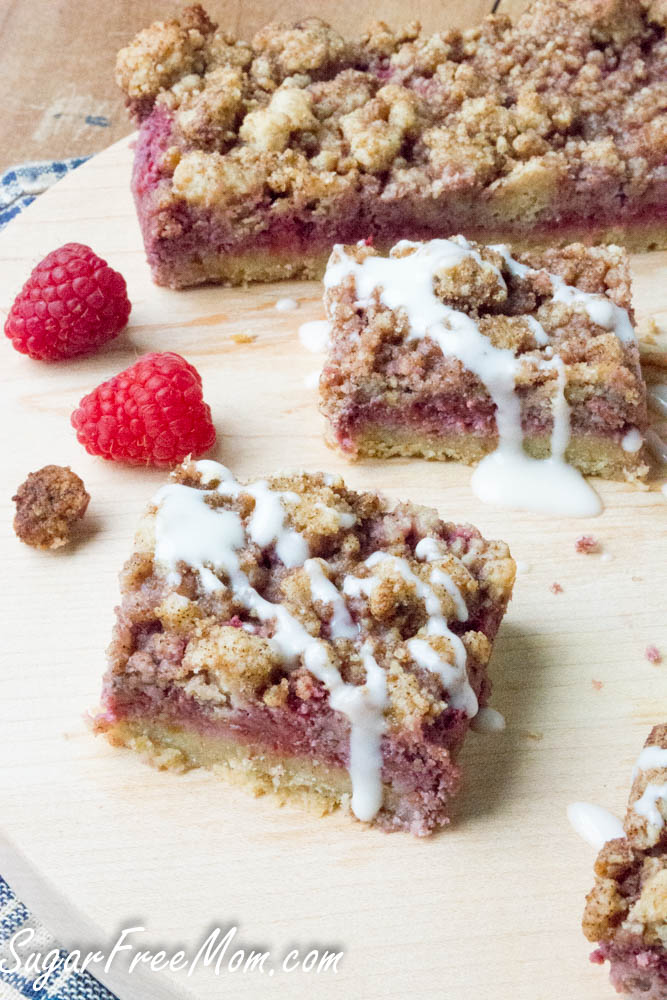 I'm so excited with how these turned out after multiple times and I truly believe these will be your favorite bar to bake for the holidays. I also think those who aren't sugar free and low carb will be shocked when they try them, they don't taste "healthy" in the least.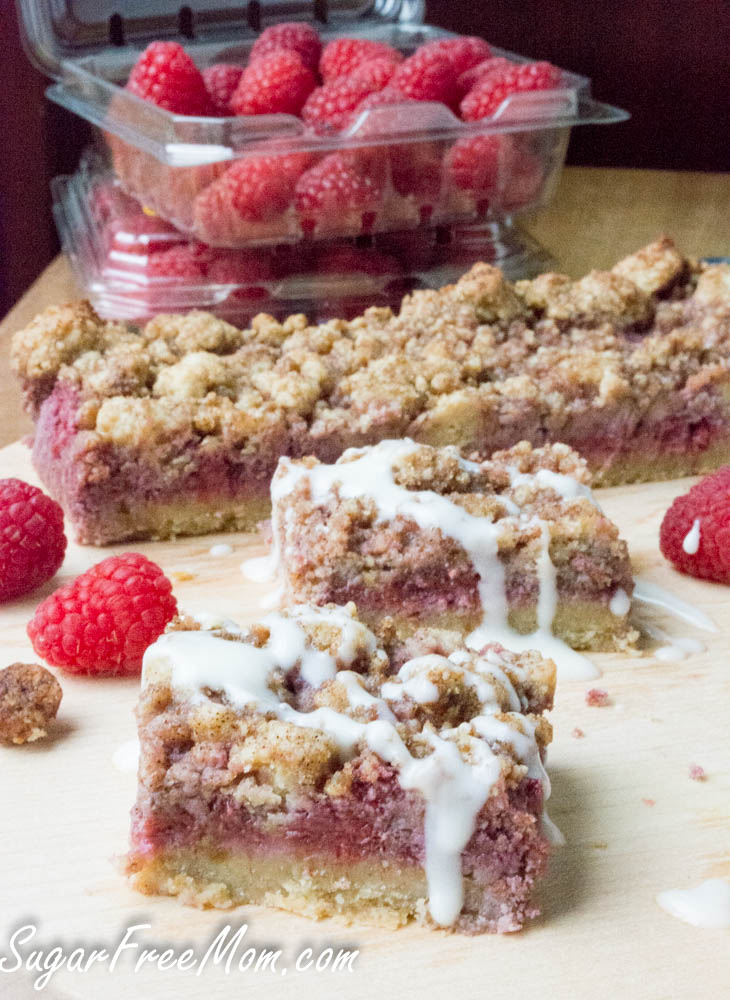 Even my picky hubby who often isn't a fan of sugar free desserts, really enjoyed the texture and taste.
Super Easy too, Watch my video!

Brenda's Notes:
I'm excited to tell you that now you can buy Swerve confectioners and granulated sweetener through my favorite online shop at iherb.com and it is much less expensive than buying in a store! Here is my discount code is YAJ035 that will save you even more!
Feel free to change out any sweetener for whatever you like to use. In the batter and filling, I would suggest just ¼ cup of another sweetener as Swerve is not as sweet as other sugar free substitutes.
I tried this recipes using different amount of coconut flour and sesame, but in the end the addition of the sunflower seeds makes for the best texture. If you do not have tree nut allergies like in my family, feel free to substitute the sunflower seeds and sesame flour with almond flour.
Share the joy and happiness this holiday season using fresh Driscoll's raspberries in your baking and I hope you'll start with this recipe!
Find more Holiday Recipes using Driscoll's Raspberries!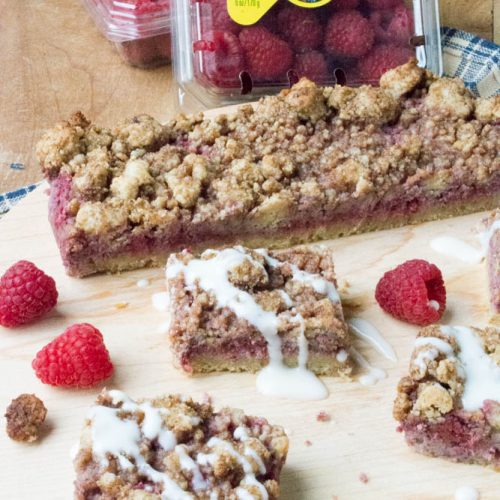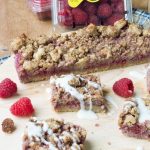 Print
Low Carb Raspberry Streusel Bars
Ingredients
Raspberry Filling
12

ounces

Driscoll's raspberries

1

tablespoon

lemon juice

pinch

salt

½

cup

water
Streusel Topping
1

cup

reserved shortbread batter

1

teaspoon

cinnamon

2

tablespoon

Sukrin brown sugar substitute or use Swerve
Optional Icing Drizzle: ¼ cup Swerve confectioners sweetener with 1 tablespoon milk
Instructions
Preheat the oven to 350 degrees F.

Place all the shortbread ingredients into a food processor and blend until combined. Reserve 1 cup of batter for topping.

Spread remaining batter into a parchment lined 8 by 8 baking dish.

Bake 10 minutes then allow to cool.

Prepare raspberry filling by placing all ingredients into a small sauce pan over medium high heat and bring to a boil.

Simmer 10 minutes until thickened.

Pour evenly over crust.

Place reserved shortbread batter in a bowl with topping ingredients and mix until combined.

Sprinkle over the filling and bake for 20 minutes until golden brown.

Cool 30 minutes then refrigerate for 2-3 hours or overnight.

To make optional drizzle topping to serve, simply mix the sweetener and the milk together until smooth an drizzle over slices to serve.
Nutrition
Serving:
1
g
|
Calories:
170
kcal
|
Carbohydrates:
7
g
|
Protein:
4.3
g
|
Fat:
14.7
g
|
Saturated Fat:
6.3
g
|
Cholesterol:
30
mg
|
Sodium:
132
mg
|
Fiber:
2.6
g
|
Sugar:
0.8
g
Disclaimer: This post has been sponsored by Driscoll's Raspberries. All opinions are 100% my own and always will be! Thank you for supporting the brands that keep this website running!