All Natural Strawberry Lemonade Sorbet is a perfectly easy summer dessert that requires little effort, is dairy free and no sugar is added!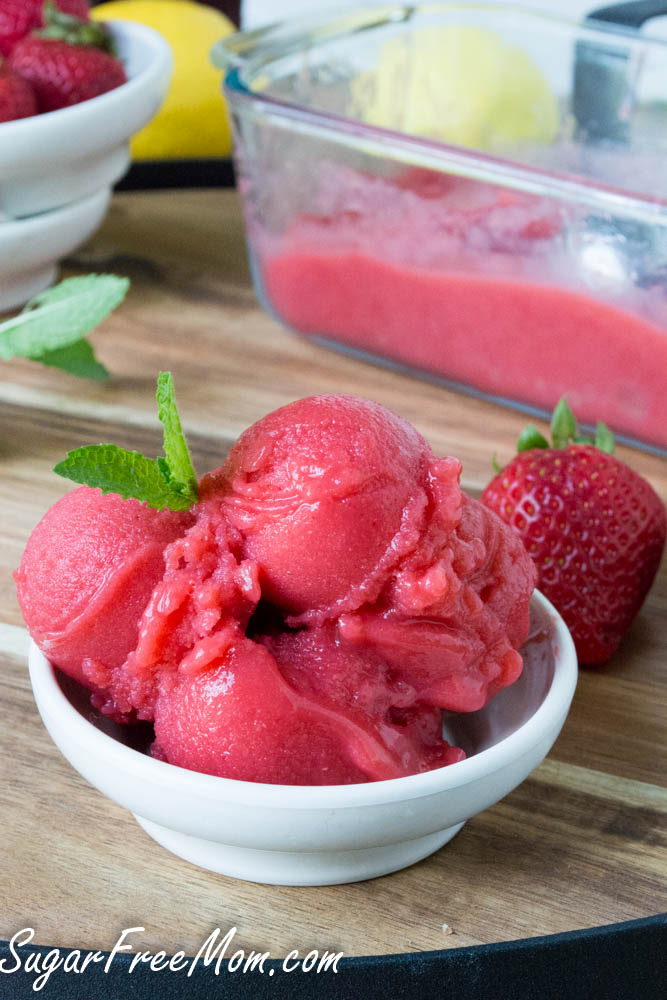 My grandmother was a fruit lover. I remember sleeping over on Friday nights when I was a kid and we'd watch TV and peel oranges, or eat chopped apples and peanut butter or share a bowl of berries together. Fresh fruit and summer always remind me of her and our times just being together, not doing anything exciting in particular, just being in each others presence.
Gram had the most beautiful Victorian house with this huge, glorious wrap around porch and a squeaky old bench swing. Oh how I loved that porch and swing and the time spent there. Even if it was raining and thundering we enjoyed that porch and swing with some homemade lemonade and sometimes, as a special treat, frozen Italian ice. Hours would go by just swinging and sipping our lemonade and playing card games. A memory of a more relaxed, unrushed time of life.
Sorbet reminds me of Italian ice only softer, not so hard that you have to scrape it in order to get a little bit in your mouth or on your spoon.Sorbet is really the best of both worlds in my mind. A little like ice cream, a little like Italian ice. A delicious frozen treat for the summer, only dairy free and a lot fewer ingredients needed to make. This momma loves it for the kids especially when she can get them involved in making it!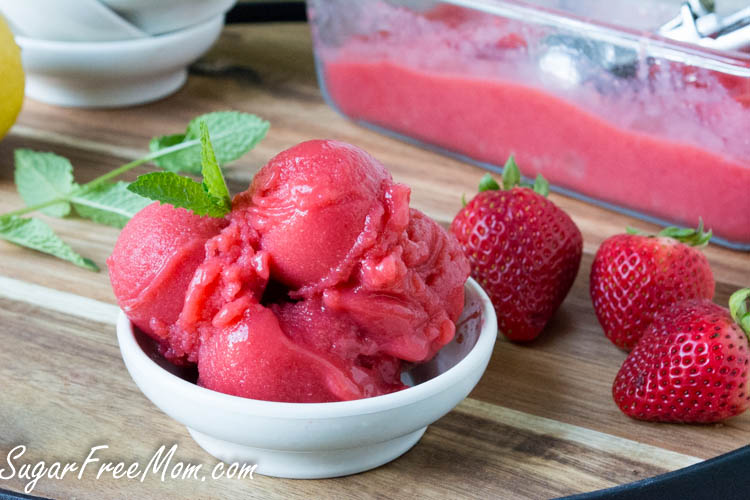 Now that my kids are old enough they make homemade lemonade all the time, a few times a week in fact. They drink that or water or milk so if they don't make it, they won't get any. I don't bring home juice usually except maybe a few juice boxes occasionally for picnics and beach trips. I've got so many things going on right now to finishing my cookbook deadline and keeping up with recipes for clients and my blog, lemonade is last on my list of things I need to be doing. The reason this sorbet works so well is because of the base of lemonade it starts with.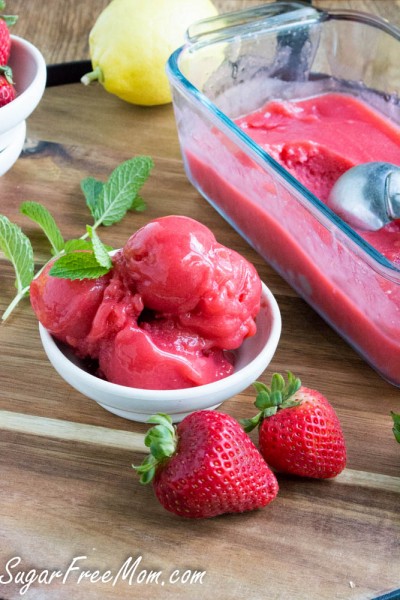 Fresh strawberries are in season now where I live and I jumped at the chance to bring you some strawberry recipes. Just a few days ago I posted my strawberry shortcake and I've got another in the works as well for a no bake pie recipe!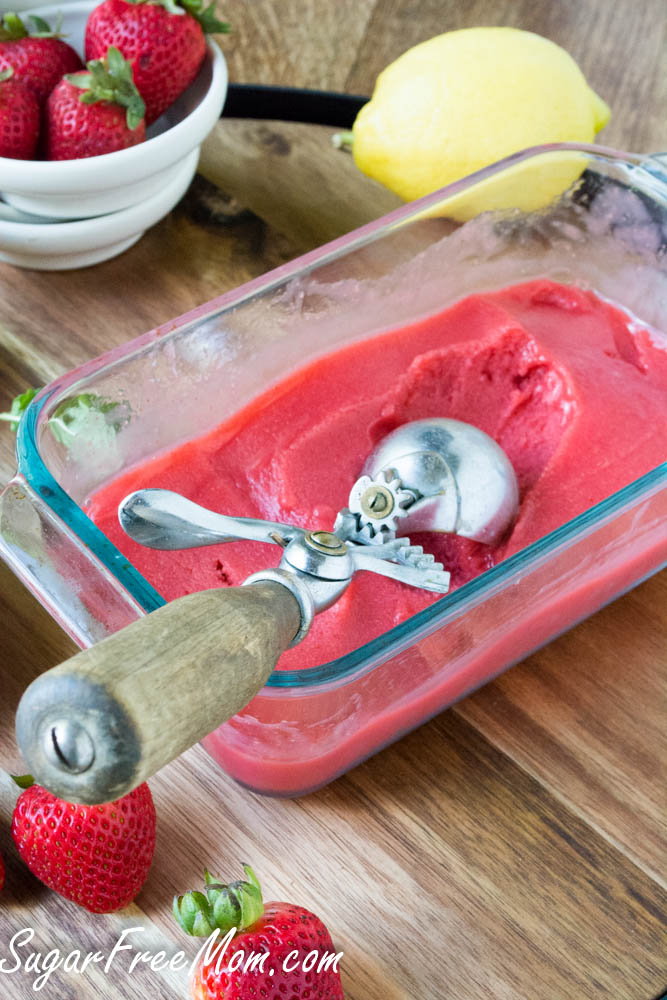 This is my grandmother's beloved ice cream scooper I inherited. A priceless treasure to me for sure!
Although we don't have a porch swing like my grandmother, we do have a nice screened in deck that we enjoy together and try to get out there as a family to play a game of cards on Sunday nights. As I scooped out some sorbet and passed out some lemonade, we all made our way to the deck, and enjoyed just being in each others presence. For a few minutes time stood still and no one was anxious or rushed or ready to leave our deck, that made my heart happy.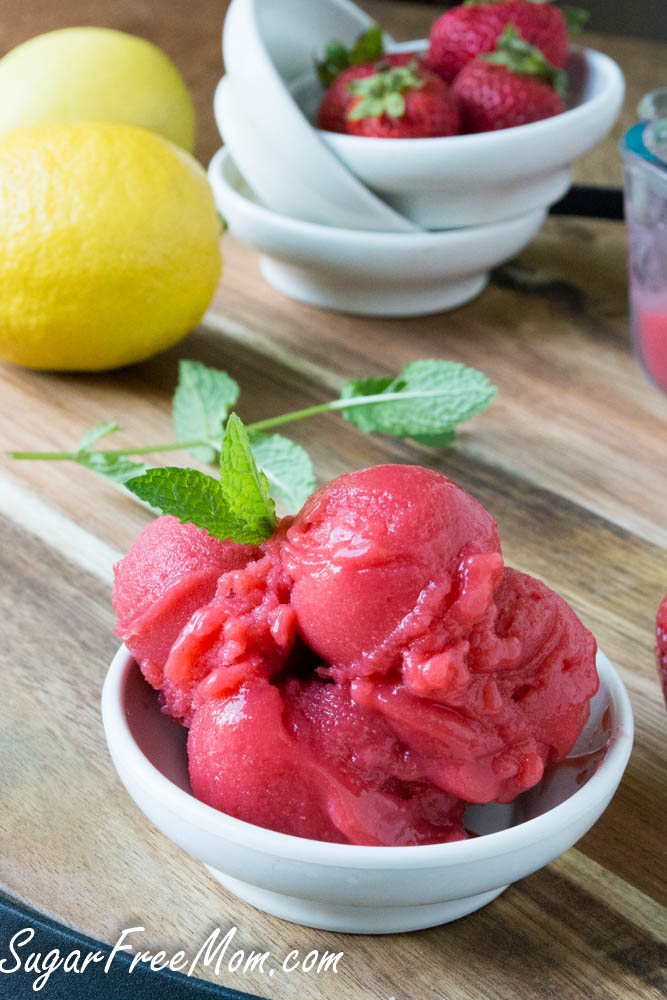 So I hope, whether you're enjoying frozen sorbet or homemade lemonade on a porch, on a swing, in the backyard or indoors, one bite of this strawberry lemonade might also bring back some wonderful childhood memories of your own.
Brenda's Notes:
Pour mixture into popsicle molds for the kids for easier handling!
As always you can change the sweetener to whatever you like. I used my Homemade Lemonade to start with and only needed to add a few drops of lemon stevia.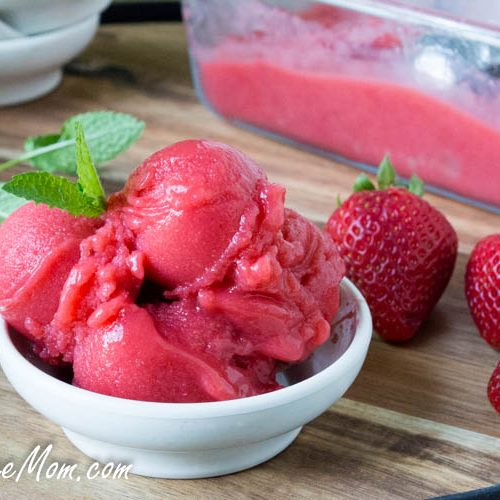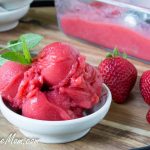 Print
Strawberry Lemonade Sorbet
Ingredients
4

cups

strawberries

sliced

½

teaspoon

SweetLeaf® Liquid Stevia Lemon Drop Sweet Drops™

1

cup

sugar-free lemonade

zest of 1 lemon
Instructions
Place all ingredients into a blender and blend until smooth. Taste and adjust SweetLeaf® Liquid Stevia Lemon Drop Sweet Drops™, if needed. Pour mixture into an ice cream machine and follow manufacturer's instructions. Enjoy immediately. If you do not have an ice cream machine, you can spread the mixture into a loaf pan and freeze for 4-5 hours, mixing every 30 minutes until hardened. Freeze covered in an airtight container and defrost 30 minutes when ready to serve. Serving size is a ½ cup.
Nutrition
Calories:
48
kcal
|
Carbohydrates:
11
g
|
Sodium:
1
mg
|
Potassium:
220
mg
|
Fiber:
2
g
|
Sugar:
7
g
|
Vitamin A:
15
IU
|
Vitamin C:
84.6
mg
|
Calcium:
23
mg
|
Iron:
0.6
mg