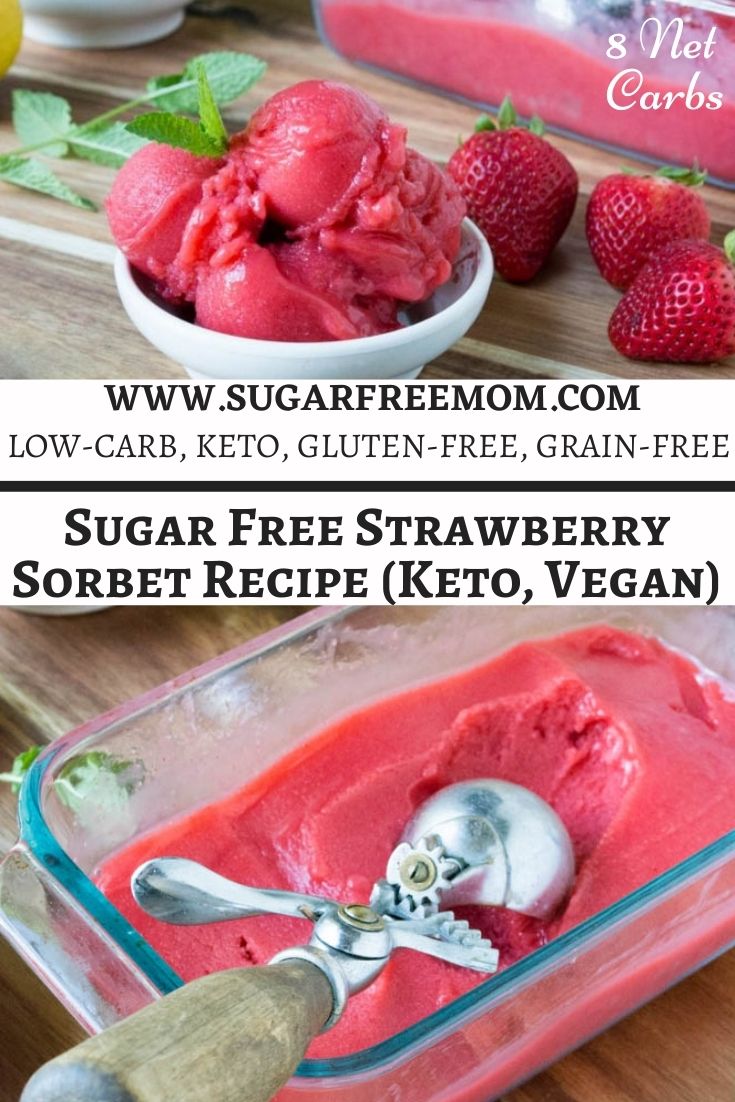 This Sugar Free Strawberry Lemon Sorbet is a perfectly easy summer dessert that requires little effort, is dairy free, low carb, keto and uses simple ingredients and no added sugar!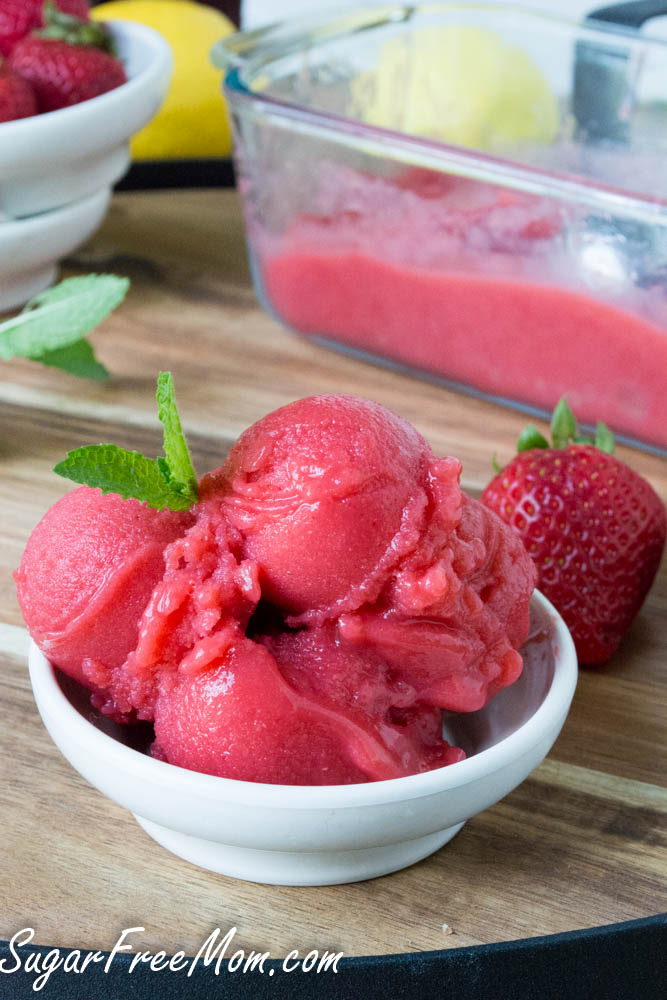 Homemade Sorbet
Sorbet recipes are a great way to enjoy a frozen, low calorie, creamy dessert on hot summer days. Conventional sorbet will have added regular sugar and is not ideal if you are on a keto diet.
Using a low-carb sweetener to enhance the natural sugars in fruit will keep the net carbs low and won't spike blood glucose.
My grandmother was a fruit lover. I remember sleeping over on Friday nights when I was a kid and we'd watch TV and peel oranges, or eat chopped apples and peanut butter or share a bowl of berries together.
Fresh fruit and summer always remind me of her and our times just being together, not doing anything exciting in particular, just being in each others presence.
Gram had the most beautiful Victorian house with this huge, glorious wrap around porch and a squeaky old bench swing. Oh how I loved that porch and swing and the time spent there.
Even if it was raining and thundering we enjoyed that porch and swing with some homemade lemonade and sometimes, as a special treat, frozen Italian ice. Hours would go by just swinging and sipping our lemonade and playing card games. A memory of a more relaxed, un-rushed time of life.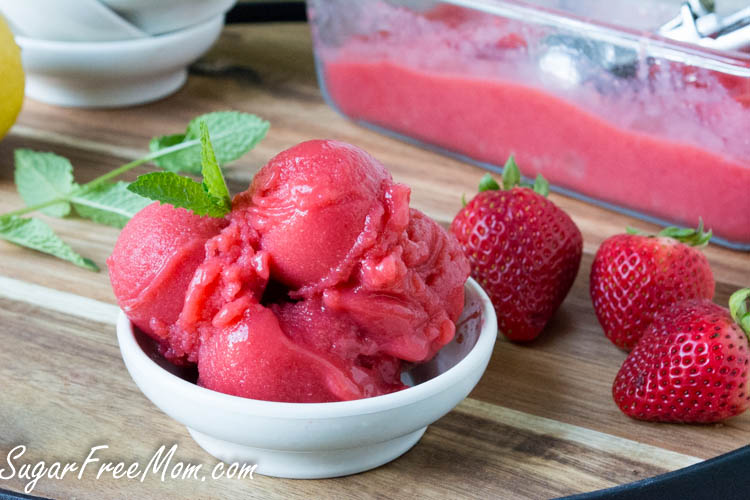 Traditional sorbet reminds me of Italian ice only softer, not so hard that you have to scrape it in order to get a little bit in your mouth or on your spoon.
Sorbet is really the best of both worlds in my mind.
A creamy texture a little like traditional ice cream, but also a little like Italian ice. A delicious frozen treat for the summer, dairy free and a lot fewer ingredients needed to make.
This momma loves it for the kids especially when she can get them involved in making it!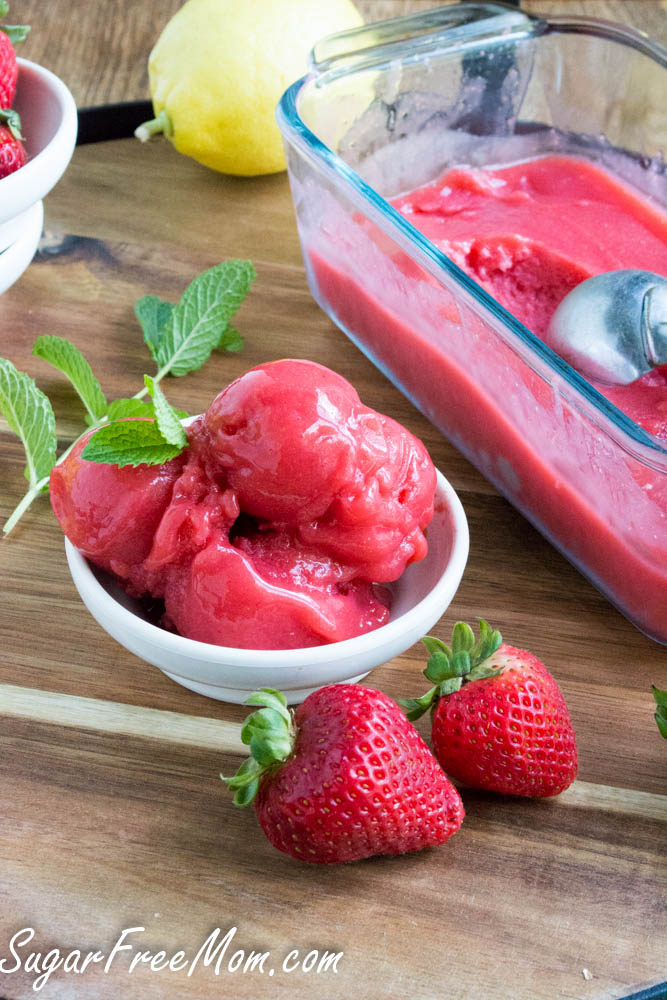 Do I need to make lemonade for this frozen dessert?
The reason this homemade keto sorbet works so well is because of the base of lemonade it starts with.
But if you don't have time to make homemade sugar free lemonade, you can still make this creamy sorbet when the sweet tooth hits you!
Use ⅓ cup fresh lemon juice with ⅔ cup water to replace the 1 cup of homemade lemonade in the recipe.
Can I replace lemon juice with lime juice?
​Yes you can replace the lemon juice with lime juice if you prefer.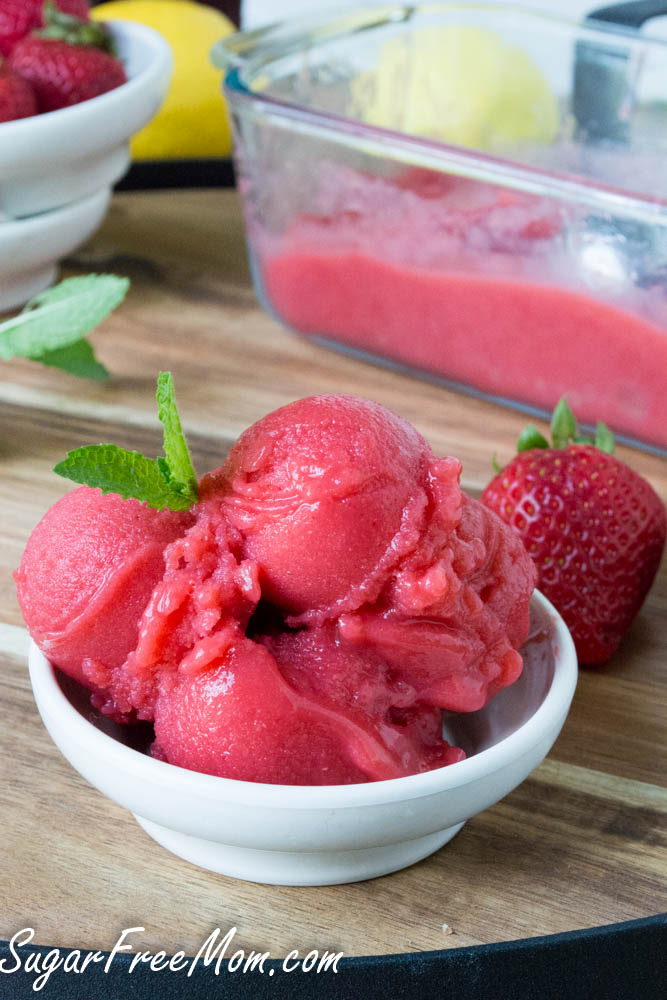 Can I swap the Strawberries?
Fresh strawberries are in season now where I live and I jumped at the chance to bring you some strawberry recipes.
Just a few days ago I posted my strawberry shortcake and I've got another in the works as well for a no bake frozen strawberry pie recipe!
If using any fresh fruit be sure to get ripe sweet fruit, if not using frozen.
But if you prefer to use another fresh or frozen fruit, that is totally fine!
For a delicious mango sorbet, use frozen mango chunks or even ripe mangos would work, you could make a watermelon sorbet, or a sugar free raspberry sorbet using fresh raspberries in place of the strawberries i used.
The possibilities of different flavors for homemade fruit sorbets is endless!
I would stay clear from making a pineapple sorbet as that would definitely be high in carbs compared to berries and would spike blood sugar.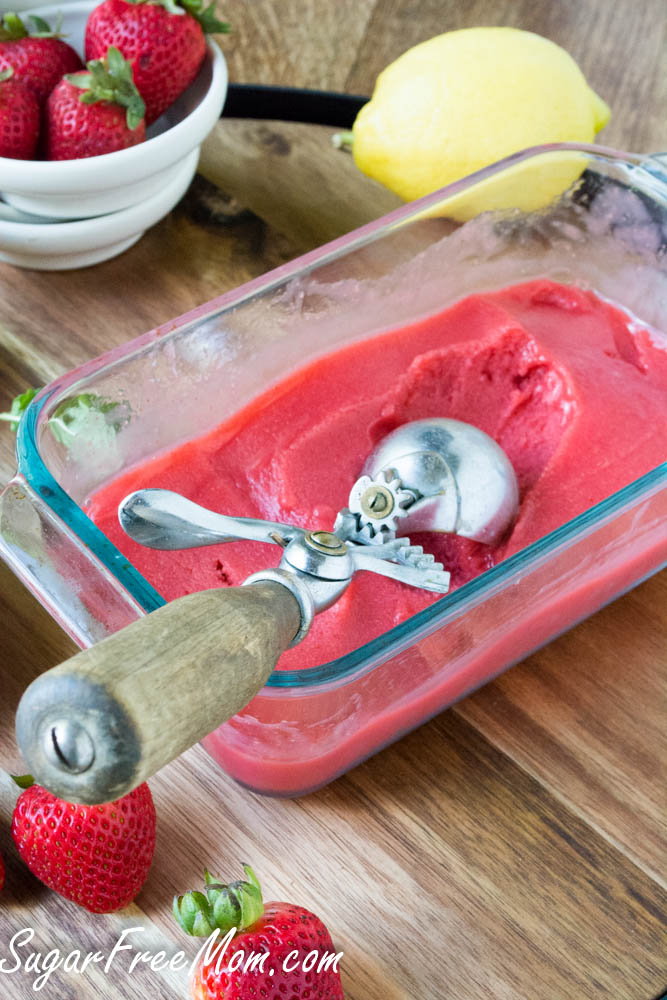 This is my grandmother's beloved ice cream scooper I inherited. A priceless treasure to me for sure!
Although we don't have a porch swing like my grandmother, we do have a nice screened in deck that we enjoy together and try to get out there as a family to play a game of cards on Sunday nights.
As I scooped out this refreshing treat and passed out some lemonade, we all made our way to the deck, and enjoyed just being in each others presence. For a few minutes time stood still and no one was anxious or rushed or ready to leave our deck, that made my heart happy.
So I hope, whether you're enjoying frozen sorbet or homemade lemonade on a porch, on a swing, in the backyard or indoors, one bite of this strawberry lemon sorbet might also bring back some wonderful childhood memories of your own.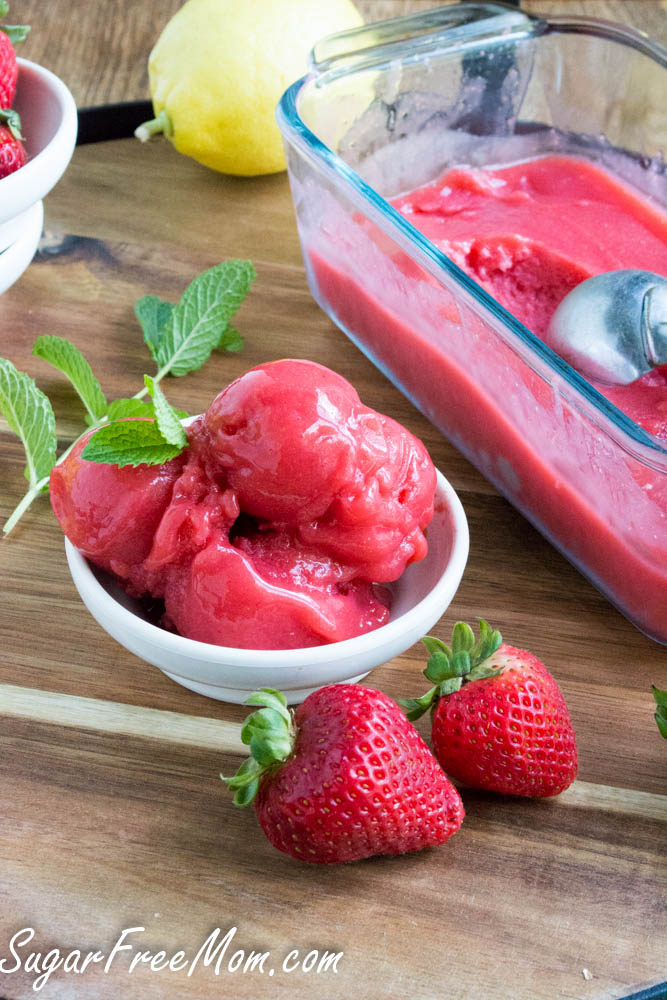 Can I make sorbet popsicles?
Pour mixture into popsicle molds for the kids for easier handling!
Sugar-Free Sweetener Options
As always you can change the sweetener to whatever you like. I used my Homemade Lemonade to start with and only needed to add a few drops of lemon stevia.
Monk Fruit Sweetener- This is a good option if you choose the liquid kind and not the granulated as that will just make ice crystals in your sorbet.
Another great option for a smooth texture is to use Allulose and that will keep the sorbet from getting icy as well.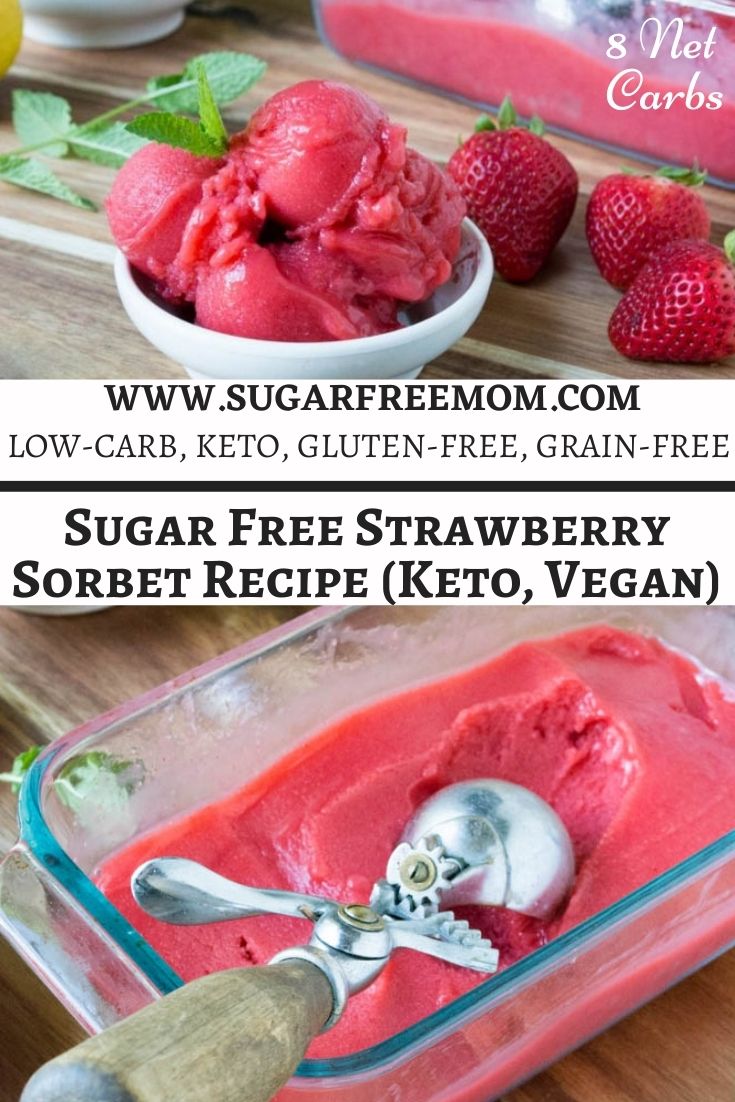 Sugar-Free Sorbet Recipe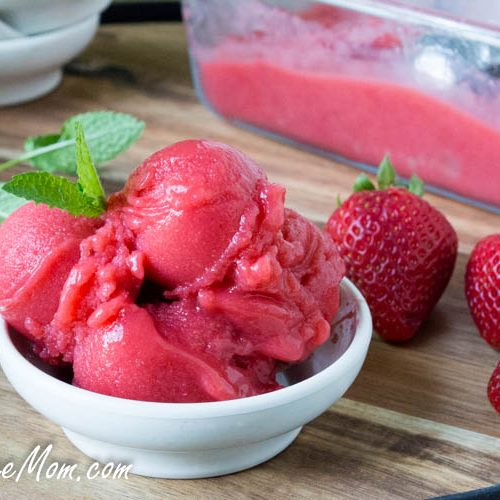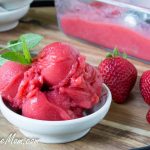 Print
Strawberry Lemon Sorbet
Servings
5
servings @ ½ cup
Instructions
Place all ingredients into a blender and blend until smooth. Taste and adjust Sweetener, if needed.

Pour mixture into an ice cream maker and follow manufacturer's instructions. Enjoy immediately.

If you do not have an ice cream machine, you can spread the mixture into a loaf pan and freeze for 4-5 hours, mixing every 30 minutes until hardened.

Freeze covered in an airtight container and defrost 30 minutes when ready to serve. Serving size is a ½ cup.
Notes
Net carbs: 8g
This recipe was first published in 2014.
Nutrition
Serving:
1
serving
|
Calories:
40
kcal
|
Carbohydrates:
10
g
|
Protein:
1
g
|
Fat:
0.4
g
|
Saturated Fat:
0.02
g
|
Polyunsaturated Fat:
0.2
g
|
Monounsaturated Fat:
0.1
g
|
Sodium:
1
mg
|
Potassium:
193
mg
|
Fiber:
2
g
|
Sugar:
6
g
|
Vitamin A:
15
IU
|
Vitamin C:
74
mg
|
Calcium:
19
mg
|
Iron:
0.5
mg