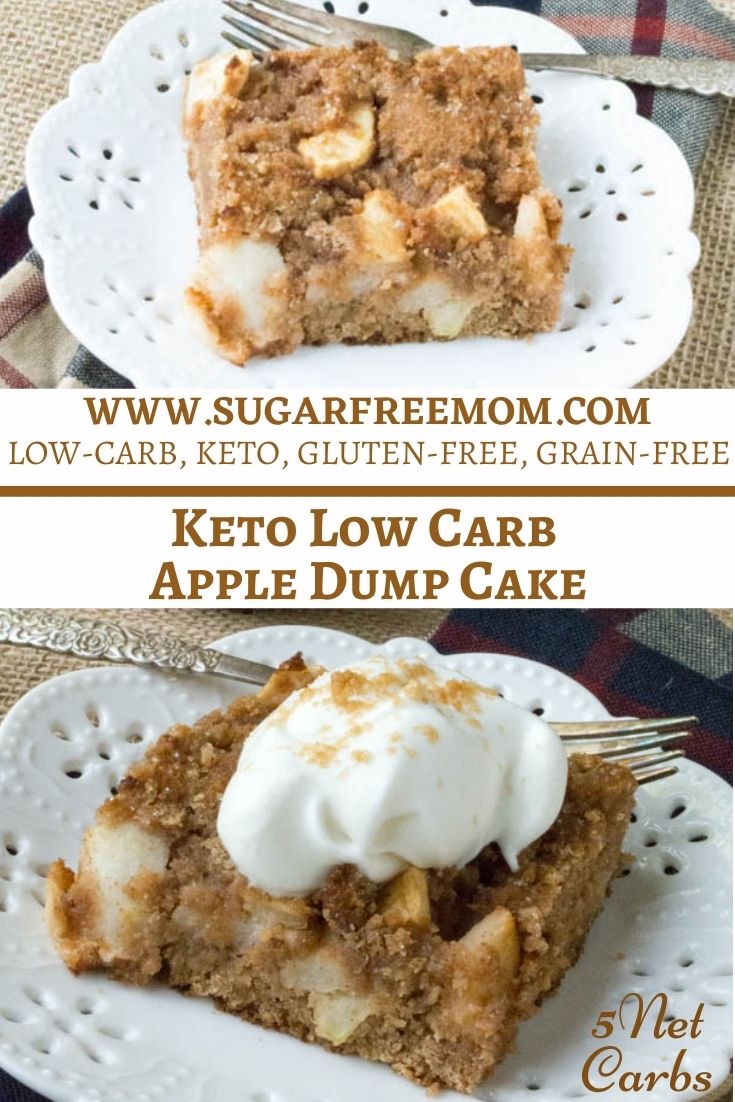 Keto Low Carb Apple Dump Cake is a simple recipe that is grain free, gluten free and made with no added sugar! Just 5 g net carbs using apples for those on a low carb diet and 1 g net carbs using zucchini for those on a keto diet.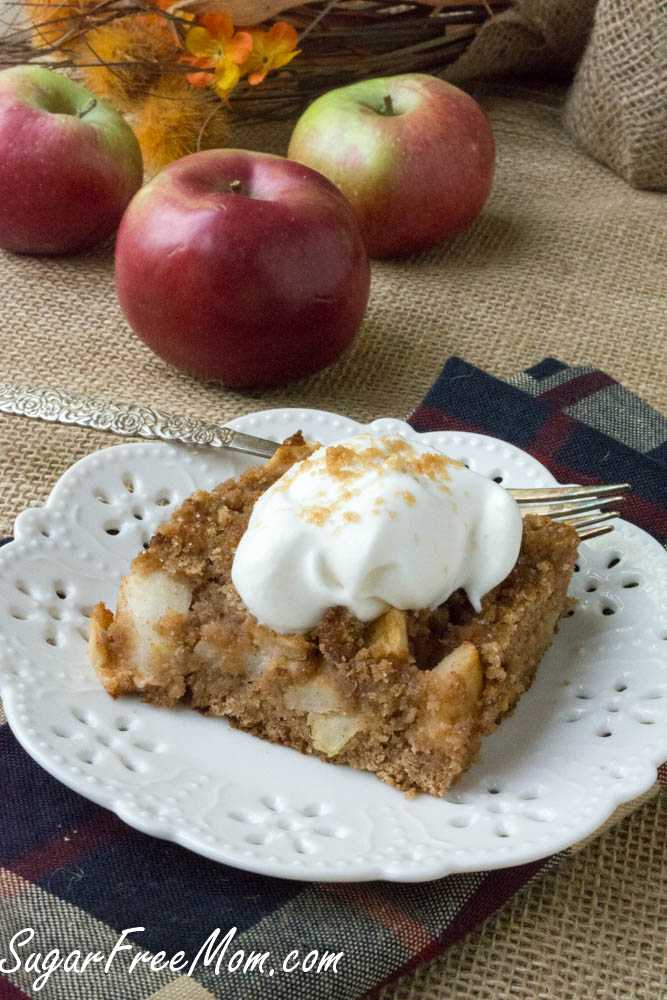 Are Apples Keto Friendly?
No foods are technically keto. Ketosis is a metabolic state your body is in when you eat a very low carb diet.
How many carbs you need to eat or not eat will make a difference in getting your body into ketosis to burn your own body fat for fat loss. That carb amount will be different for each person.
1 small apple at 149 grams has about 77 calories and 20 grams of total carbohydrates. Some people following a keto diet will only allow themselves 20 grams of carb intake for the entire day so eating one small apple would not be helpful for them and may kick them out of ketosis.
Using a small amount of a higher-carb fruit like apple in a recipe that makes many servings is something that can be enjoyed whether you are following a keto diet or low carb diet.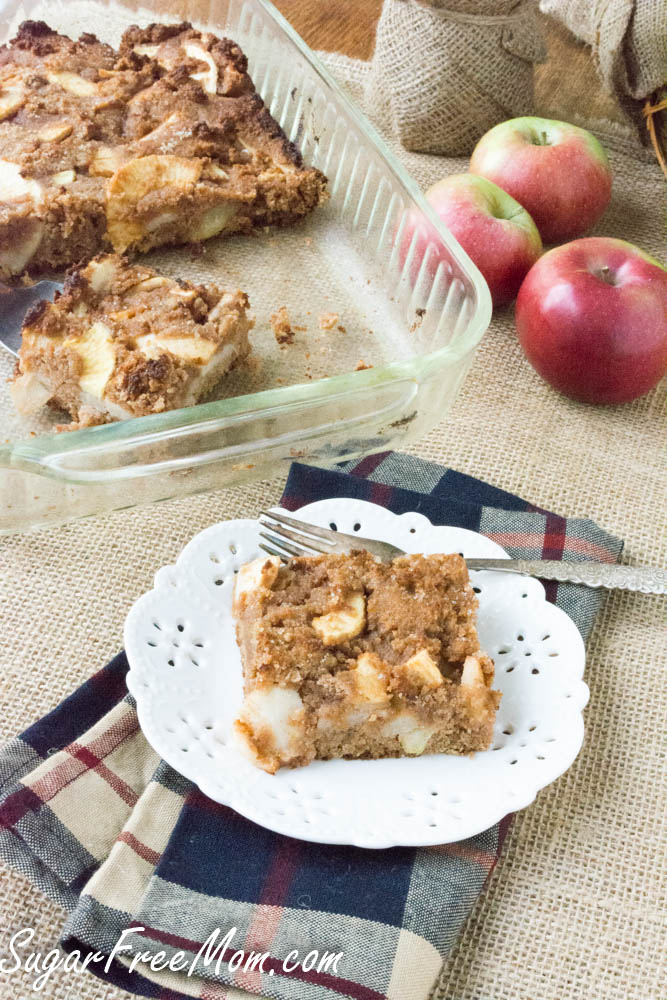 Fall Season is Apple Season
We've had a rough week in my house. Not a bad week in that sense, but a pretty tough one nonetheless. Moving out of one house a few days before you can move into another is difficult with 3 kids and a dog.
The excitement of moving kept my family in good spirits. We moved out of the hustle and bustle of a small crowded city neighborhood, to a quiet country setting in the woods about 30 minutes away. Something we've always wanted.
It's fitting for me to post an apple recipe being that we have a beautiful apple tree in our new, very large yard and go apple picking from our very own tree.
Something we've always wanted for our kids. Furniture just arrived, but with it all the boxes that make a move challenging, the unpacking of it all.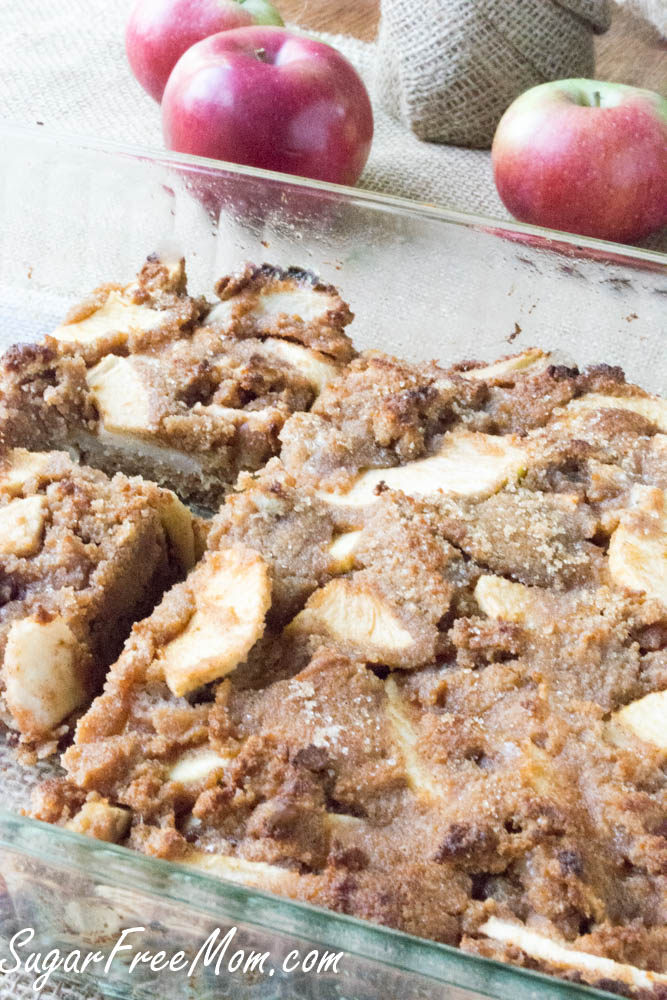 How to Make Low Carb Apple Cake
I love easy dump cake recipes because you literally just throw all the simple ingredients together in a baking dish and bake it! Boom! Done!
This is one of our favorites at this time of year and the easiest dessert for a family.
This apple dump cake makes me happy and peaceful just looking at it. It reminds me that life can be simple, just like simple recipes, and it's ok. Because as long as you have your family and some essentials you can do anything.
We use fresh apples but below you will find an adaption to lower the carbs to help you fit this into your ketogenic diet.
Ingredients
To view exact amounts, see nutrition info and print recipe, please scroll to the bottom of this post to view the recipe card.
Cinnamon
Large eggs
Melted Butter
Apples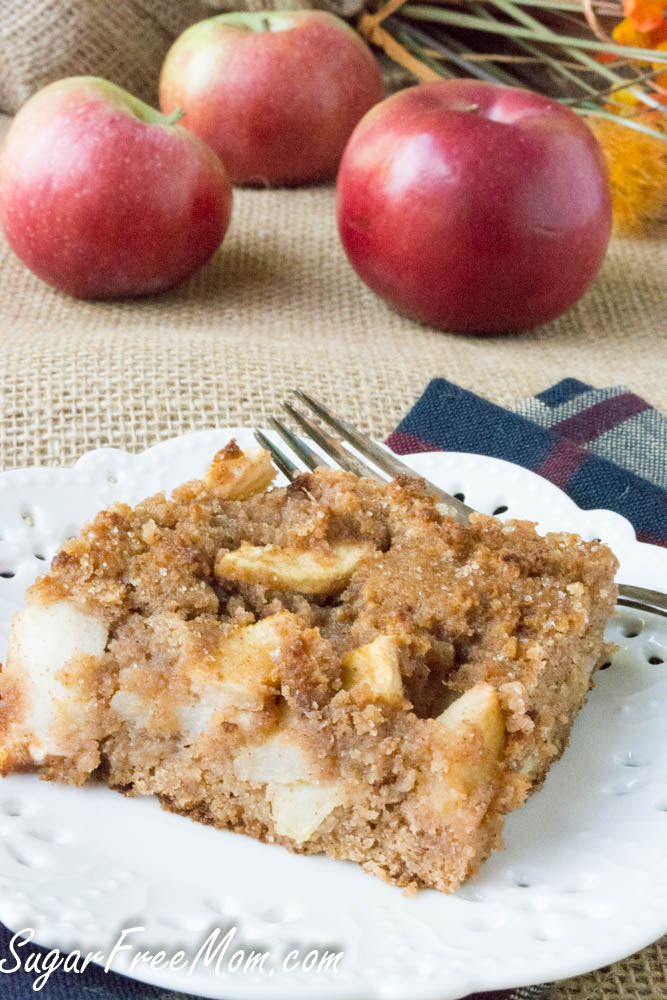 Directions
Preheat oven to 325 degrees.
In a large bowl whisk the dry ingredients (flour, Swerve, cinnamon and baking soda) together.
Whisk in the wet ingredients (eggs, butter and stevia) until combined.
Stir in the apple slices until coated.
Spread cake batter mixture in an even layer into a greased 9 by 13 baking pan.
Bake for 45- 50 minutes until golden brown. (Cooking times will cary with electric and gas ovens. Electric ovens tend to cook quicker than gas, so bake only 40 minutes then check.)
Enjoy hot out of the oven or room temperature with some sugar free whipped cream or add a scoop of ice cream!
How to Make this a Keto Dump Cake
If you really want to lower the carbs in this recipe, please replace the apples used for peeled and slices zucchini!
Zucchini will lower the total carbohydrate from 10 grams to just 6 total grams and net carbs per serving is just 1 gram.
I would highly recommend if you use zucchini that you add some apple pie extract because it will give a wonderful, delicious apple flavor that is needed to replicate a baked apple recipe.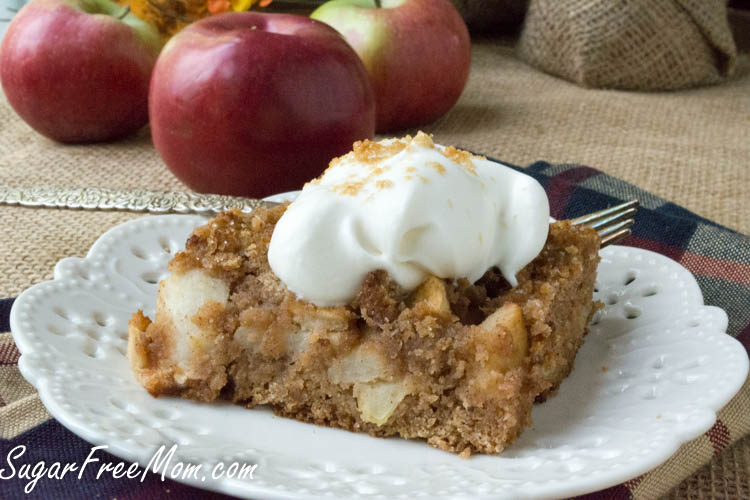 While it might not be the prettiest of cakes, it is a super easy dessert! Topped with a little sugar-free whipped cream, or keto vanilla ice cream, you've got comfort on a plate.
No need for fancy anything at this country home we are in, just as this cake needs nothing fancy to make it spectacular.
With minimal effort on your part, this apple dump cake is a reminder that the simple things in life always make for the best recipe.
Low-Carb Apple Desserts
Keto Apple Muffins with cream cheese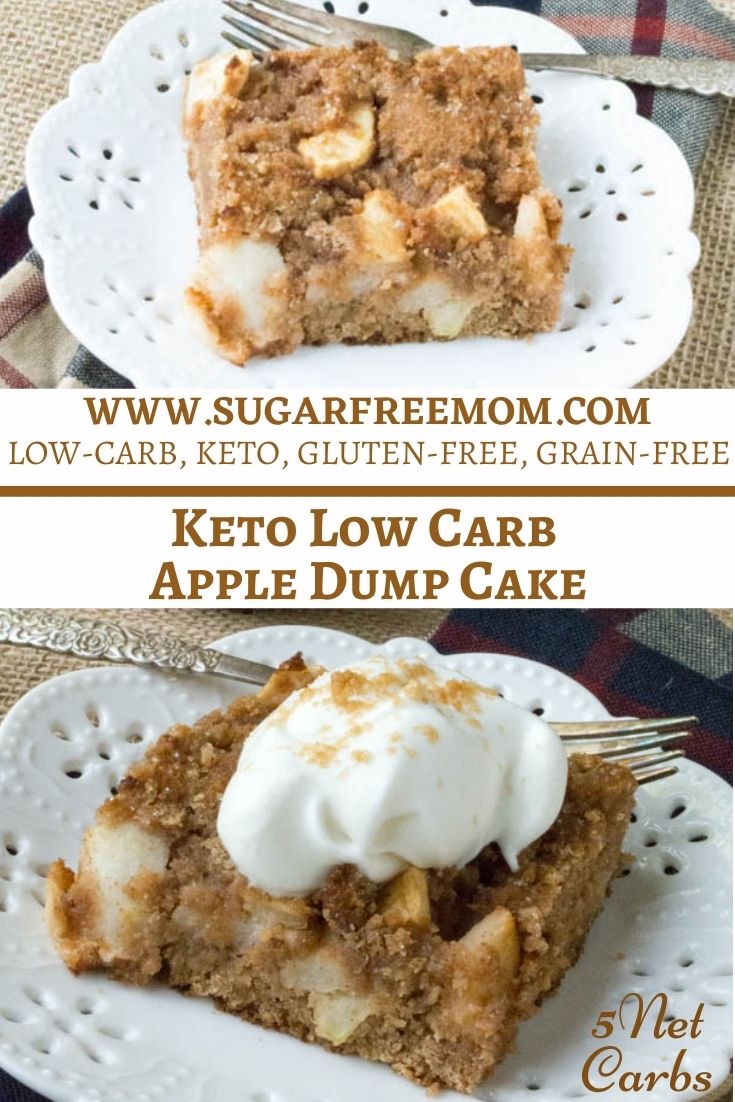 Brenda's Notes:
To make life easier we bought an apple, corer, peeler tool and it worked fabulous and it was fast!
If you don't have Swerve you can use another sugar free sweetener but most are much sweeter than Swerve so I would suggest reducing the amount to ½ cup.
Here's my Sweetener Guide & Conversion chart to help you determine how much to use of another sweetener.
If you don't have cinnamon stevia, use plain or vanilla.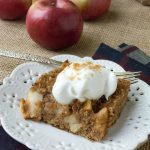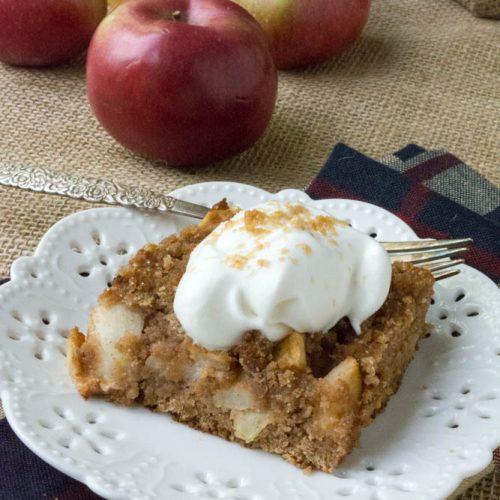 Print
Keto Low Carb Apple Dump Cake
Instructions
Preheat oven to 325 degrees.

In a large bowl whisk the flour, Swerve, cinnamon and baking soda together.

Whisk in the eggs, butter and stevia into the dry ingredients in the bowl.

Stir in the apple slices until coated.

Spread mixture into a greased 9 by 13 baking dish.

Bake for 45- 50 minutes.
Notes
This recipe was first published in Nov. 2015.
Net Carbs: 5 grams using apples
For Keto, swap apples with zucchini;
Calories: 147
Carbs: 6g
Protein: 5g
Fat: 11g
Fiber: 5g
Net Carbs: 1g
Nutrition
Serving:
1
serving
|
Calories:
162
kcal
|
Carbohydrates:
10
g
|
Protein:
4
g
|
Fat:
11
g
|
Saturated Fat:
6
g
|
Polyunsaturated Fat:
1
g
|
Monounsaturated Fat:
3
g
|
Trans Fat:
0.3
g
|
Cholesterol:
102
mg
|
Sodium:
275
mg
|
Potassium:
79
mg
|
Fiber:
5
g
|
Sugar:
4
g
|
Vitamin A:
379
IU
|
Vitamin C:
2
mg
|
Calcium:
20
mg
|
Iron:
0.5
mg