These scrumptious sugar-free, low carb, keto apple cider donuts have all the warm spices of fall, are easy to make and are also nut free and paleo!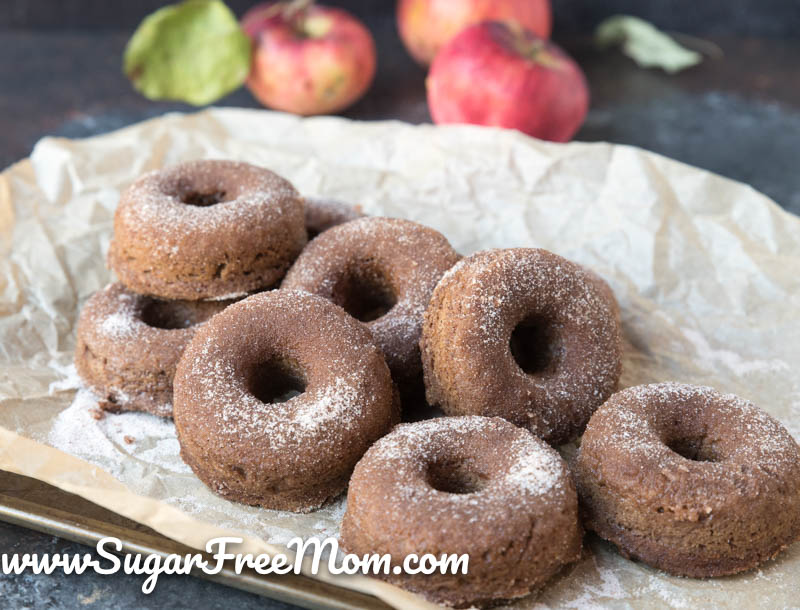 Are Apples Keto?
There is just something about the cool, crisp breezes of fall, the gorgeous red, orange and yellow colors on the trees, and wearing cozy sweaters that brings me joy and happiness. Are you the same? Fall in New England is my favorite time of year and picking apples with the children has also been a tradition for years. Since we moved out to the country about 5 years ago this month, we no longer go apple picking to a farm because we have our own apple tree in our backyard.
We have so many apples from this one tree, I give many away and of course make a few recipes. Though I eat a ketogenic diet these days, I can still enough a small portion of fresh, ripe, organic apples from my own backyard. You can too! Don't be fooled by the fact that apples aren't keto. No food is keto or not keto. Foods either help your body stay in ketosis or not. It's truly the portion you eat that might effect you and everyone is different. Some people, I am one of them, and even enjoy a few carrots every now and then and stay in ketosis. I made this beautiful Keto Apple Cake to start the season and it is divine, but only uses about 1 cup chopped apples for the whole cake for 16 servings. Regardless of your stance on apples being keto or not, you can enjoy this recipe for keto apple cider donuts because no apples or apple juice is used in the recipe.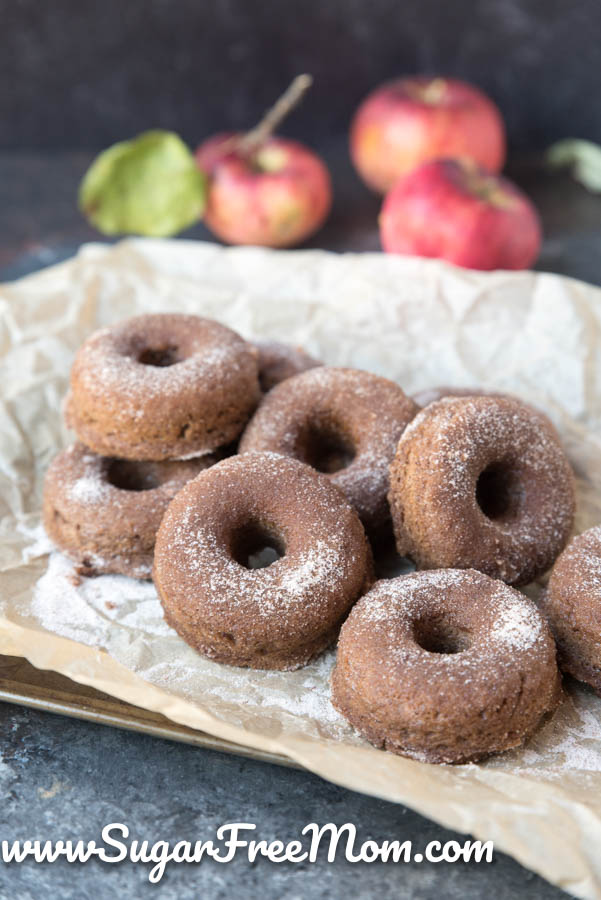 Nut Free Keto Donuts
Many low carb keto donuts often contain almond flour which makes it difficult when you've got a family member with a tree nut and peanut allergy, like my youngest son. I am always working on recipes that he too can enjoy and always choose ingredients that are tree nut free, like coconut flour, sesame flour or even sunflower seed flour. Despite what many believe, coconut flour is not a tree nut.
While the US Food & drug Administration (FDA) claims that coconut is a tree nut becomes it comes from a tree, it is in fact a FRUIT. People who have tree nut allergies may be allergic to coconut as well, but being allergic to coconut is not the same as having a tree nut allergy.
My own son was diagnosed with a Peanut and Tree Nut allergy at the age of 2. He has safely eaten coconut all these years without issue and he is now 14. Coconut is a fruit, called a drupe. It's like a peach with a pit.
The American College of Allergy, Asthma and Immunology says it well: "Coconut is not a botanical nut: it is classified as a fruit, even though the FDA recognizes coconut as a tree nut. While allergic reactions to coconut have been documented, most people who are allergic to tree nuts can safely eat coconut. If you are allergic to tree nuts, talk to your allergist before adding coconut to your diet."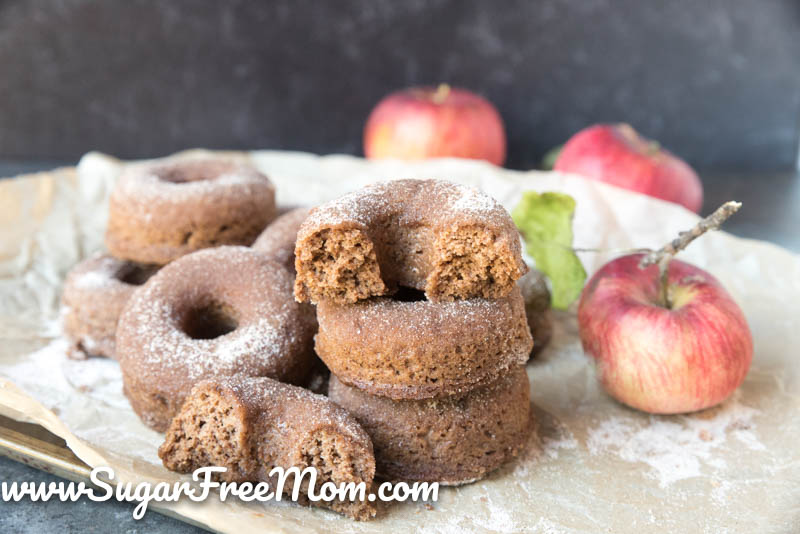 Tools to Make Low Carb Apple Donuts
This 3 piece set with different cup sizes is ideal for microwave cooking. Exactly what you need for steeping the apple spice tea bags for these keto apple donuts.
I love my KitchenAid stand mixer but if you can't invest in one, a glass bowl and hand held electric mixer will work just as well.
Never have any stuck donuts again! These silicone donut pans are gold and work effortlessly to remove the keto apple donuts without any breaking! I will never go back to a standard donut pan again!
Low Carb Keto Meal Plans
Our membership is simple. You can subscribe for a month to try it out or you can subscribe for a yearly membership. Each Friday you will get a meal plan that comes to your email. You'll have that early in order to go food shopping before the meal plan begins on Sunday. You will be able to view and print the meal plan and the shopping list. If you don't like a meal, simply delete it and swap it with another meal you like. The shopping list will automatically adjust. It's the best software available out there for a customizable menu plan. Not many other low carb or keto meal plans allow you the option to remove, add, start with a blank menu and create your own if you so wish. Learn More about our meal plans!

Other Keto Apple Recipes:
Sugar Free Apple Cider Donuts (Keto)
Print
Sugar Free Apple Cider Donuts
Instructions
Preheat oven to 350 degrees F. Grease 2 donut pans and set aside.

Boil water then add tea bags and allow to steep while you make the donut batter.

Place the coconut flour, sesame flour, brown sugar sub, apple pie spice, cinnamon, baking powder and soda, and salt to a stand mixer with the paddle attachment and blend until combined or whisk by hand in a large bowl.

Add one egg at a time to the mixer and blend until incorporated. Pour in the oil, apple extract and stevia.

Squeeze out the liquid from the tea bags and discard them. If the tea is still hot, slowly drizzle in a little at a time into the mixer and mix on low speed.

Spread 3 tablespoons of batter into each donut cavity. This recipe makes 10 donuts.

Bake for 15 minutes or until a toothpick in middle comes out clean. Loosen edges and center with a sharp knife when they come out of the oven then allow to cool before removing from the pan.
Optional Topping
Mix the allulose and cinnamon together in a shallow bowl. Dip each donut into the melted butter then into the cinnamon sweetener mixture.
Notes
Net Carbs: 2g
Nutritional info does not include optional topping. 
Nutrition
Serving:
1
donut
|
Calories:
74
kcal
|
Carbohydrates:
5
g
|
Protein:
6
g
|
Fat:
4
g
|
Saturated Fat:
2
g
|
Cholesterol:
74
mg
|
Sodium:
167
mg
|
Potassium:
78
mg
|
Fiber:
3
g
|
Sugar:
1
g
|
Vitamin A:
108
IU
|
Calcium:
35
mg
|
Iron:
1
mg