This scrumptious keto apple cake is the perfect fall dessert for family and friends and just 3 net carbs per serving!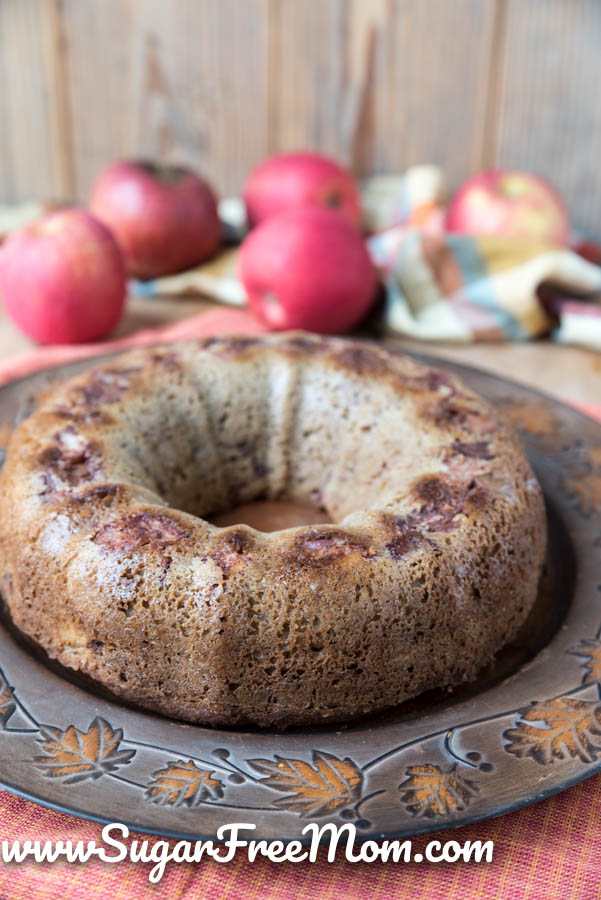 Apple Cake
The fall is here and that means apples are in season! While some who are on a ketogenic diet are opposed to eating apples, there are plenty of people, like me, who feel that a small amount in many servings is not going to kick us out of ketosis. Maybe enjoying a whole apple yourself would kick you out of ketosis, but 1 cup in a cake with 16 servings is a very small amount. Once slice is just 6 total carbs and only 3 net carbs. I believe, enjoying seasonal items makes this a lifestyle I can stick with forever, how about you?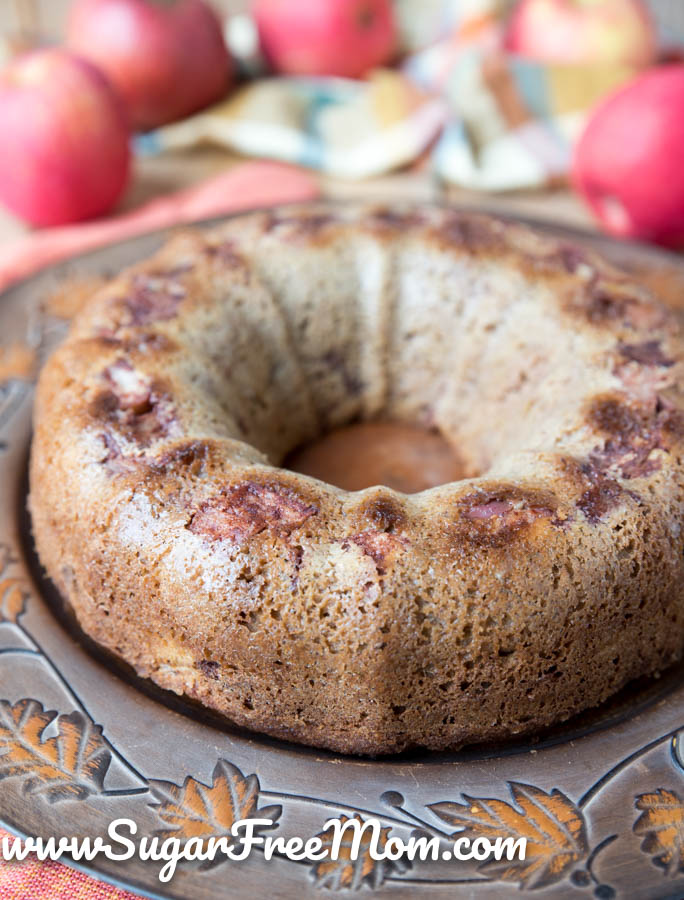 What is Glucomannan?
I opted to use glucomannan powder in this recipe instead of xanthan gum as a thickener for this cake. I've used it to make an incredible gravy in my keto salisbury steak recipe. If it's an unfamiliar ingredient to you, let me explain why it's such a great option. Glucomannan is a natural, water soluble, dietary fiber made from the root of the konjac plant. This fiber is the same ingredient used to make Miracle noodles or Shiritayaki noodles. It's been used for a very long time in Japanese cooking as a thickener. Before I discovered it, I was using xanthan gum as a thickener for my gravy, but it gets somewhat goopy and a bit to gel-like. Many people don't like the slimy texture that can often happen with xanthan gum. I'd recommend trying glucomannan if you're not a fan of xanthan, it's definitely a must in my keto kitchen!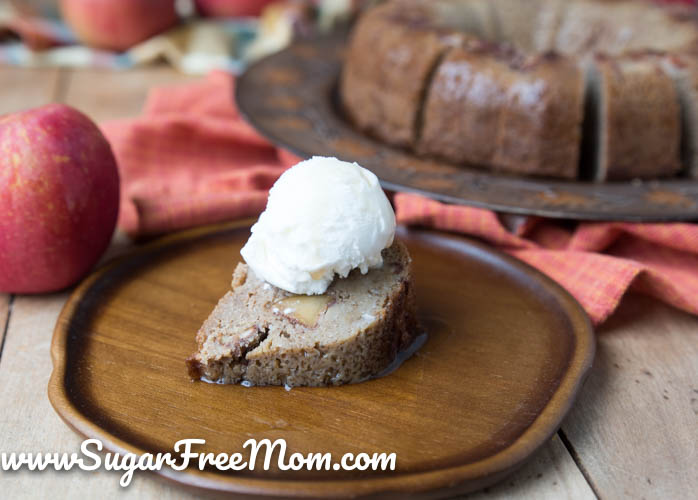 Is Coconut a Nut?
I'd like to clear up this constant question get asked almost daily about whether coconut is a nut. While the US Food & drug Administration (FDA) claims that coconut is a tree nut becomes it comes from a tree, it is in fact a FRUIT. People who have tree nut allergies may be allergic to coconut as well, but being allergic to coconut is not the same as having a tree nut allergy.
My own son was diagnosed with a Peanut and Tree Nut allergy at the age of 2. He has safely eaten coconut all these years without issue and he is now 14. Coconut is a fruit, called a drupe. It's like a peach with a pit.
The American College of Allergy, Asthma and Immunology says it well: "Coconut is not a botanical nut: it is classified as a fruit, even though the FDA recognizes coconut as a tree nut. While allergic reactions to coconut have been documented, most people who are allergic to tree nuts can safely eat coconut. If you are allergic to tree nuts, talk to your allergist before adding coconut to your diet."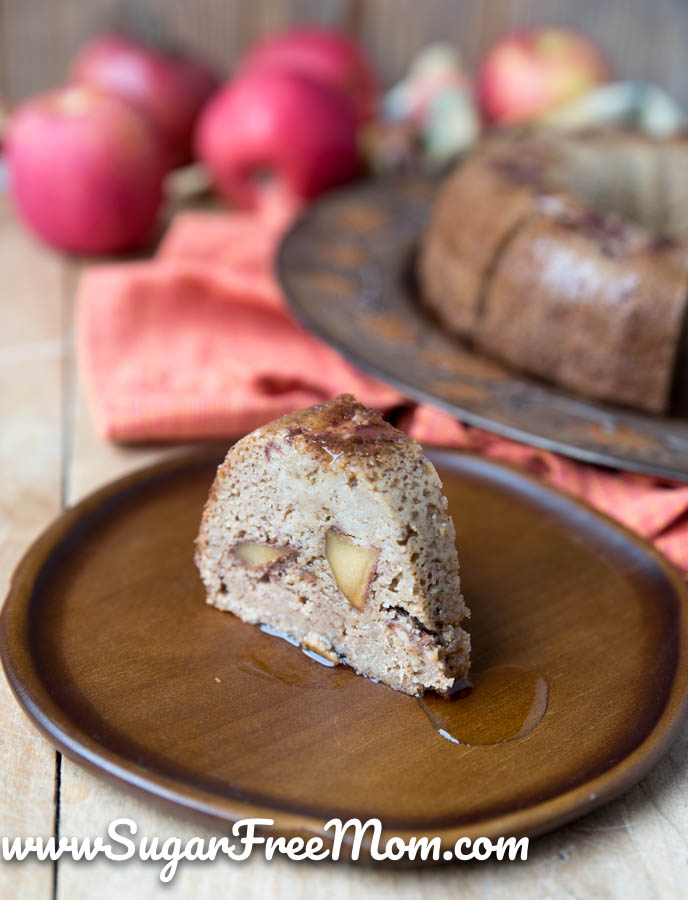 Low Carb and Keto Meal Plans
30 % OFF for September!
Our membership is simple. You can subscribe for a month to try it out or you can subscribe for a yearly membership. Each Friday you will get a meal plan that comes to your email. You'll have that early in order to go food shopping before the meal plan begins on Sunday. You will be able to view and print the meal plan and the shopping list. If you don't like a meal, simply delete it and swap it with another meal you like. The shopping list will automatically adjust. It's the best software available out there for a customizable menu plan. Not many other low carb or keto meal plans allow you the option to remove, add, start with a blank menu and create your own if you so wish. 30 % Off for September! Use code; BACKTOSCHOOL at checkout! Learn More about our meal plans!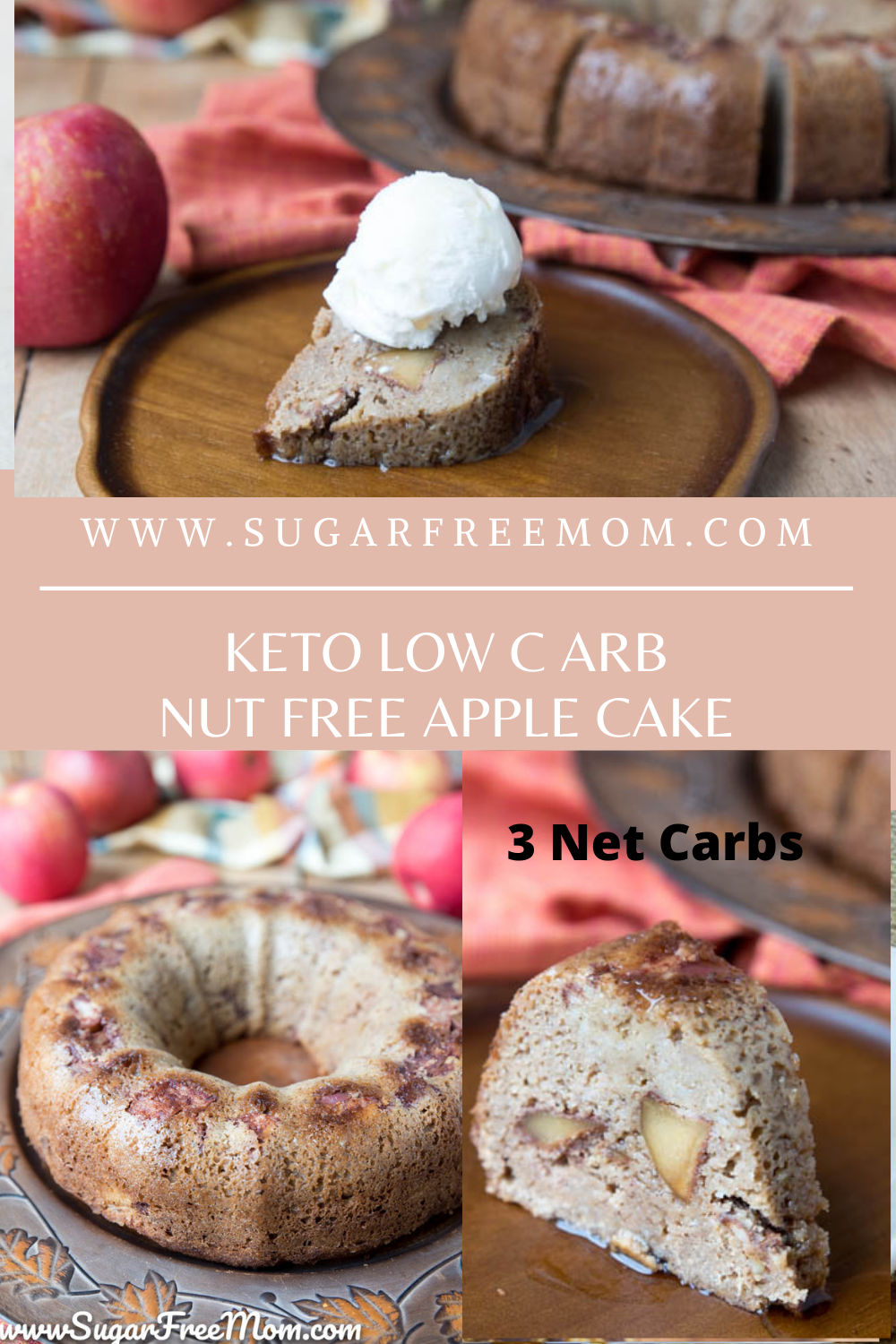 Other Apple Recipes you might like:
Keto Apple Cake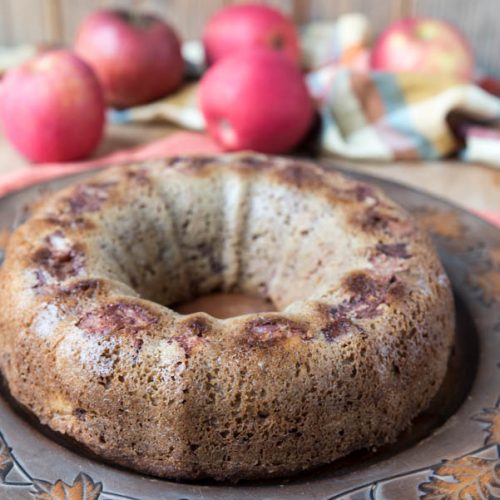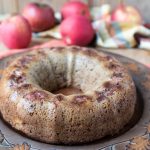 Print
Keto Apple Cake
Ingredients
Optional Add-Ins
½

cup

chopped pecans or walnuts
Optional Toppings
Sugar Free Butter Pecan Ice Cream
Instructions
Preheat your oven to 325 degrees F. Grease a silicone 9 inch bundt pan and place on a small baking sheet pan. Set aside.

Place chopped apples and cinnamon together in a small bowl and stir to coat the apples. Set aside.

Whisk together the coconut flour, brown sugar sub, baking soda and powder, apple pie spice, salt and glucomannan and add to a stand mixer or large bowl.

Pour the sour cream, butter and heavy cream into the dry ingredients in the stand mixer or bowl. Blend until combined. Mix in the apple extract and stevia.

Add one egg at a time into the batter until combined.

Take half of the apples and spread them all around the bottom of the bundt pan. Spread half of the batter over the apples in the bundt pan. Spread the remaining apples over the batter and then the remaining batter over the apples.

Place the pan in the middle of the oven and bake for 50-60 minutes or until a toothpick in the center comes out clean. Allow to cool. Once cooled, place your serving plate over the top of the bundt pan and flip cake over. It should easily release from the silicone pan. Slice into 16 servings and enjoy with my sugar free caramel sauce or my keto butter pecan ice cream.
Nutrition
Serving:
1
slice
|
Calories:
154
kcal
|
Carbohydrates:
6
g
|
Protein:
4
g
|
Fat:
13
g
|
Saturated Fat:
8
g
|
Cholesterol:
99
mg
|
Sodium:
253
mg
|
Potassium:
82
mg
|
Fiber:
3
g
|
Sugar:
2
g
|
Vitamin A:
437
IU
|
Vitamin C:
1
mg
|
Calcium:
41
mg
|
Iron:
1
mg