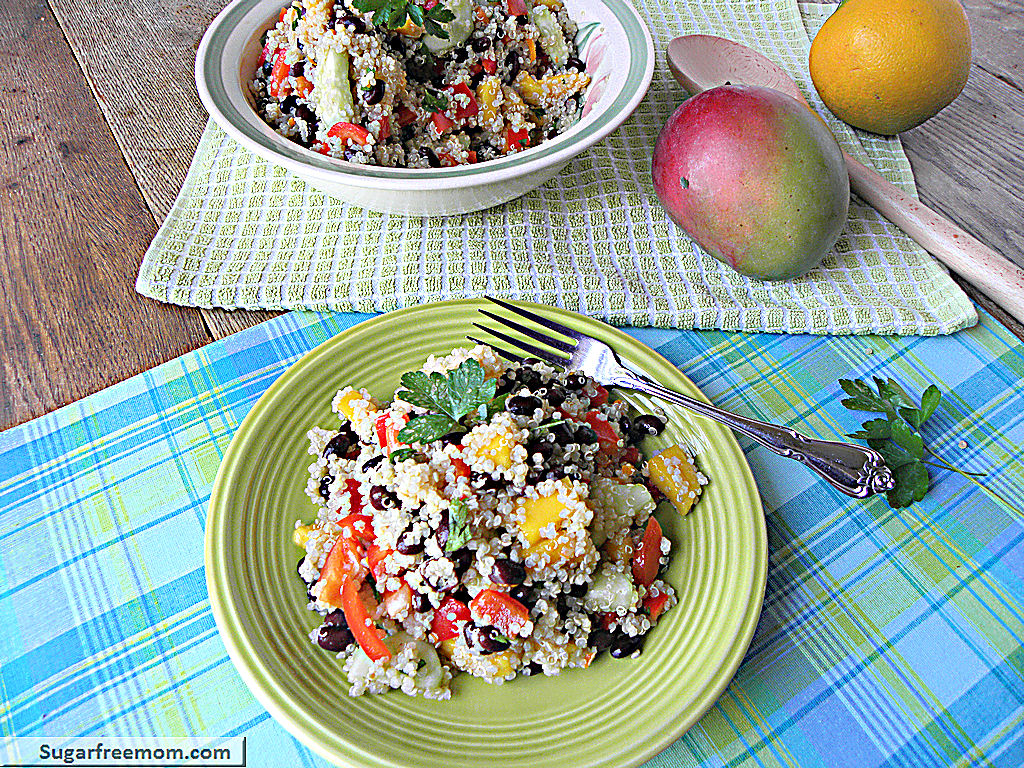 A meatless but filling and satisfying dish for lunch or dinner can be yours for a mere 15 minutes of cooking time and an additional 5 minutes to prepare some chopped veggies and a dressing. So tops..... 20 total minutes for serious deliciousness!. Quinoa mixed with some wonderful veggies and combined with an even yummier dressing is sure to be a hit when you have company or to bring to any get together!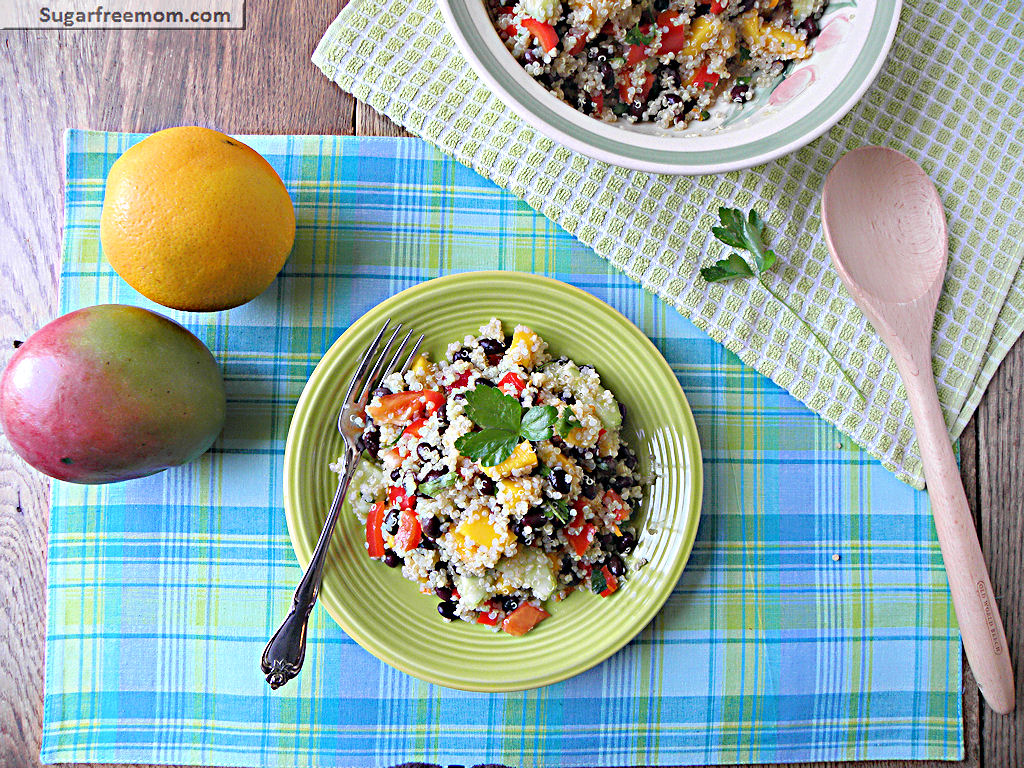 This is the perfect allergy friendly dish! Gluten free, grain free, sugar free, dairy free, soy free, nut free.......vegan, vegetarian......any more I'm missing?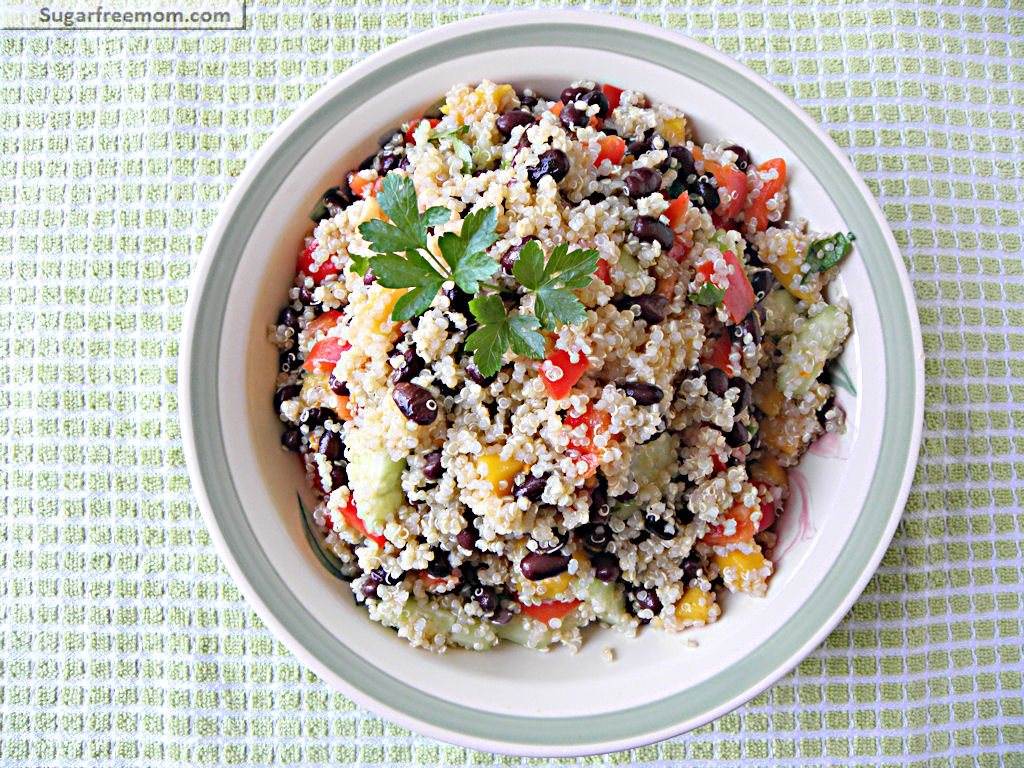 Not crazy about black beans? Use another bean you like for protein. Not crazy about the red bell pepper? Use tomato. Not crazy about mango? Oh sorry that is something I can NOT change in this recipe, it is needed !! It makes everything naturally sweet and is super healthy too!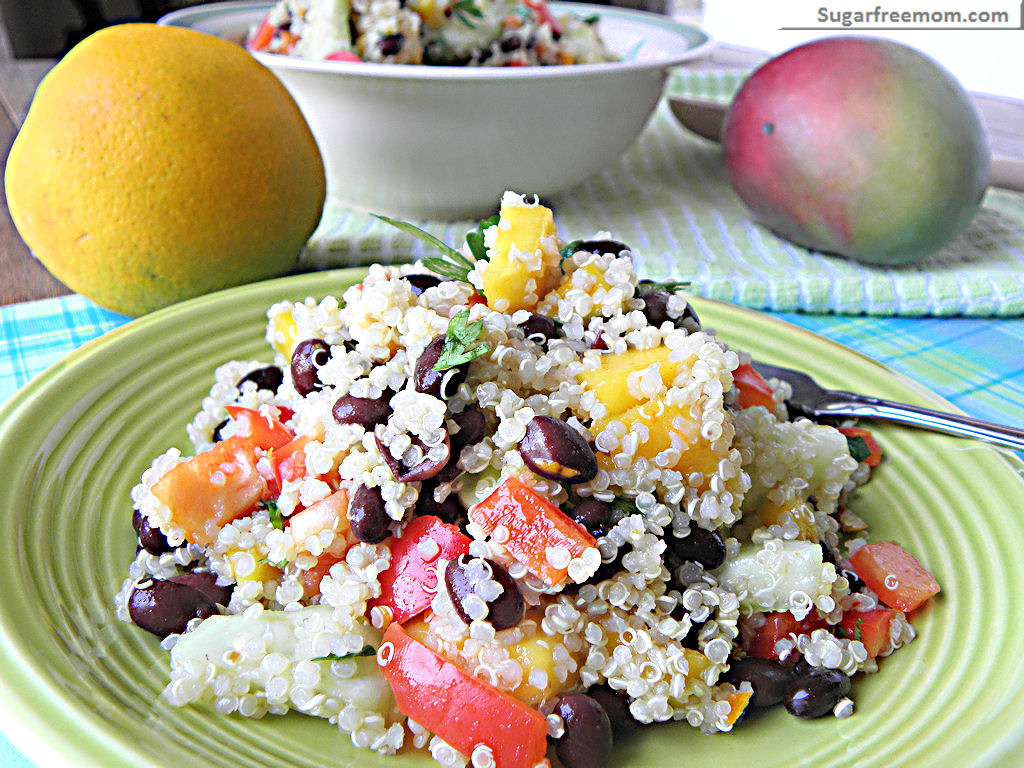 This salad is PACKED with protein and fiber!! So very low in fat as well!
Mango Quinoa Black Bean Salad
[sc:Ziplist]
Ingredients
1 cup uncooked quinoa, rinsed and drained
1 can (15 ounce) black beans, rinsed and drained
1 cucumber, chopped
1 mango, peeled and chopped
1 red bell pepper, chopped
3 tablespoons fresh chopped cilantro
¼ -½cup Low Fat Zesty Orange Dressing
Directions
Place the quinoa in a medium size sauce pan and add 2 cups of water. Bring to a boil. Cover, reduce to a simmer and cook for 15 minutes until all water is absorbed. Set aside to cool. In a large bowl place all chopped vegetables, add quinoa. In a small bowl mix your dressing ingredients. Pour your dressing over the quinoa and vegetables and mix in the chopped fresh cilantro. Season with salt and pepper if desired. Enjoy chilled or warm.
Nutrition Info [without dressing included]

Servings: 4* (1-½ cup each) Calories per serving: 319* Fat: 3g* Fiber: 12g* Carbs: 59* Protein: 14g* Points+: 7*
Other Quinoa recipes you might like: