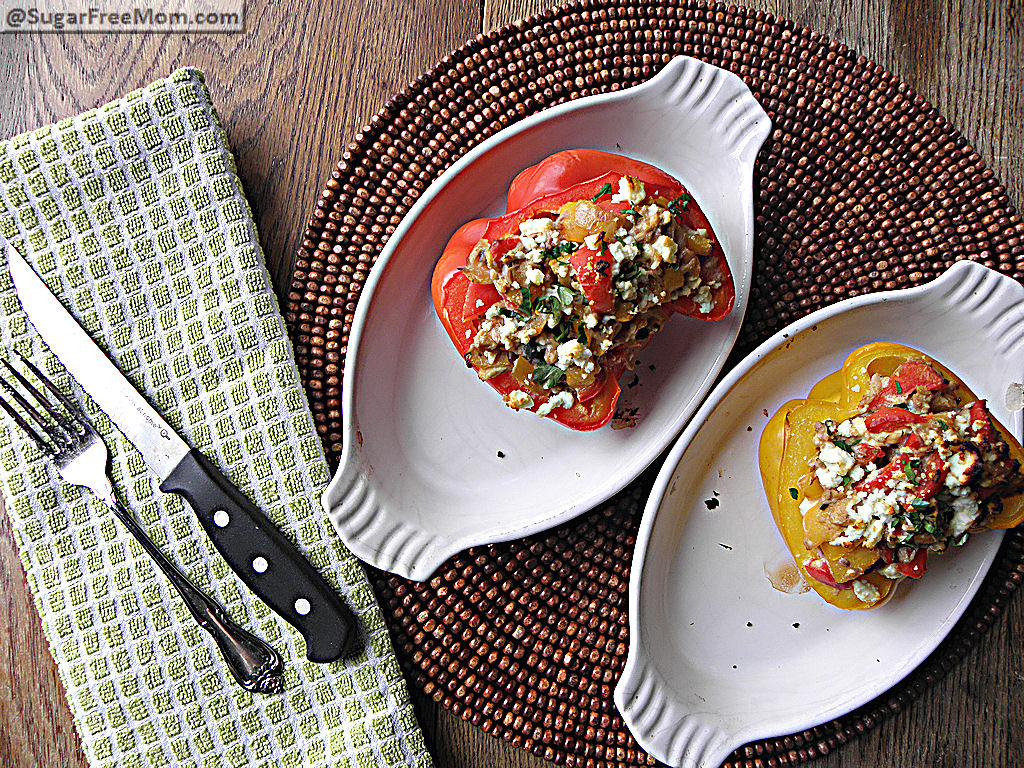 If you're not much of a fish eater this is a perfect recipe for you! The tuna is mixed in with delicious veggies and you can barely even notice it's even in there. It's a creamy meal without any mayo or tons of cheese. You will be greatly surprised by how hearty and filling this meal is.
So this is my healthy take on a tuna melt! I made this just for myself so I was able to enjoy the other half the next day for lunch. And guess what? I ate it right out of the fridge, didn't even need to heat it up. It was incredible. But of course you can easily reheat in the microwave.
This is a wonderful recipe for a Meatless Monday don't you think?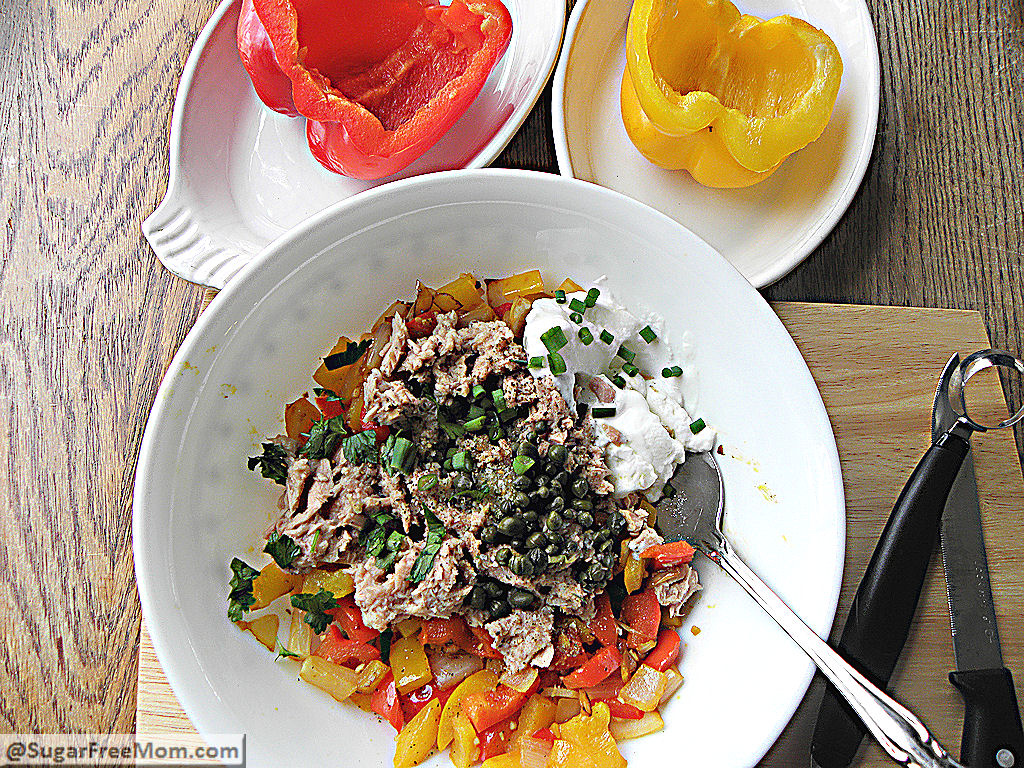 See that cool tool on the right, with the circle at the end? That is my cool and nifty Pampered Chef tool called Core & More that I bought from my friend Amanda Towne, Independent Consultant with The Pampered Chef! It cleaned the inside of my peppers perfectly! Love great kitchen accessories!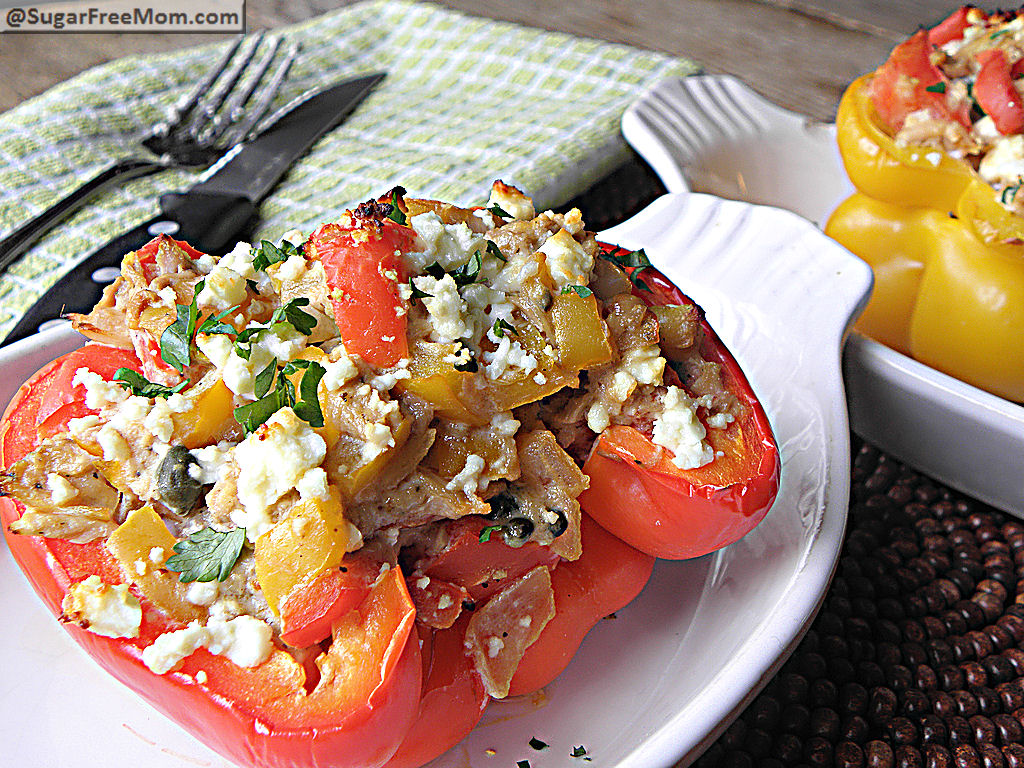 Additional Notes:
You could reduce the amount of fat and calories by eliminating the feta cheese on top or even using a low fat feta cheese instead.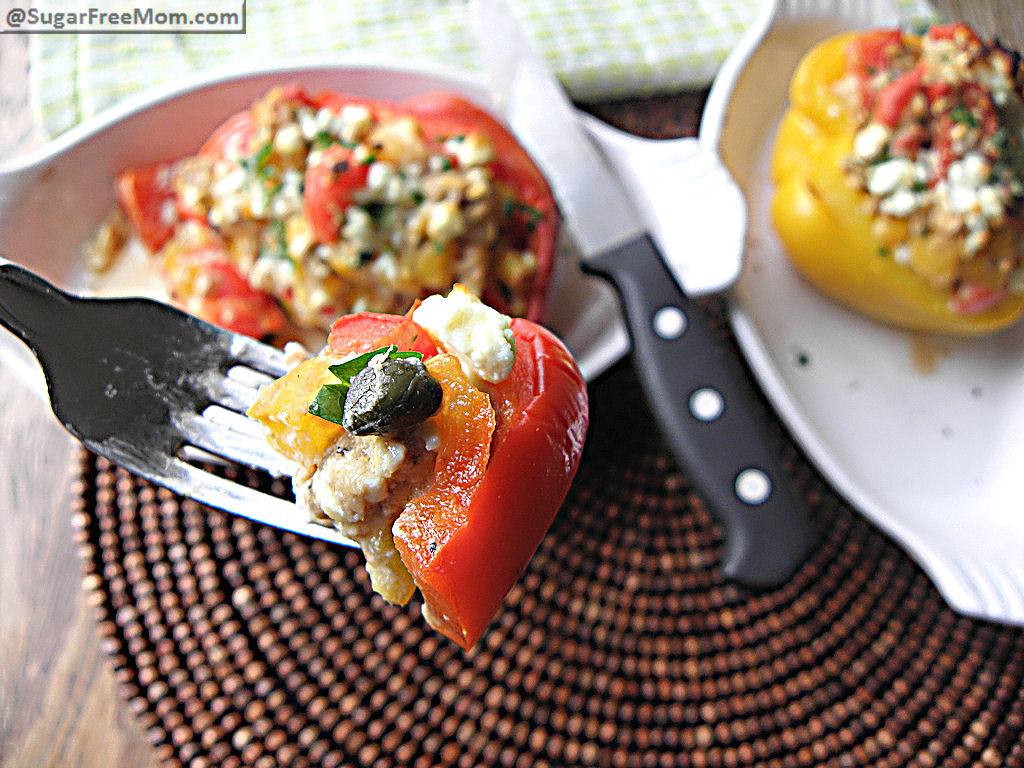 You want a bite of this don't you?
It is so good! Looking for other fish recipes? Try my Baked Parmesan Tilapia or Oven Fried Fish Nuggets!
Recipe inspired by Starkist: Tuna Stuffed peppers
Mediterranean Tuna Stuffed Pepper
Author:
Prep time:
Cook time:
Total time:
Ingredients
2 sweet peppers, halved
½ cup chopped onion
1 garlic clove minced
1 tablespoon oil
1 can (5 oz) tuna, chunk light in water, drained
1 teaspoon salt
¼ teaspoon pepper
2 tablespoons plain, nonfat Greek Yogurt
1 tablespoon capers
1 scallion, chopped
2 tablespoons feta cheese, crumbled
Optional Topping: fresh chopped parsley
Instructions
Clean out the inside of each pepper.
Take the top halves and dice them up. Save the other halves for stuffing.
Saute the chopped peppers with onion, garlic and oil for about 5 minutes. Once tender turn off heat and set aside.
Place the sauteed onion pepper mixture in a bowl and mix in all other ingredients.
Stuff the halved peppers with filling, top with 1 tablespoon feta on each pepper.
Bake at 350 degrees for 10-15 minutes until feta is melted and pepper is warmed through. Top with chopped parsley.
Serving size:
1
Calories:
273
Fat:
13g
Carbohydrates:
13g
Fiber:
3g
Protein:
25g
Notes
Weight Watchers PointsPlus: 7*