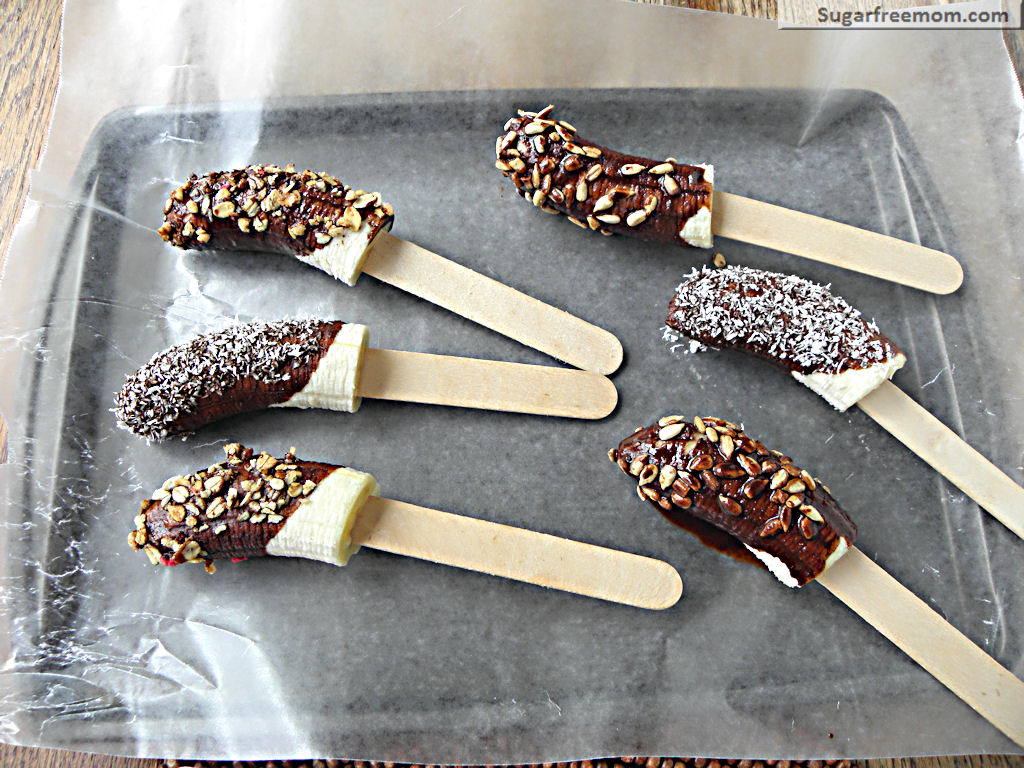 Don't you just love a healthy, low calorie snack that your family doesn't even realize is healthy? Oh my friends, that is what DRIVES me and motivates me to do what I do!
Once I made my Naturally Sweetened Dark Chocolate Chunks, I knew immediately I could make lots of yummy, but healthier snack for my kiddies.
Here's the first creation!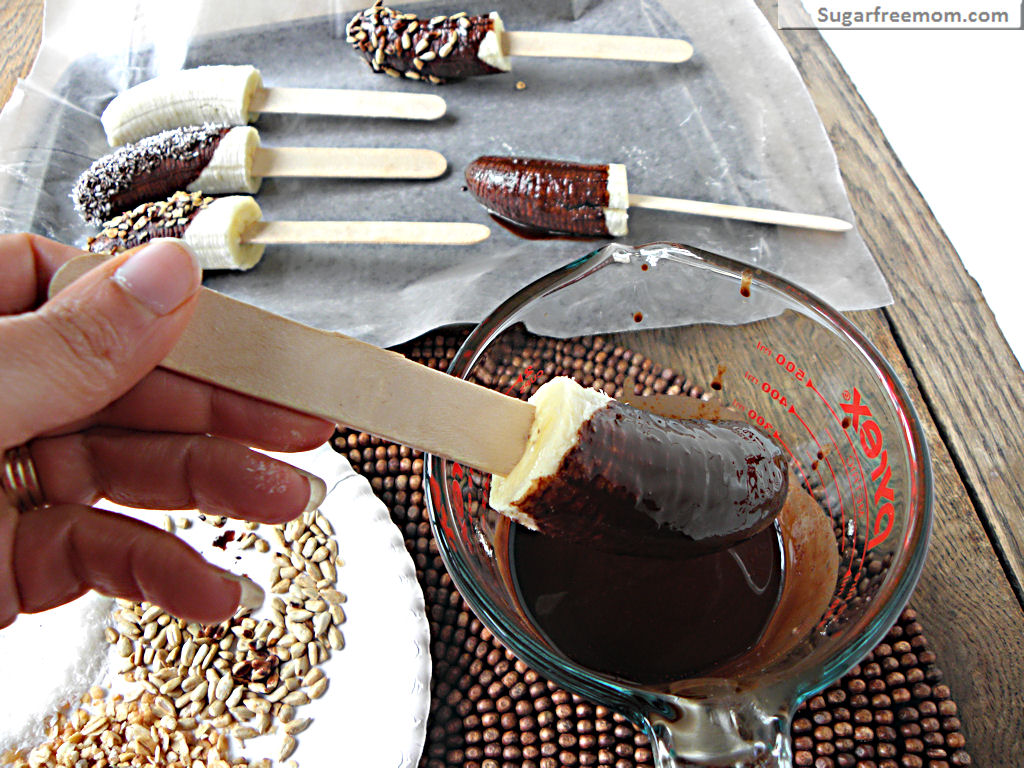 Just prepare the recipe as you would but instead of pouring it on a baking sheet to harden in the fridge or freezer, pour it into a tall glass to dip the bananas!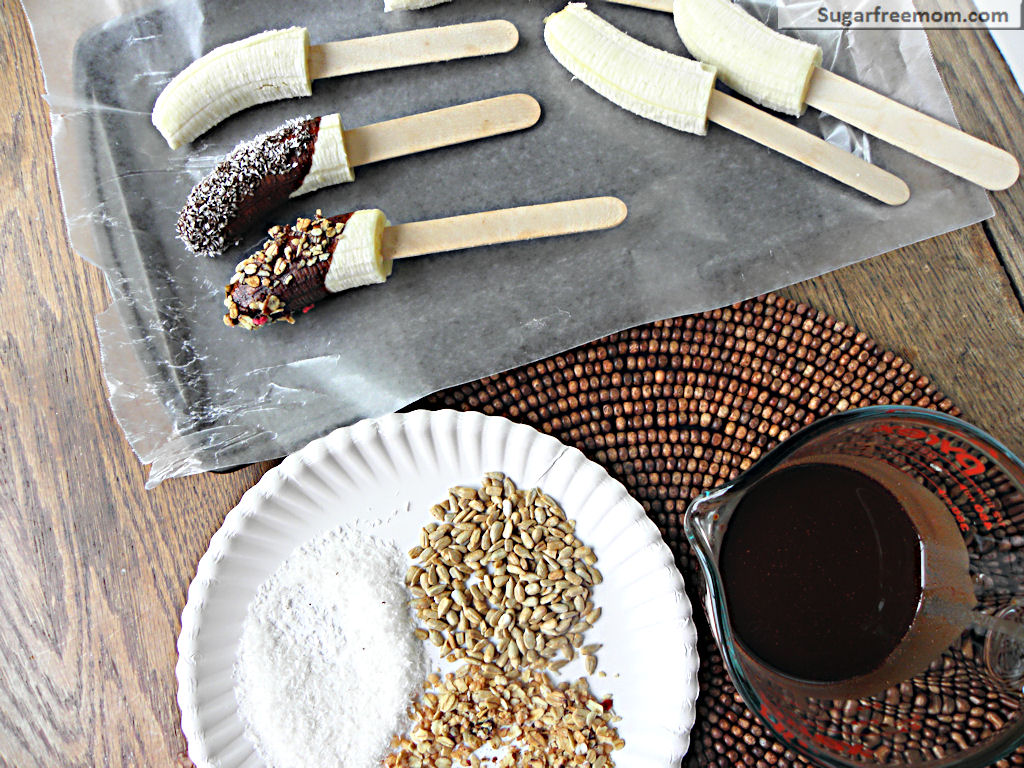 For toppings to dip, we used unsweetened coconut, salted sunflower seeds and Trader Joe's Very Berry Granola.
To my surprise the kiddies liked the unsweetened coconut the best! I loved the sunflower seeds! The granola was yummy too!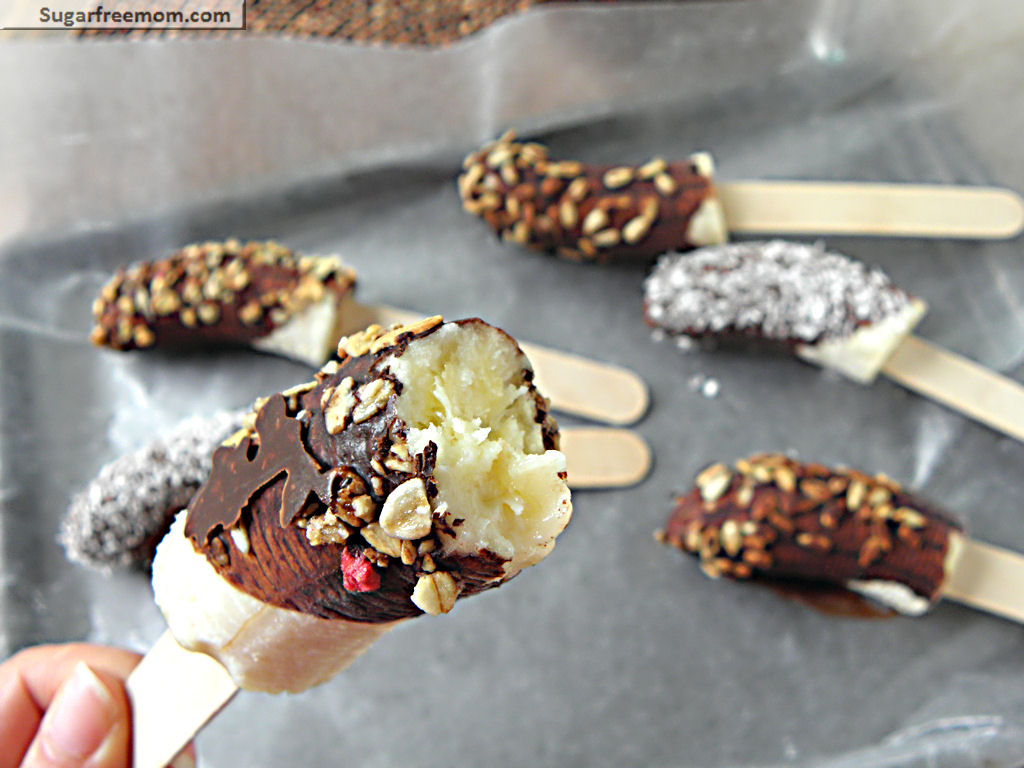 As far as nutrition info goes, I haven't given it here simply because each banana will be different depending on how much chocolate sauce you use. I used a half a cup of sauce for 8 banana halves. That makes 1 tablespoon for each banana half and then about a tablespoon of each topping.
But here's a sample of the banana with coconut. Half of a small banana is 45 calories, the 1 tablespoon of the chocolate sauce is 30 calories. I found reduced fat, unsweetened shredded coconut that is only 35 calories for 2 tbsp. All together that's 110 calories!!!
Naturally Sweetened Chocolate Covered Banana Pops
[sc:Ziplist]
Ingredients
Directions
Prepare your chocolate sauce and then pour it into a tall glass. Line a baking sheet with waxed paper. Insert a Popsicle stick into each banana half. Add toppings to a shallow bowl or plate. Dip the banana half into the chocolate sauce, spinning it all around to coat well. Dip the chocolate covered banana onto toppings of choice. Lay on baking sheet and refrigerate or freeze for about 30 minutes or until hardened. Serve and enjoy or wrap individually in plastic wrap and freeze for up to 2 weeks.
On Another note:
If you enjoy all these yummy healthy recipes I make and provide, would you help me by clicking this link below to vote for my blog in this contest.You can only vote once a day, but I need you votes to advance and the contest ends on May 29th so only a few days left! Thank you so much!
[Circle of Moms Top 25 Foodie Moms - 2012 - Vote for me!]