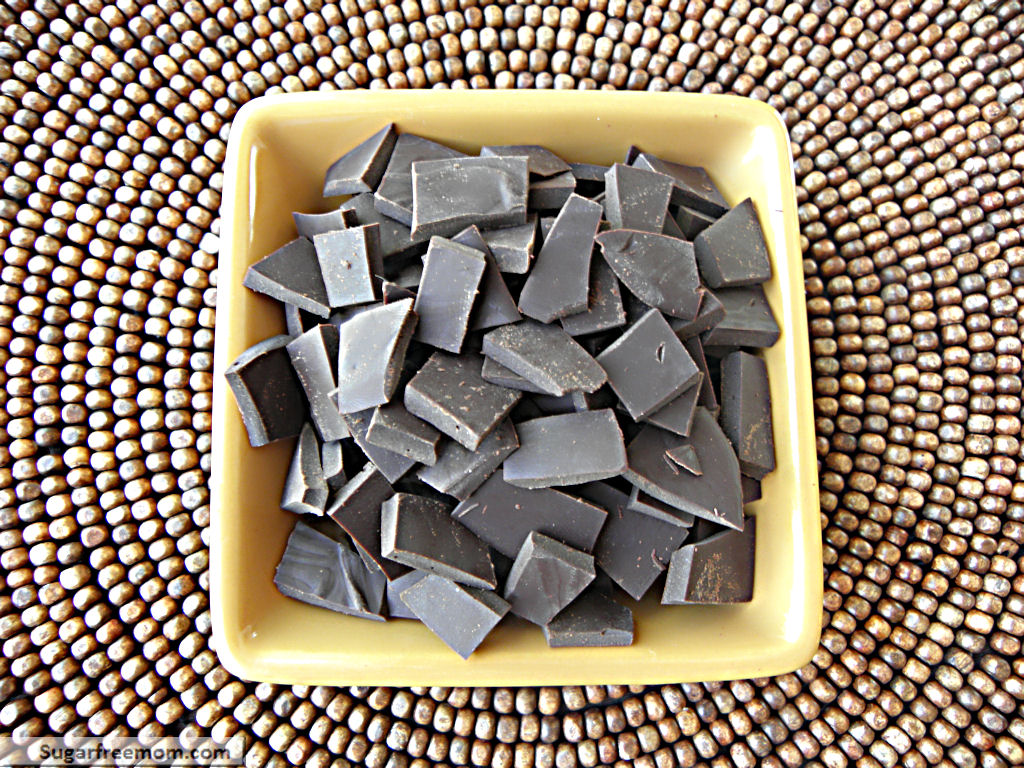 Homemade chocolate chips.........sugar free, dairy free and no artificial sweeteners.......Impossible you think?
NOT at all. 🙂 You must understand though, this does not taste and will never taste, like milk chocolate. This has a strong DARK chocolate flavor. The more stevia you add the less bitter it will be.
It doesn't take more than 10 minutes to put this together. I melt my chocolate in the microwave but you can melt it over low heat on the stove as well. Mix all ingredients together, pour and let freeze.
It.is.that.simple.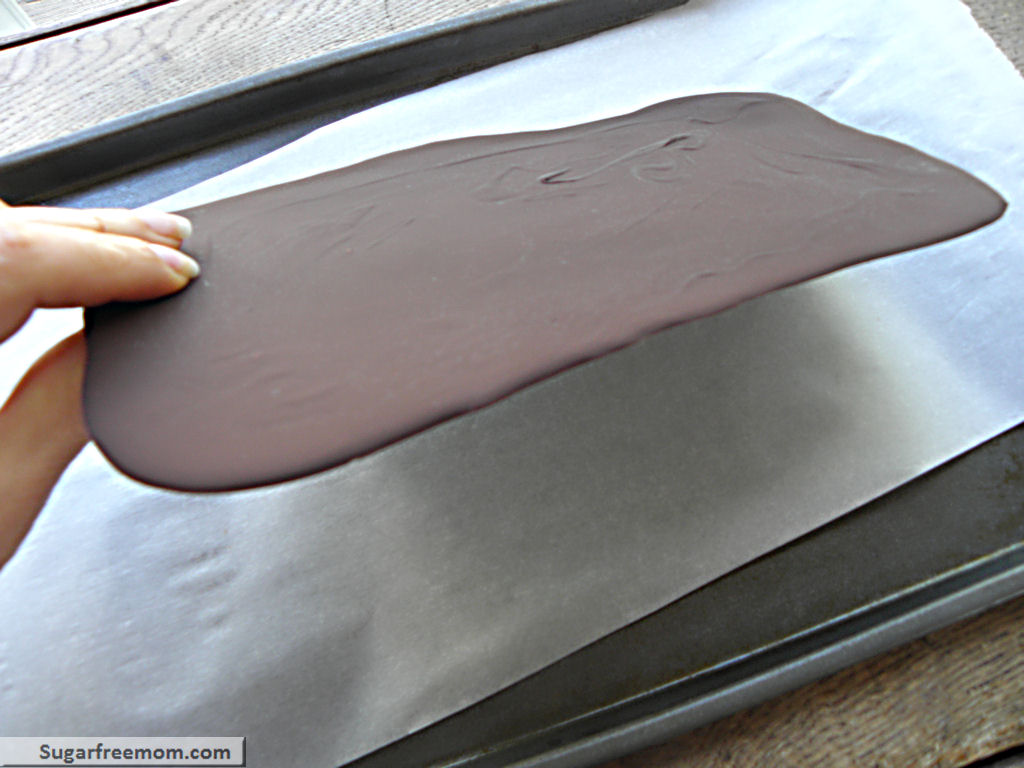 This froze for about an hour and then you just break it up into chunky chips!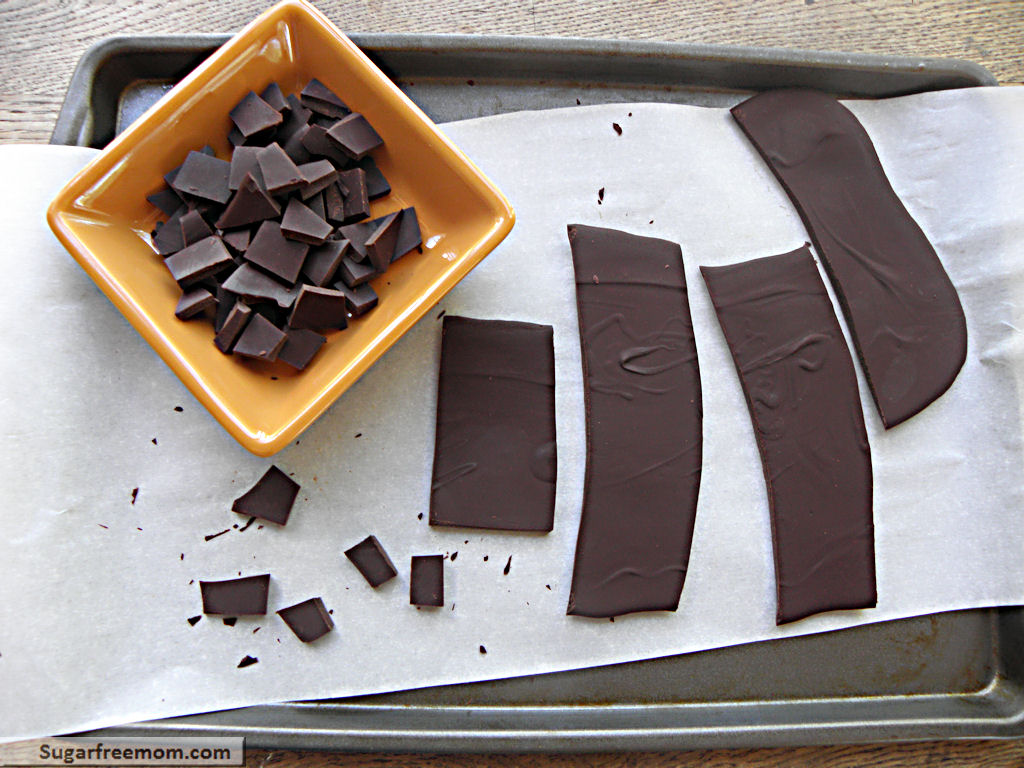 You could add these chips to anything you want to bake or just on top of Homemade Dairy Free Pudding or Peanut Butter Banana "Ice Cream"!
*TIP: Do not try using liquid stevia in this recipe. I keep my liquid stevia in the fridge so if you do as well, the cold stevia will cause the hot chocolate once melted to emulsify and become thick and lumpy. Then it will be very difficult to smooth and pour onto a baking sheet.
Naturally Sweetened Dark Chocolate Chunks
[sc:Ziplist]
Ingredients
Directions
In a microwaveable bowl melt the chocolate, vanilla extract and the oil in the microwave for about a minute or over the stove on low heat until completely melted. Stir in the stevia powder. Taste it and see if it is sweet enough for you. If not increase stevia by ¼ teaspoon until it is to your liking. Pour the chocolate liquid onto a parchment lined baking sheet. Spread with a spoon to smooth. Don't spread the chocolate too thin. Freeze for about an hour. Break into chunks. Makes about 2 cups.
Nutrition Info
Servings: 16* Serving Size: 2 tablespoons* Calories per serving: 65* Fat: 7g* Fiber: 1g* Carbs: 2g* Sugars: 0g* Protein: 1g* Points+: 2*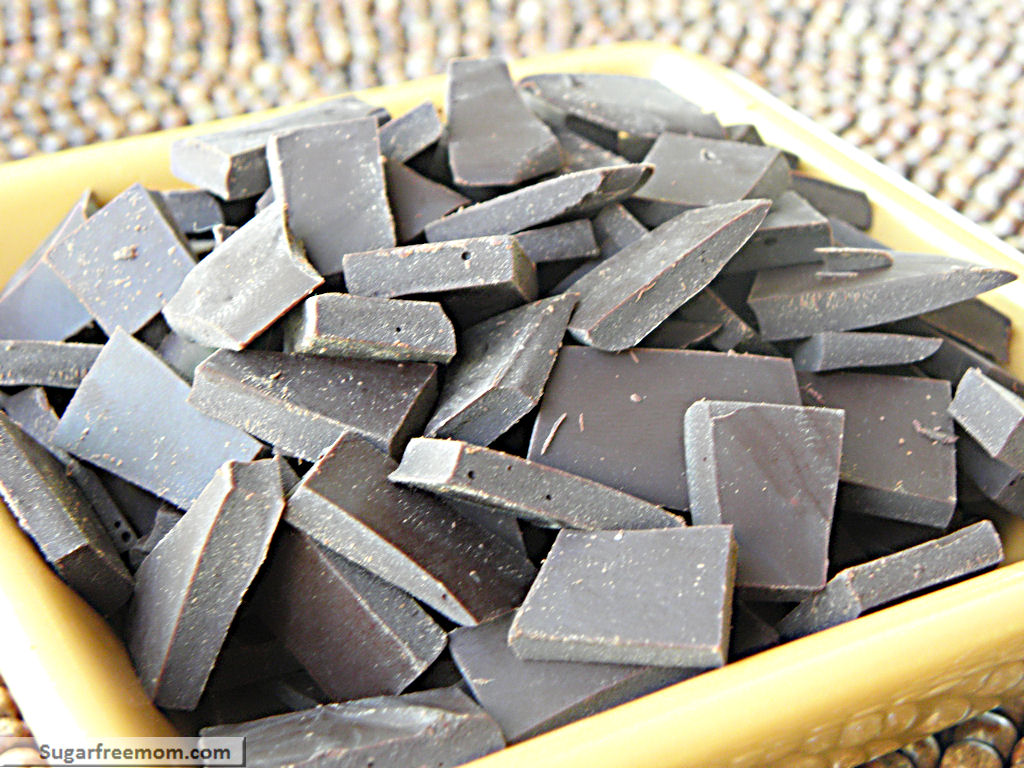 You might also like using this chocolate to make my Naturally Sweetened Chocolate Covered Banana Pops!
Interested in how these bake up in some Chocolate Chunk Scones? Fabulously well!