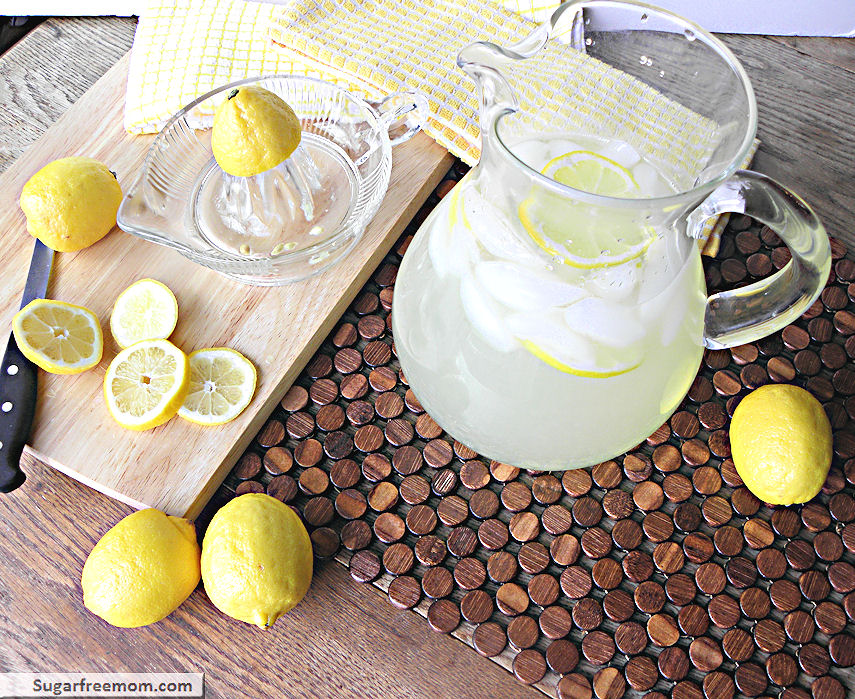 Have lemons? Make Lemonade! All naturally sweetened of course! You knew I couldn't let spring and summer begin with out a healthy sugar-free lemonade did you?!
My kiddies LOVE lemonade and when I made my healthy sugar- free version they were quite skeptical and so was the hubby. BUT I promised them it would be as delicious as buying a pre-made mixture and it was! They couldn't believe it was sugar- free. Even the hubby said it was delish!
You only need 2 ingredients besides water, that's it!
THE BEST PART? 9 CALORIES PER SERVING!!! 0 POINTS!!!
And don't waste anything because once you get all the lemon juice out of the lemons, you can throw the rinds in your garbage disposal. Makes it smell oh so good in your kitchen sink!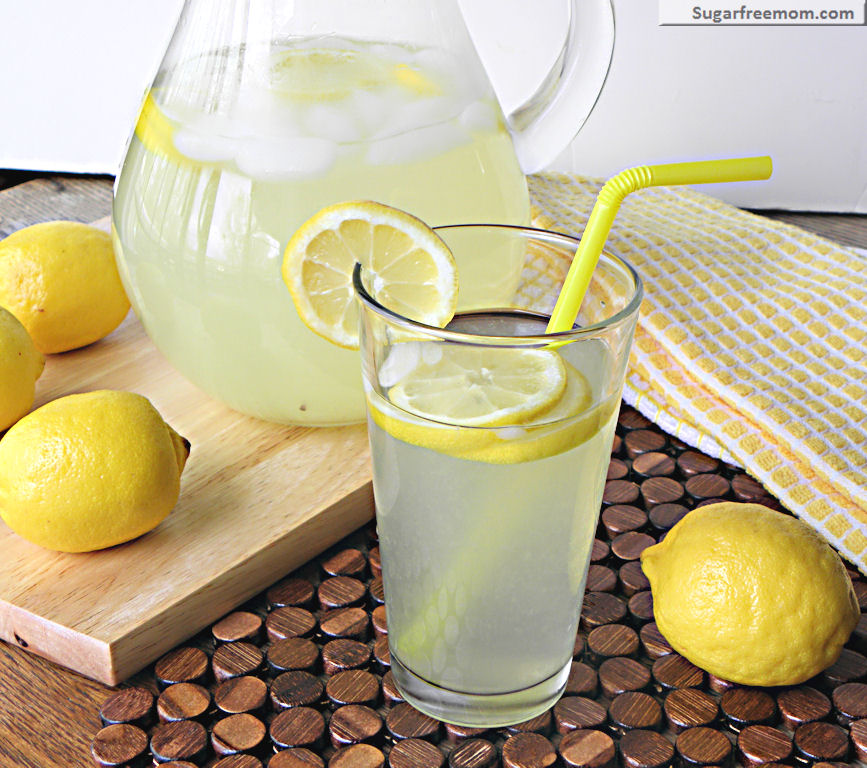 How can you not love this? Just like drinking water BUT with awesome TASTE haha!!
Need a snack with that lemonade?
Check out my Healthy Dessert Page!
Note: If you don't have liquid stevia, replace with 1 teaspoon powdered or 6 packets.
Naturally Sweetened Lemonade
Author:
Ingredients
6 fresh lemons, juiced
1 lemon to slice and add to pitcher
1 teaspoon Liquid Stevia, Lemon Drop
2 quarts of water
1 cup ice cubes
Instructions
Slice lemons in half, squeeze out juice into a bowl, remove seeds. Add juice to a large pitcher.
Add 2 quarts of water to a pitcher.
Stir in 1 teaspoon of stevia. Taste it and decide if you want it sweeter. We were happy with this amount.
Slice one whole lemon and add to pitcher.
Add the ice cubes and serve!
Makes 64 ounces.
Serving size:
8 ounces
Calories:
9
Fat:
0
Carbohydrates:
3g
Sugar:
0
Sodium:
0
Fiber:
0
Protein:
0
Cholesterol:
0
Notes
Weight Watchers PointsPlus: 0
What do you think?
Think your family will choose this over the pre-made mixture?
Do a blind taste test and see which they prefer!