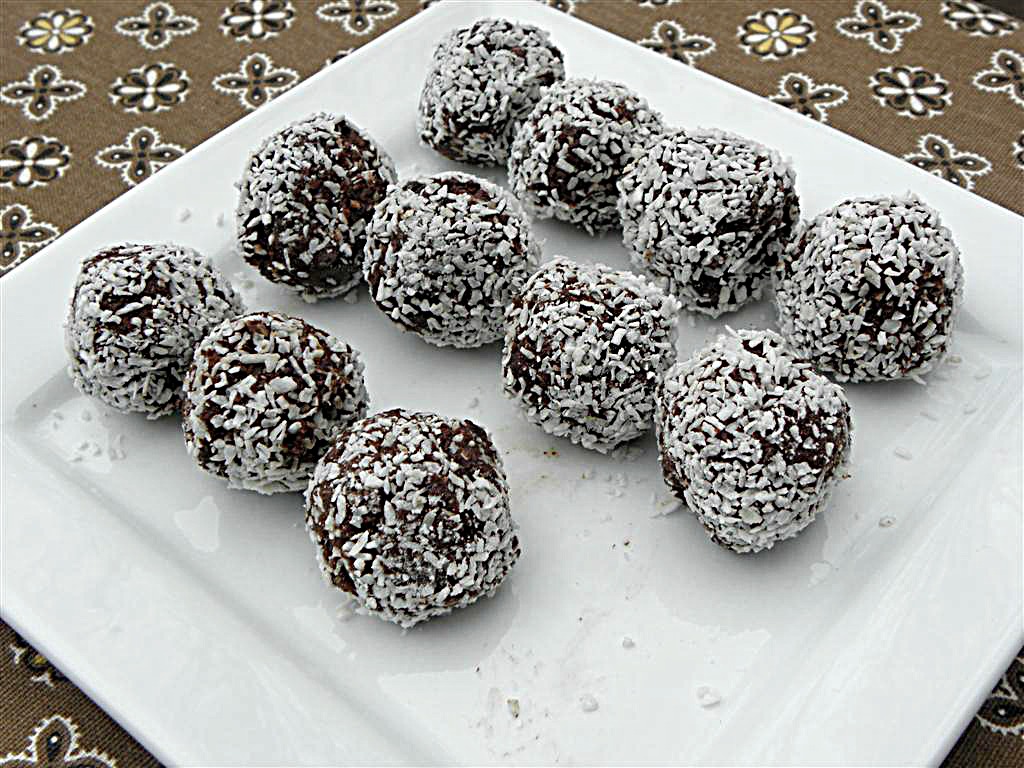 Don't these look like chocolate munchkins or doughnut holes you can buy from Dunkin Donuts?
If you have never heard of them before they are little balls of doughnut cut out of a large doughnut when making a hole in it sold at many coffee shops in New England. My kids LOVE them and I try to limit how often they can have them. They may not be a lot of calories but are full of white flour and white sugar I would prefer they don't have frequently.
Also for awhile now I've been wanting to come up with a no bake dessert. I've seen a bunch on Pinterest, but of course many contain nuts my boys can't have. I thought about combining the two ideas and came up with this recipe using dates to sweeten them. They are much heavier in texture than doughnut holes from the coffee shop and my kids loved them AND I loved I didn't have to bake them! Easy to whip up in a food processor in no time at all.
If you are able to have nuts they would give this a yummy crunchy inside. You could replace the chocolate chips with any nuts of your choice. You could also roll these in crushed nuts on the outside, that would be delightful!
My goal in the making of these was not low calorie or low fat but something nutritious as an alternative to doughnut holes at the coffee shop. Enjoy!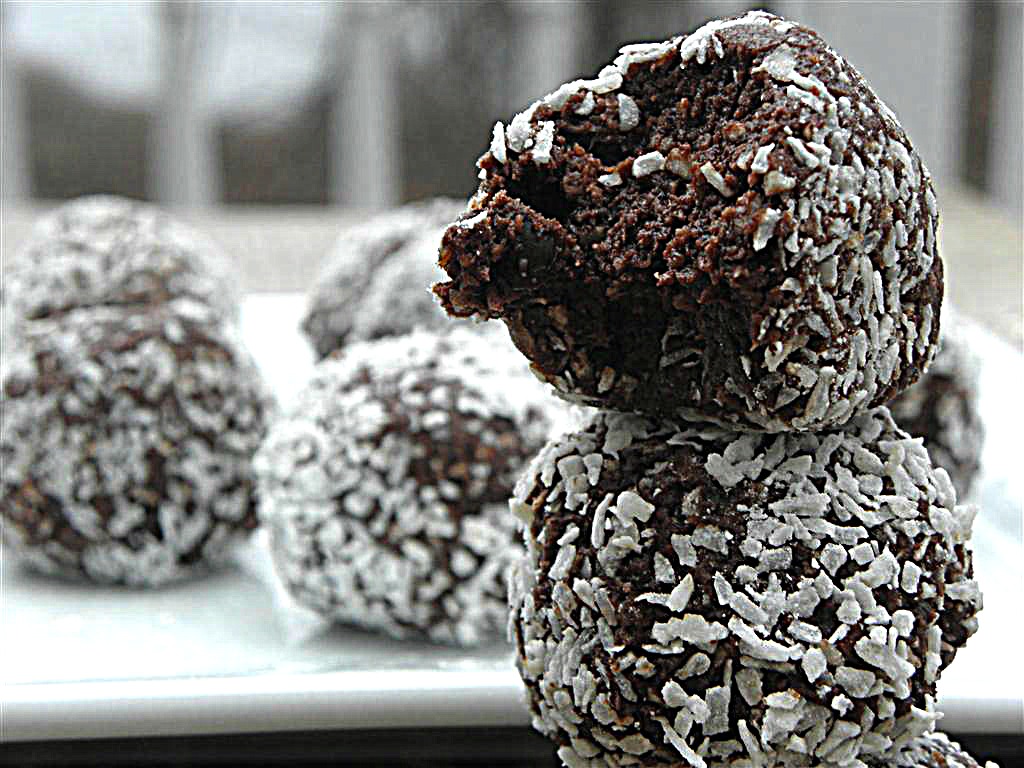 These would be perfect in the summer when you don't want to heat your house! If you're in the mood for more chocolate , you could make some fabulous Sugar-Free Brownies, or Dairy Free Sugar Free Chocolate Mousse ( no oven required for that either!)
My oldest pickiest 11 year old boy LOVED them so that is saying A LOT!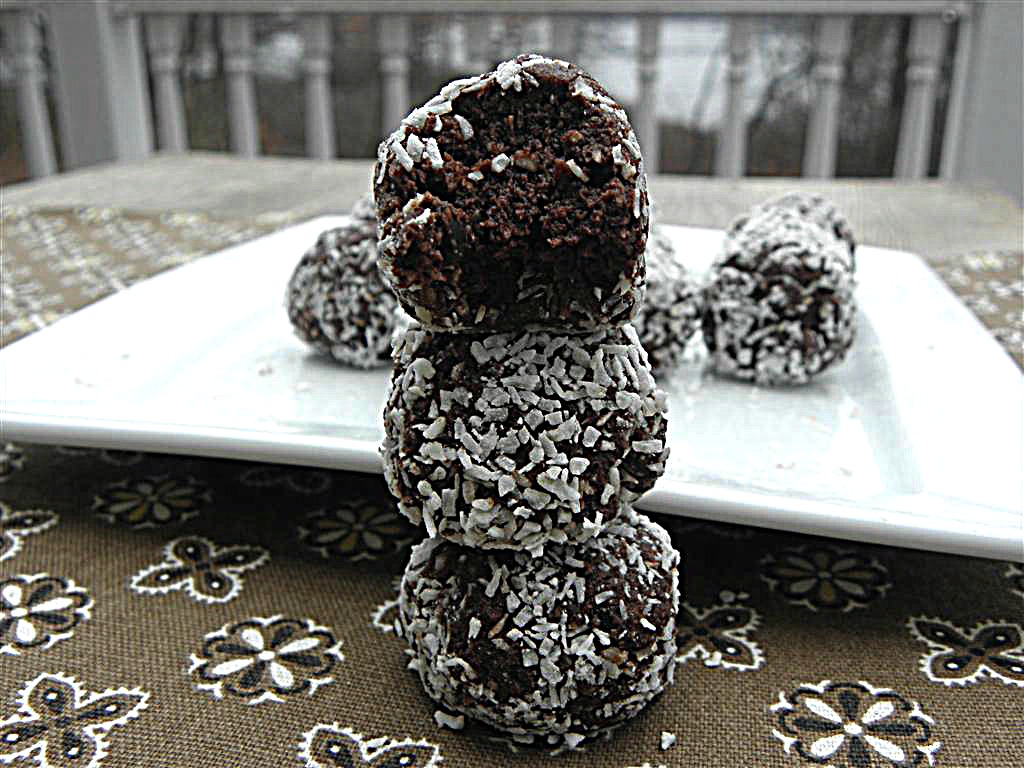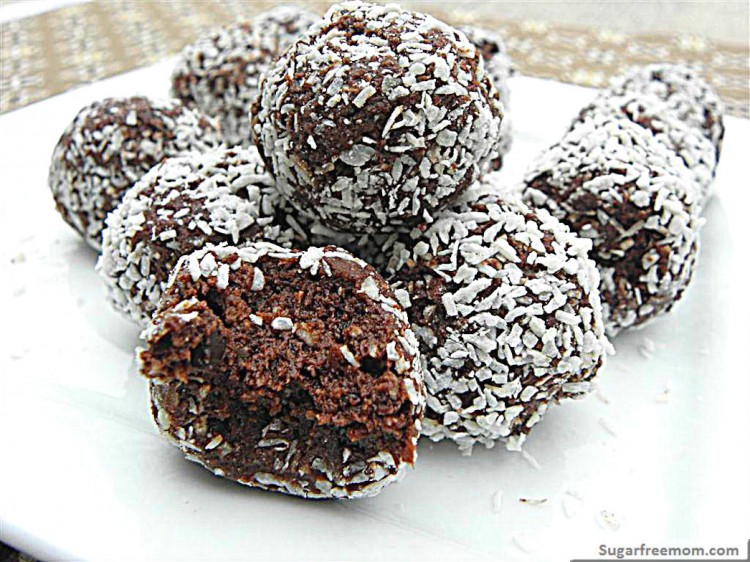 No Bake Chocolate Coconut Balls: Flour, Sugar, Egg, Dairy, Nut & Gluten Free
Author:
Prep time:
Total time:
Ingredients
1 ¼cup coconut flakes, shredded, unsweetened
4 tablespoons cocoa powder, unsweetened
1 teaspoon vanilla extract
¼ teaspoon salt
½ cup chocolate chips*
1 banana, mashed
½ teaspoon chocolate liquid stevia
9 dates, pitted, chopped
Instructions
Blend one cup of the coconut flakes with the banana and cocoa in a food processor.
A small amount at a time add the chopped dates to the food processor.
Once thoroughly combined until smooth mix in the stevia, vanilla extract and salt.
Place mixture into a bowl and stir in the chocolate chips.
Place the ¼ cup of coconut flakes onto a plate.
Make 14 small chocolate balls from the mixture then roll them into the coconut flakes. Refrigeration is not necessary, but if you are not eating them right away I would keep them in the fridge to stay firm until you are ready to eat.
Serving size:
1
Calories:
134
Fat:
7g
Carbohydrates:
21g
Fiber:
3g
Protein:
2g
Notes
* Use grain sweetened chocolate chips, Make[url href="https://www.sugarfreemom.com/recipes/naturally-sweetened-dark-chocolate-chunks-dairy-free-diabetic-friendly/" target="_blank"] Homemade Chocolate Chunks[/url] for a sugar free version Lily's Dark Chocolate Sugar Free Chips or Use[url href="http://iherb.com/p/32772?rcode=yaj035" target="_blank"] Enjoy Life Mini Chocolate Chips[/url].[br][br]Weight Watchers PointsPlus: 4*