This Healthier Chicken Sausage Pepper Calzone is made gluten free and grain free using my low carb Fat Head dough recipe and no one will know it's healthy!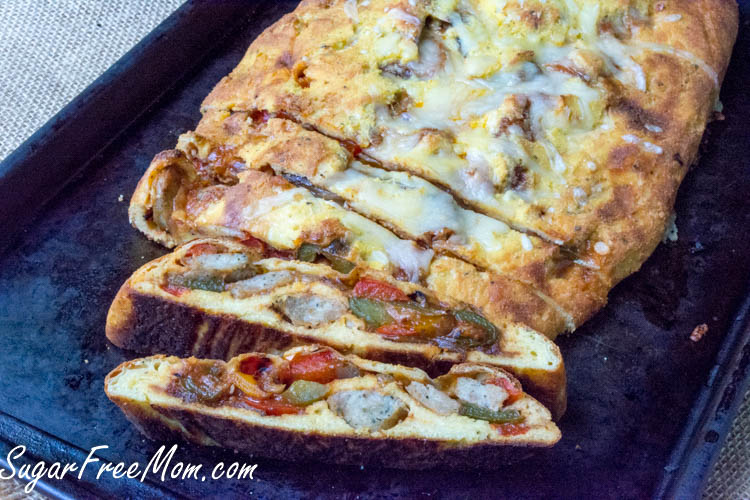 This post is part of a wonderful campaign with al fresco in honor of Breast Cancer Awareness month in October. They have created a group of influencer's called Team Pink to help spread the word about how we can support those who struggling with their health and share ideas on how to make simple changes in our eating to stay healthy. It's simple ways we can #fightbackbetter in our daily choices to help fight against sickness, illness and disease. I'm honored to be partnering with al fresco on bringing awareness to Breast Cancer Awareness in October.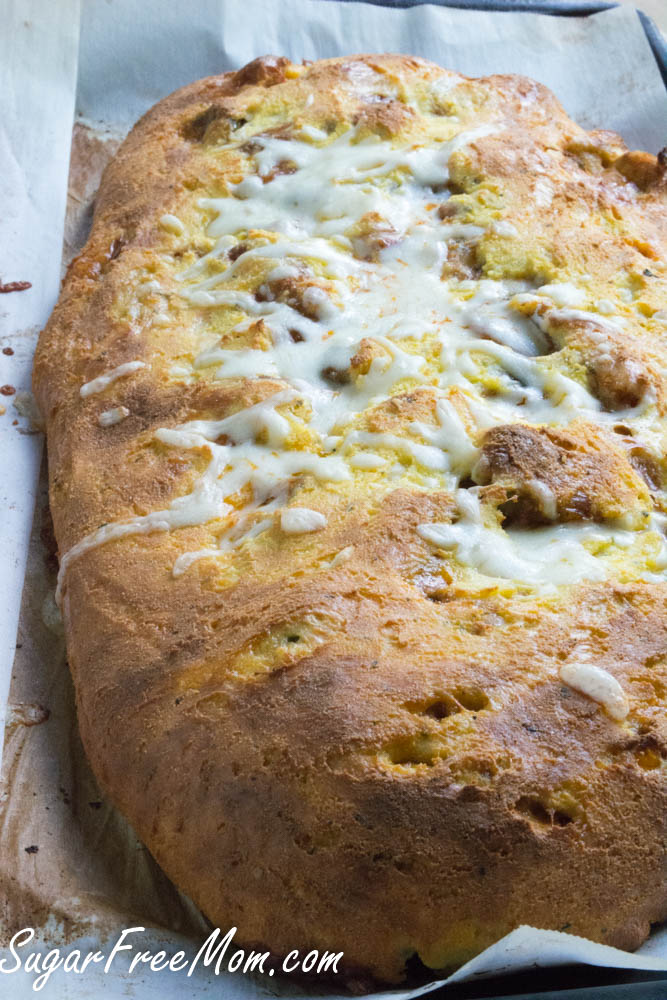 You don't often think a calzone might be the type of food considered to be healthy for special diets, but this one is. Whether or not you live a low carb life style, a calzone stuffed with peppers, onions, chicken sausage and cheese is hard not to love and make. No yeast in the dough equals no time waiting for the dough to rise, but what's even better is knowing the dough is perfect for anyone who has allergies to wheat, gluten, grains and even tree nuts. It's a perfect family allergy friendly meal to bring to a friend in need and exactly what I would make for someone struggling with their health.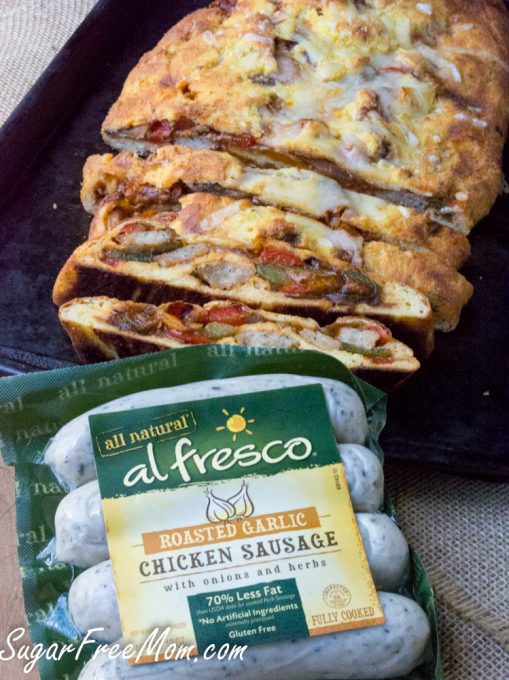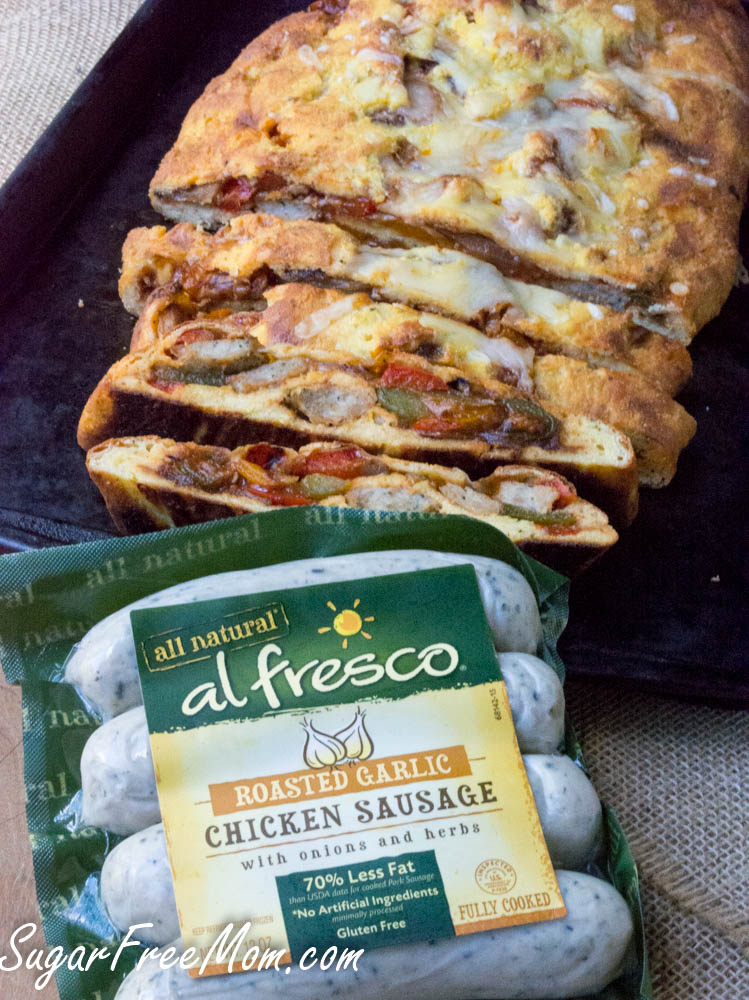 If you have a healthy recipe you have made using al fresco products be sure to tag them on Twitter or Instagram using @alfrescogourmet and the hashtag #fightbackbetter.
Every time #fightbackbetter is used, a meal will be donated through the Ellie Fund to someone who might be suffering with breast cancer.
The Ellie Fund's Mission is to provide essential support services for breast cancer patients to ease the stresses of everyday life, allowing the focus to be on family, recovery and healing. Providing transportation to medical appointments, childcare, housekeeping, groceries and nutritious prepared/delivered meals free of charge through their Healing Together Patient and Family Care Program which helps to relieve a patient's burden while in treatment.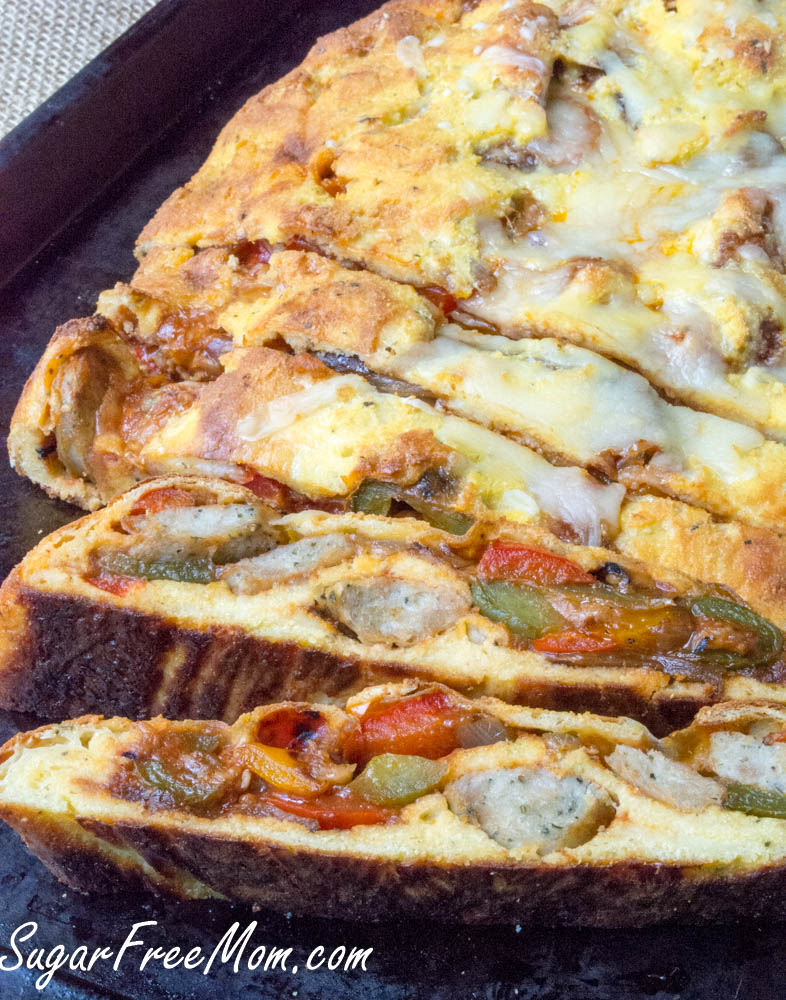 Making healthy swaps is part of what makes this #fightbackbetter campaign amazing. It's all about finding simple ways to better your life, being little things you might be able to incorporate on a daily basis to fight against disease and illness, especially once flu season comes into play.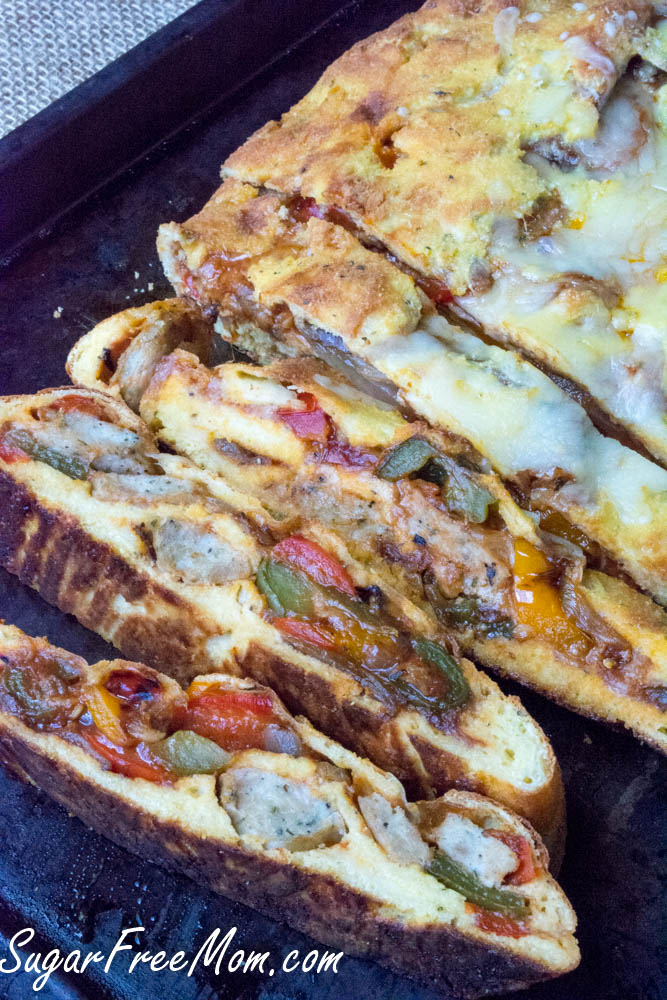 The better the food choices we make, the better your body can be in fighting against sickness.
Choosing fewer refined carbs is one of those ways to make healthier choices using vegetables instead. A simple idea to reduce the amount of refined carbohydrates is to swap traditional spaghetti for zucchini noodles or spaghetti squash instead. Cauliflower is also a great way to reduce carbs. Try this recipe for Cauliflower Mock Tater Tots, kid approved!
Reducing sugar is always a good idea, whether you're on a low carb diet or just getting started into a "less refined sugar" life style. Sugar feeds illness so reducing it can only help fight against sickness better. Try these tasty grain free Pumpkin pancakes you won't even notice they are sugar free and low carb!
Make your own snacks so you will be less tempted by store bought products full of sugar and carbs. Try this easy recipe for granola made in the crock pot!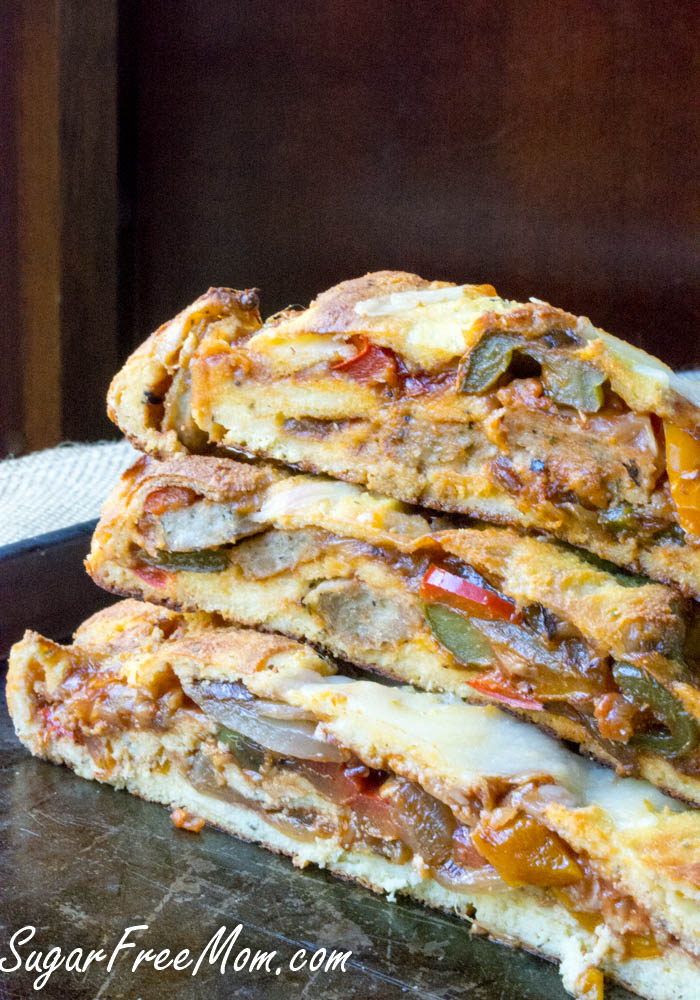 When someone you know is in need, the best way to help is always just bringing them a hearty meal. Not only is this simple calzone quick to make it's something that can be refrigerated and heated up whenever you're hungry. Because let's face it, when you're not feeling well you often lose your appetite. The delicious smells of this meal will bring them coming for more.
It's easy for kids to heat up on their own as well so mom won't need to worry if she's not feeling well. It's even good room temperature so it's perfect for a packed lunch as well.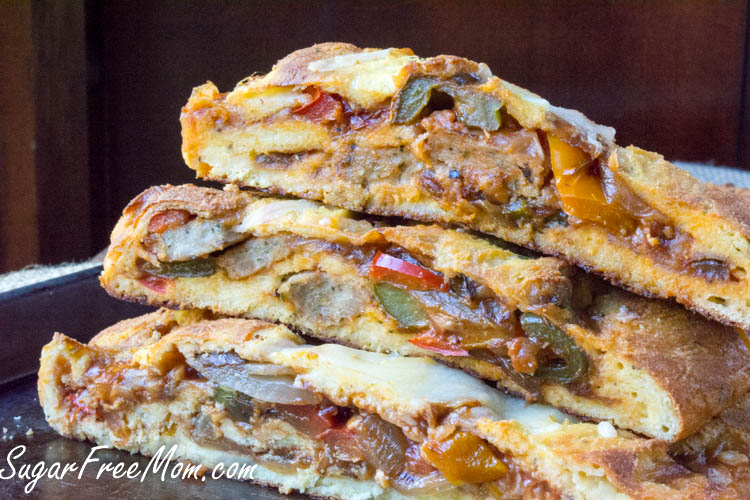 Here's a quick video showing how easy the dough is to make. Then just add these fillings, fold over and bake!

For more information on how to support those struggling in health due to breast cancer check out the Ellie Fund.
Other ways you can support Breast Cancer Awareness month is participating in a breast cancer event/walk. al fresco supports the American Cancer Society's Making Strides Walk in Boston, but there are events all over the country. Check them out here!
Don't forget, if you have a healthy recipe you have made using al fresco products be sure to tag them on Twitter or Instagram using @alfrescogourmet and the hashtag #fightbackbetter.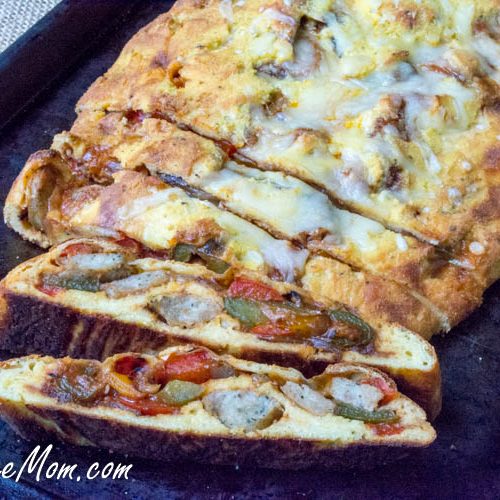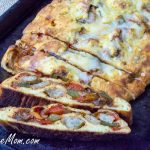 Print
Low Carb Grain Free Chicken Sausage Pepper Calzone
Ingredients
Fat Head Grain Free Dough recipe

1

12oz. package al fresco roasted garlic chicken sausage

½

cup

sliced sweet red pepper

½

cup

sliced sweet yellow pepper

½

cup

cup sliced sweet green pepper

½

cup

sliced onion

2

tablespoon

olive oil

4

ounces

tomato sauce

1.5

cups

mozzarella cheese
Instructions
Preheat the oven to 425 degrees.

Prepare pizza dough and spread dough out like you would for a pizza on a parchment lined baking sheet, but do not bake it! Set aside.

Slice chicken sausage and set aside.

Cook the peppers and onions in oil in a large skillet over medium heat until tender.

Add the sausage to the peppers then add tomato sauce, mix to combine.

Stir in 1 cup mozzarella cheese.

Sprinkle remaining ½ cup of cheese down the middle of the pizza dough.

Place filling on top and roll up one half of the dough using the parchment paper to fold over.

Fold over the other half and use your fingers to press dough and seal together.

Keep seal side down and bake for 20-25 minutes until browned.

Allow to cool 10-15 minutes before slicing.

Enjoy!
Nutrition
Serving:
1
g
|
Calories:
258
kcal
|
Carbohydrates:
12.3
g
|
Protein:
16.7
g
|
Fat:
16.4
g
|
Saturated Fat:
7.7
g
|
Cholesterol:
102
mg
|
Sodium:
556
mg
|
Fiber:
2.6
g
|
Sugar:
1.2
g
Thank you for supporting the brands that keep this website running! All opinions are 100% my own and always will be.