Diabetic Friendly, Gluten Free Personalized Pumpkin Baked Oatmeal Cups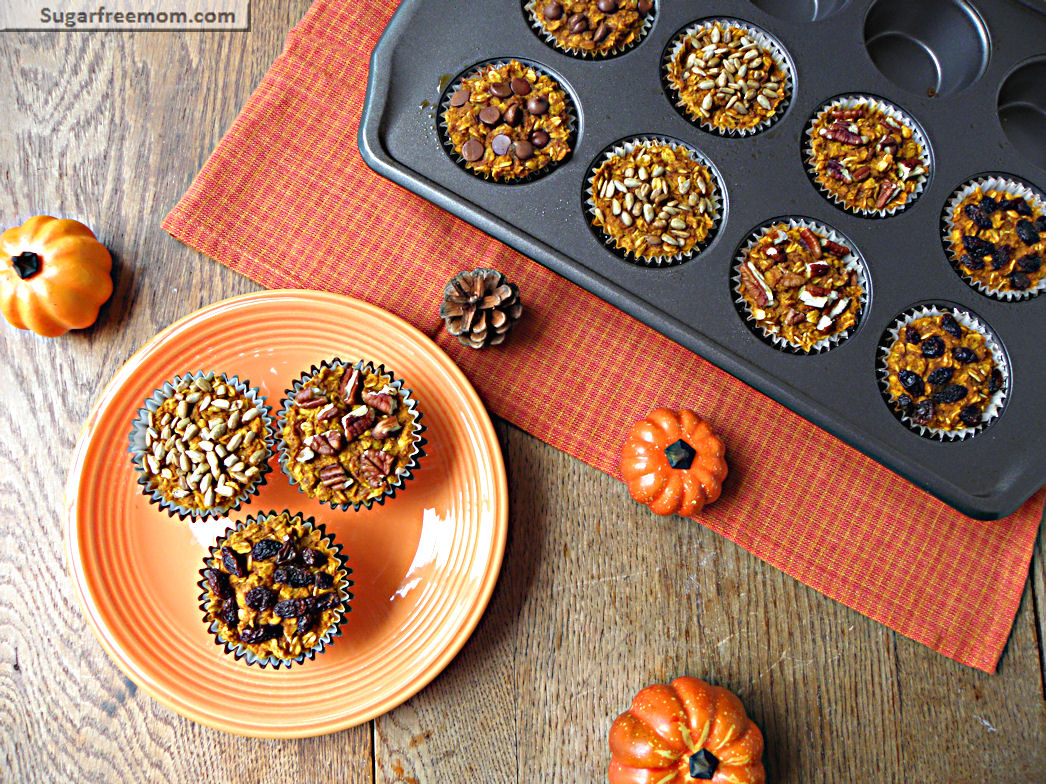 Pumpkin baked oatmeal baked in portion perfect sizes with your own personal topping! Doesn't get much better!! Perfect for a healthy on the go breakfast or snack and way better than grabbing a store bought oatmeal or granola bar full of preservatives.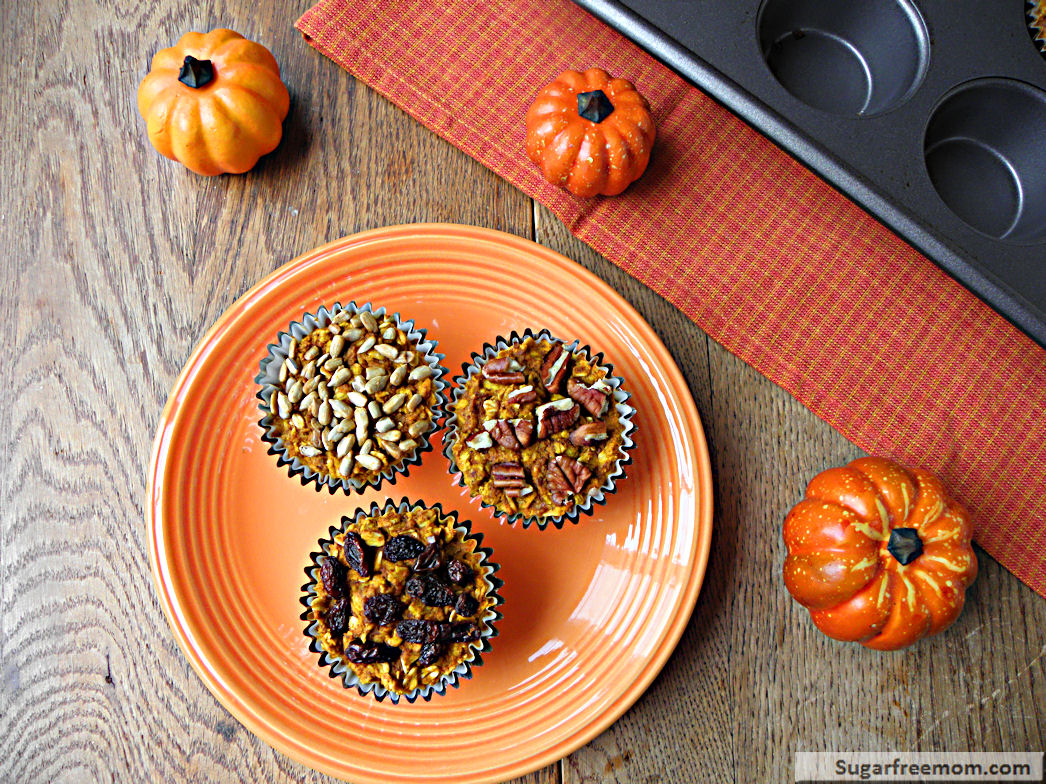 If you are a follower of my blog then you know this isn't the first recipe I've made personalized for a family with different tastes. Way back in February, I posted my Personal Sized Baked Oatmeal with Individual Toppings. That recipe has been very popular on Pinterest and many variations have come from it which I linked below for your convenience. This is the first though with an adaption eliminating the applesauce in the original recipe and completely replacing it with pumpkin. It is just as moist as any other baked oatmeal with a gentle pumpkin flavor. In fact if your children don't like pumpkin and you eliminate the pumpkin spice in the recipe they probably wouldn't notice the pumpkin in there anyway. Let then pick their toppings and they will eat it I tell you!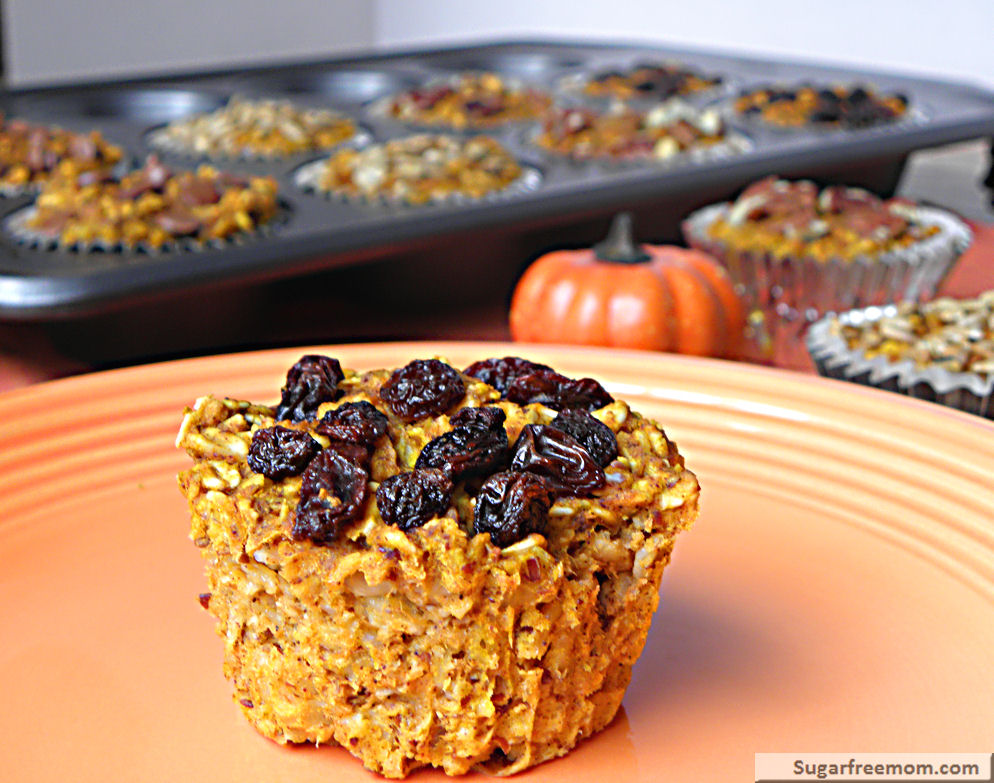 Let them cool a bit before removing form the cupcake liners. Silicone liners seem to work the best for me rather than paper, but once refrigerated overnight they don't seem to stick to the liners as much. 🙂
Feel free to add your favorite toppings. You can also insert the topping choice into the batter as well. If you don't have stevia you can use honey, about ½ cup will only make this slightly sweet but with a topping like chocolate chips that's all you really need.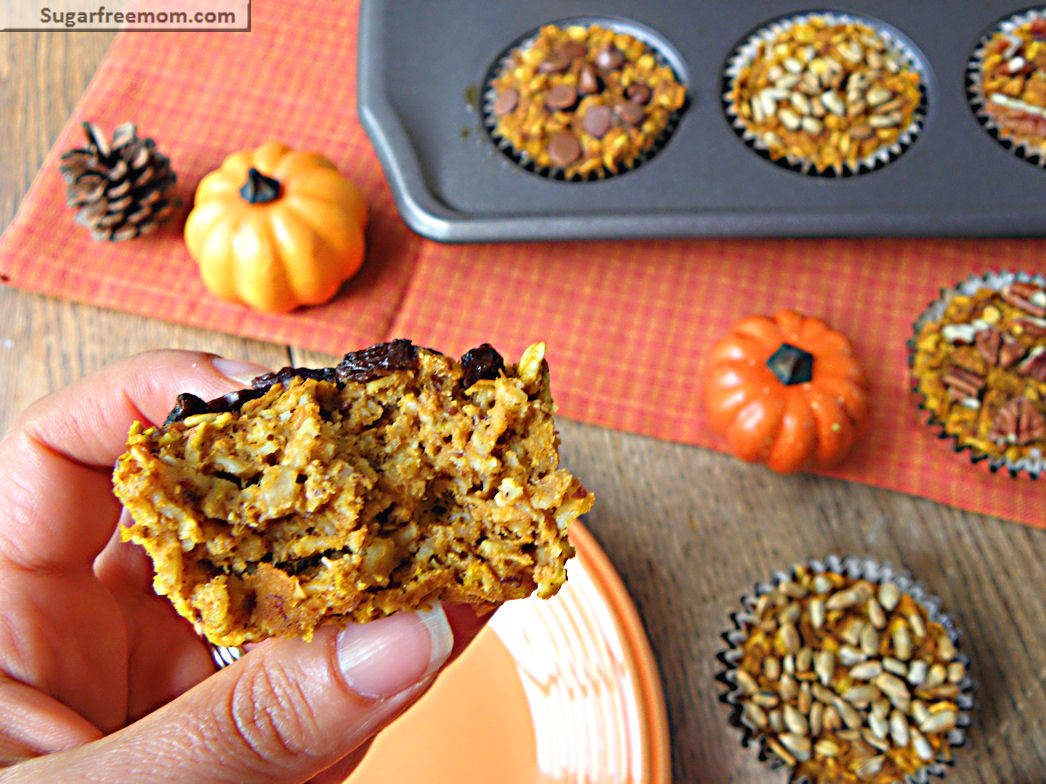 Personalized Pumpkin Baked Oatmeal Cups: Gluten Free & Diabetic Friendly
Author:
Prep time:
Cook time:
Total time:
Ingredients
1 egg
1 ripe banana, mashed
2 cups or 1 (15 ounce) can of pureed pumpkin
1 ½ cups milk, I used 1%
1 teaspoon vanilla extract
3 cups gluten free rolled oats
¼ cup flaxseed meal
2 teaspoons gluten free baking powder
4 teaspoons pumpkin pie spice
½ teaspoon salt
8 packets[url href="http://iherb.com/p/38959?rcode=yaj035" target="_blank"] powdered stevia[/url]
optional toppings: chocolate chips, raisins, chopped pecans, pepitas, sunflower seeds
Instructions
Preheat your oven to 350 degrees.
Spray cupcake liners with nonstick cooking spray.
Mix the first 5 ingredients together in a bowl.
In a separate bowl mix together the rest of the ingredients except the optional toppings.
Combine the wet ingredients with the dry.
Fill muffin cups ¾ of the way and add optional toppings if desired. Bake for 30 minutes until a toothpick in center comes out clean.
Let cool for about 15 minutes before removing from liners.
Enjoy or keep refrigerated for up to a week.
To see an adaption to this recipe check out: Individual Chocolate Baked Oatmeal: Gluten & Dairy Free!.
To Freeze, store in an airtight container. Defrost overnight in refrigerator. Warm in microwave 45-60 seconds.
Serving size:
1
Calories:
94
Fat:
3g
Carbohydrates:
15g
Sugar:
2g
Sodium:
18mg
Fiber:
3g
Protein:
4g
Cholesterol:
13mg
Notes
Weight Watchers Points Plus: 3*
Other Personalized Oatmeal Recipes you might like: