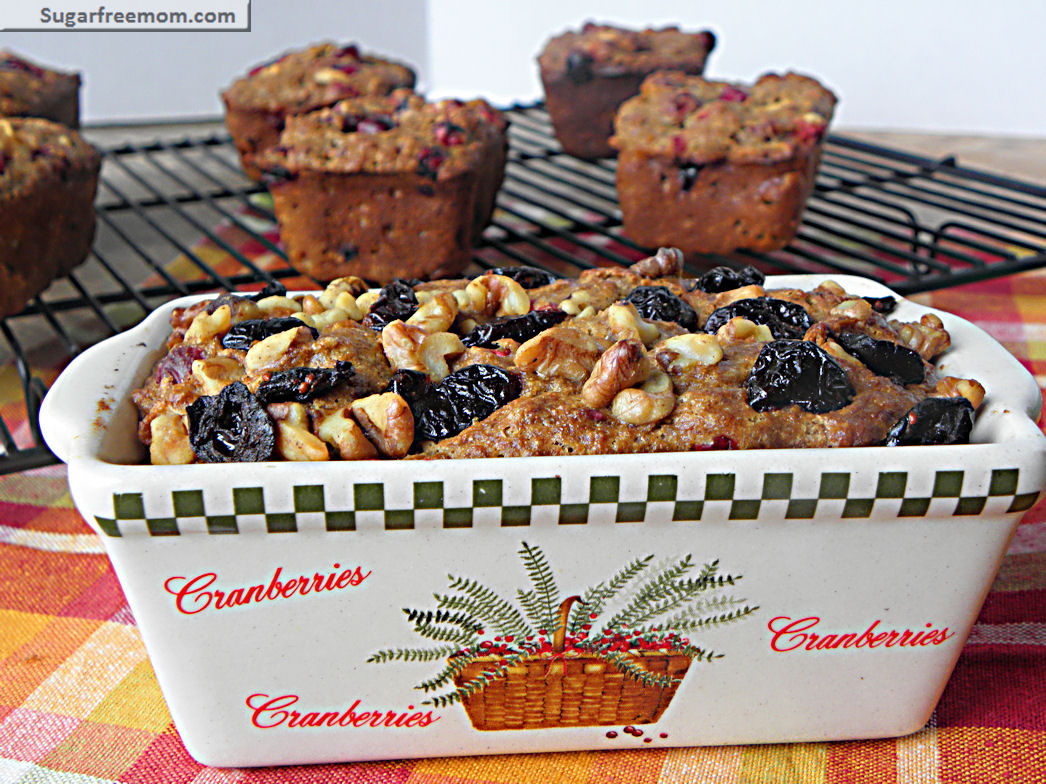 Fresh and dried cranberries are the perfect little addition to any Holiday baking! They pretty and festive. Adding them here in a mini apple bread make them the perfect gift for delivery to a neighbor or perfect for making ahead for a NO FUSS Christmas morning!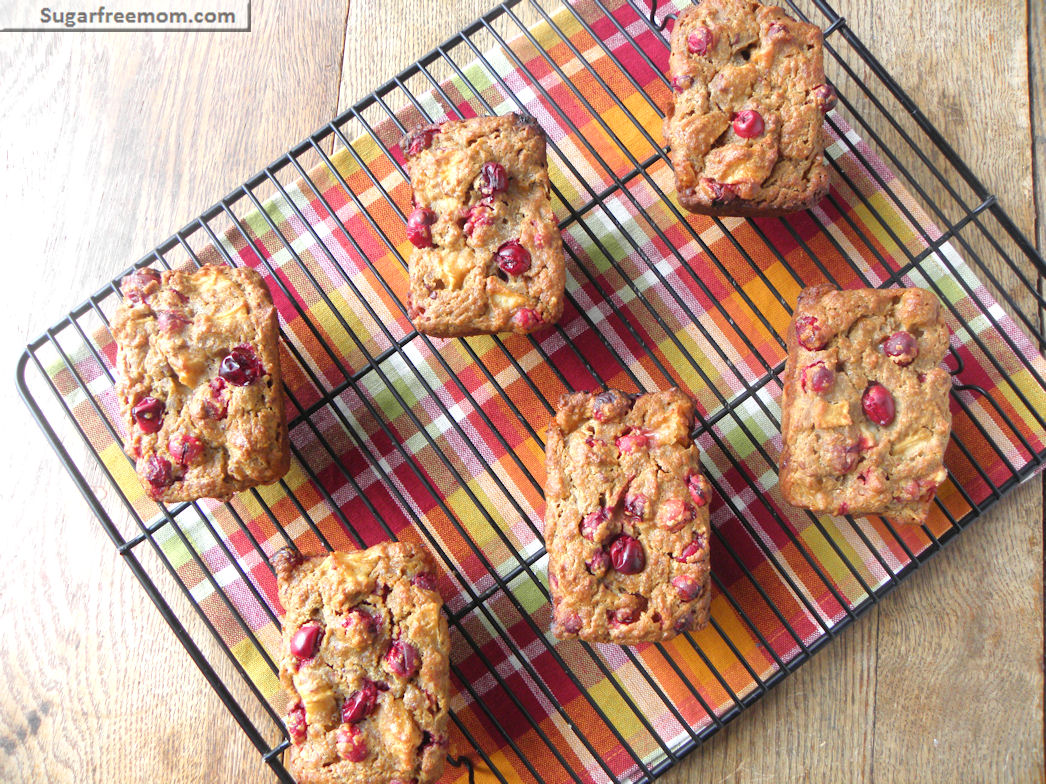 The original recipe is simply my apple cake recipe. Preparing them in mini loaves was the hubby's idea actually. 🙂
Adding the cranberries was mine. I did try the dried cranberries on top of one above, but wasn't crazy about it, a bit chewy so I wouldn't recommend them on top of the batter. In the batter and they'll probably be a bit tastier. But to me, fresh here is the way to go.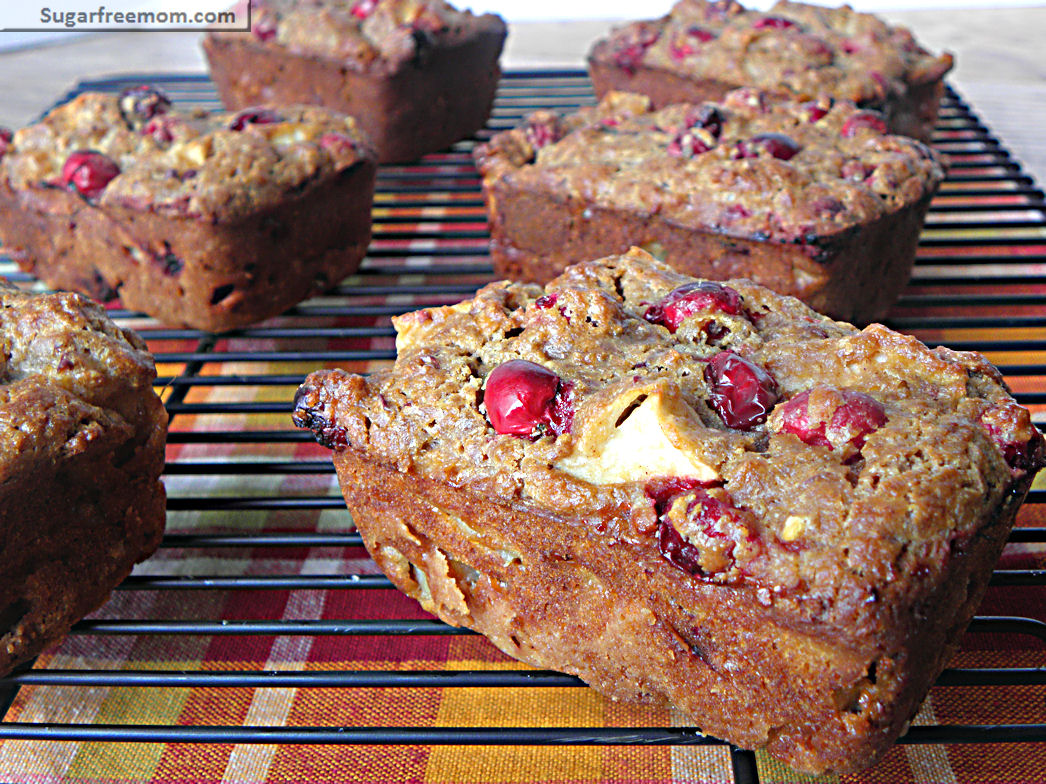 See how pretty? Not only pretty, but for around 200 calories for the whole mini bread, healthy and tasty too!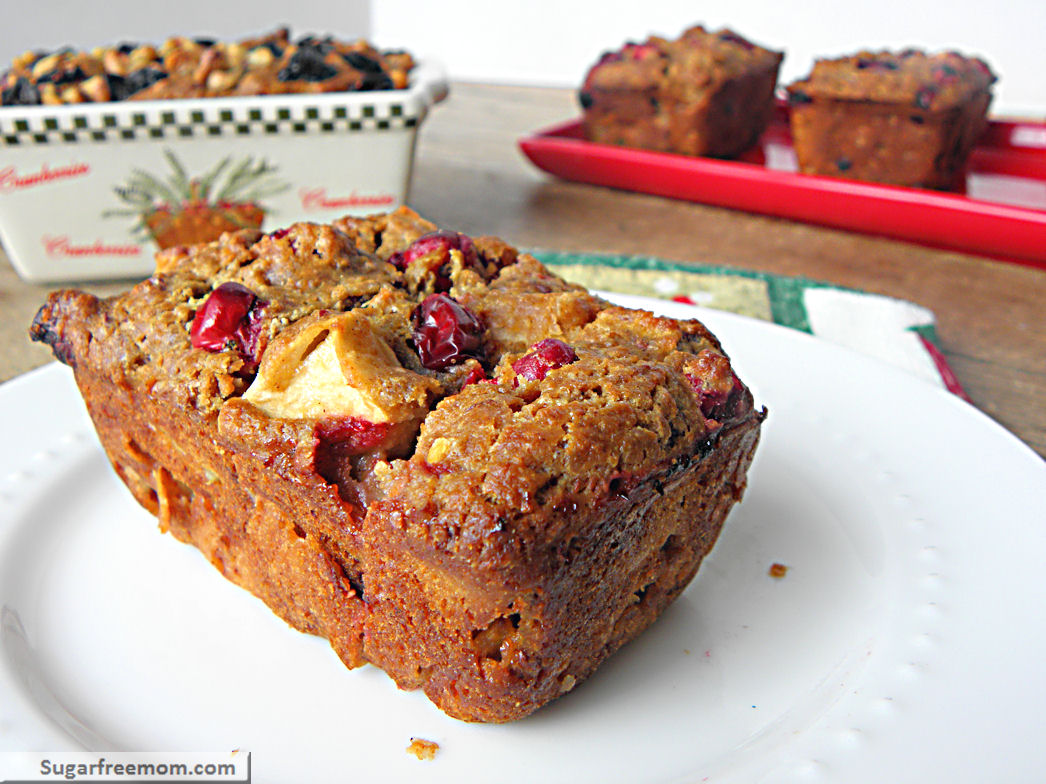 The batter makes 14 cups. One cup filled each mini loaf. Since most mini loaf pans are a capacity of 12, you will have 2 extra cups. Make them into muffins if you like or do I what I did, use a larger ceramic mini pan that can hold up to 2 cups worth of batter.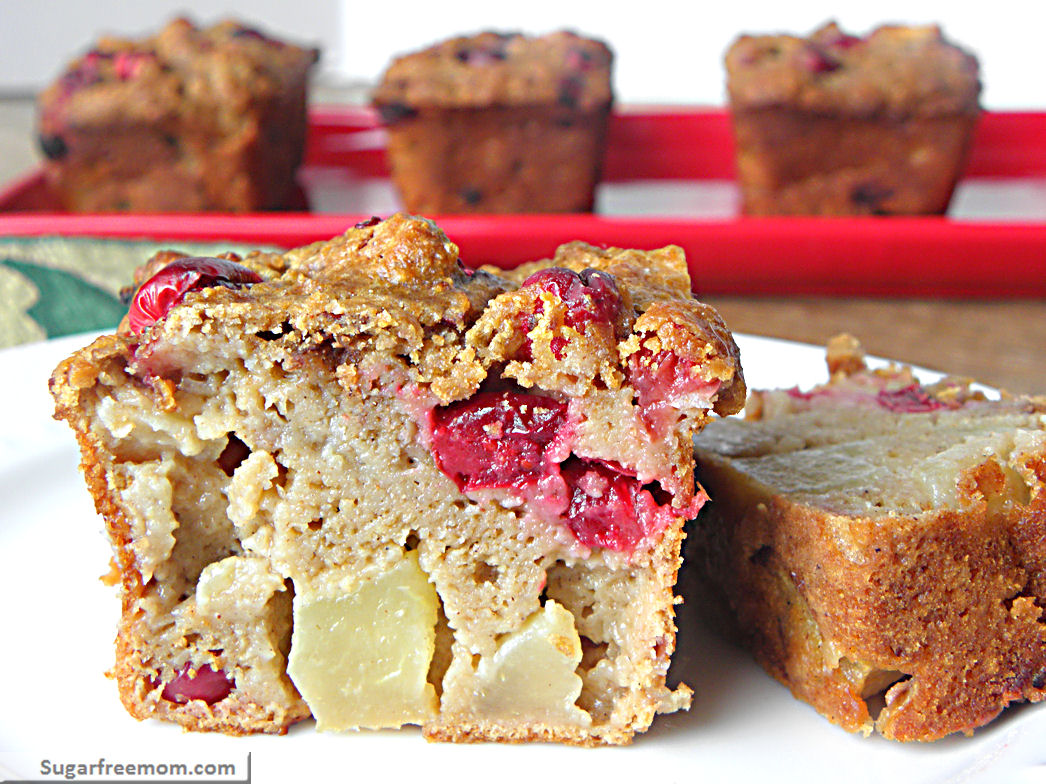 Soft and tender on the inside. Using whole wheat pastry flour here since I think it gives this bread a wonderful texture. If you don't have it white whole wheat is fine and I believe even a gluten free flour blend will work as well.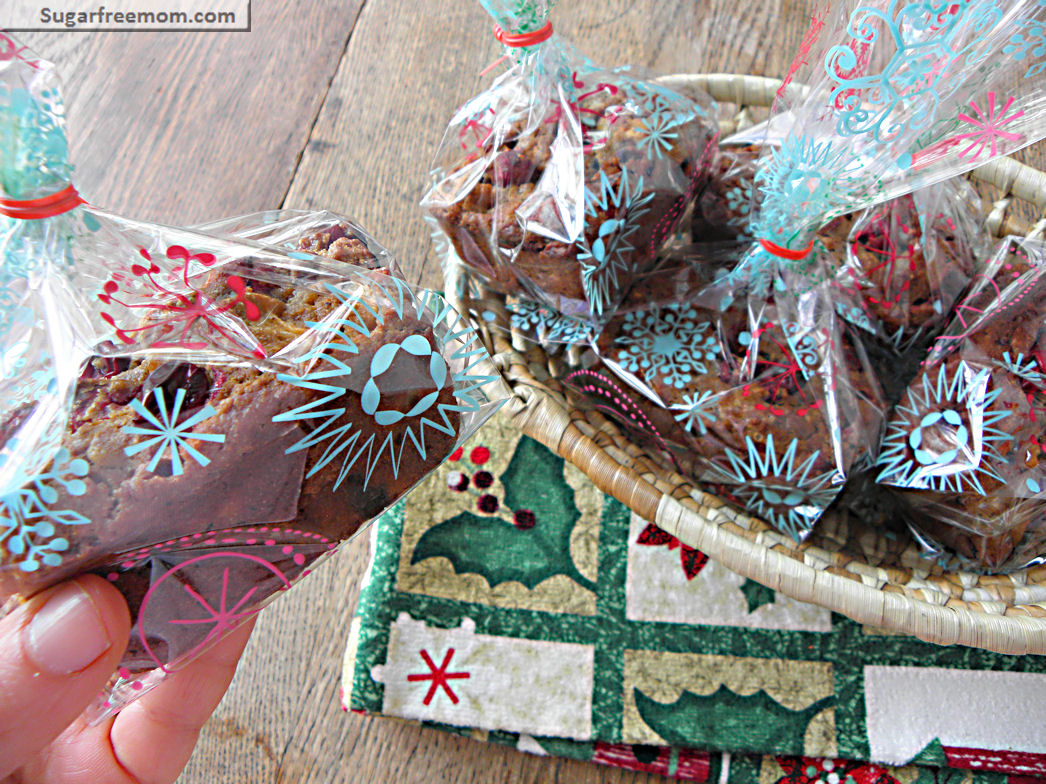 Nutrition Info [without walnuts]
Servings: 14* Calories per serving: 201* Fat: 8g* Cholesterol: 63mg* Sodium: 312mg* Carbs: 28g* Fiber: 5g* Sugars: 6g* Protein: 4g* Points+: 5*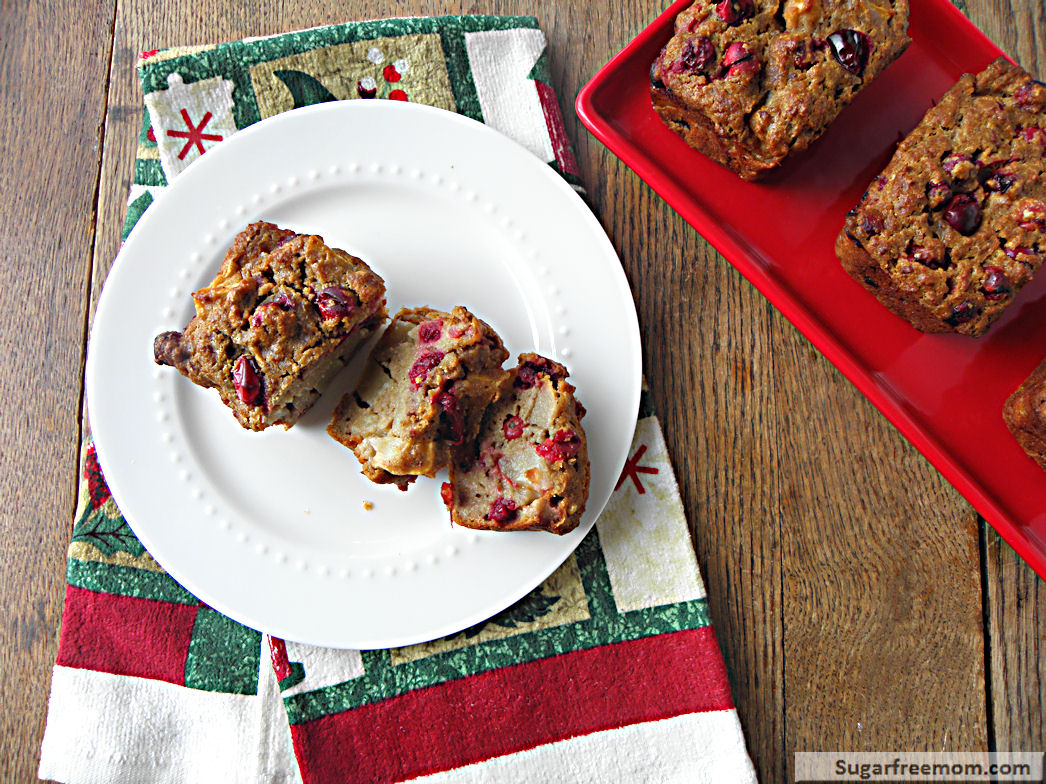 *Adapted from my Whole Wheat Apple Cake recipe.
Petite Cranberry Apple Breads: Low Sugar & Diabetic Friendly

[sc:Ziplist]
Ingredients
4 cups chopped, peeled apples
2 cups fresh cranberries
1 tablespoon lemon juice
1 tablespoon powdered stevia
2 cups applesauce, unsweetened
3 eggs
½ cup butter, softened
2 teaspoons vanilla extract
⅓ cup apple cider or juice, no sugar added
1 ½ teaspoon salt
½ teaspoon baking soda
2 teaspoon cinnamon
½ teaspoon nutmeg
2 tablespoons powdered stevia
3 cups whole wheat pastry flour or white whole wheat
optional: ½ cup walnuts
Directions
Preheat oven to 350 degrees. Spray a 12 capacity mini loaf pan with nonstick cooking spray. In a large bowl mix apples, cranberries, lemon juice and 1 tablespoon powdered stevia together. Set aside. In a large bowl blend together applesauce, eggs, butter, vanilla and cider. Stir in salt, baking soda, cinnamon, nutmeg and 2 tablespoons stevia. Once well incorporated add flour and optional nuts. Pour into loaf pan and bake for 1 hour or until a toothpick in center comes out clean.