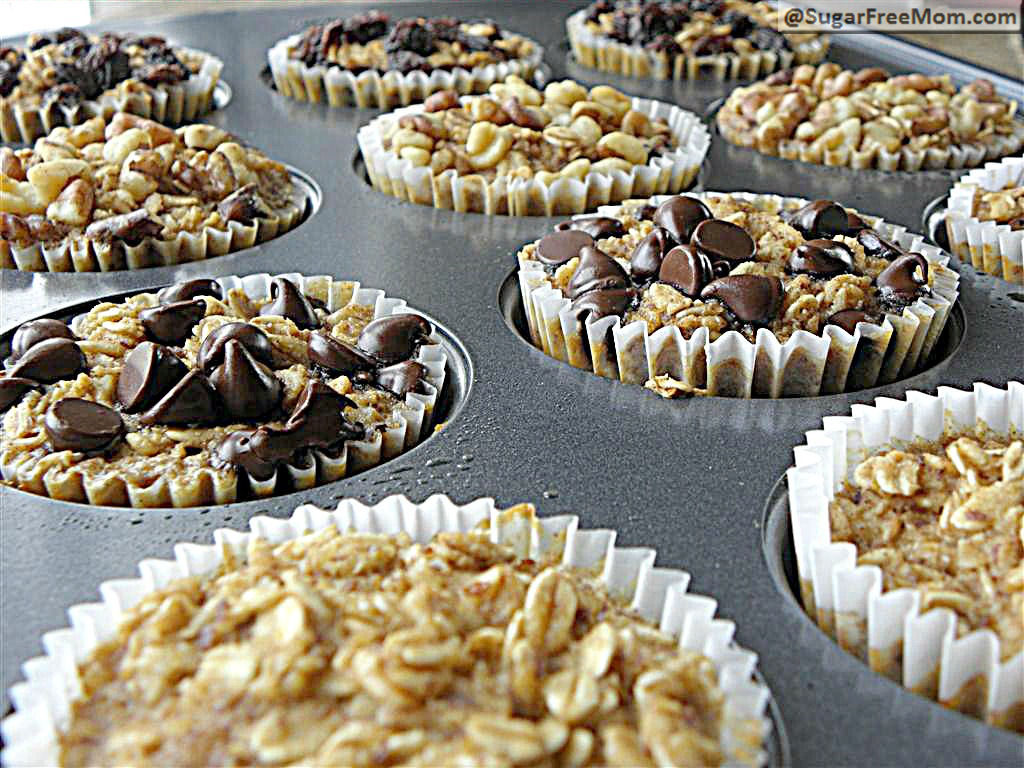 This little recipe of mine has gained HUGE popularity all over the web and for good reason! It's personalized! It's portioned! It's portable! With all the variety, I knew it would be a favorite not only for my family but others as well with picky eaters.
But because of this very variety and personal tastes, many questions,variations and substitutions has been inquired. So this page is dedicated to those very questions!
Just as an FYI: I have NOT made my recipe with certain substitutions, but I have for some ingredients and therefore I will specify which ones. Making substitutions alter my original recipe and so make them at your own risk.
1. Can I eliminate the flaxseed meal? Yes you can and it should not effect the recipe as a whole. I have not made it without flax seed. Is it safe to cook with flaxseed? YES! Here is an article to back that up:http://www.livestrong.com/article/533140-does-flaxseed-lose-nutrition-when-it-is-cooked/.
2. What can I use to substitute the flaxseed meal? Oat bran or chia seeds would work.
3. I don't have banana, can I eliminate it? No I would not suggest eliminating the banana as it is what adds natural sweetness and moistness to the recipe. One reader DID make it without banana with no replacement and said they came out fine.
4. I have a banana allergy, what can I substitute in place of banana? Readers have made the following suggestions allow I have NOT made any of these substitutions.
pureed sweet potatoes or yams
pureed mango
pumpkin
5. Can I use egg whites instead of a whole egg? I haven't tried but I think it you would need at least two whites to equal one whole.
6.. I have an egg allergy, what can I substitute? Here are some reader comments on this:
We replace eggs with 1 tablespoon flax meal and 3 tablespoons warm water combine the two when a paste forms add it he recipe.
When I was vegan I used Energ Egg replacer to substitute for eggs in recipes. It's a powder that you mix with water. You can find it at natural food stores and in the baking aisle of some grocery stores.
You can also make egg substitute from chia seeds. Combine one tablespoon of chia seeds and a quarter cup of water.
You can replace egg in most recipes that call for 2 or less with 2tsp baking powder and 2tbsp milk. If the recipe calls for baking powder already reduce to 1 ½tsp baking powder, milk stays the same.
You can replace eggs with mashed bananas when baking. Each egg is about ¼ cup to let you know how much mashed banana you would need.
When I was vegan, we replaced eggs in baked goods with 1 T soy flour and 2 T water. Subbing some of the flour in breads and cakes with soy makes them stay fresher longer, too. Plus, higher protein, lower in carbs!
For those with food allergies, they can place 1 Tbsp. of flaxseed meal in 1 Tbsp. water for each egg as an alternative
7. I don't have stevia, can I use honey? Yes, I have used a ½ cup without problem in the recipe.
8. Can I use maple syrup in place of the stevia? I have not made this substitute, but since I have used ½ cup of honey in the recipe I think ½ cup of maple syrup would work fine.
9. Can I use brown sugar in place of stevia and how much? I have not tried it, but readers have commented that ¾ cup of brown sugar worked great in the recipe.
10. Do you think one could make this with quick oats instead of old-fashioned? Yes but they may be more mushy.
11. I'm allergic to apples so what could I use to replace it? I would suggest more banana or another fruit puree, I have not tried it.
Another reader replaced applesauce with plain Greek yogurt and it came out great.
Another reader used ½ cup brown rice flour.
Someone else used canned cranberry sauce and loved how they came out.
12. How can I reheat these if I don't have a microwave? Here's a response from a reader:

Coming from a generation that grew up without microwaves, here is a suggestion for reheating in the oven without drying out rolls or in this case muffins. Place the muffins in a brown paper bag and roll the end to seal the bag. Run the bag with the muffins in it under the water faucet until the bag is wet but not soggy. Place the bag in the oven at about 350 degrees for a few minutes until the bag is mostly dry and the muffins are warm. The water on the bag helps 'steam' the muffins or rolls and allows them to warm up without drying out.
13. Can I use soy, almond or rice milk in place of the 1%? Yes, although I have not made the substitute I would think it would work just fine.
14. Can I use water in place of the milk to lower the calories? I have not tried it so can't comment on taste. I am sure it would work fine but would it be as good? I don't think so.
15. Can I replace the rolled oats with steel cut oats? I have made it with quick steel cut oats from Trader Joe's. Here is the recipe: Personalized Baked Steel Cut Oat Cups.
16. Why did I get WAY more than 18 muffins? Honesty, I have no idea! There have been many people who have gotten the SAME amount as me and there have been many who have gotten 24-36. It may be dependent on the substitutions you make, whether you used a liquid sweetener instead of stevia, whether you added fruit to the batter or not, whether you used plastic stacking measuring cups or a glass Pyrex measuring cup.
BUT REALLY??? Does it matter??? If you got more isn't that GOOD? Freeze whatever extra you won't be using within the coming week and be happy you have some to pull out on those crazy mornings. 🙂