Brussels Sprouts shaved beautifully with chopped spinach, pecans, dried cranberries and blue cheese in a tasty bourbon balsamic dressing!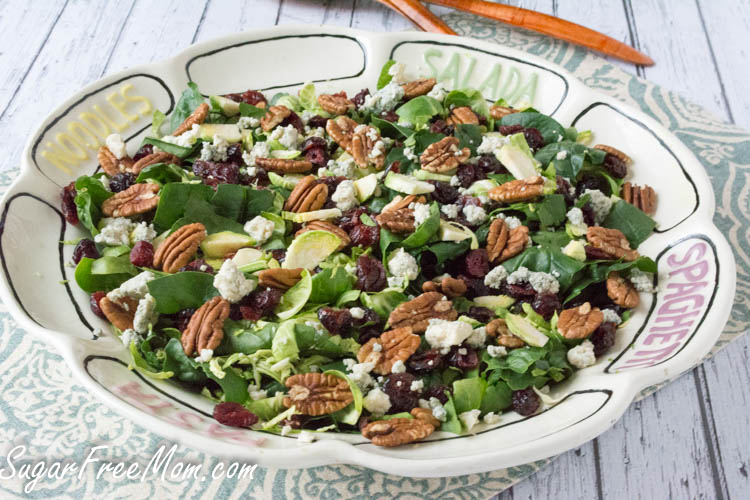 Raw Brussels sprouts in a salad? How can that be tasty? Thisis what I thought the first time I saw a shaved Brussels sprout recipe. Now don't get me wrong, I LOVE Brussels. You either hate them or love them and I do love them. 2 out 3 kiddies like them in my house as well. I personally had never had them raw and wondered why you'd want to.
Last year around the holidays I shared a fabulous recipe for Christmas, Roasted Brussels Sprouts with leeks, bacon and fresh cranberries!! But this year I wanted a salad to adorn the heavier options I knew would be present on Thanksgiving.
You see in my Italian family, no evidence of anything green except broccoli rabe would be on the Thanksgiving table, I knew this. That's where I come in and bring my nontraditional salad you see here today!
I love to try new recipes with my very stubborn, and not so healthy extended family! I especially love their reactions when they first see something that isn't typically present at one of our holidays. You know Thanksgiving can be such a carb fest with all the sweet potatoes, mashed potatoes, stuffing, and on and on. I just wanted something lighter I could munch on while everyone else was enjoying the other available options at the table.
BUT thankfully many always do try what I bring and for that I am thankful.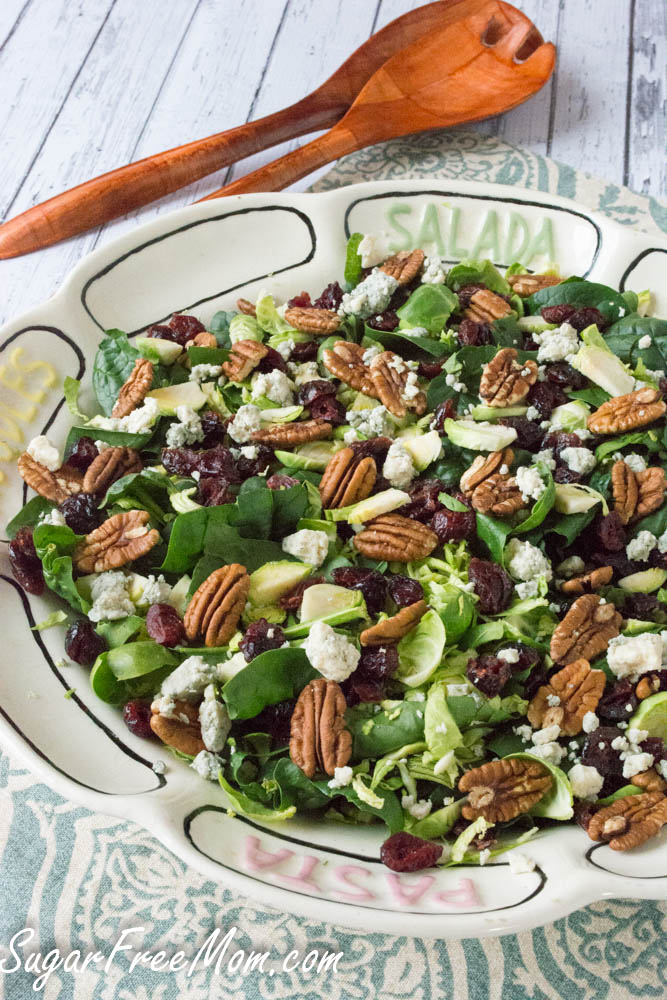 So back to raw Brussels Sprouts. I could have cooked them but the whole point was to NOT have to cook them and every recipe I researched DID not cook the Brussels.
Taking the risk that without cooking would provide a nice crunch and bite in the salad and away I went with it! I added some dried cranberries sweetened with apple juice I found from Whole Foods. Just a little blue cheese which is totally optional and some pecans that I toasted.
Not sure where I came up with the idea for Bourbon Balsamic but I think I saw Giada on the Food Network working with a bourbon glaze for something and thought, "I'm going to use some bourbon in my dressing!" I also thought just the sound of it might be enough to get my dad and others to be curious enough to try my salad.
Did it work you wonder? YES! Yes it did! The salad was a win with the stubborn Italian family.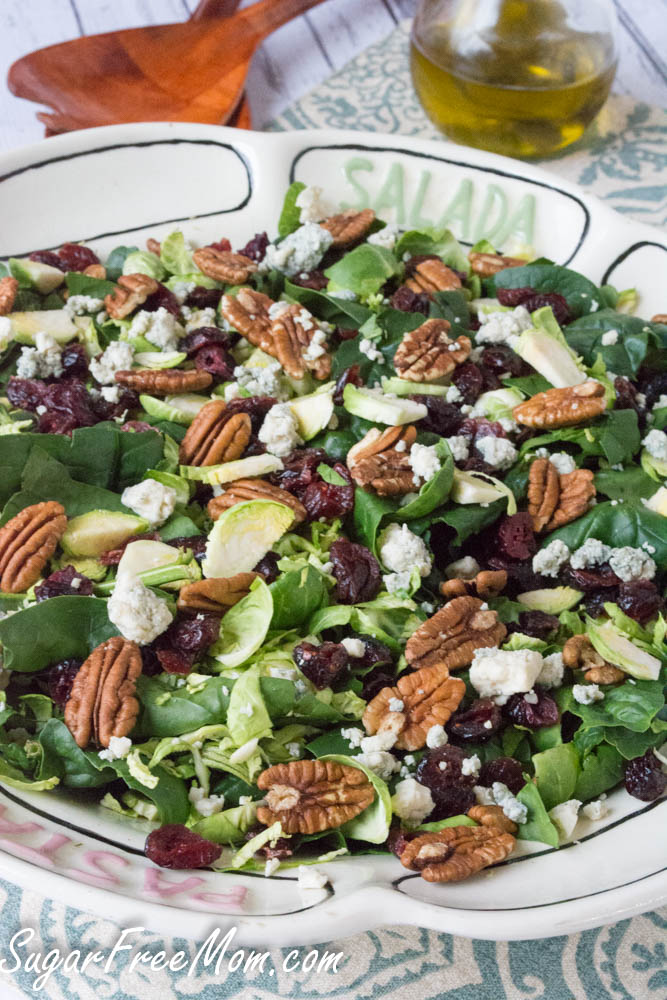 My cousin (the only one who embraces my eating style and works hard to do the same in her life) told me she's seen a salad similar to this all ready prepared at Whole Foods, but it didn't have Brussels, it had shaved kale. Kale is an option if you don't like spinach. I feel the Brussels alone would be too dense and heavy as a salad so I added the extra green. You can be the judge and really adjust this salad as you like!
OH almost forgot to mention my awesome mom who made this beautiful bowl back in 1970!! I will cherish it forever!!
This salad was served at our Thanksgiving dinner but I bet it would be beautiful also served on Christmas or any time you have some guests as it's quite pretty with all the colors, don't you think?
Brenda's Notes:
You can leave out the bourbon if you prefer, it will still be tasty!
You can find dried cranberries sweetened with apple juice at Whole Foods or online from the brand Eden.
I used a white balsamic vinegar I found at Trader Joe's which contains less natural sugar than typical balsamic dressing. If you can't find it, regular is fine, you could also just use red wine vinegar in here.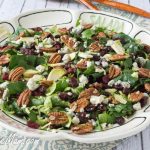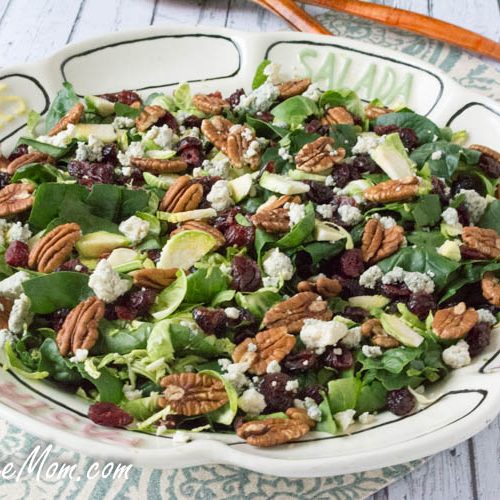 Print
Shaved Brussels Sprouts, Spinach Pecan Salad with Bourbon Balsamic Dressing
Ingredients
1

pound

fresh Brussels Sprouts

6

ounces

fresh spinach

½

cup

toasted pecans

½

cup

dried cranberries sweetened with apple juice

optional: ¼ cup blue cheese
Bourbon Balsamic Dressing
2

tablespoons

minced shallots

2

garlic cloves

minced

¼

cup

white balsamic vinegar

1

tablespoon

bourbon

⅔

cup

extra virgin olive oil

½

teaspoon

salt

¼

teaspoon

pepper

optional: ¼ teaspoon liquid stevia
Instructions
Wash and dry the Brussels sprouts.

Cut sprouts in half lengthwise through the stem. Use a sharp knife of mandolin and finely slice sprouts crosswise. Discard stems.

Coarsely chop spinach.

Add both spinach and Brussels sprouts to a large salad bowl.

Toast pecans in a dry saute pan over medium heat for a few minutes until you can smell them. Turn off heat and add to salad bowl along with the rest of ingredients.

Whisk the dressing ingredients together and toss with the salad right before serving.

Keep refrigerated.
Nutrition
Serving:
1
g
|
Calories:
329
kcal
|
Carbohydrates:
14.4
g
|
Protein:
2.4
g
|
Fat:
30.4
g
|
Sodium:
231
mg
|
Fiber:
3.1
g
|
Sugar:
8.6
g
My first cookbook is soon to be released on December 29, 2014. Right now you can pre-order on Amazon at a discount!