These Sugar Free Bourbon Chocolate Truffles need just 6 ingredients and gluten free, low carb, keto and so decadent and delicious!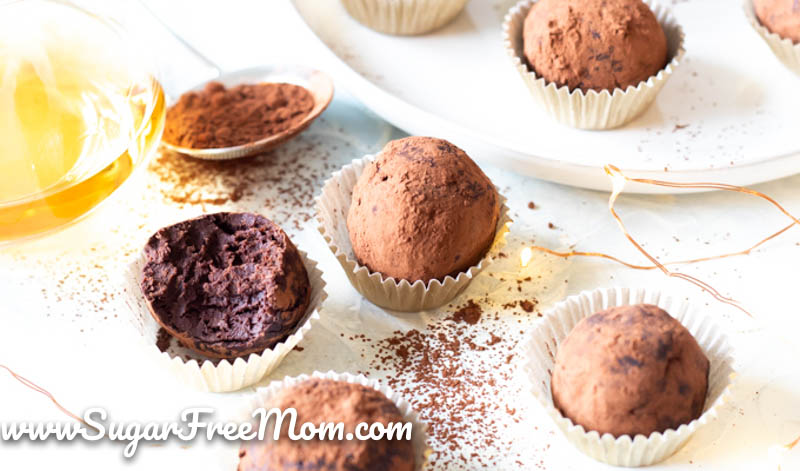 SUGAR FREE BOURBON CHOCOLATE TRUFFLES
Chocolate truffles are one of the easiest and quickest desserts you can make for the holidays. We love these chocolate truffles all year long, but especially for Christmas time! They are perfect to display with keto cookies on a cookie platter. Making chocolate truffles sugar free isn't hard at all. Using sugar free chocolate chips and heavy cream is really all you need to make these scrumptious, creamy chocolate balls. Adding a bit of bourbon and vanilla give these chocolate truffles a warmth when they melt in your mouth and a flavor that just lingers on your tongue.
HOW TO MELT SUGAR FREE CHOCOLATE
There are two methods to melting chocolate. You can choose to use the stove top or the microwave and I have both methods for these truffles listed within the recipe below. It's really a personal preference. Using the microwave though can cause you to burn and dry out your chocolate if you go a minute too long and the stove top method is a bit more forgiving. On the stove top you can see once the chocolate is melted and there are no lumps after stirring. This is the method I prefer but when you need to melt quickly the microwave might be a better option for you.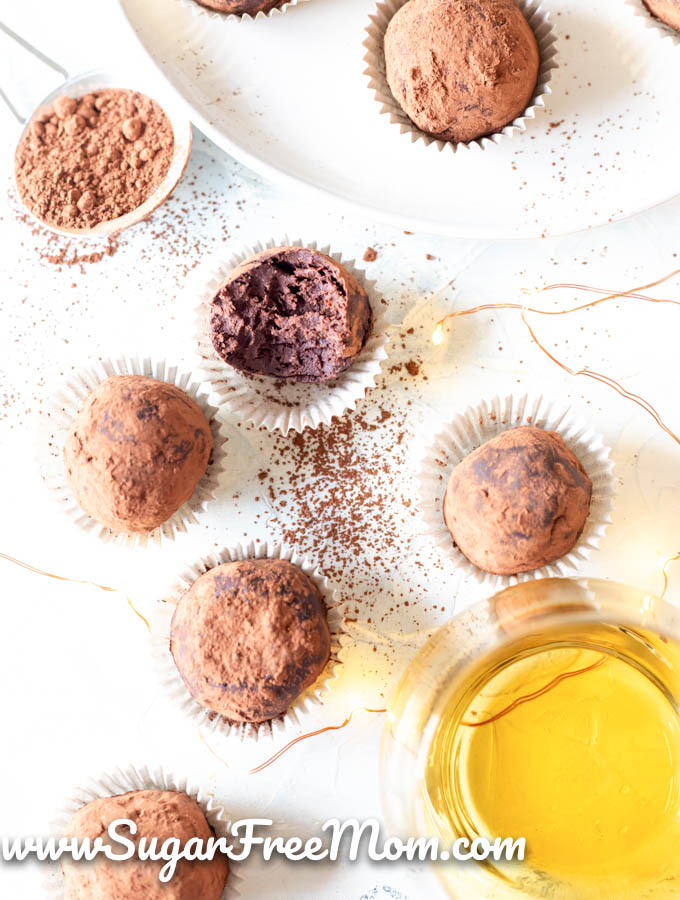 TOOLS TO MAKE CHOCOLATE TRUFFLES
You don't need anything special to make these delicious, fudgey chocolate truffles and these items below are probably already in your kitchen.
Glass Bowl set- A medium sized glass bowl that can sit over a medium sized sauce pan linked to heat and melt the chocolate over simmering water.
Melon Scoop or Small Cookie Scoop- Either one will make it much easier to scoop an even amount of the mixture into a nice sized ball.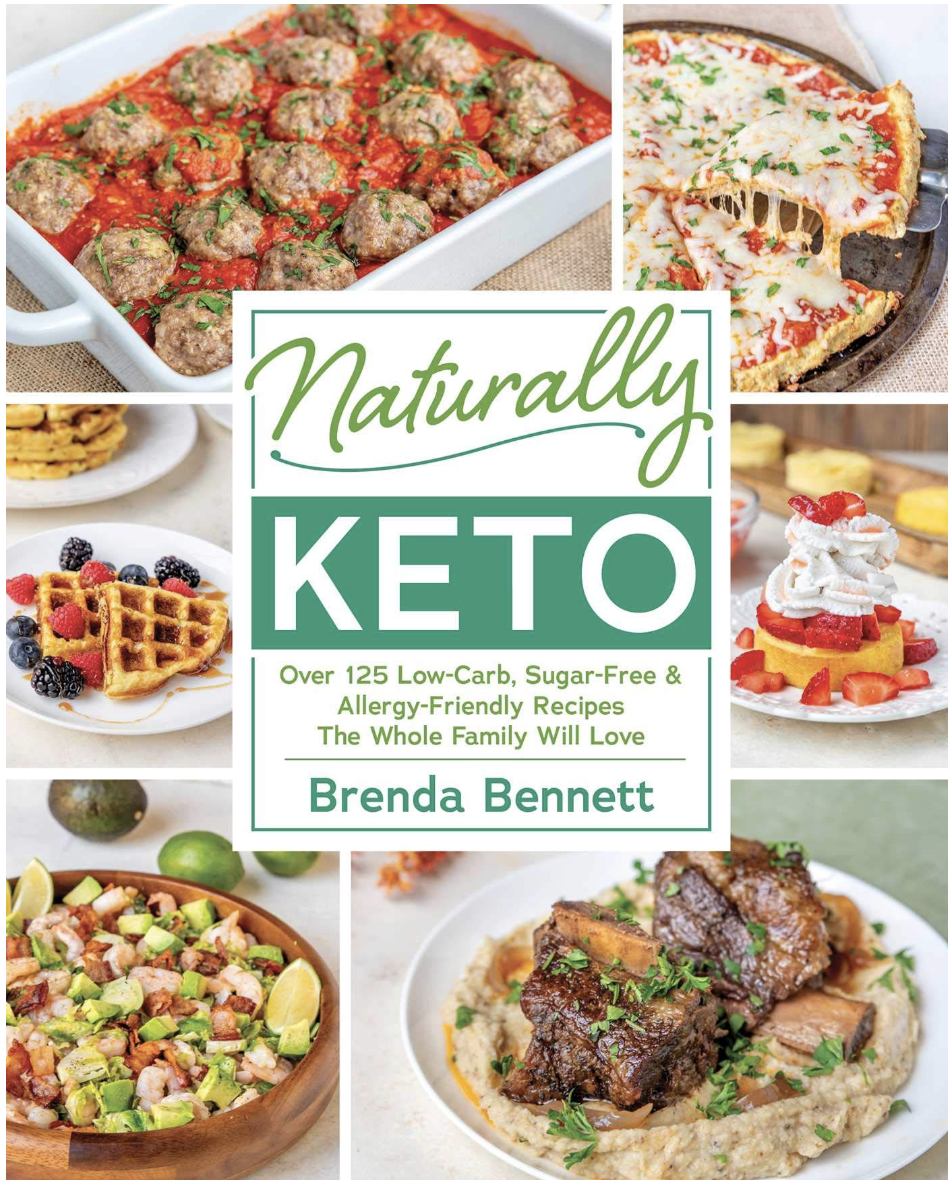 Right now my cookbook is 43% OFF on Amazon!
HOW TO MAKE DAIRY FREE TRUFFLES
You could make this recipe below dairy free simply by swapping two ingredients. I would recommend swapping the heavy cream with canned coconut milk, the creamy part that is solid from the top of the can. It is very similar to heavy cream because of its high fat content. It's a much better option than using almond milk for this recipe. You can swap the butter with coconut oil and these chocolate truffles will be dairy free and just as delicious!
SUGAR FREE KETO BOURBON CHOCOLATE TRUFFLES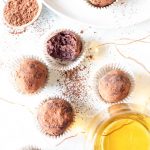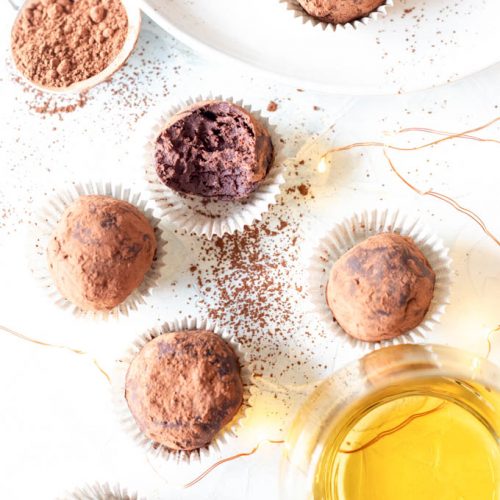 Print
Sugar Free Keto Bourbon Chocolate Truffles
Instructions
Stove Top
Place a medium sized glass bowl over a medium sized sauce pan filled half way with water. Bring the water to a boil and simmer on low heat. Add the chocolate, heavy cream and butter to the bowl and stir continually until melted and smooth. Remove from the heat and stir in bourbon, vanilla and salt. Place the mixture in the refrigerator to chill for 2 hours.
Microwave
In a medium sized microwave safe bowl combine the chocolate, heavy cream and butter. Microwave for 30 seconds then stir to combine, if needed heat in additional 15 second increments until smooth. Stir in the bourbon, vanilla and salt. Place the mixture in the refrigerator to chill for 2 hours.
Assembly
After 2 hours use a melon or cookie scoop to scoop out the mixture into 20 small truffles. Dust in cocoa powder and refrigerate until ready to consume.
Nutrition
Serving:
1
truffle
|
Calories:
68
kcal
|
Carbohydrates:
3
g
|
Protein:
1
g
|
Fat:
6
g
|
Saturated Fat:
3
g
|
Cholesterol:
6
mg
|
Sodium:
6
mg
|
Potassium:
2
mg
|
Fiber:
1
g
|
Sugar:
1
g
|
Vitamin A:
61
IU
|
Calcium:
2
mg