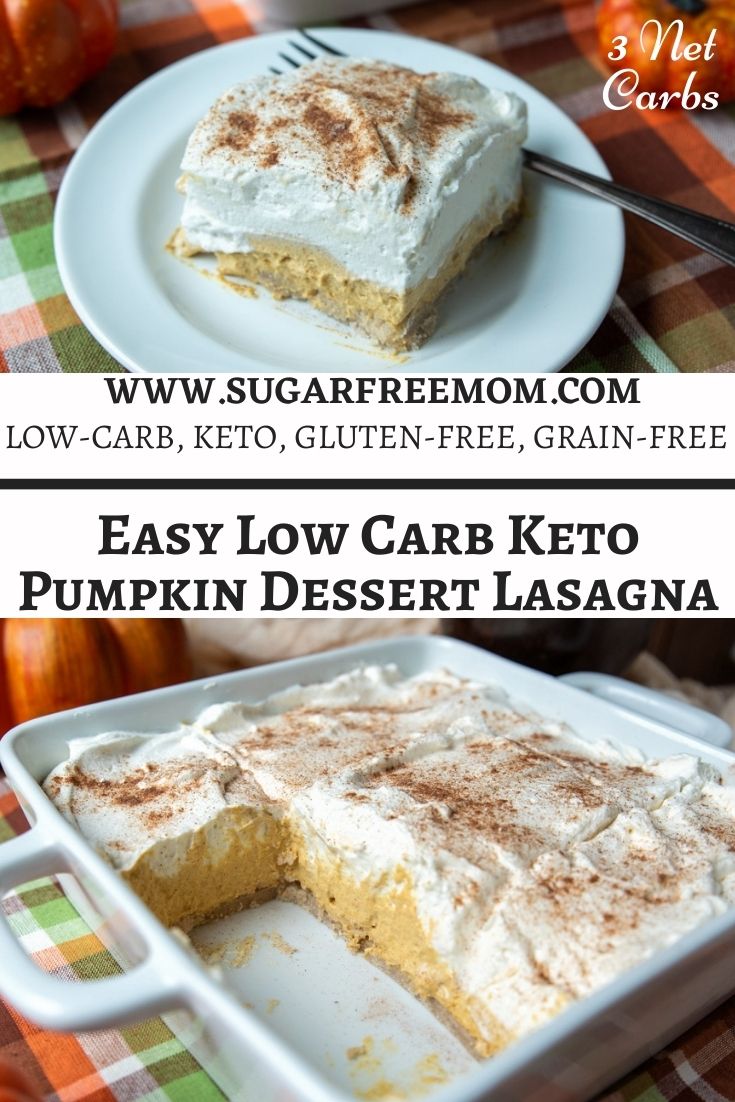 This easy no bake keto pumpkin cheesecake lasagna is the ultimate keto dessert for pumpkin season! Just 3 g net carbs!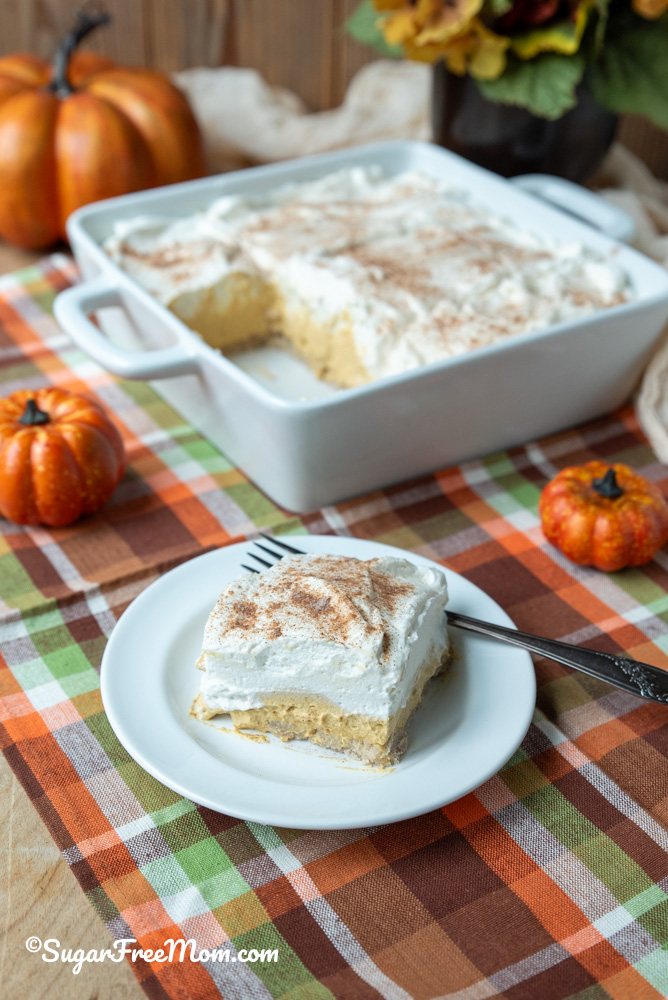 What is a Pumpkin Dessert Lasagna?
If you've never heard of a dessert lasagna, it does not contain actual lasagna noodles. It simply refers to the layers of a true lasagna, but made into a delicious no bake dessert recipe.
It's an easy way to make a fabulous looking, perfect dessert for your holiday table spread for family and friends, but with little effort in the kitchen and with no baking required.
It's also known as Pumpkin Delight and it usually has three delicious layers, sometimes four, starting with a no bake buttery crust, cheesecake layer, and whipped cream topping, as well as possibly topped with chopped nuts.
This keto pumpkin dessert lasagna recipe is for the true pumpkin lover who also is on a low-carb diet, keto diet or just someone who wants to cut back on their sugar intake for the holiday season.
Our sweet pumpkin lasagna recipe starts with a buttery crust, creamy pumpkin filling mixed with sweet cream cheese, and a creamy topping!
This was a big hit with my entire family and a great way to celebrate the fall season!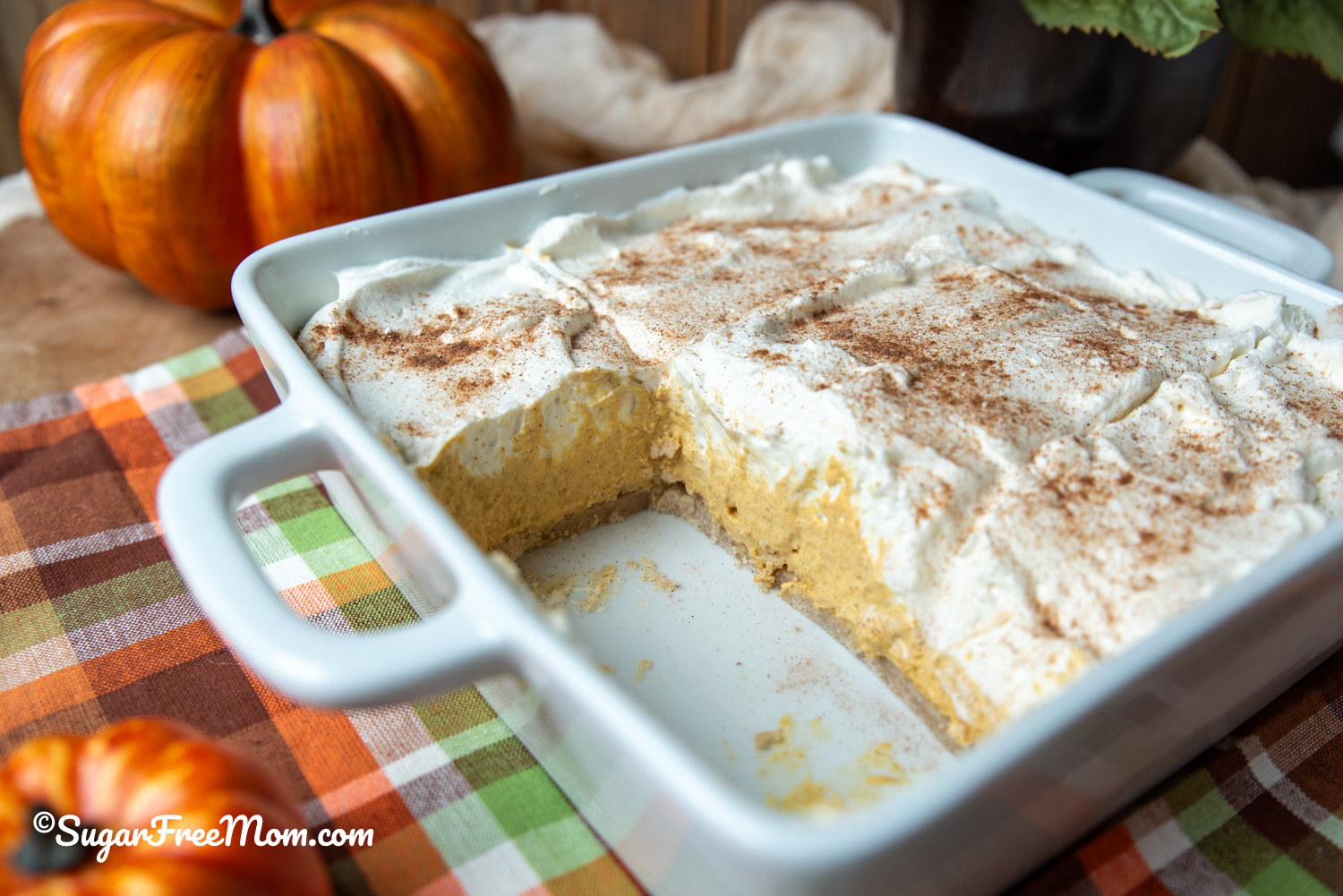 Carbs in Traditional Pumpkin Dessert Lasagna
A regular pumpkin dessert lasagna has a graham cracker crust, cream cheese layer and pumpkin layer. Typically the pumpkin layer is made with pudding mix to make it quick and easy and there may also be a cool whip or cream layer as a topping.
One slice, depending on whether it also includes chopped nuts like pecans could have anywhere from 44-53 total carbs and about 500 calories.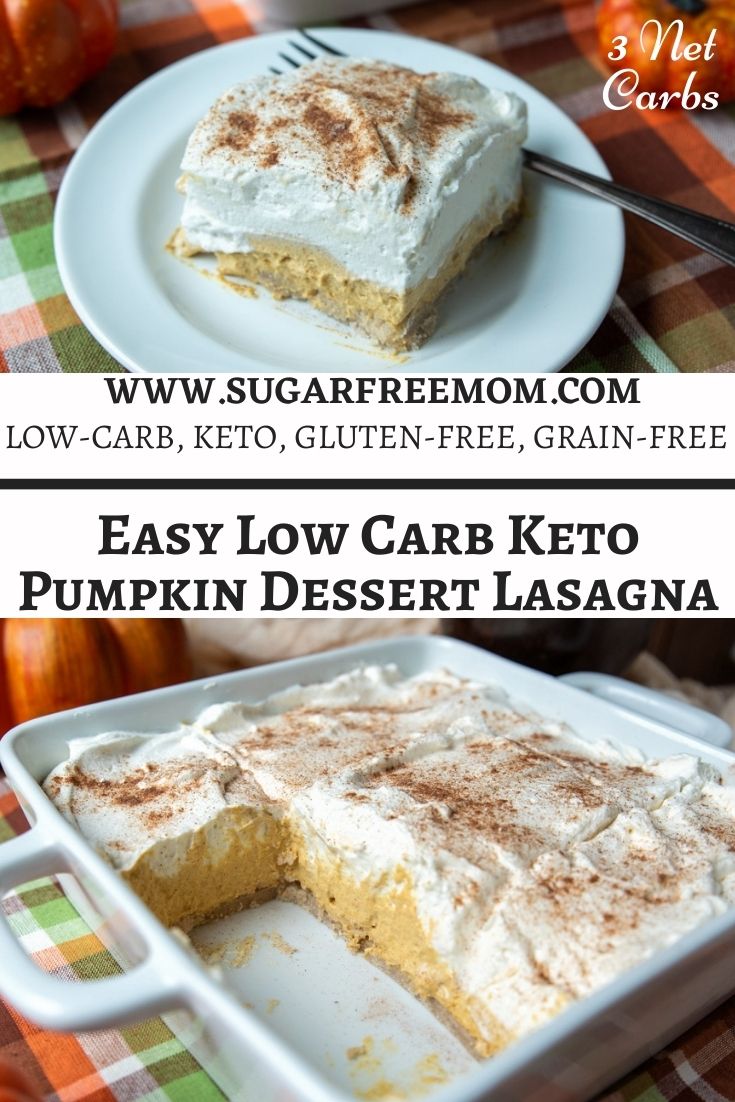 Carbs in Keto Pumpkin Dessert Lasagna
Included in the recipe card below at the bottom of this blog post is all the nutritional information.
The most important thing you may want to know is total carbs for one serving, and for this delicious pumpkin dessert, you will be happy to know, it's got just 6 grams of carbs or 3 g net carbs per serving.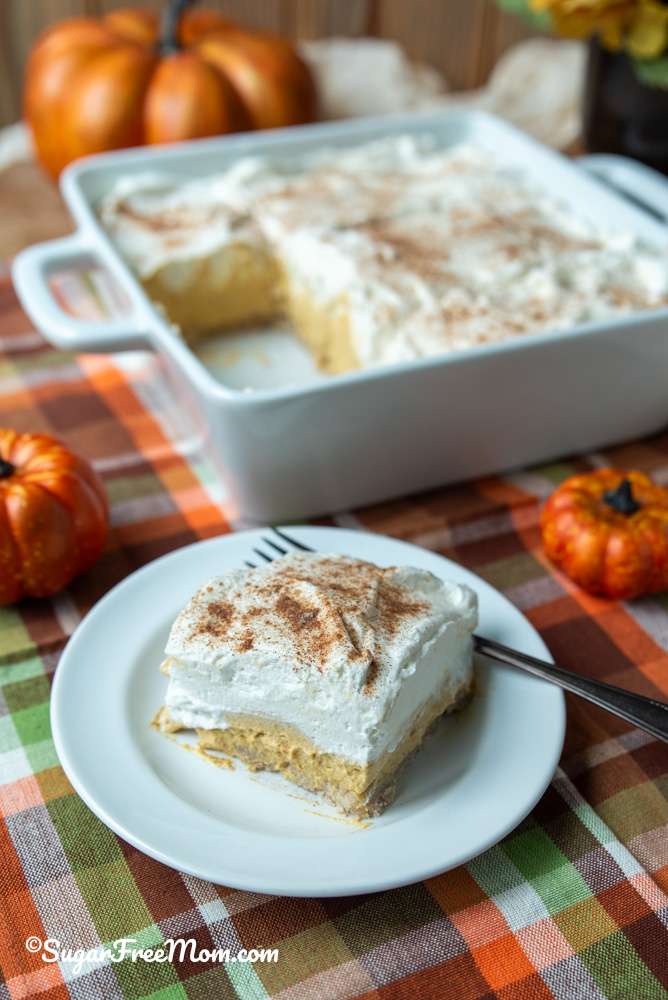 Can I Swap Coconut Flour with Almond Flour?
Yes if you prefer to use almond flour, you will need to increase the amount I used for coconut flour to 1 cup.
​What other sugar substitute can I use?
If you don't have allulose or pumpkin stevia, you can replace either with any low carb sweetener you prefer. Here's my Natural Sweetener Guide & Conversion Chart.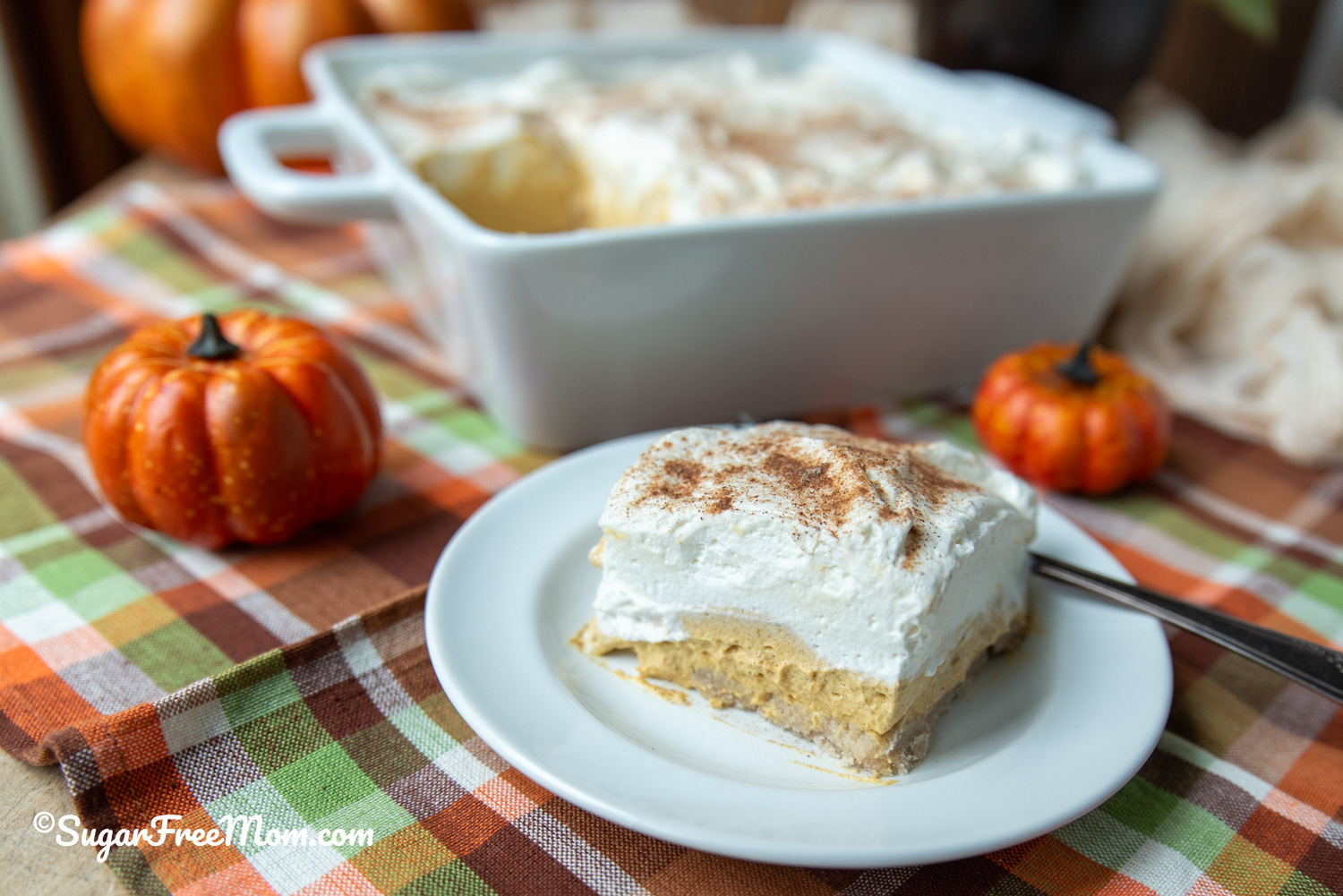 Can I use Homemade Pumpkin Puree?
Yes, if you have homemade pumpkin puree, you can use that instead of canned pure pumpkin, but do not use pumpkin pie filling as that is loaded with added sugar.
​Can I Bake the Crust?
I don't mind the taste of coconut flour that isn't cooked, but you can bake the crust if you prefer. Preheat your oven to 350 degrees F.
Simply mix the ingredients together as directed then bake for 8-10 minutes. Allow the crust to cool completely before proceeding with the rest of the recipe.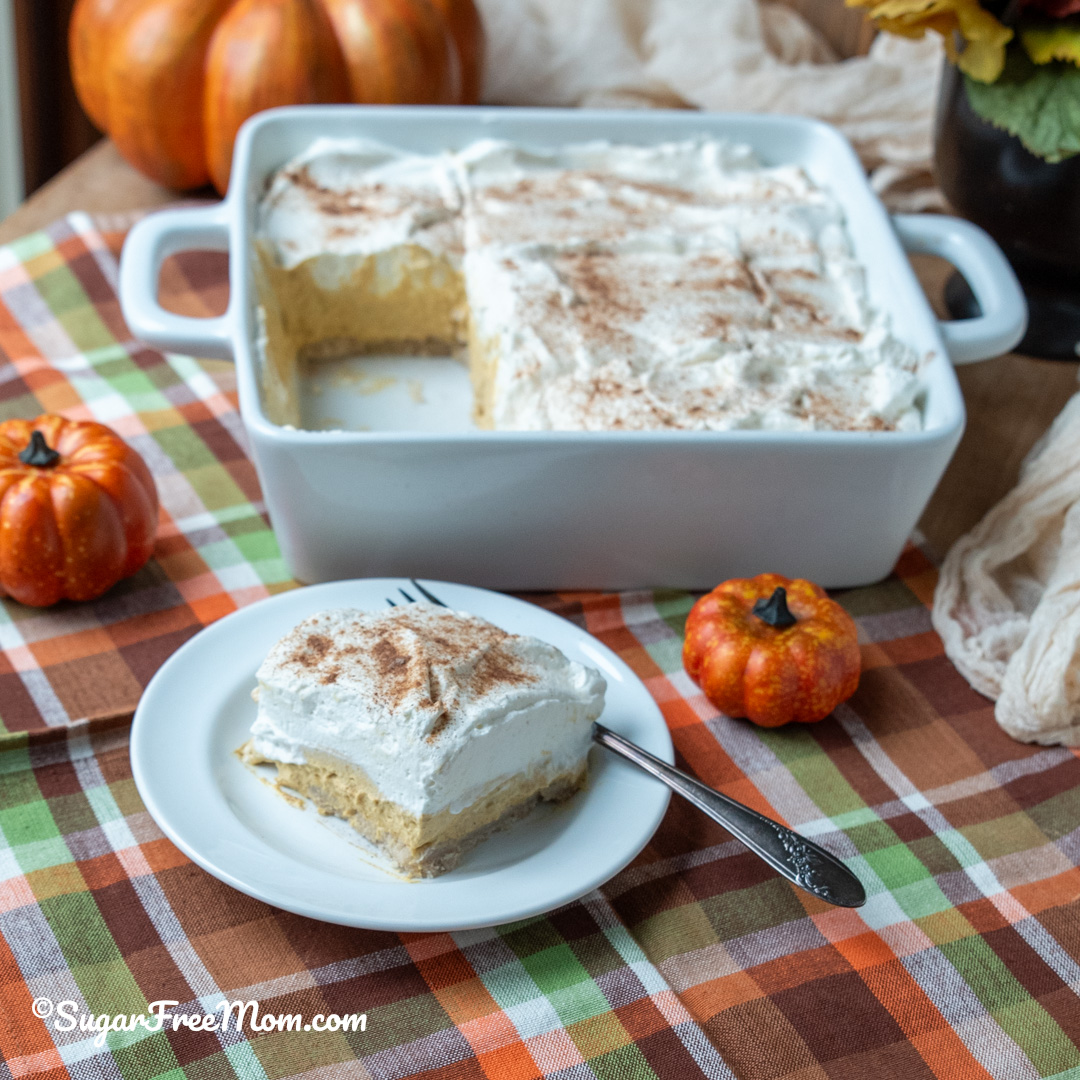 More Keto Pumpkin Recipes
Keto No Bake Pumpkin Lasagna Dessert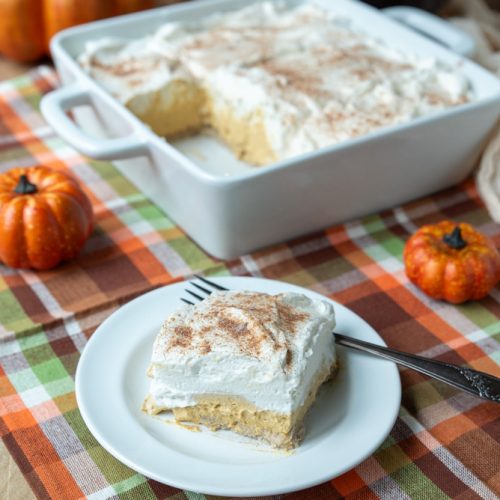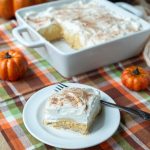 Print
Keto Pumpkin Dessert Lasagna
Ingredients
2nd Layer- Pumpkin Cheesecake
3rd Layer- Whipped Cream Topping
Instructions
In a small bowl, combine 1st layer crust ingredients and mix until crumbs form. Spread into an 8 by 8 parchment lined baking dish. Set aside.

If you prefer to bake the crust, bake in a preheated oven at 350 degrees F for 8-10 minutes and cool completely.

Add the cream cheese and pumpkin puree to a stand mixer or use a mixing bowl and hand mixer to whip until smooth. Add remaining ingredients and allow the mixer to go a few minutes to whip the cream. Alternately, you could whip the heavy cream in a separate bowl and fold into the pumpkin cream cheese mixture.

Taste and adjust to determine sweetness level.

Spread over the cooled crust.

Make the topping by adding the ingredients to a stand mixer or large bowl and whip until stiff peaks then spread over the pumpkin cheesecake layer.

Cover with plastic wrap and refrigerate until ready to serve.

Store in the fridge in an airtight container for up to 5 days.
Nutrition
Serving:
1
piece
|
Calories:
363
kcal
|
Carbohydrates:
6
g
|
Protein:
2
g
|
Fat:
35
g
|
Saturated Fat:
23
g
|
Polyunsaturated Fat:
1
g
|
Monounsaturated Fat:
4
g
|
Trans Fat:
0.3
g
|
Cholesterol:
39
mg
|
Sodium:
121
mg
|
Potassium:
73
mg
|
Fiber:
3
g
|
Sugar:
1
g
|
Vitamin A:
3669
IU
|
Vitamin C:
1
mg
|
Calcium:
29
mg
|
Iron:
0.4
mg