Sugar Free Chocolate Espresso Mousse, low carb deliciousness and can be made dairy free with a few substitutions!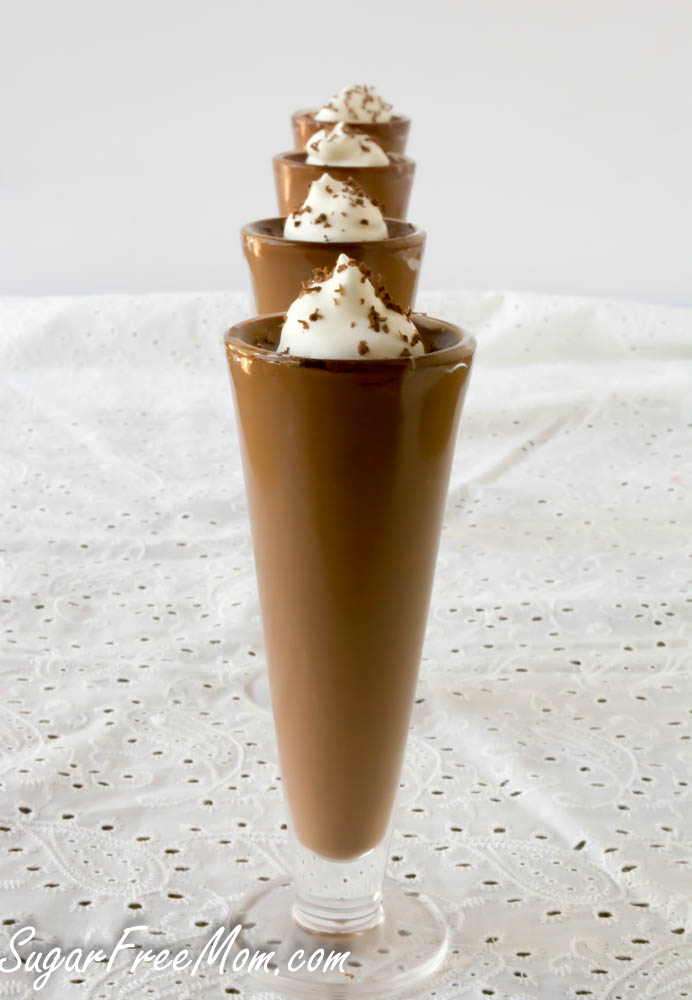 Combining coffee or in this case espresso makes chocolate recipes all the more amazing!
If you've tried my Chocolate Sorbet you know exactly what I'm talking about! Strong coffee is the perfect pairing for accentuating the chocolate flavor in any recipe. If you've never tried adding coffee to a chocolate recipe and don't think you'll like it because you might not be a coffee lover like me, ((((shudder)))), I ask you try it once and you be the judge.
The coffee flavor is NOT the star, I repeat, the coffee flavor is not the star. In fact you can't even tell it's in there.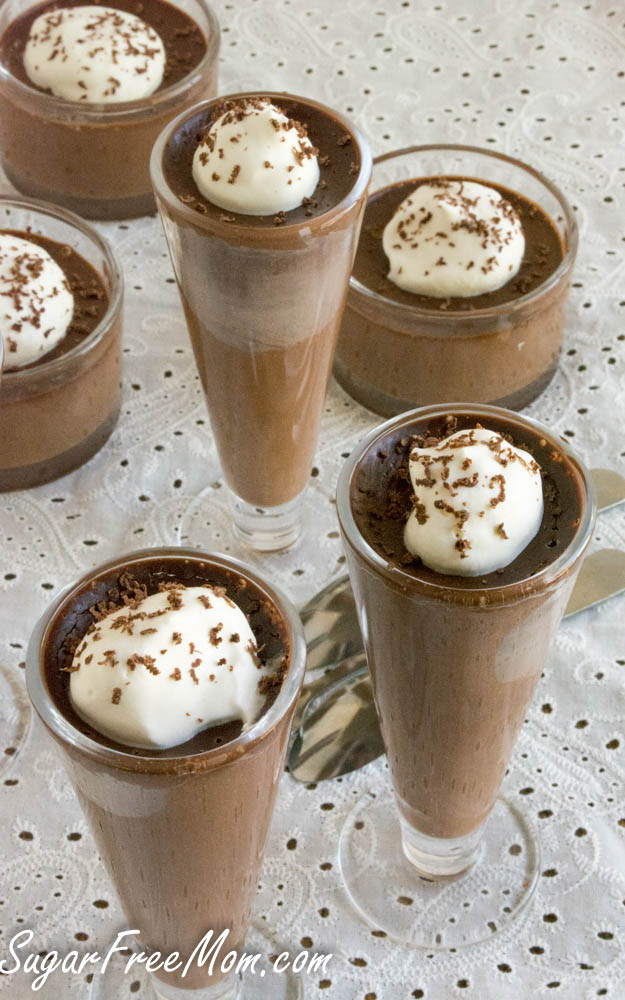 The first time I made this I actually tried it with heavy whipping cream in place of the milk.
Know what happened? I had a thick ganache in a bowl! Thick like eating chocolate fudge with a spoon!My kids and hubby absolutely loved it like that. Since my boys have tree nut allergies I used 2%milk when I made it for them. I was ok with the rich thickness from the heavy cream but actually the result I was going for was creamy, smooth, soft on my tongue, not thick and fudgey.
I seem to learn through trial and error and I have a habit of failing often, so that means I must be getting better and better right?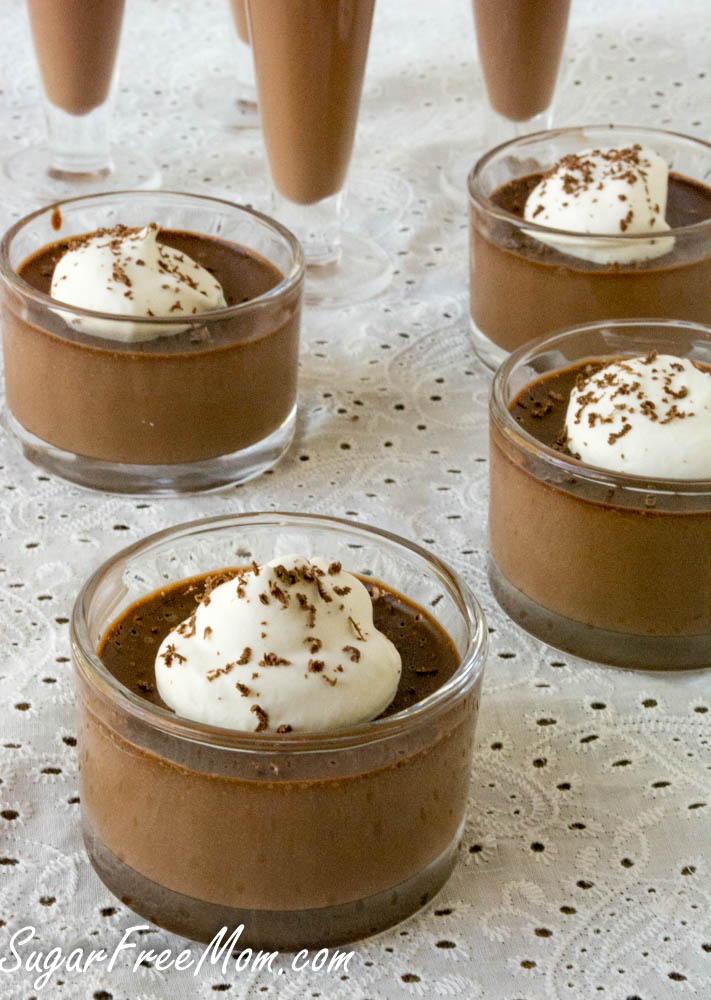 Larger portions place into small serving dishes or mini ramekins or for more servings use tall glasses like I did below with a mini but long spoon to get all the goodness at the very bottom.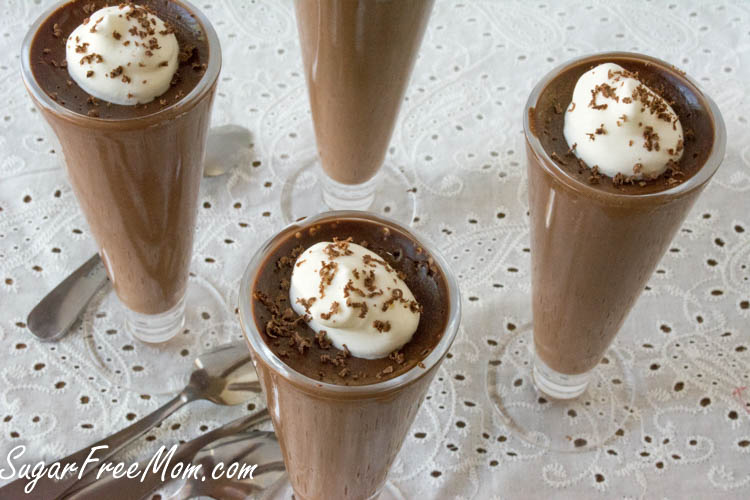 Seen here topped with optional Sugar Free Whipped Cream and shavings of sugar free dark chocolate candy bar from the brand Lily's.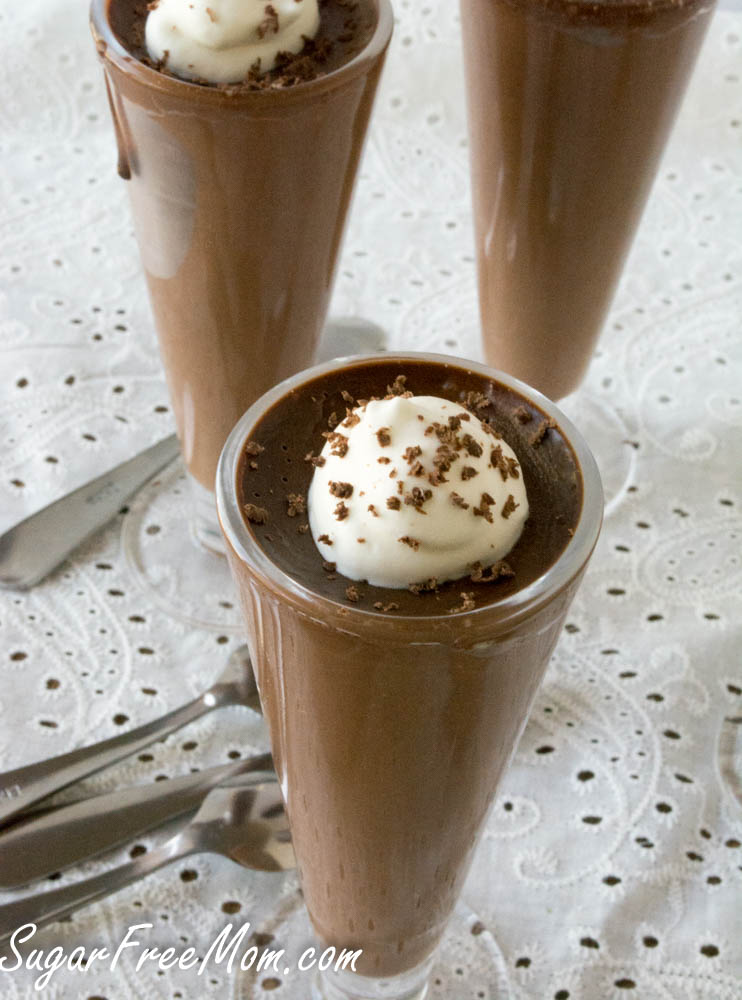 Brenda's Notes:
If my boys weren't eating this for dessert I would replace the unsweetened almond milk, with 2% milk., due to the tree nut allergies in our family. That would increase the carbs and calories but for those with nut allergies it's a must.
Other options if you need to keep it dairy free, you can find vegan cream cheese for the mascarpone I used at your local health food store. The brand I found was Daiya.
I haven't tried this without using both the Swerve sweetener and the stevia. If you eliminate the Swerve you would need to increase the stevia. I you replace the Swerve with another sugar free sub like granulated Pyure stevia then you would need to eliminate the liquid stevia. Most granulated sugar free subs are much sweeter than Swerve.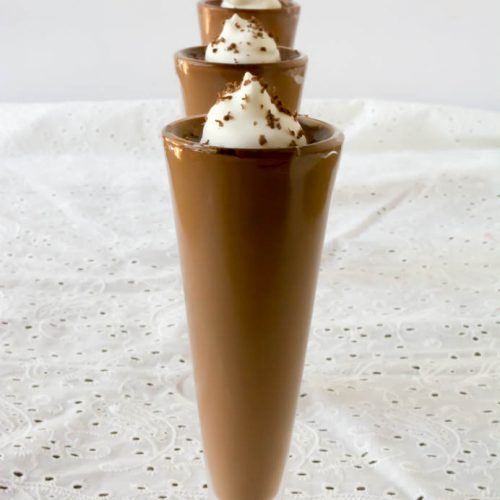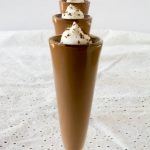 Print
Sugar Free Chocolate Espresso Mousse
Instructions
Place the chocolate chips into a high powered blender and set aside.

In a sauce pan over low heat bring the cocoa powder, swerve, almond milk, yolks, espresso, and sea salt to a simmer, whisking constantly until thickened, about 5 minutes.

Pour this mixture into the blender to melt the chocolate.

Blend on high until smooth.

Add in the mascarpone cheese and liquid stevia.

Spoon evenly into 8 ramekins or serving glasses.

Chill 2 hours.

Serve cold and top with whipped cream if desired.
Nutrition
Serving:
1
g
|
Calories:
229
kcal
|
Carbohydrates:
13.8
g
|
Protein:
4.8
g
|
Fat:
21.3
g
|
Saturated Fat:
11.6
g
|
Cholesterol:
86
mg
|
Sodium:
116
mg
|
Fiber:
3.7
g