Spaghetti Squash Alla Carbonara, an Italian classic made low carb!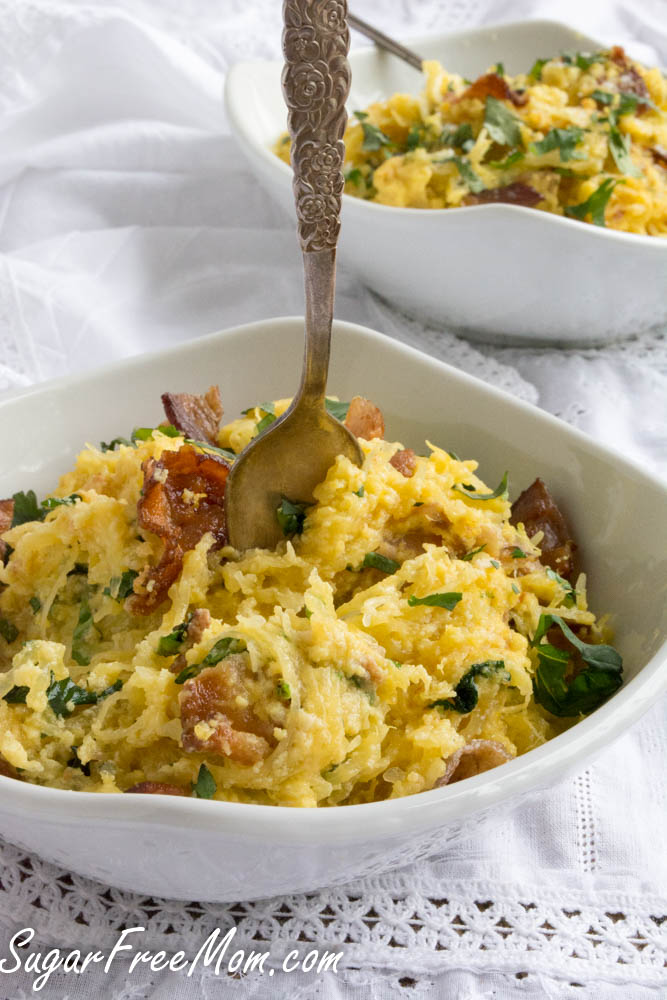 My father is from Rome and came to the United States, by himself to meet up with his brothers all ready here in this country. As a young 15 year old who couldn't speak English and traveled to another country successfully, I am in awe of his courage. I have a 15 year old son and couldn't even imagine letting him travel alone on a plane in this country, never mind to another where he didn't speak the language!
"You do what needs to be done", my dad has said whenever I make any fuss and compliment his cool life experiences. He had to drop out of high school and later get his GED because his parents couldn't speak English nor get a job. He needed to support them. He learned the English language without help from anyone. He got an apprenticeship job with a tool and die company and later they paid for him to attend New England Tech. He has worked hard for everything and that is what I admire the most about him.
He doesn't want praise. It was part of making a better life for him and his family and he'd do it again a million times over without complaint.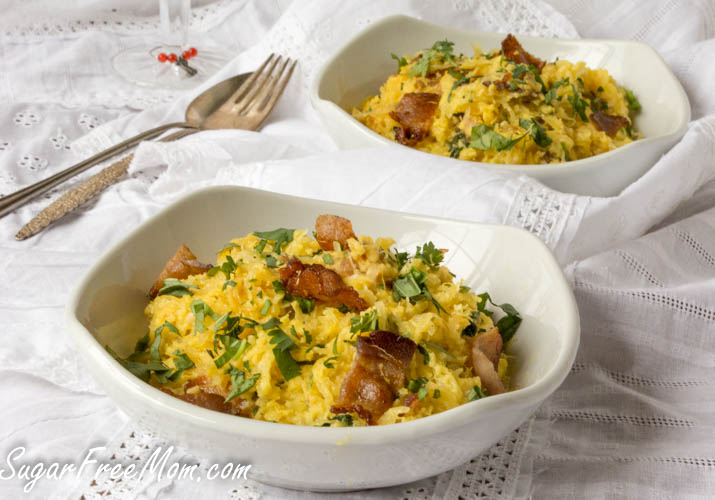 Why share about my father? Because for a stubborn Italian man he has come a long way. He has softened over the years and not as set in his ways which makes life as his daughter a little easier. You see Italian men love their pasta and fresh bread and will never ever change from that.
My dad is a man of moderation, a marathon runner 3 times and one who rarely eats dessert and in fact doesn't really prefer sweet anything.
I get the sweet tooth from my mom for sure!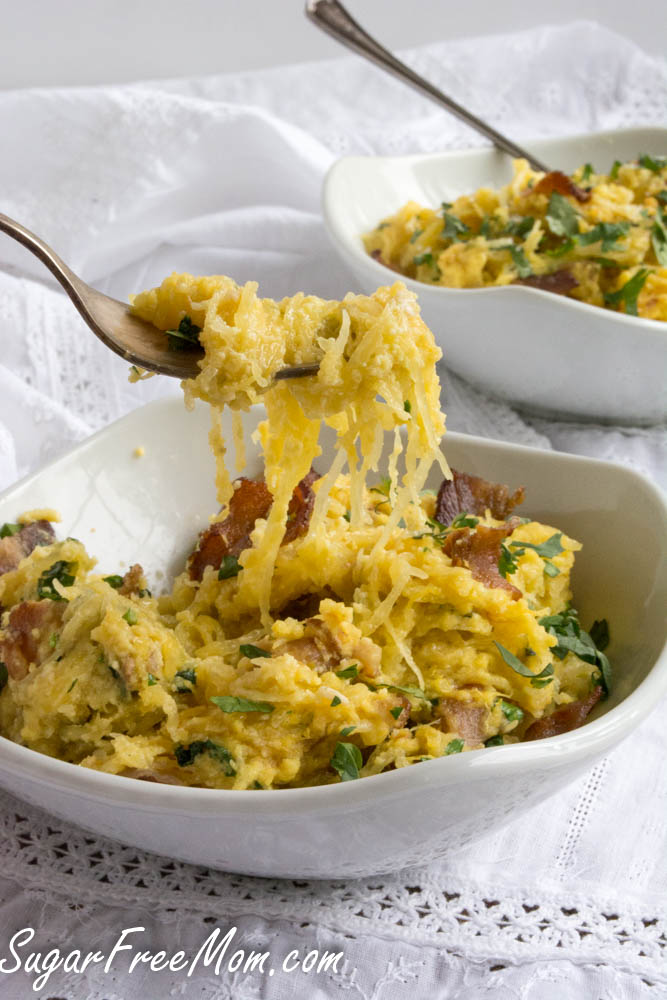 Having a daughter who has basically given up pasta and bread for a low carb life style, but still asks me if I want some when we visit on a Sunday afternoon, makes me chuckle. He knows the answer is no but just wants to make sure I guess. I love him for that. It doesn't offend me, it's part of who he is and that will never change.
I have seen the slightest bit of change though. The time for Christmas I made him my Spaghetti Squash Lasagna, which was pretty daring since it was Christmas. He ate the first helping in silence then murmured it was really good and asked for a second helping! THAT my friends is progress!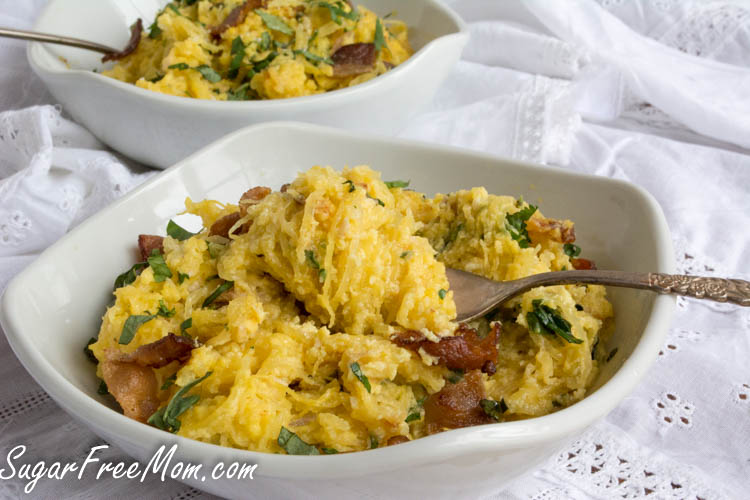 I'm not trying to drastically change him but I am trying to show him that lower carb recipes can be just as tasty. In this case this carbonara is a recipe I grew up eating at least once a week in our house. I messed with another classic but the outcome is spectacular!
Did I mention my hubby is like my dad? Pretty set in his carb loving ways. He in fact loved this recipe which is a big win in my mind. Hubby doesn't take on the low carb sugar free life style as I have done over the last 11 years. He is pretty set in his ways. You can't change anyone no matter how hard you try. All I can do is expose them to new ways of trying classic recipes and pray for the best!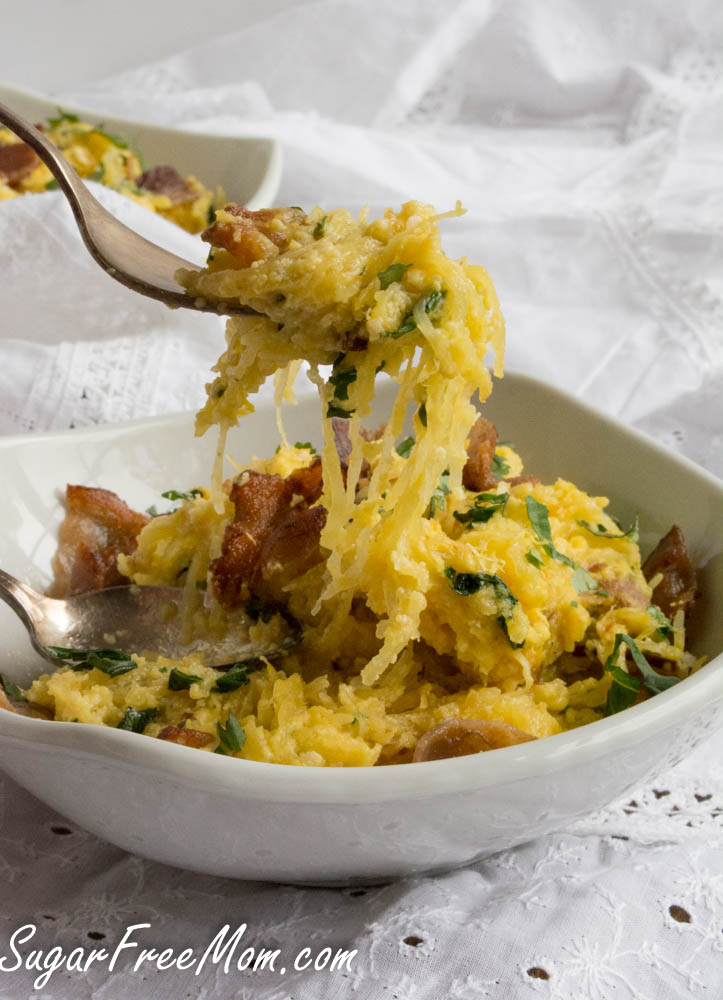 The fact that the hubby enjoyed this recipe is enough for me to say that anyone who you might be struggling with to get on board with a healthier life style, just. keep. trying. There is always hope.
Just.Keep.Trying.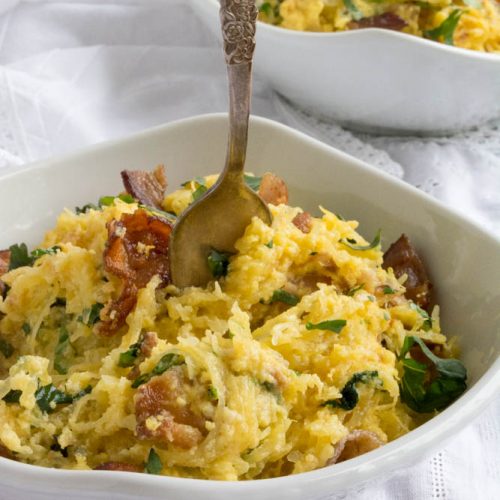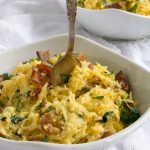 Print
Low Carb Spaghetti Squash Alla Carbonara
Ingredients
1

medium spaghetti squash

halved and seeded

4

ounces

bacon

I used sugar free dry rubbed uncured from Wellshire

2

teaspoons

minced garlic

¼

cup

grated Parmesan

2

eggs

plus 1 yolk, beaten

¼

cup

heavy cream

¼

cup

fresh basil

¼

cup

fresh parsley

1

teaspoon

lemon zest

¼

teaspoon

salt

¼

teaspoon

pepper
Instructions
Preheat oven to 400 degrees.

Slice spaghetti squash in half lengthwise.

Place on a baking sheet and cook for one hour until tender. Allow to cool then scrape inside. You need 4 cups of cooked spaghetti squash for this recipe.

Cook bacon until crisp then drain on paper towels and set aside.

In the same skillet that you used to cook the bacon add garlic and spaghetti squash and cook on medium heat for about 5 minutes.

Reduce heat to low.

Whisk Parmesan, eggs, yolk and heavy cream. Add to skillet.

Stir continually until spaghetti squash is well coated and eggs are cooked throughout, just about 5 minutes.

Cut bacon into pieces and add to skillet.

Add fresh herbs, lemon zest and slat and pepper. taste and adjust seasonings if needed.

Serve immediately.
Nutrition
Serving:
1
g
|
Calories:
174
kcal
|
Carbohydrates:
9.1
g
|
Protein:
9.1
g
|
Fat:
9.1
g
|
Saturated Fat:
3.4
g
|
Cholesterol:
154
mg
|
Sodium:
393
mg
|
Fiber:
2.3
g
|
Sugar:
4.1
g