This creamy, delicious, easy, homemade sugar free eggnog will be the only one you ever want to make again and again!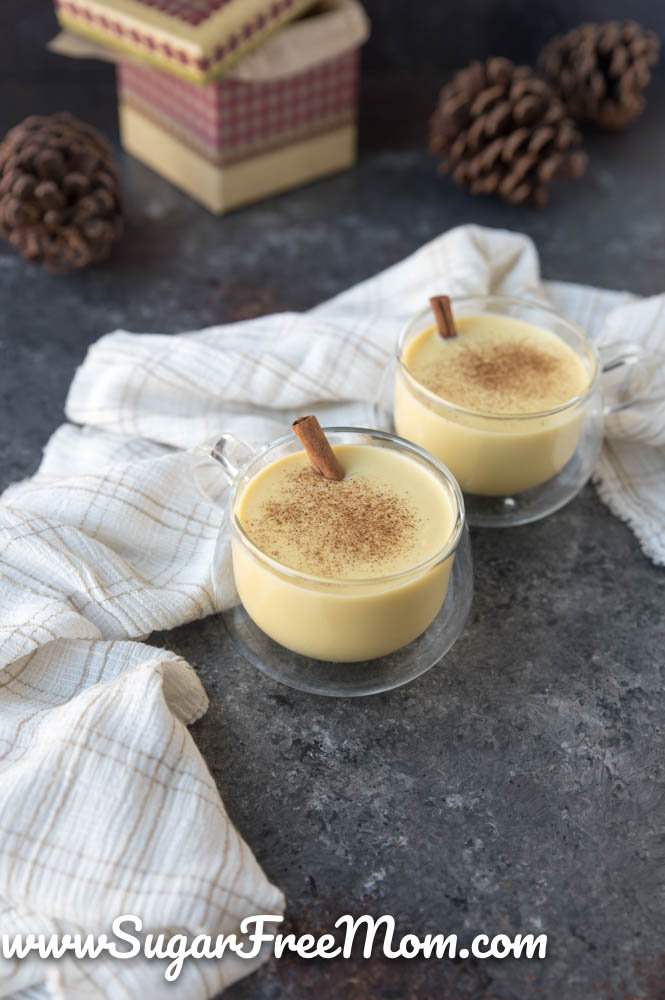 EASY SUGAR FREE KETO EGGNOG
The holidays, especially Christmas, would not be complete for my family without having EGGNOG!! But of course, I don't want them having the sugar filled kind so I set out to make my own thick and creamy, sugar free keto eggnog!
The whole family loved this delicious and easy eggnog! Using both canned coconut milk and heavy cream makes for the creamiest and best keto eggnog.
This perfect keto eggnog would be delivered served with some keto Christmas cookies, like my Pecan Snowballs, Chocolate Nut Free Snowballs, Chocolate Bourbon Truffles or use my Chocolate Biscotti to dip into the eggnog!

PERFECTLY CREAMY EGGNOG
Canned coconut milk seems to be the best as far as making a nice and creamy eggnog, in combination with heavy cream. If you don't have canned coconut milk, feel free to use coconut milk found in the refrigerator section.
It won't be as thick as using canned coconut milk, but it will still be very tasty. You could also add an additional egg yolk to create more thickness to your eggnog.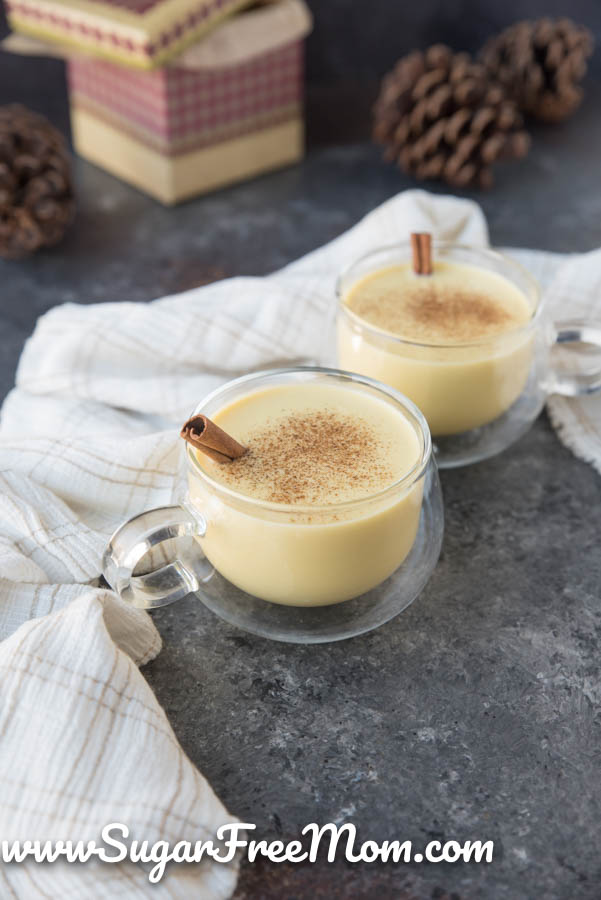 HOW TO COOK EGGS FOR SAFE EGGNOG
Tempering eggs does require just a few extra steps, but will ensure that you have cooked your eggs long enough that they won't get you sick from salmonella poisoning. I wouldn't skip this step when it comes to making an eggnog that you can be sure won't get your family sick on the holidays.
Once you've gotten your coconut milk, cream and water boiling and simmering, keep it on low heat while you whisk your egg yolks in another bowl with the sweetener. Pour in just about a couple tablespoons to the egg and sweetener.
Whisk continually and continue to pour in just a little more of the hot cream, until you have used about half of the hot cream mixture in the saucepan. This will bring the egg yolks up to a higher temperature without cooking the yolks.
If you were to pour the yolks in all at once to the hot cream mixture, they would not have time to get used to the sudden heat and would scramble. Your goal is to use the yolks to nicely thicken your eggnog.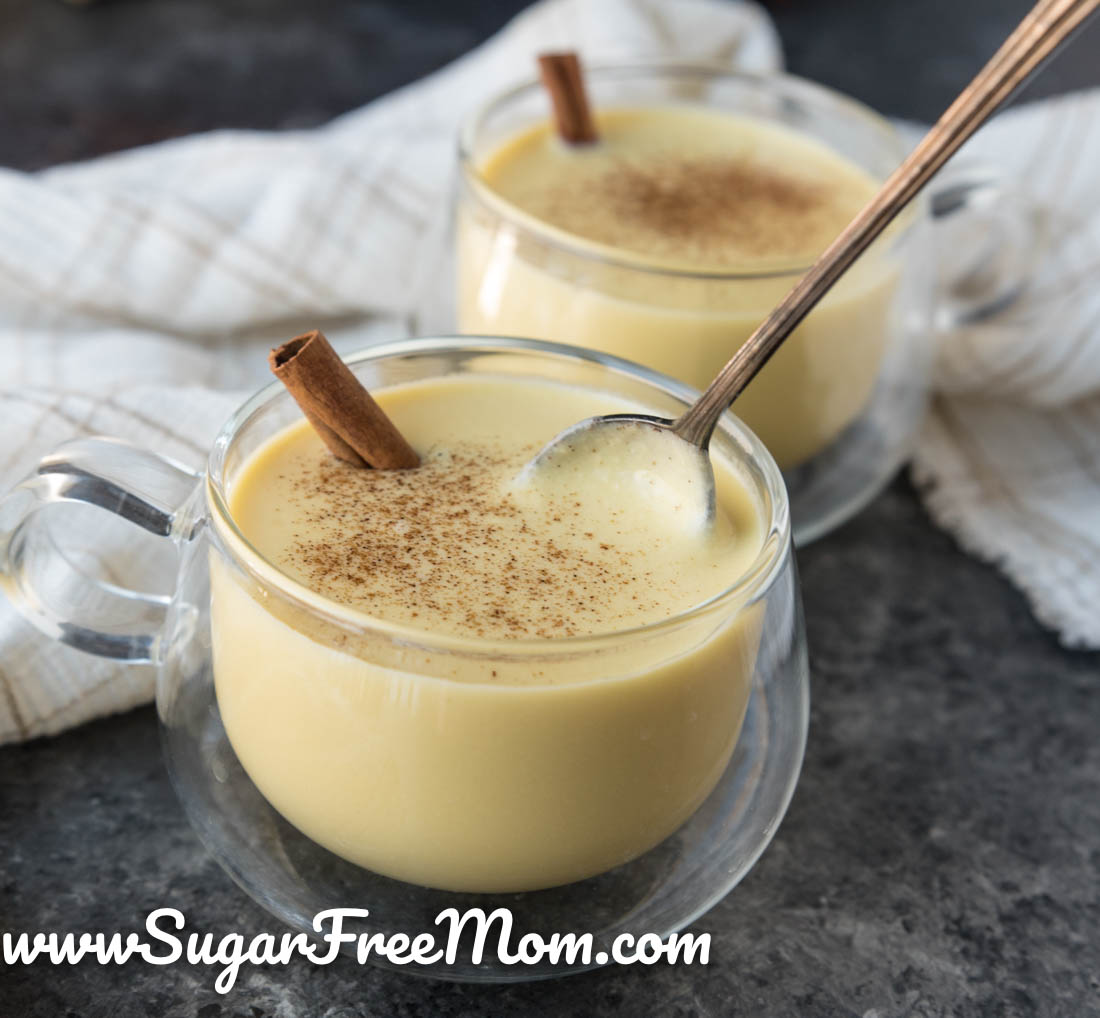 HOW TO STORE SUGAR FREE EGGNOG
This creamy eggnog will need to be stored in a covered container in the refrigerator. I'd suggest using a large mason jar with a cover.
This keto eggnog will thicken when stored in the fridge so if you would like to think it out, add it to your blender and pour in ½ cup of water or unsweetened milk of choice to create a looser consistency.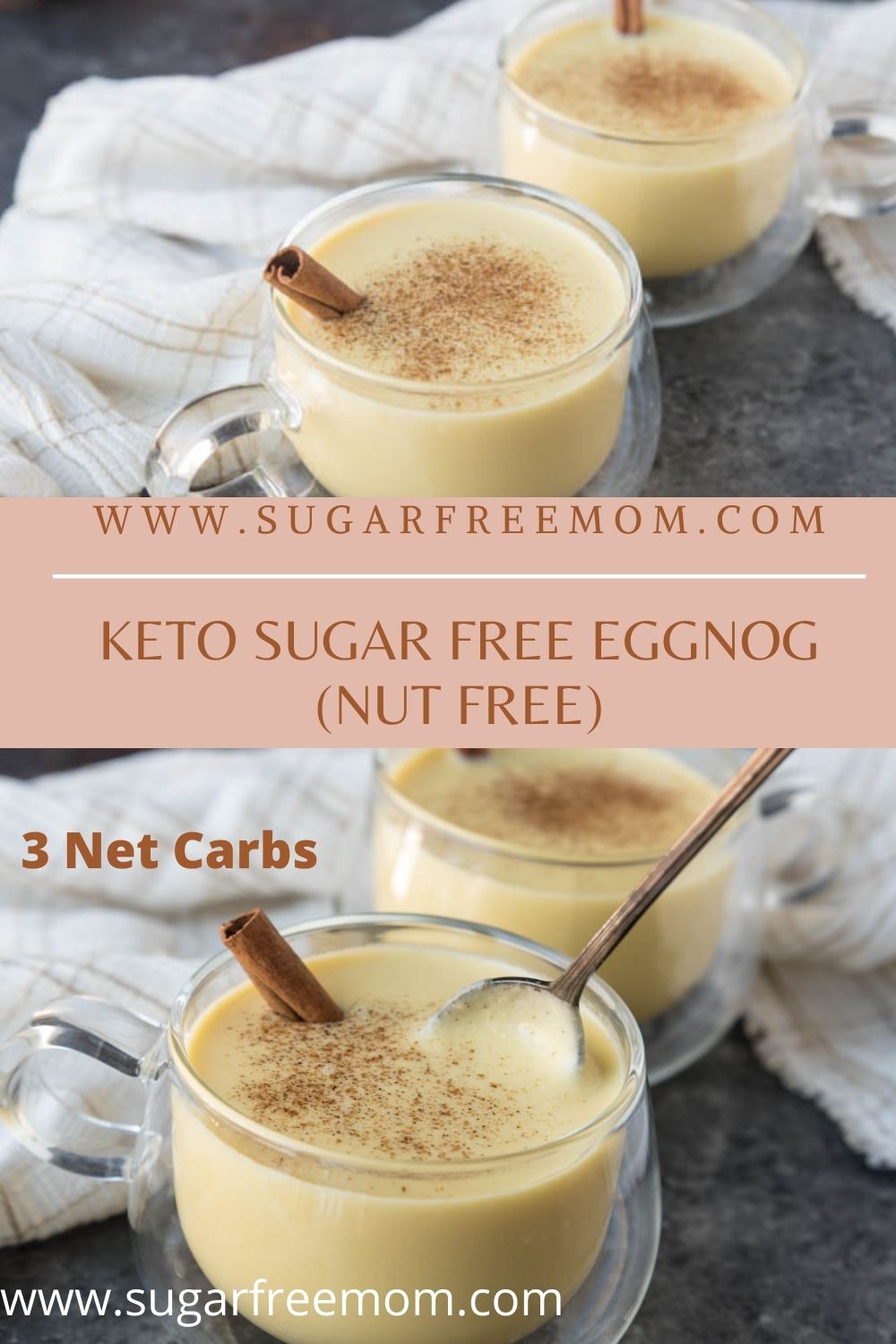 SUGAR FREE EGGNOG (KETO, NUT FREE)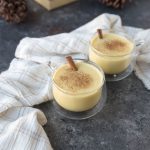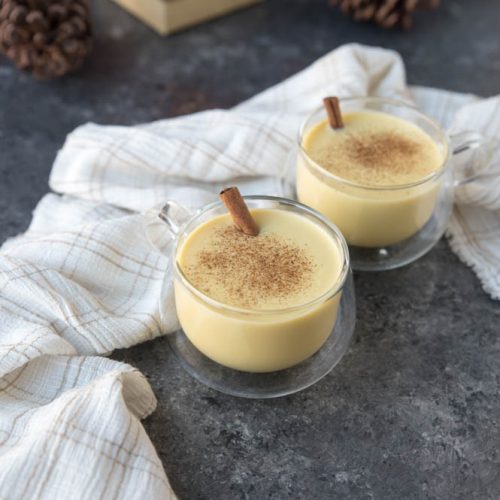 Print
Sugar Free Keto Eggnog
Instructions
Pour the coconut milk, heavy cream and water into a large saucepan, add the cinnamon stick and bring to a boil. Simmer and continually stir for 5 minutes. If you are using an electric stove top you may need to move your pan on and off the heat to keep it at a simmer but to keep it from spilling over. Turn off heat.

In a large glass bowl, add the egg yolks and confectioners sweetener. Whisk together.

Add a small amount of the hot cream mixture to the eggs to temper them. Whisk together and continue to add about half of the cream mixture to the tempered eggs a little at a time. Remove cinnamon stick from saucepan. Pour the tempered egg mixture back into the hot cream, whisking in slowly over low heat, in the saucepan, until completely smooth.

Continue to stir the mixture over low heat for about 5-8 minutes or until the temperature reaches 160 degrees F and coats the back of a spoon.

Remove from the heat and stir in rum and vanilla extract. Stir together until smooth. Alternately you can also place the mixture in a blender to completely combine. Be careful as it will be hot so the cover should be slightly open to allow steam out while blending.

Taste and adjust sweetener if needed, then chill for about 1-2 hours.

To serve, pour into glasses and sprinkle some ground nutmeg over the top.

Store in the refrigerator, covered, for up to 3 days. If it becomes too thick for your liking, simply whisk in some unsweetened nut milk of choice or water to thin it out a bit.
Nutrition
Serving:
1
serving @ ½ cup
|
Calories:
339
kcal
|
Carbohydrates:
5
g
|
Protein:
3
g
|
Fat:
32
g
|
Saturated Fat:
24
g
|
Cholesterol:
130
mg
|
Sodium:
17
mg
|
Potassium:
181
mg
|
Fiber:
2
g
|
Sugar:
2
g
|
Vitamin A:
173
IU
|
Vitamin C:
2
mg
|
Calcium:
32
mg
|
Iron:
1
mg