These classic Christmas snowball cookies got a little update! We turned the classic pecan snowball cookie into a nut free chocolate snowball keto cookie!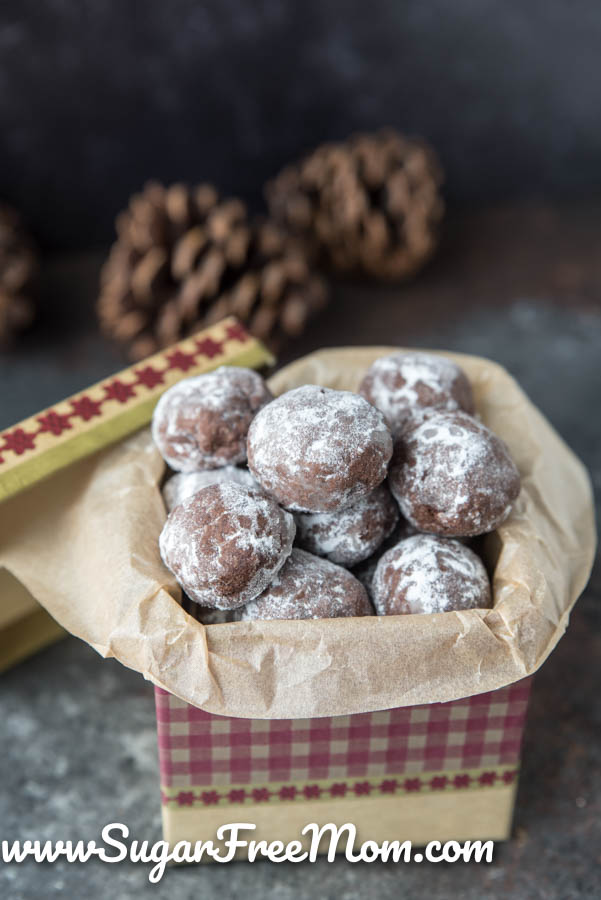 CHOCOLATE SNOWBALL COOKIES
If you've ever had a pecan snowball cookie made with crushed pecans, butter and powdered sugar then you know how delicious they and easy they are to make. My own keto pecan snowballs receives much traffic as the Christmas season approaches because they taste so much like the traditional ones made with flour and sugar.
Since my own son has tree nut and peanut allergies, he's never been able to try these keto snowball cookies made with almond flour. I got working on a nut free recipe using sunflower seed flour, just for him. The first attempt had a very strong sunflower flavor so I knew I needed to somehow mask that just a little and that is how this chocolate snowball cookie was created. The cocoa and chocolate chips are the perfect balance to outshine the sunflower taste. Even if you're not a fan of sunflower seeds, you will barely notice that flavor in these tender, keto chocolate snowballs.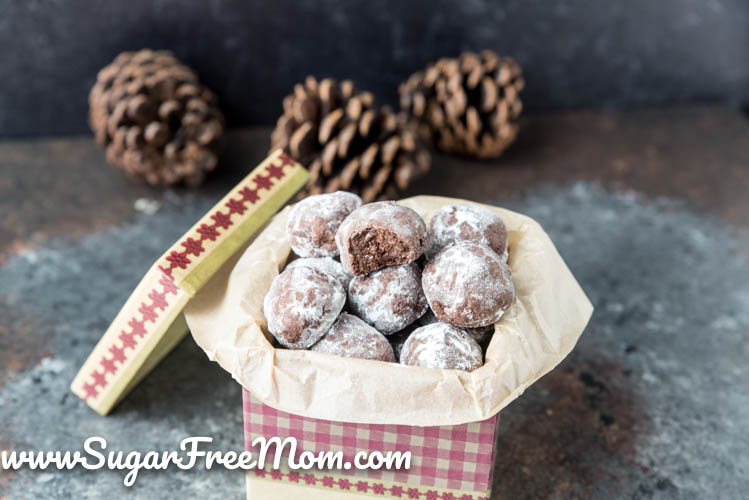 SUNFLOWER SEED FLOUR
Sunflower seed flour is exactly what you are thinking. Raw, unsalted, hulled sunflower seeds are ground finely to create a flour. You could try and grind sunflower seeds yourself for this recipe, just be sure to not over grind in your food processor or you will end up with sunflower butter. It's much finer and easier if you purchase it online as I have not found it available in my local markets. Here is the sunflower seed flour I purchased for this recipe.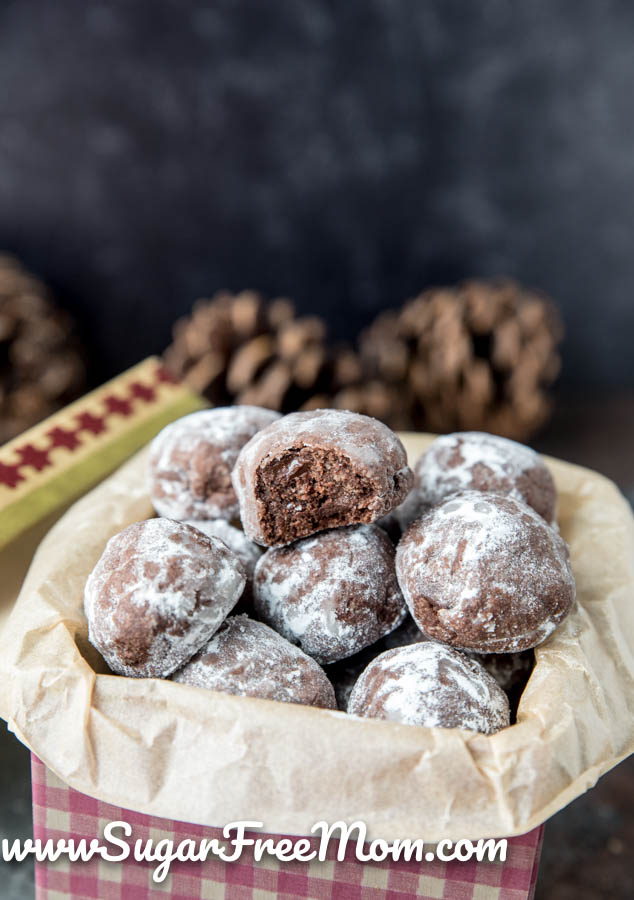 HOW TO PREVENT FLAT SNOWBALL COOKIES
Isn't just awful when you follow a recipe exactly and your cookies end up completely flat? Yes, I know, I've been there and it's sad and depressing. This will occur due to the softened butter you need to use in order to incorporate the ingredients well. Depending on how soft your butter is, can be the factor. The best thing you can do to avoid this happening is to prepare these cookies the day before you want them. Follow the recipe exactly, place the balls on a parchment lined cookie sheet and place the pan in the freezer overnight. Freezing overnight is the key to keeping these chocolate snowball cookies in the shape of a snowball!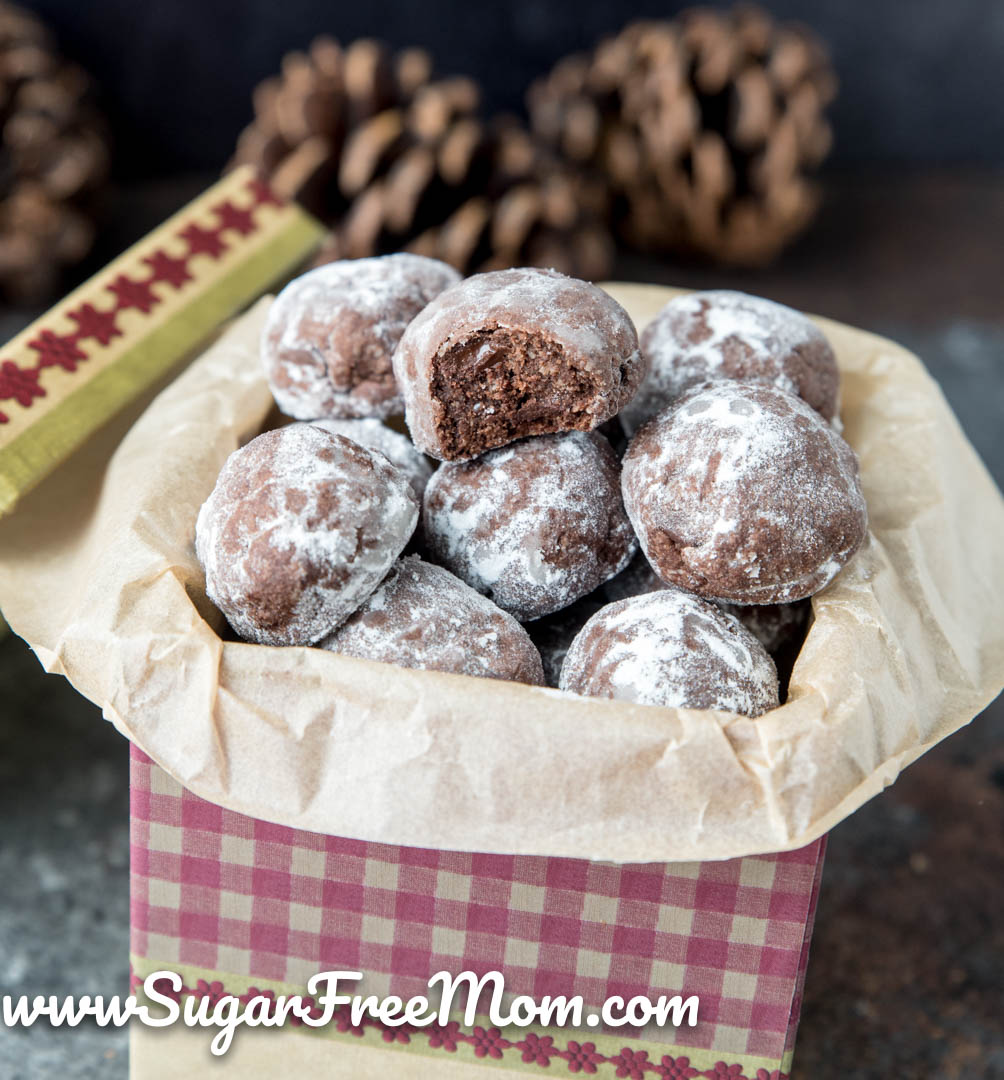 HOW TO STORE CHOCOLATE SNOWBALLS
Once baked and cooled completely, place the snowball cookies in an airtight container. If you need to make another layer, place a sheet of parchment between layers. Cover tightly and place in the fridge for up to a week or place in the freezer for up to a month.
MORE KETO CHRISTMAS COOKIES

Sugar Free Keto Chocolate Snowballs (Nut Free, Gluten Free)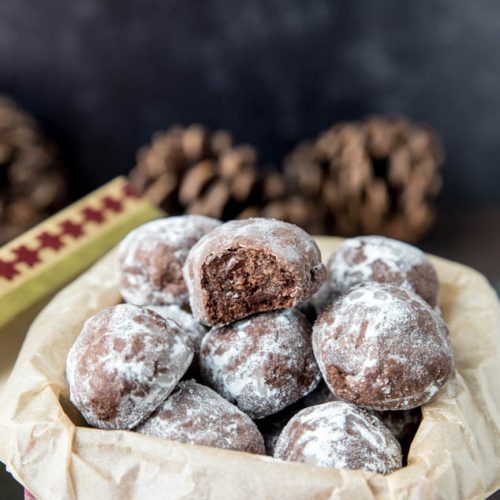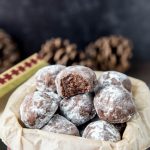 Print
Sugar Free Keto Chocolate Snowballs
Instructions
Place all ingredients into a food processor, except the chocolate chips. Process until combined. Taste batter and adjust sweetness if needed.

Stir in the chocolate chips. Line a large cookie sheet pan with parchment paper.

Using a tablespoon or cookie scoop, scoop out batter onto sheet pan. Once you've made 24, roll each mound into a ball.

Place this sheet pan into the freezer for 1 hour, preferably overnight to avoid flattening when baked.

When ready to bake, preheat oven to 350 degrees F. Remove from freezer and bake 15 minutes.

Allow to cool slightly and roll in sugar free confectioners.

Storage: Place in an air tight container in the fridge for up to a week or place in the freezer for up to a month.
Nutrition
Serving:
1
snowball
|
Calories:
93
kcal
|
Carbohydrates:
4
g
|
Protein:
2
g
|
Fat:
8
g
|
Saturated Fat:
3
g
|
Cholesterol:
10
mg
|
Sodium:
31
mg
|
Fiber:
2
g
|
Sugar:
1
g
|
Vitamin A:
118
IU
|
Calcium:
1
mg
|
Iron:
1
mg
,