This Sugar Free Flourless Chocolate Almond Torte is grain free and made with just 6 ingredients!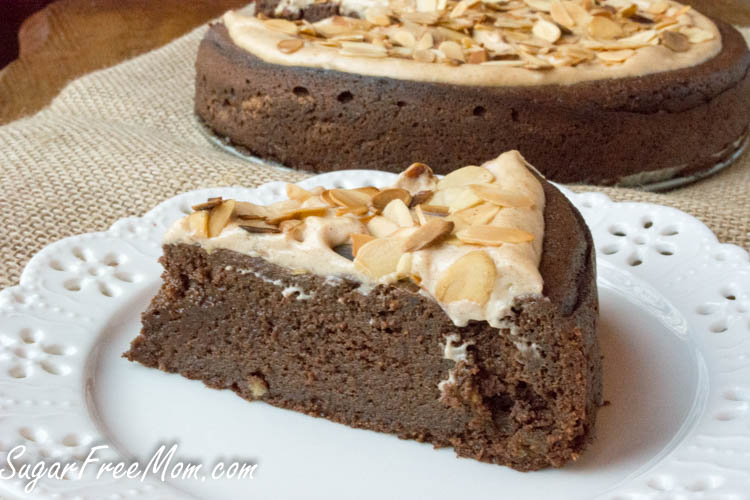 Just 6 ingredients! You read that right!
This cake is the cake of all cakes.
It's a perfect cake for when time is a bit rushed and you really want to make something special.
It's the perfect cake for any special occasion.
Perfect for the holidays, birthdays, or just some friends coming over for the weekend.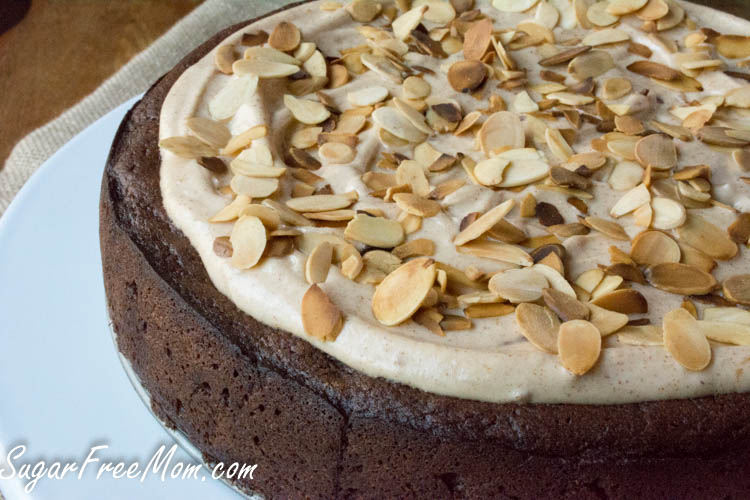 I made this cake and rocked my husband's world.
I've told you about him before.
He's a sugar loving, carb loving, meat and potatoes man. A man that although I've changed my lifestyle for over 12 years now and he eats everything I make, still loves his white sugar treats and carbs.
I can't change him or make him want to change to eat healthier. BUT he eats whatever I make and never complains and always tells me the honest truth.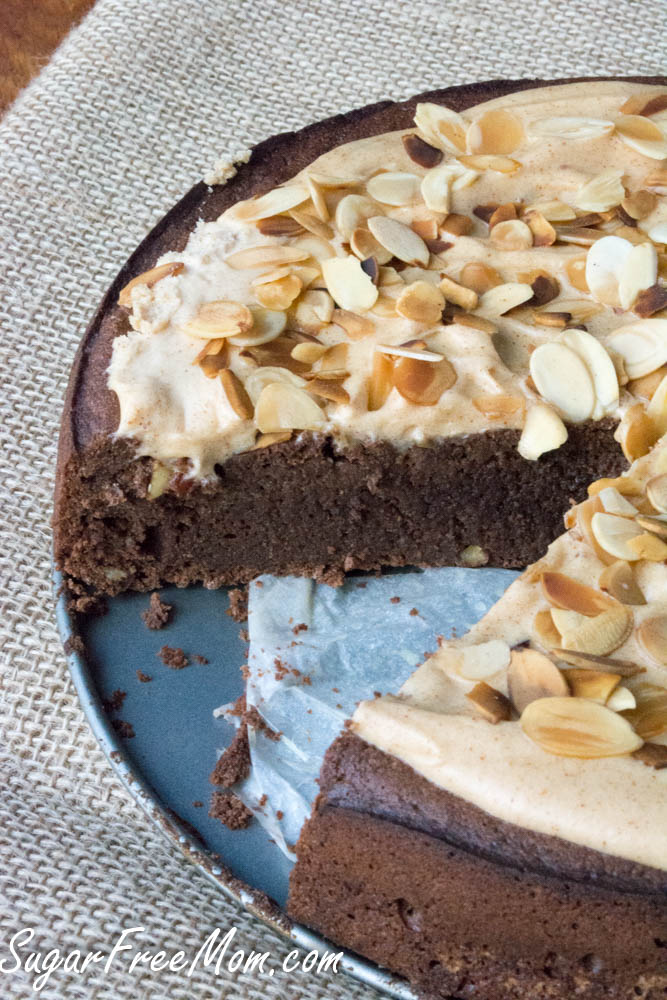 Which is good of course. I want the truth, whether it's hard to hear or not.
But coming from someone who really hasn't changed his tastebuds to healthier cakes and such, well, there's a fine line to what HE might think is good and what I think is exceptional. Especially when it's grain free, sugar free and low carb, which is no easy task.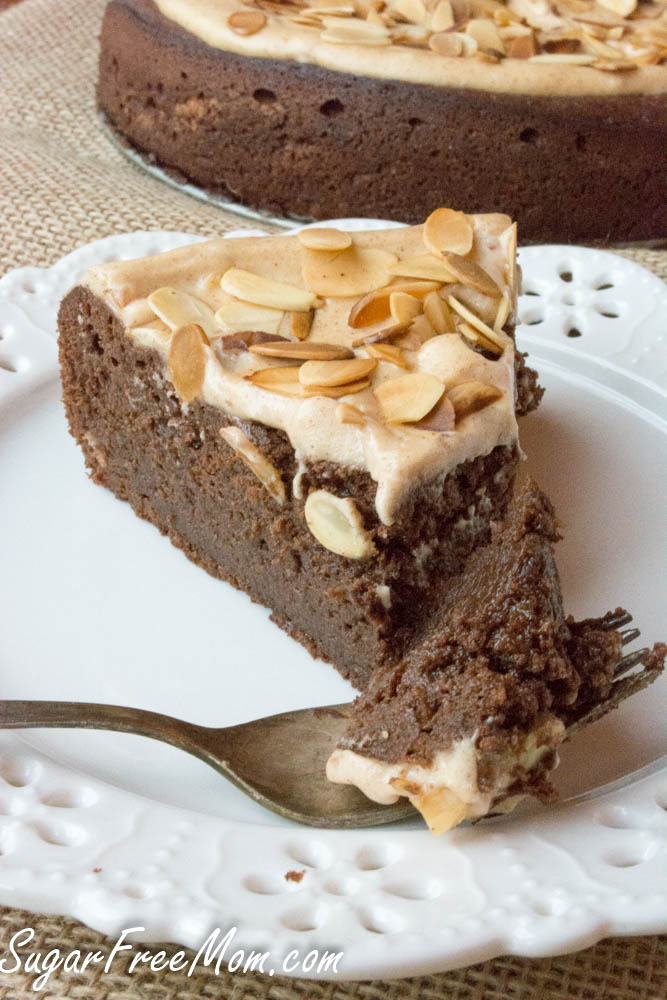 So he tried my cake.
And it rocked his world.
No after taste which he often notices in my baking with stevia and tells me so.
Nothing. No words. Nothing negative. Nothing. Which is good because often he eats one bite if he doesn't like it and that is the end.
He ate the whole piece and raved about it.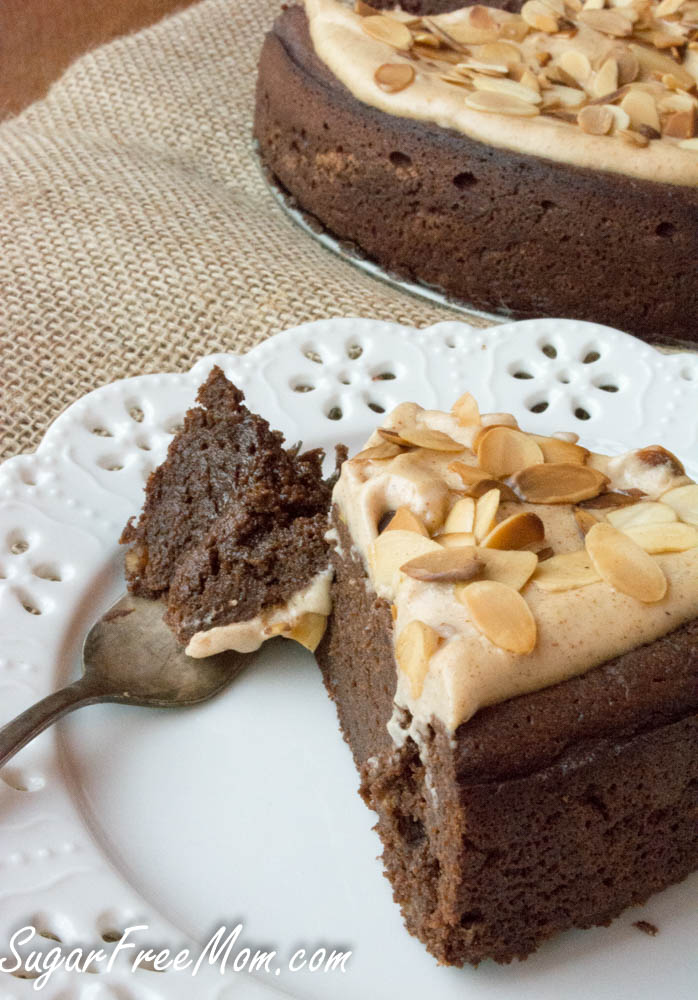 It's fudgey, almond-y and really dense.
So if you're not into dense and fudgey, don't make it.
But if you are.......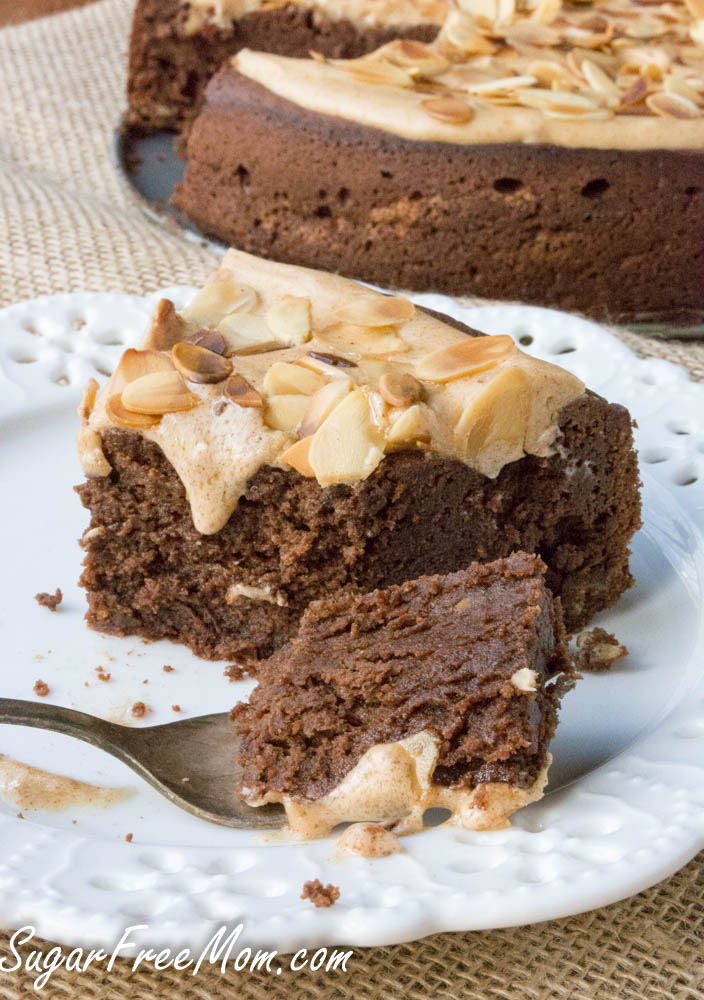 Please go and rock that certain someone in your life who is the skeptical party pooper when it comes to healthy desserts and then come back and tell me all about it.
Brenda's Notes:
The topping is optional because this would be perfectly fabulous without the almond butter whipped cream on top. Just use some sugar free whipped cream if you like and you're done. Nutrition info is not including topping.
You don't need chocolate stevia, but it is a good one to have on hand. Clear liquid stevia or even vanilla will work too. If you don't have liquid stevia, only powdered, here's my conversion chart.
If you don't have Swerve and use another sugar free substitute, please remove the stevia. Swerve is not as sweet as other sugar free granulated sweeteners.
I had left over cake with the topping on it. So I refrigerated it and when I went for a piece the next day it was too cold and thick. I reheated it in the microwave for 20 seconds and if was soft and fudgey and perfect once again.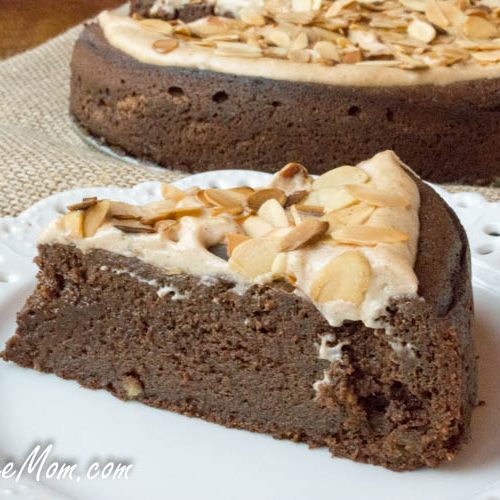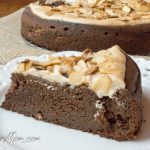 Print
Sugar Free Flourless Chocolate Almond Torte
Ingredients
2

sticks butter

(1 cup) unsalted, cut into pieces

8

ounces

85% dark chocolate

chopped

6

large eggs

separated

¾

cup

Swerve sweetener

1

teaspoon

chocolate liquid stevia

½

cup

almond butter

no sugar added

Optional topping: In a stand mixer combine ¼ cup heavy whipping cream with 2 tablespoon almond butter and ½ teaspoon liquid stevia. Spread on cake once cool and top with toasted slivered almonds.
Instructions
Preheat oven to 350 degrees F.

Line a 10 inch spring form pan with parchment and spray with olive oil cooking spray.

In a heat proof bowl over gently simmering water, melt butter and chocolate together. Stir until smooth. Set aside.

In a stand mixer,stir egg yolks and swerve until combined.

Gradually pour in melted chocolate mixture into yolks.

Add in chocolate stevia and almond butter and stir until combined.

In another bowl use an electric mixer to beat egg whites until stiff peaks form.

Fold them into the chocolate almond mixture until combined.

Pour into pan and bake 35 minutes. Torte will be very moist in the middle.

Transfer torte to a wire rack and cool completely in pan about 1 hour.

Once cool, remove from pan and top with optional toppings if desired.

Refrigerate left overs if whipped cream topping has been added. Does not need refrigeration if no topping has been added.
Nutrition
Serving:
1
g
|
Calories:
333
kcal
|
Carbohydrates:
5.4
g
|
Protein:
7.7
g
|
Fat:
31
g
|
Saturated Fat:
15.2
g
|
Cholesterol:
131
mg
|
Sodium:
41
mg
|
Fiber:
2.3
g
|
Sugar:
2.8
g