This Sugar Free Keto Low Carb Chocolate Soufflé is an easy and delicious flourless, gluten free, dairy free and nut free dessert!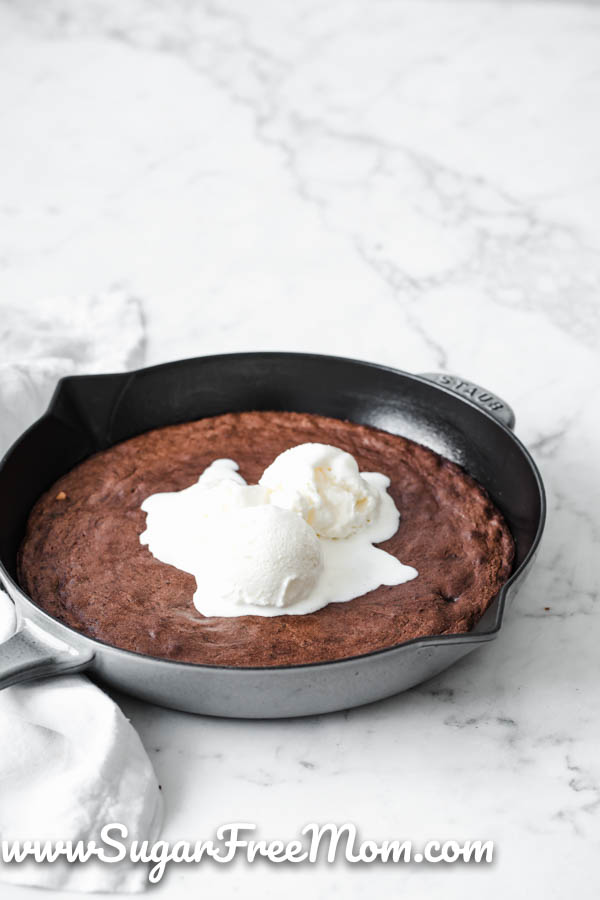 Chocolate Souffle
A soufflé is a dish originating in France made with egg yolks and egg whites and a few other ingredients depending on if you're making something savory or sweet. A soufflé is often made in individual ramekins or a round casserole dish, but todays recipe is a soufflé made in a skillet giving it a bit of a crispier outer edge. Using a smaller dish will provide a higher lift to the soufflé if you prefer, but using a skillet is a great way for enjoying with guests and everyone just grabbing a spoon!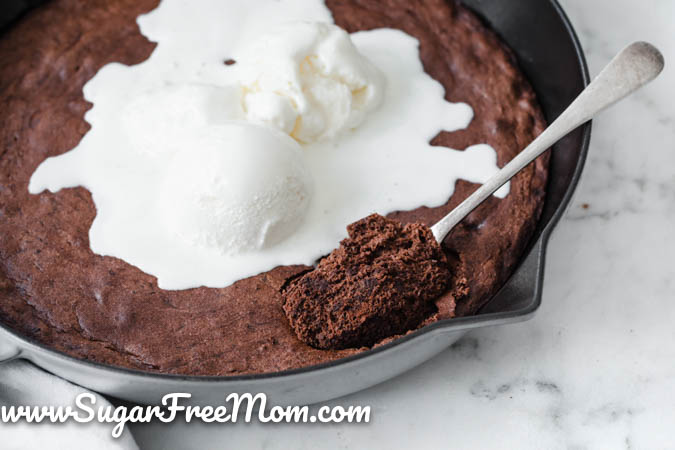 No flours or nut flours are needed for this soufflé. Just 8 ingredients and most of them are probably items you already have on hand in your ketogenic pantry.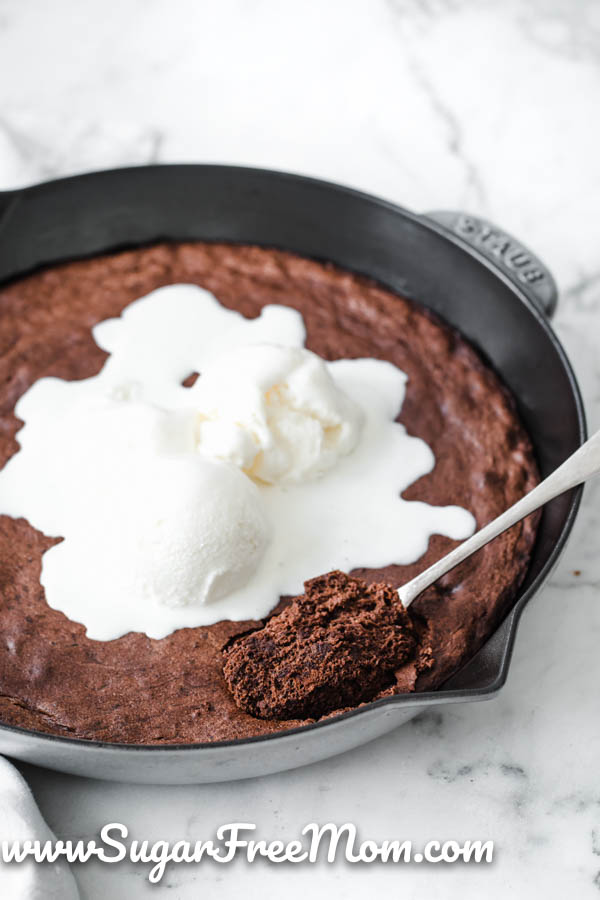 Top your soufflé with sugar free whipped cream or keto ice cream.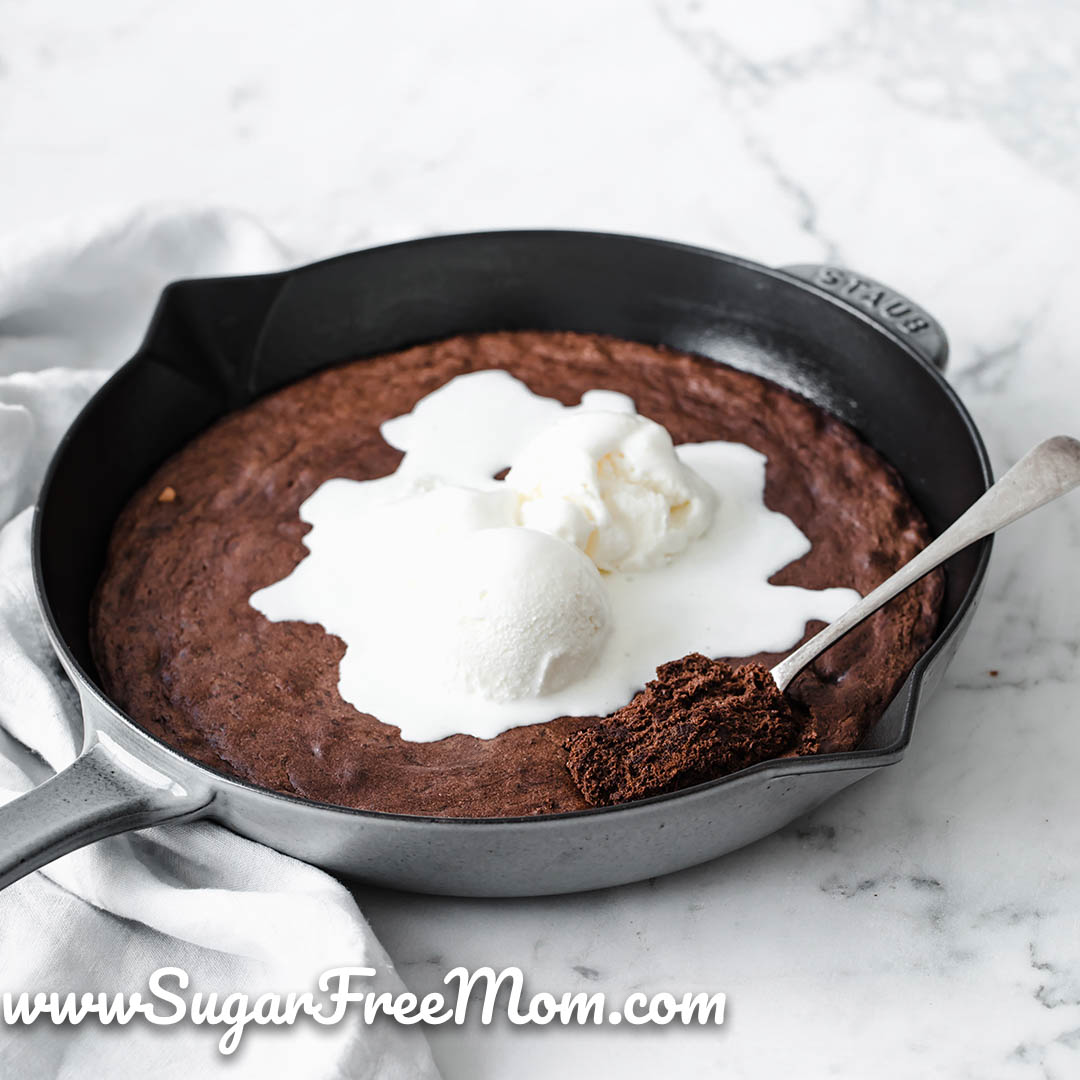 Making simple desserts like this is in my opinion, one of the most important ways to make a ketogenic lifestyle sustainable. I want chocolate in my life, I want desserts in my life and I never want to feel deprived for the rest of my life. If you're striving to live a keto or low carb lifestyle, these recipes make it a whole lot easier to maintain your way of life.
Meal Planning
If you love recipes like this for yourself and family, you might be interested in my meal planning membership. Weekly low carb keto dinner meal plan sent to your inbox every Friday with shopping list. The best part about my meal planning feature is that if you aren't interested in one of the dinner meals you can swap it out for something else! You can even change serving sizes and the shopping list will adjust! It pretty amazing software and I hope you'll take advantage of it. You can have a sustainable low carb/keto lifestyle when you're well prepared and planning meals is the key! LEARN MORE TODAY!
Keto Chocolate Souffle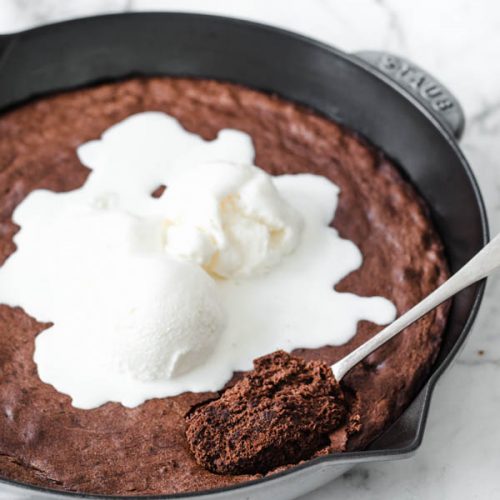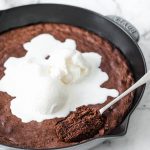 Print
Keto Chocolate Souffle
This keto skillet soufflé is the ultimate in chocolate indulgence. Just a few simple ingredients, it's a crowd pleaser. Cooking it in a skillet means it's a great one for when you have friends over. Simply, place in the center of the table and let everyone dive in.
Instructions
Preheat the oven to 420F / 210C/ 190 fan.

Separate egg yolks and whites.

Melt coconut oil and chocolate together. Leave to cool , stirring occasionally.

Meanwhile, beat the egg whites using an electric whisk until stiff peaks form. As they start to froth add the cream of tartar, salt and half the Swerve sweetener. 

Beat the egg yolks with the rest of sweetener until pale in colour. Working quickly add the melted chocolate, cacao and vanilla then spoon in the egg whites a little at a time, making sure not to deflate. 

Generously grease a 26cm / 10 inch skillet with coconut oil or butter.

Pour the batter into the skillet and bake in the oven for 10 - 11 minutes until set but slightly soft. Remember it will continue to cook in the pan as it's hot.

Slice and serve with keto ice-cream, yogurt or whipped cream.
Nutrition
Serving:
1
serving
|
Calories:
164
kcal
|
Carbohydrates:
7
g
|
Protein:
5
g
|
Fat:
12
g
|
Saturated Fat:
7
g
|
Cholesterol:
102
mg
|
Sodium:
39
mg
|
Potassium:
53
mg
|
Fiber:
2
g
|
Vitamin A:
150
IU
|
Calcium:
15
mg
|
Iron:
0.5
mg
Jo is the creative food photographer and stylist behind the healthy eating blog, Modern Food Stories. Jo's a testament that once you find the right approach for you, you can overcome chronic illness through the healing power of food. She believes the secret to radiant health starts and ends with a healthy gut so all her recipes are grain, gluten and refined sugar free. Many are also dairy-free.