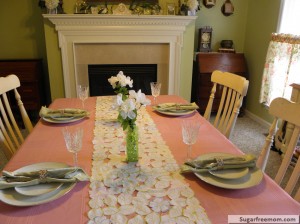 Happy Sunday! It's a beauty here today and I'm planning on enjoying it with my family. We have church then a baseball game for my little man and maybe a trip to Whole Foods again for me. I went yesterday but had a brainstorming slamming idea for a special Mother's Day treat (super easy) and well.....looks like I need to pick up a special ingredient for it. Oh well, when these ideas strike, I go with them because they usually work out great and then I bring them to you! At least my Whole Foods market is only 10 minutes away. 🙂
This week my hubby is taking a few days off to work around our yard and build me some raise beds for a garden, whoohoo!! So excited about that! I've got some seedlings already sprouting in a starter kit and in some pots so I'm ready to plant! Most of the dinners this week are prepare and bake or crock pot which really makes my life easier. The hubby likes hearty breakfasts so I've got some good ones he loves. If the hubby is happy then my garden will be completed very soon. Isn't it true that old saying, "A way to a man's heart is through his stomach?" Well it's surely true in the case of my man LOL!
Here's what we're having this week:
Breakfasts
Dinners
Baked Grilled Cheese Sandwiches (new idea I'm trying)
Left Overs
Shrimp with veggies & pasta
Have a great week everyone!