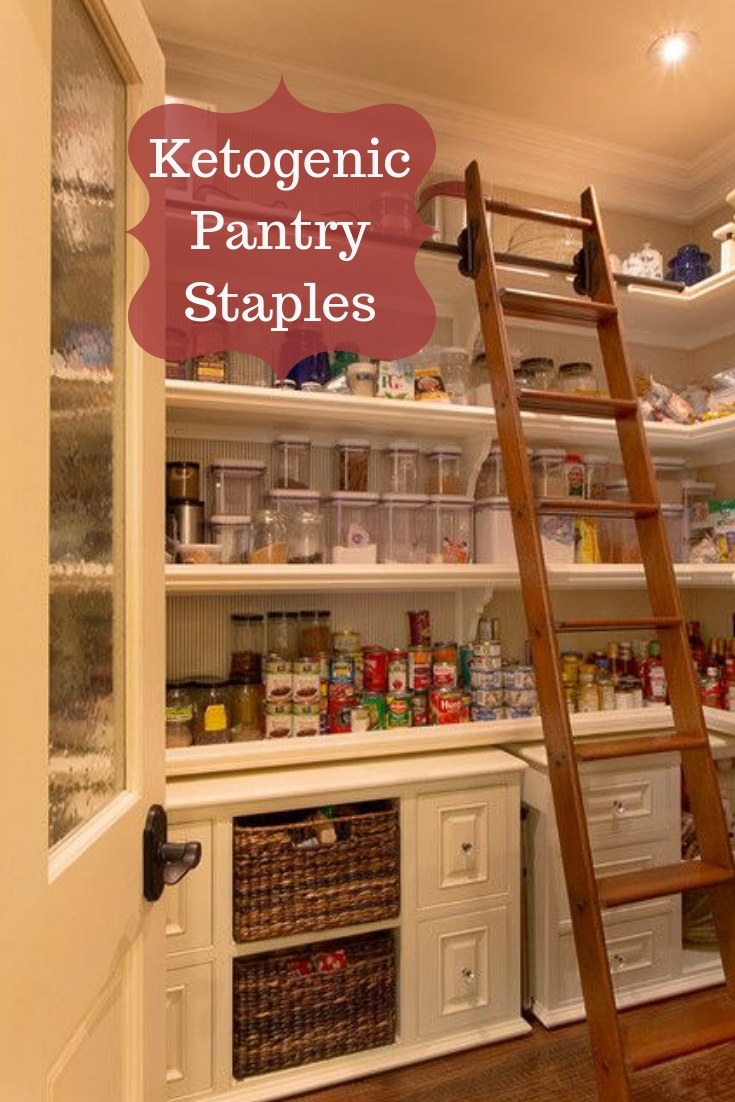 All the Low Carb Ketogenic Pantry Essentials to start your low carb diet or keto diet. The staples you need to begin, sustain and flourish on your health journey!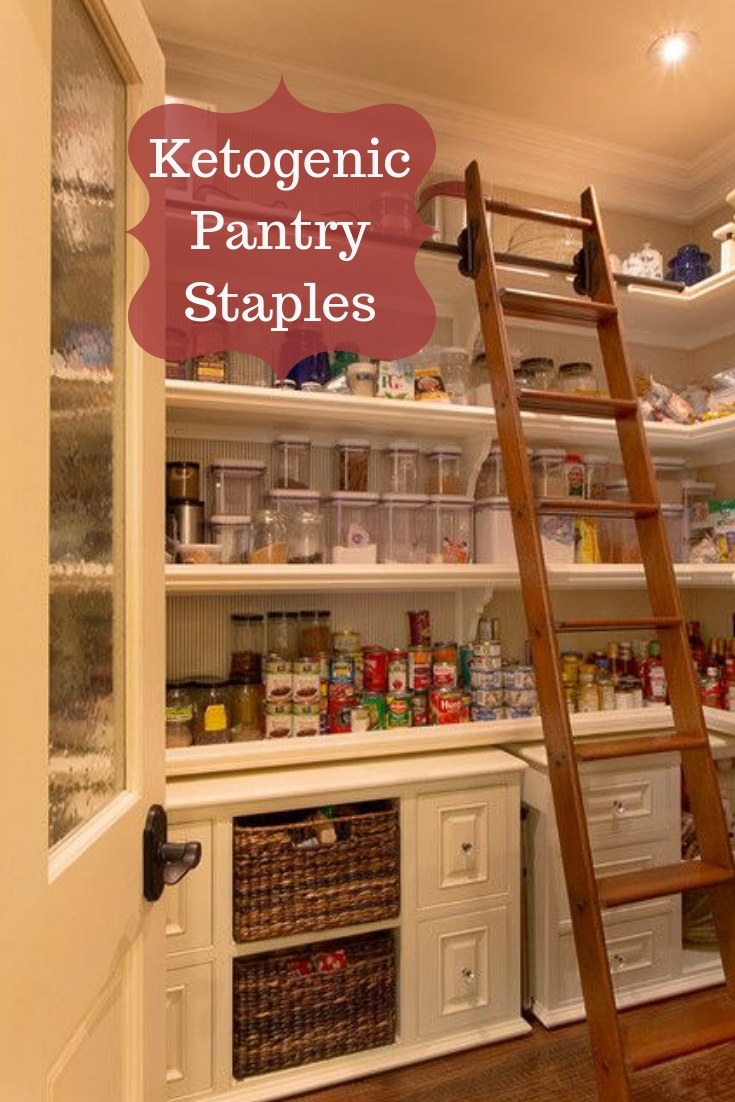 Photo Credit Dana Miller, www.houzz.com
How to Stock a Keto Pantry
Stocking a pantry with low carb and keto pantry essentials may take a little bit of time to acquire all the items you need, but with a few great items you will be well on your way.
Keep in mind you can add a little more over time or add one new thing each week you shop. Stocking a keto pantry doesn't have to be as hard as you think and in fact you may already have a bunch of the items you need.
Most important to remember is you need three things to be successful on a keto diet. You need good quality protein, good quality fats and keto snacks for when you are on the go and really don't have time for a meal at home.
Obviously if you're ready to take control of your health and new keto lifestyle, making keto recipes at home is key.
While having these ready to go packaged keto snacks are great, if you have time it's better to make your own great keto snack at home where you can control what's in your food.
I've broken down my keto food list into 4 categories. Portable Protein, Healthy Fats, Keto-Friendly Snacks On-The-Go and Baking Keto Essentials for the ultimate guide for your Ketogenic Pantry.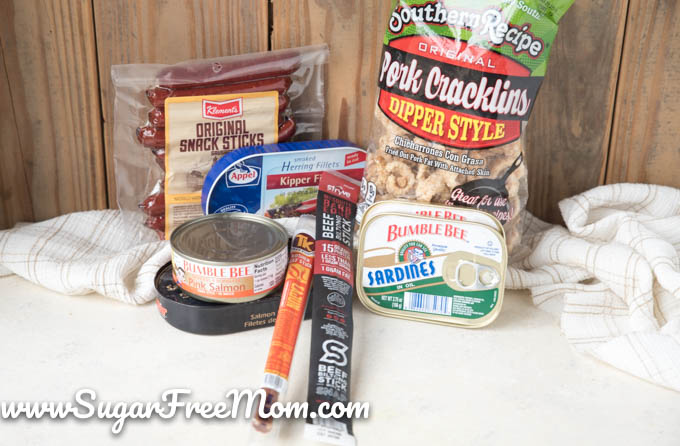 This keto shopping list won't include fresh produce, or refrigerated items which are easier to find while grocery shopping.
When looking for fresh keto foods, stick to whole foods like meats, fish, eggs, leafy greens, low carb veggies and fruits like berries and dairy products like cream cheese, heavy cream, sour cream, cheddar cheese.
Dairy-free alternatives like unsweetened almond milk, coconut milk are a great way to swap dairy in many recipes.
Also, now it's quite easy to find dairy free alternatives for cream cheese, sour cream, yogurt and even dairy free mozzarella or cheddar cheeses. If you don't have an allergy to dairy but only to lactose that is found in most dairy, I have found lactose free sour cream, cream cheese and cottage cheese at Market Basket.
This post today is a guide for a well stocked keto pantry with items that are shelf-stable for a low carb diet and those following a ketogenic lifestyle.
I've linked my list of keto pantry staples buying on Amazon, but other online stores like Thrive market and iherb.com offer competitive prices and some even free shipping. Many items may be found at your local grocery store but specialty ingredients are often harder to find at your local store.
On-the-Go Portable Keto Protein Sources
When you're busy and on the go, having portable protein sources is key to keeping you full of energy and satiated.
Quality is important so be sure to look at the ingredient list of any packaged product, even those that may have the name "keto" on the front. Some include ingredients like potato starch, rice flour, agave, and other ingredients that would not be considered sugar free, low carb or keto friendly.
My rule of thumb is that if sugar or any of the names of sugar are listed in the first 5 ingredients on the label, I tell my clients and those in my courses to avoid it. This method has served me well for many years and is helping many of my members to see great results in their weight loss journey.
Canned tuna
Canned sardines
Canned smoked oysters
Hard boiled eggs
Salami
Healthy Keto Fat & Oils
Staying away from oils like vegetable oil, sunflower oil, soybean oil, safflower oil, canola oil, corn oil, peanut oil, flax oil, grapeseed oil and margarine is important because they are very refined, processed and highly inflammatory to the body.
Using these healthier oils listed below;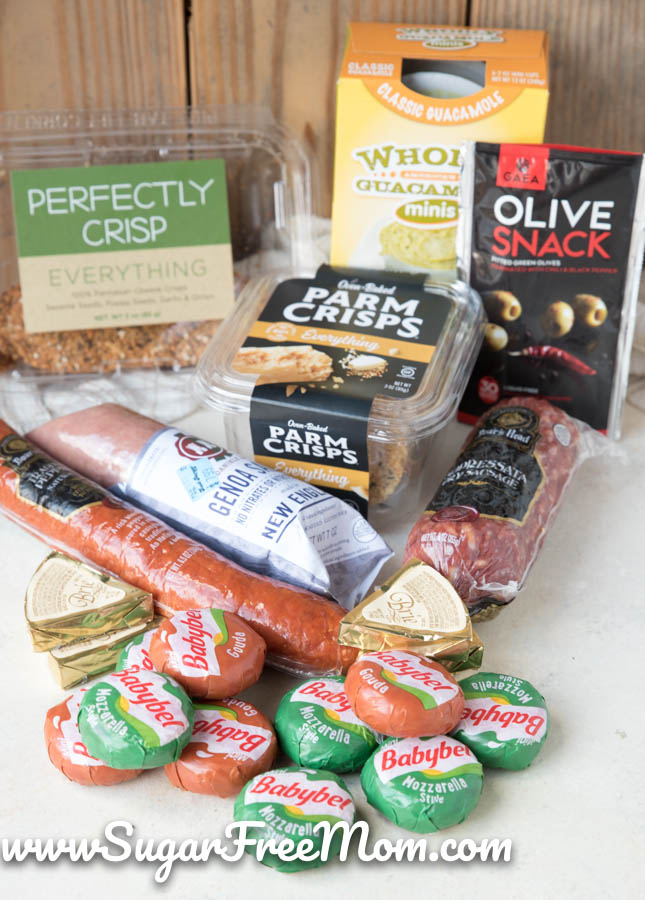 Keto Snacks
Low Carb Nuts and seeds are a great quick snack to grab on the go, but there are calorie dense so you need to be cautious of portion control.
An easy way to keep your snack to just a serving is to portion them out and have ready in your pantry to grab-n-go.
Almonds
Brazil nuts
Flax seeds
Hazelnuts
Peanuts
Pecans
Macadamia nuts
Walnuts
Pumpkin seeds
Sunflower seeds
Sugar Free Low Carb Nut Butters and Seed butters
Nut butters and nut free butters are wonderful as a healthy snack and for keto desserts!
One of the most common questions I get often is if coconut butter is the same and dairy butter that you can cook with. It's not at all like dairy butter but more like peanut butter in texture. Here's a great post about the differences between coconut butter, coconut oil and coconut milk to explain when and how to use each of them.
Unsweetened Macadamia nut butter
Unsweetened sunflower seed butter
Tahini, which is sesame seed butter
Keto Baking Essentials
Low Carb Flours are one of the most needed products in your low-carb pantry and a keto baking essential in my opinion.
Almond flour is one of the most popular because of how versatile it is in baking. Many times you can simply swap the same amount of white refined flour with almond flour and the recipe will still turn out well.
Unfortunately many people including my own child has tree nut and peanut allergies so I limit recipes using almond flour since he can't have it. I often choose nut free low carb flours like coconut flour, sunflower seed flour or sesame flour.
I've found that the best nut free flour to equally swap with almond flour in recipes is sunflower seed flour. You can make your own almond flour from almond meal and your own sunflower seed flour from raw, unsalted sunflower seeds, but you run the risk in a food processor that it could process too much and you end up with butter.
Collagen powder, is great to add to coffee or tea for extra protein
Baking powder
Baking soda
Cream of tartar
Unflavored beef Gelatin powder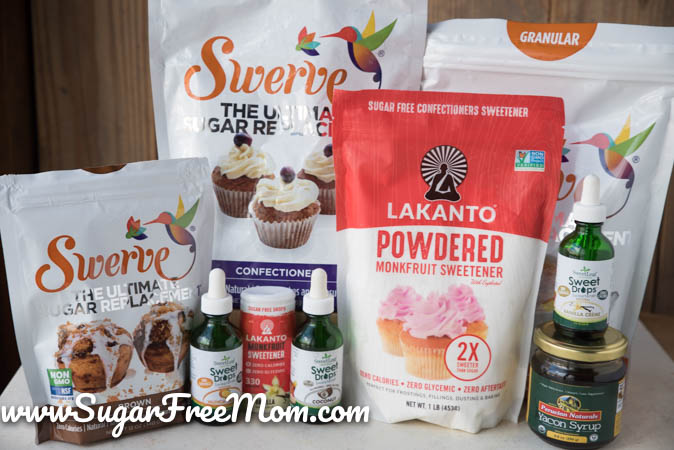 Keto Sweeteners
We are all different as far as our sweet tooth and taste buds and what one person thinks is a fabulous low carb sweetener with no aftertaste but have a terrible aftertaste to someone else.
It's really about trial and error for your personal preferences when it comes to making sweet treats without added sugar.
Also, some people think that because honey, coconut sugar and maple syrup are natural, they are better to use than low carb sweeteners with funny names. This is a big misconception because those are all still sugar and will raise blood sugar and cause cravings for more.
I don't use any artificial sweeteners in my recipes because studies show how they spike blood sugar. When your blood glucose is spiked it leads to cravings. Here's my sweetener guide and conversion chart to give you the most information on all the best low carb sweeteners.
Protein Powders
Strawberry Whey Protein Powder
Vanilla egg white protein powder
Recipes that include protein powders; Strawberry Angel Food Cake, Dairy Free Cloud Bread, New & Improved Cloud Bread Loaf, Hoagie Rolls, Cloud Bread Bagels
Keto Pantry Condiments
While I love making my own condiments, I don't always have the time so having some trust worthy condiments from companies that use pure ingredients and great healthy oils, is a great option to have on hand in the pantry.
Mustard
Balsamic Vinegar
Lemon juice
Lime juice
Seasonings & Spices
I pretty much use salt, pepper and garlic in every savory recipe with the exception to some recipes. But here are the most important ones to spice up your meals and take them from bland to fantastic!
Italian Seasoning
Dried Basil
Garlic Powder
Dried Parsley
Dried oregano
Cayenne powder
Chili powder
Cumin
Onion Powder
Ground ginger
Ground cinnamon
Sea Salt
Black Pepper
If you're a little overwhelmed, don't be. You can build a well-stocked keto pantry over over time, a little by little as you start making recipes in your keto kitchen.
Finding seasonings and spices at Aldi's, Walmart, Price Right can help cut costs as well as buying in bulk at Whole Foods or larger quantities like at Costco or Sam's Club.
You can find all my favorite kitchen gadgets, appliances and products I use in my Amazon Shop!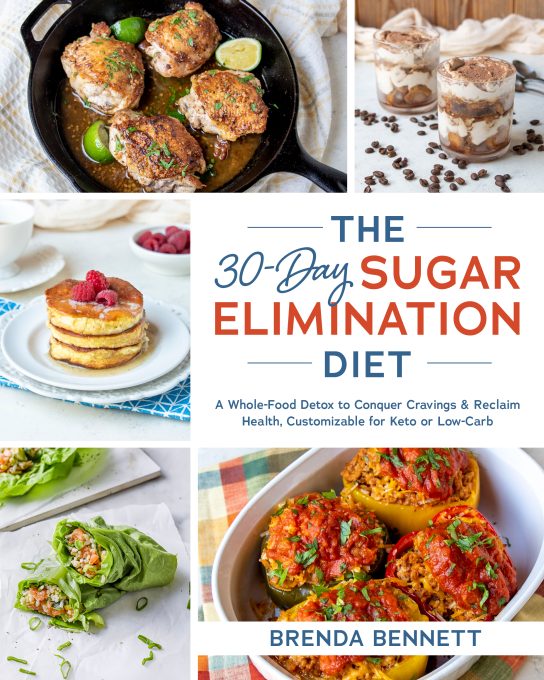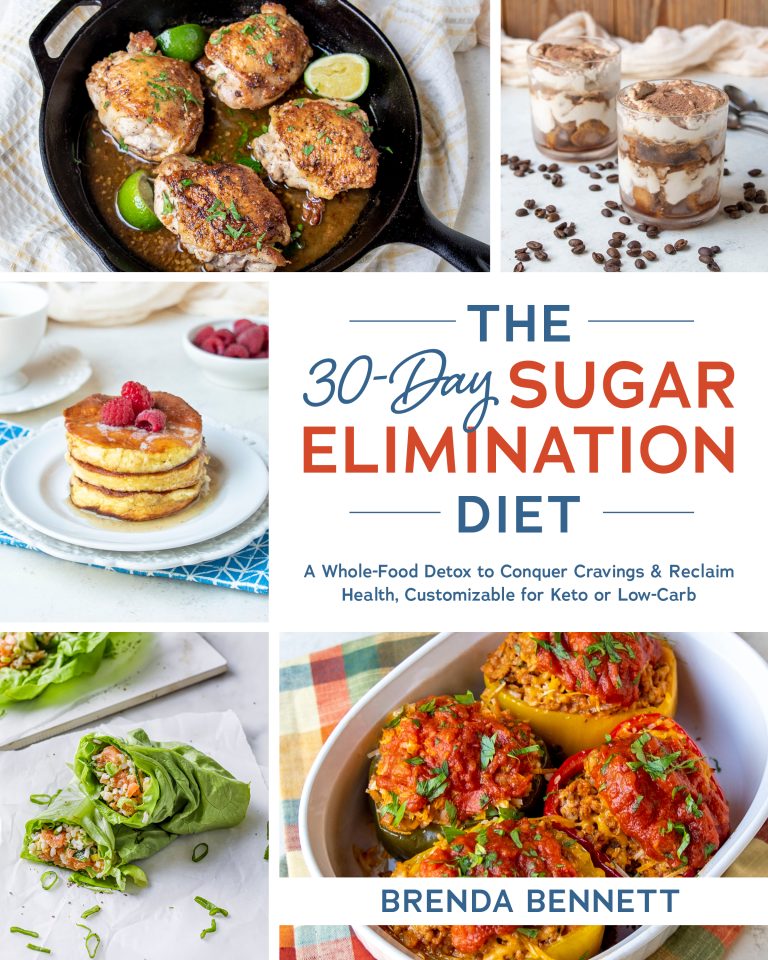 HUGE BAKING GIVEAWAY!!!
If you have my new book, The 30-Day Sugar Elimination Diet, one of the most popular recipes is my Dairy Free Cloud bread and you need liquid Allulose as well as egg white protein powder which many people have difficulty finding.
So to help you out this new year I am offering two people, (one in the USA and one not located in the USA) a keto baking products giveaway!
I want to support your weight loss low-carb diet or keto journey! This keto baking giveaway includes some amazing products to help you have a well-stocked pantry!
Many of my readers want to make my popular Dairy Free Cloud Bread as well as other popular recipes that include some hard to find products so this will help you be ready to make all the low carb keto recipes.
There will be two winners!
One USA reader will win the following. The Winner is Sandy from MA!!!
Monk fruit liquid, chocolate flavor
If you are outside the USA, you will win a $75 Amazon gift card so you can purchase your products of choice! The WINNER IS FIONA from South Africa!
How to Enter the Baking Giveaway
Here's the contest guidelines:
You must be an active email subscriber to my free newsletter, active means you open emails. Not a subscriber? Sign up here for my free email newsletter!
Follow me on Facebook and Instagram.
Bonus entry if you have my new book, The 30-Day Sugar Elimination Diet.
Extra entry if you've given an Amazon review of the new book.
Comment below if you have done any of the above and you'll be entered for the baking giveaway!
All entries need to be completed by January 31st at midnight.
Winners will randomly be selected using a random comment picker and be notified via email. Winners will be selected on February 1st and have 48 hours to email me back or a new winner will be selected.
I truly thank you for following my blog, making my recipes and sharing my website with your friends and family. If you've purchased my new book or my previous cookbook, Naturally Keto, thank you so much for your support!