These easy, keto blender pancakes have a wonderful texture and all the spices of gingerbread for the perfect holiday breakfast! Be sure to check my best Tips and Tricks below for perfect keto pancakes every time!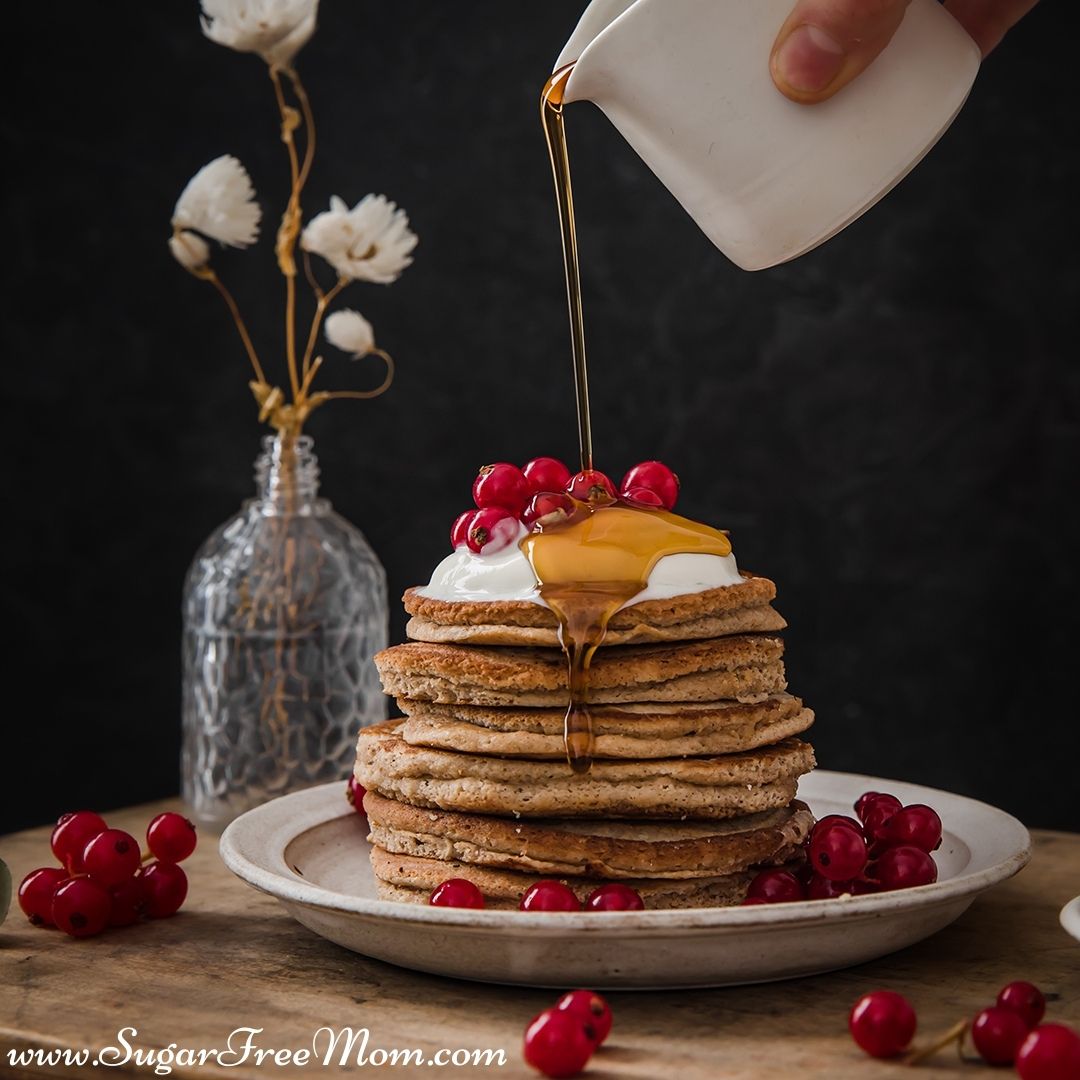 KETO BLENDER PANCAKES
There is nothing better on a lazy weekend morning then making super easy blender pancakes that taste like Christmas! Seriously, these keto gingerbread flavored keto blender pancakes are everything you imagine in a comforting keto breakfast or brunch to enjoy with a cup of coffee or tea!
The batter is quick to prep in the blender and you can even prep these ahead of your weekend, store in the fridge and reheat as needed. Top with some delicious full fat yogurt or sugar free whipped cream and sugar free maple syrup for a decadent dessert like meal!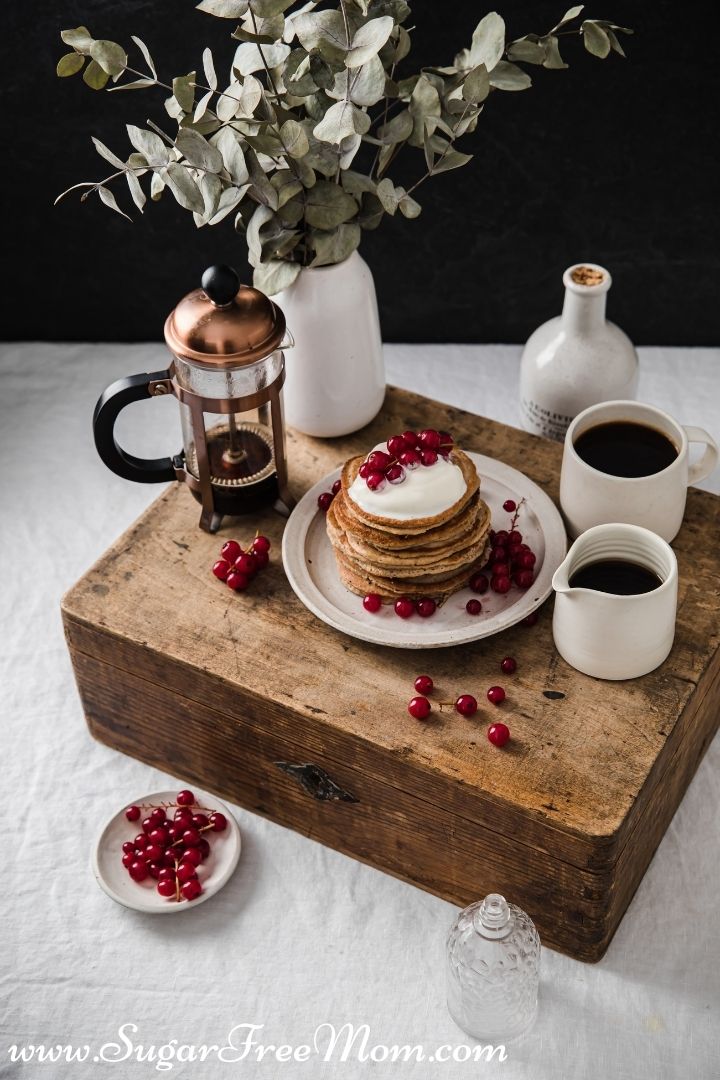 TIPS FOR THE BEST KETO PANCAKES
Room temperature eggs will help the ingredients combine better in the blender, making a nice smooth pancake texture. Cold egg yolks just don't incorporate as well with the whites.
Allow batter to rest for 5 minutes which will help thicken as it sits and then you can scoop out even amounts of batter for each pancake.
Always test a small amount of batter to check stove temperature. Gas and electric burners are different. When working with an electric stove top, the heat takes some time to raise and once there it is often difficult to lower the temperature quickly. Best to start at a medium heat for an electric oven, test a small amount of batter. If the edges of the batter are browning too quickly and the center is still pretty wet, lower the heat until you can see the edges are slowly browning while the center has some bubbles in it.
Don't flip too soon. Please wait patiently for the bubbles to start showing up all over the surface of the pancake. This may take at least a minute, then once the edges are browned and you can easily use your spatula to slide under the pancake without any batter loosely running over, it's time to flip.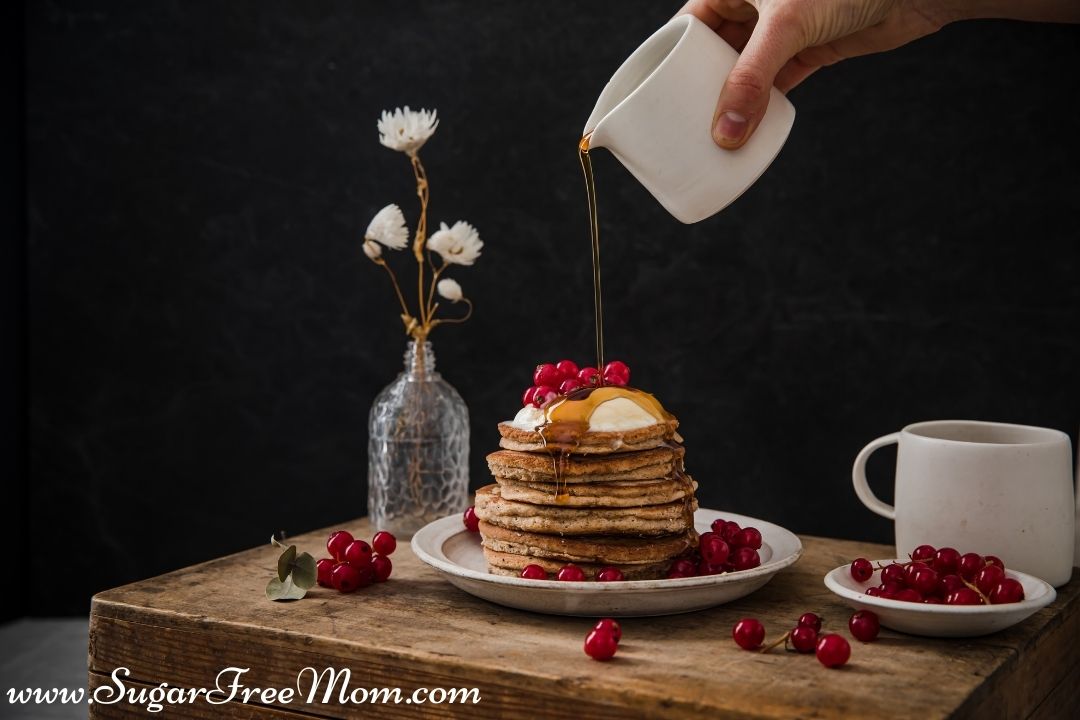 TOOLS FOR BLENDER PANCAKES
High powered blender with large base-This looks like one of the best blenders if you're in the market for a new one as the base is larger then most.
Large stainless steel frying pan- This is an excellent 3 piece set with small, medium and large pans. I'd use the large for this recipe.
Stainless Steel Spatula- This is a professional 3 piece set that is one of the best for cooking with. It's got a nice sharp edge and works well for flipping pancakes.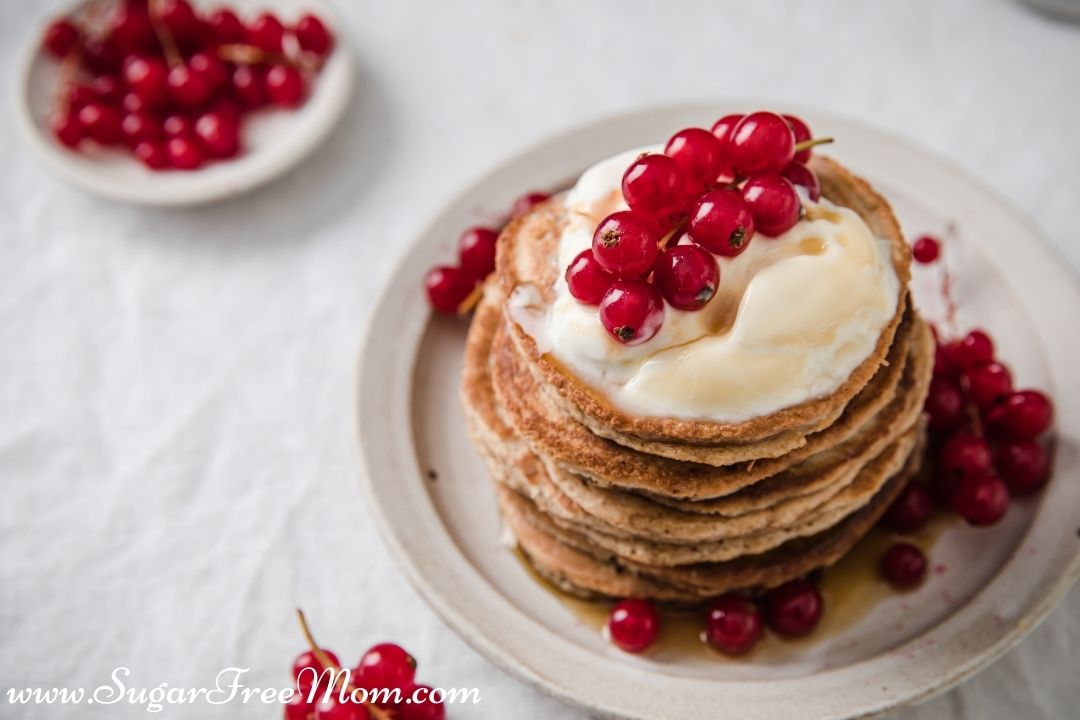 SPICE ALTERNATIVES
Vanilla Cinnamon- Remove the ginger and nutmeg spices and increase the cinnamon and vanilla extract. Also optional but vanilla liquid stevia would be fantastic in these!
Raspberry Lemon- Remove the cinnamon, nutmeg and ginger , vanilla extract and brown sugar sub. Replace with raspberry extract, about ½ cup fresh berries, fresh lemon zest and 1 tablespoon of lemon juice and a confectioners sugar free sweetener like Swerve or Better than Sugar sub.
Caramel Chocolate Chip- I would keep all the spices but replace the vanilla extract with 1 teaspoon of caramel extract then add about ½ cup of Lily's sugar free chocolate chips.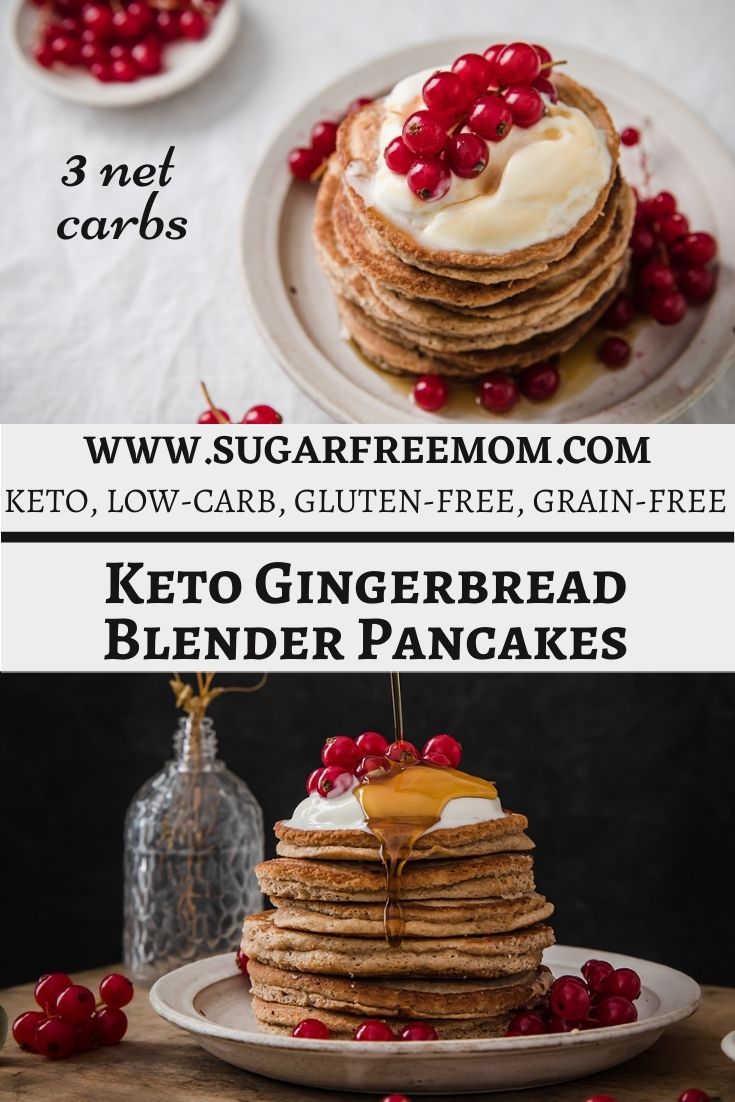 KETO GINGERBREAD BLENDER PANCAKES (Low Carb, Paleo, Gluten Free)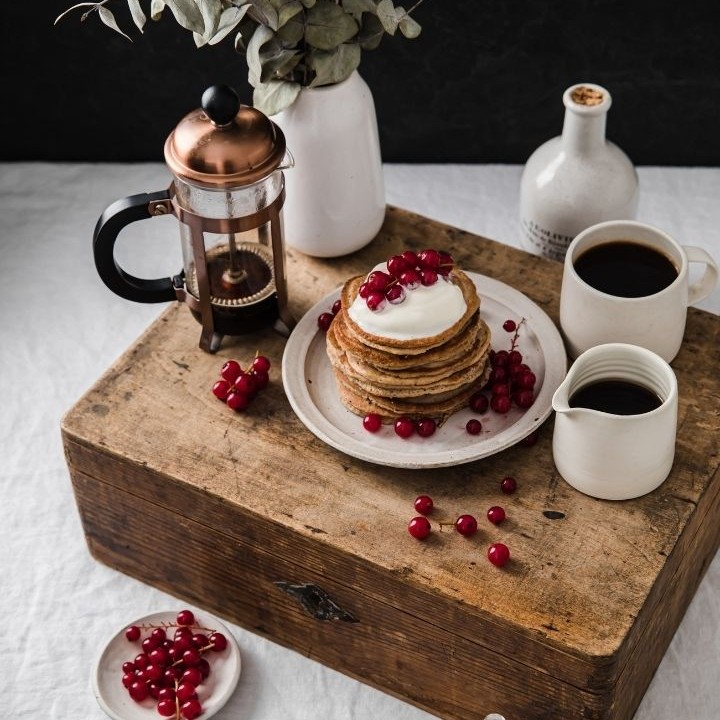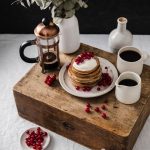 Print
Keto Gingerbread Blender Pancakes
The keto pancake flavor of the season! These Gingerbread Pancakes are perfect for a snuggly breakfast or a lazy brunch. Made in a blender they're easy to make and can be made in larger batches easily.
Topping suggestions include warm butter, Lakanto maple syrup, nut butters, Greek or coconut yoghurt ,berries, or why not try some keto ice cream?
Ingredients
4

large

eggs

⅓

cup

unsweetened almond milk

(or coconut milk)

1

teaspoon

vanilla extract

1

cup

almond flour

(100g)

3.5

tablespoon

coconut flour

2

tablespoon

golden lankanto

(2-3 tbsp, or to taste)

1

teaspoon

ground ginger

1

tsp

ground cinnamon

⅓

teaspoon

ground nutmeg

(or freshly grated)

¼

tsp

salt

1

teaspoon

baking powder

gluten-free

coconut oil

(or ghee) for frying
Instructions
Add the wet ingredients (eggs, almond milk and vanilla extract) to your blender. Then add the dry (almond flour, coconut flour, low carb sweetener, spices, salt and baking powder) and blitz to combine. Allow the dough to rest for a 2 - 5 minutes to let the coconut batter thicken.

Heat a little coconut oil or ghee in a frying pan. Scoop about 3 tablespoons of batter into hot pan and fry over a medium heat until you start to see bubbles on the edges, approx. 1 minute. Carefully flip using 1 or 2 spatulas and fry for 45 secs - 1min 15 secs, until golden on both sides. I always do a test pancake to get the right cooking times. Continue with remaining batter.

Remove the pancakes from the pan and place on a wire rack to cool. They will firm up as they cool.

Grease the pan each time and repeat with the remaining batter.

Do not overcrowd the pancakes in the pan as it will make it difficult to flip. I recommend 1 - 2pancakes per frying pan.

Serve with low-carb topping of choice.

Storage: Tupperware in the fridge for up to 3 days.
Nutrition
Serving:
1
pancake
|
Calories:
133
kcal
|
Carbohydrates:
6
g
|
Protein:
7
g
|
Fat:
10
g
|
Saturated Fat:
2
g
|
Cholesterol:
93
mg
|
Sodium:
115
mg
|
Potassium:
98
mg
|
Fiber:
3
g
|
Sugar:
1
g
|
Vitamin A:
135
IU
|
Calcium:
74
mg
|
Iron:
1
mg