This Keto Irish Soda Bread is amazing in texture and is nut free, low carb, grain free and gluten free bread recipe!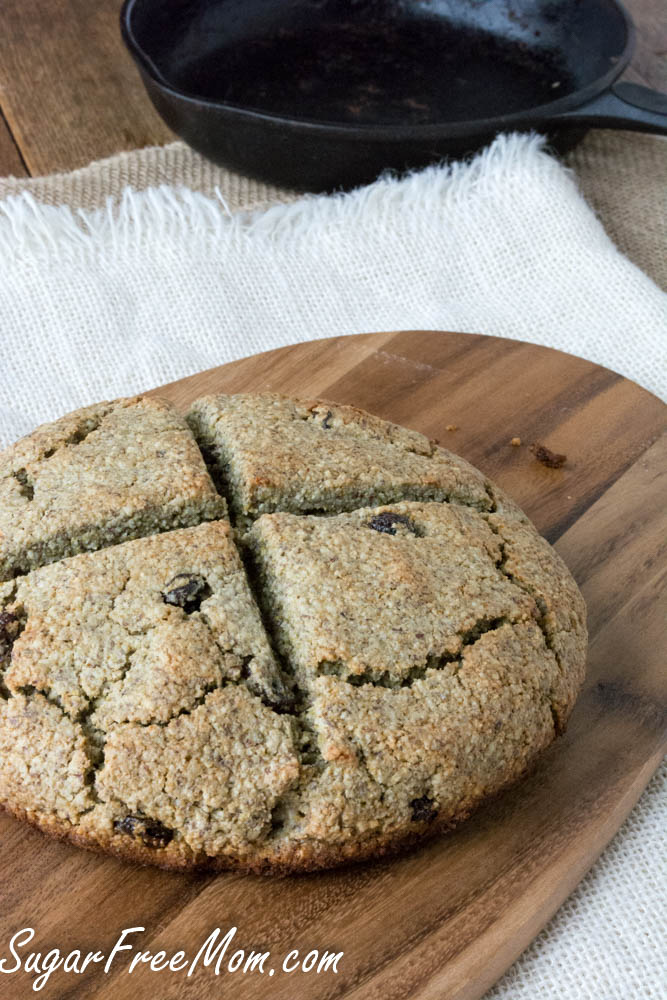 Keto Irish Soda Bread
Traditional Irish Soda bread got it's name because it's a quick bread that doesn't need yeast to rise and instead uses baking soda in the recipe for leavening.
Here's the thing though about making a nut free, grain free Keto Irish soda bread: It will not be identical to traditional. If you can get passed that, you will love this recipe.
But the thing about having a child with tree nut allergies is, I can't use low carb flours like almond flour. I use sunflower seed flour instead. Problem with that? If I were to use baking soda with sunflower seed flour, it will turn my bread green because of the natural chlorophyll in the seeds. That would certainly be gross.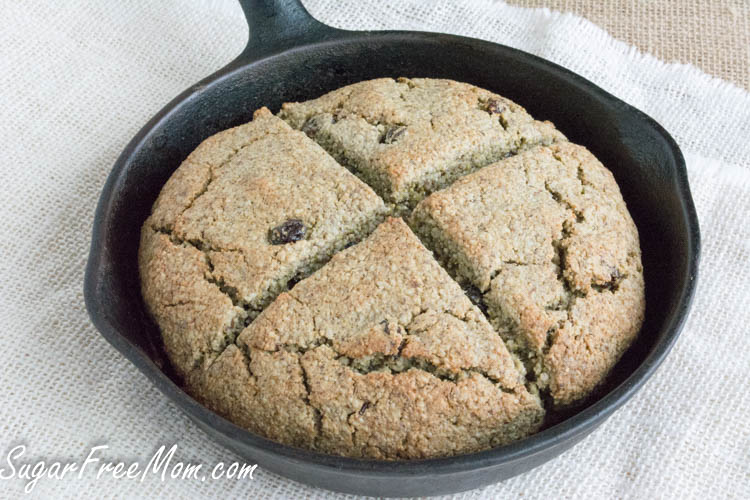 As I'm writing this post this morning a few days before I will actually post, it is my daughters birthday. She is 12. I am in shock. Where has my baby girl gone? No more with princesses and dolls, onto One Direction and texting on an iPod. I'm totally not ready for what this year will bring as we ease into her teen years.
But I try each day to remember we all grow up. Whether I like change or not, it is inevitable and I need to relax. How does one relax when you're that Type A kind of personality?
One who has schedules, sticks to them, manages a house of 6 and is always kind of uptight. I'm not ashamed to say it, I just am. I wish I wasn't. My hubby thank God is the more relaxed one. He's the go with the flow kind of man. He balances me out and I need him for sure.
So as we venture into unknown territory with our not so little girl anymore, we hope and pray these years won't be as hard as so many parents who have gone before us have graciously shared their horror stories.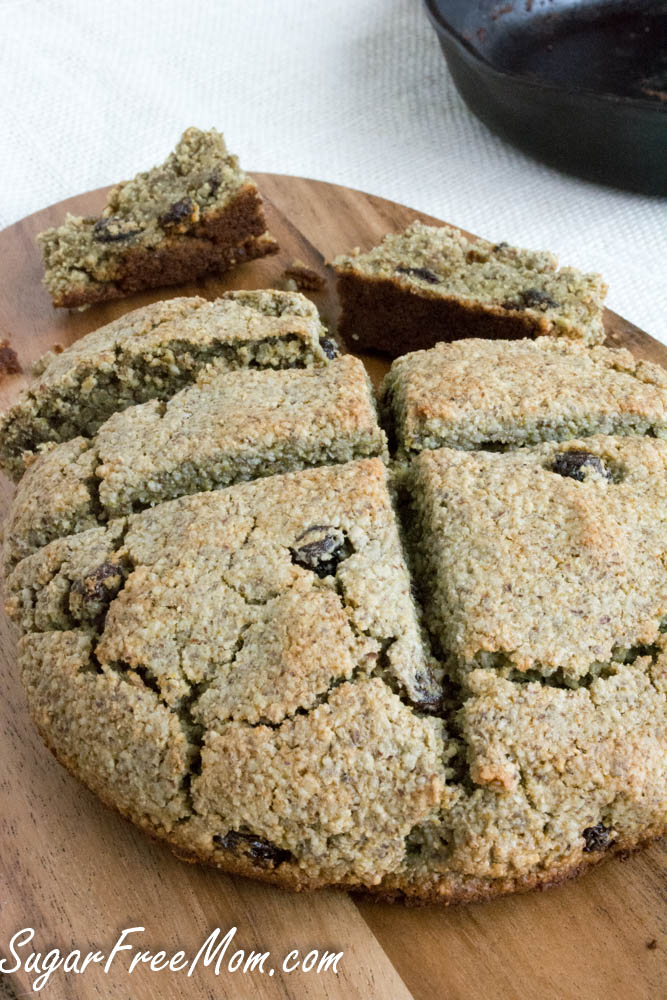 When a child is difficult and trying it can certainly cause the peace in the home to be evaporated and energy as a parent is quite honestly, zapped.
Just like trying a recipe multiple times with failures. Energy might be zapped, but determination is on fire like a race car at the starting line. It fuels me when I fail.
Luckily for this recipe today, I had success right off the gate! As I continue to be determined in making recipes that are sugar free and low carb, I will continue to have grace towards my pre-teen daughter. I am determined to be grateful for this precious child God has given us and thank God for her every day no matter what the future brings!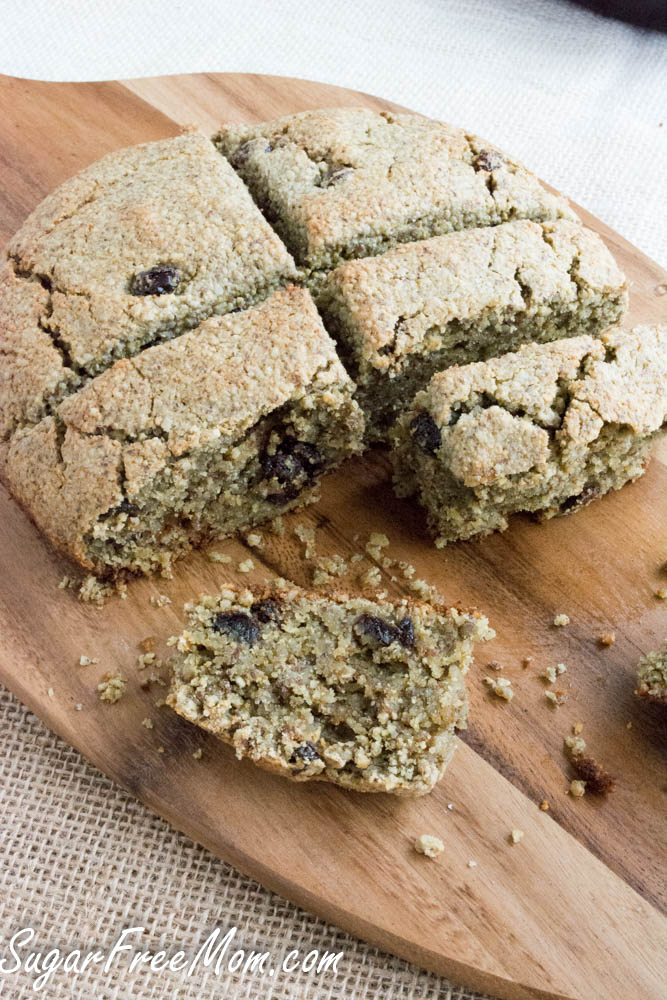 Tools to make Irish Soda Bread
Keto Irish Soda Bread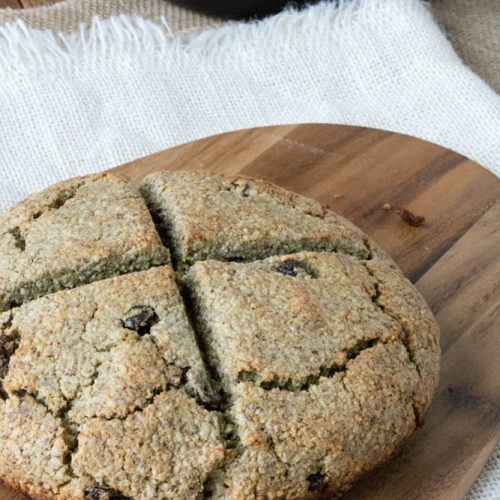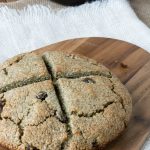 Print
Grain Free Irish Soda Bread (Low Carb and Sugar-Free)
Instructions
Preheat oven to 350 degrees.

Grind the sunflower seeds in a food processor.

Add the flaxseed, coconut flour, swerve, baking powder (or soda) and salt.

Pulse in the butter.

Add remaining ingredients, except raisins.

Remove dough and transfer to a bowl.

Mix in raisins or currants.

Wet hands to form shape and place in a greased cast iron skillet.

Score an x in the middle and bake 30 minutes.

Reduce the temperature to 325 and bake another 5-10 minutes or until golden on top.

Allow to cool before slicing.
Notes
Net Carbs: 5g
This recipe was first published in March 2015 and updated with video in March 2020. 
If you don't have nut allergies like our family, try using the same amount of almond flour in place of the sunflower seeds. Also replace the baking powder with baking soda. Please come back and let me know if you made those substitutions and how they turned out.
Nutrition
Serving:
1
serving
|
Calories:
204
kcal
|
Carbohydrates:
9
g
|
Protein:
7
g
|
Fat:
17
g
|
Saturated Fat:
3
g
|
Trans Fat:
1
g
|
Cholesterol:
32
mg
|
Sodium:
131
mg
|
Potassium:
247
mg
|
Fiber:
4
g
|
Sugar:
1
g
|
Vitamin A:
109
IU
|
Vitamin C:
1
mg
|
Calcium:
52
mg
|
Iron:
1
mg