These incredible Keto Gingerbread Linzer Cookies are made with a delicious, spiced almond dough and filled with a keto sweetened cream cheese making them tasty Keto Linzer Sandwich cookies you'll never forget!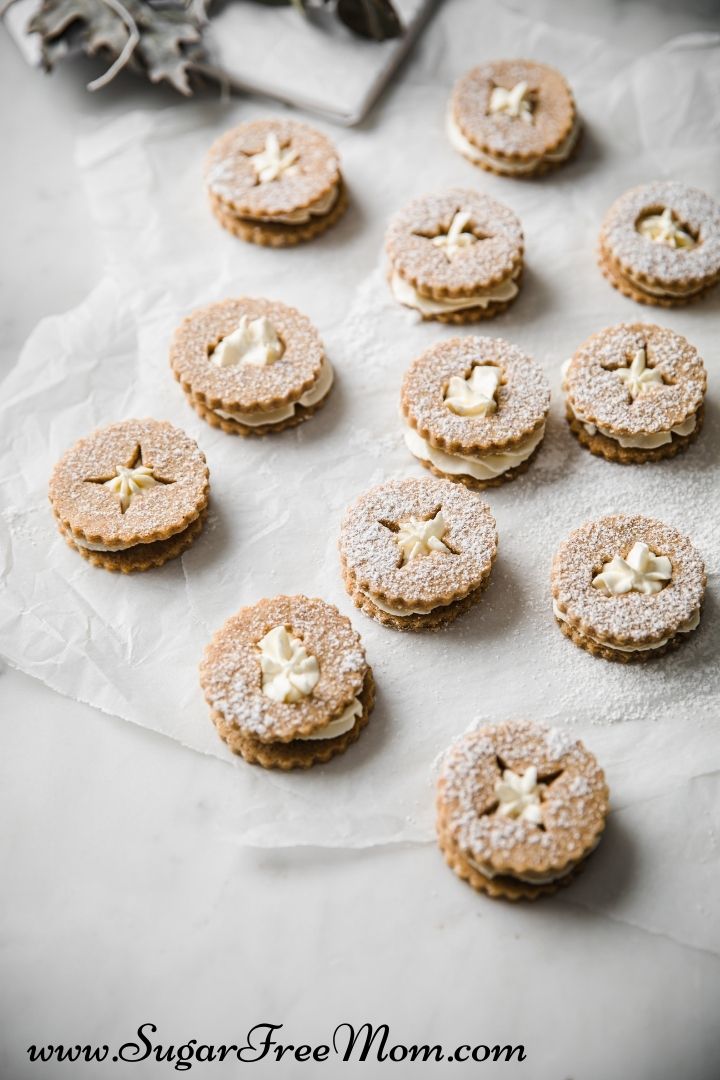 WHAT ARE LINZER COOKIES?
Traditional Linzer cookies actually originated from the Linzertorte, back in Austria in 1653. It was a tart that had a buttery, almond crust, black currant preserves and a lattice top crust. In the city called Linz, in Austria, bakers there took this popular Linzertorte dough and turned it into cookies with cut outs of hearts, stars and circles and called them Linzer eyes. Once baked, a whole cookie is used for the bottom, then a filling added, often fruit preserves, then topped with a cut out cookie and sprinkled with confectioners.
Turning these traditional cookies into a keto friendly version isn't as hard as you think and will definitely be one to add to your holiday baking list!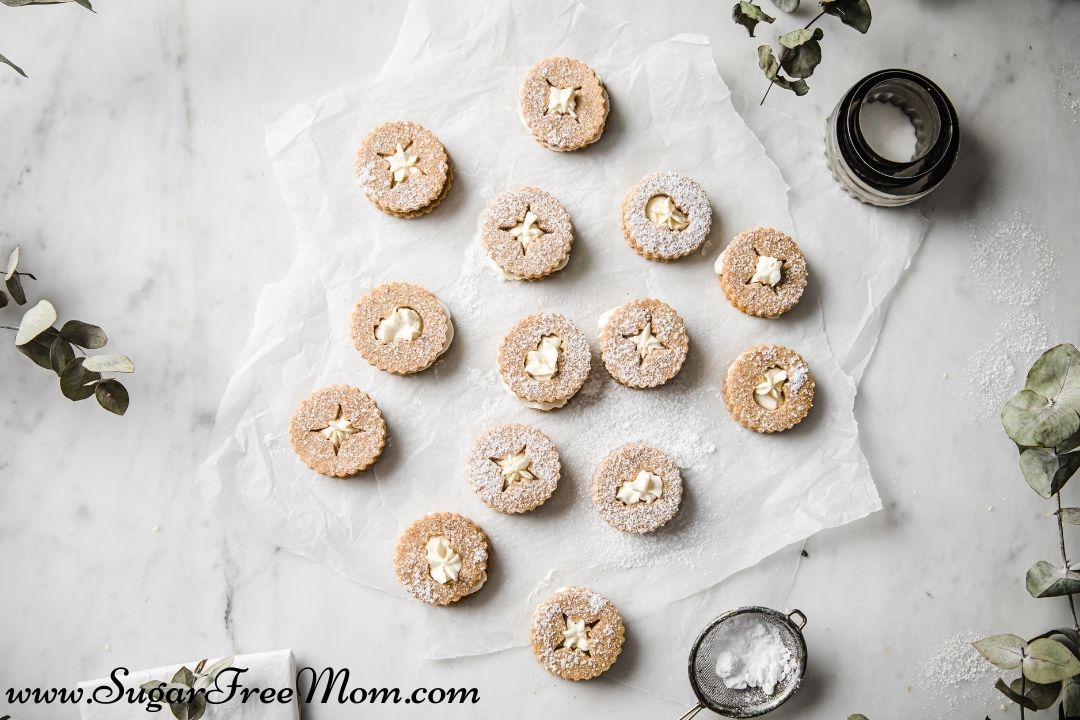 SUGAR FREE CREAM CHEESE FROSTING
While fruit preserves were originally used for the filling, we are using a fluffy, sweetened cream cheese frosting that is decadent and delicious! You won't be disappointed with this creaminess, unless of course, your preference is buttercream. If that's the case, my Vanilla Buttercream frosting will be your best bet for these keto Linzer cookies!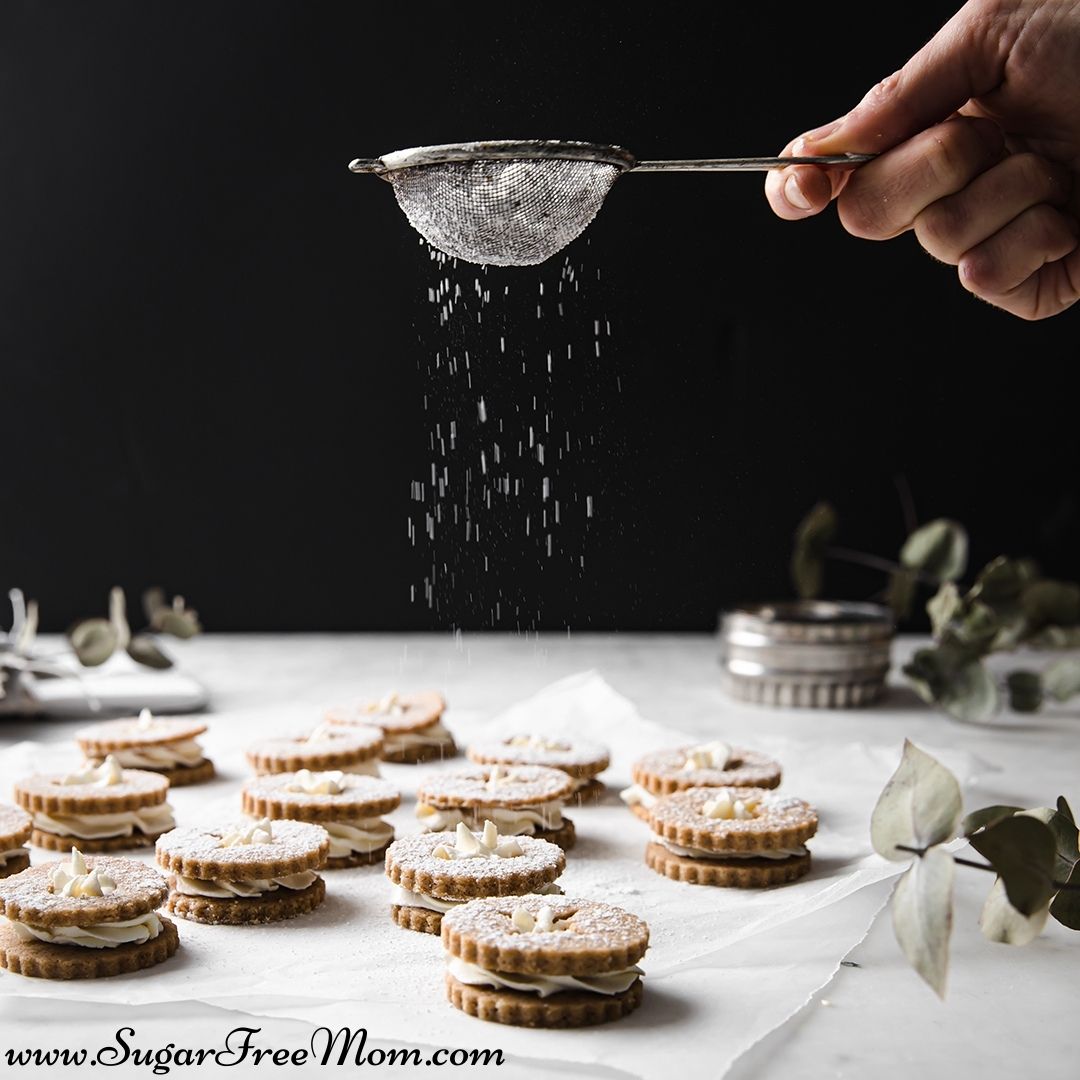 THE BEST KETO CONFECTIONERS SWEETENERS
There are quite a few of low carb powdered or confectioners sweeteners out on the market, but there are only a couple I would recommend. The most popular one that many low carb keto bloggers use and myself included, is fromSwerve. There is nice and fine and works well in so many recipes. It is only 70% as sweet as sugar so keep that in mind. The next confectioners low carb sweetener I have been using more recently is from Sweetleaf, calledBetter than Sugar. The powdered combines erythritol and stevia and has just as much sweetness as sugar. It is just as fine as the Swerve brand. Either of these would work fine for the sprinkling on top these keto linzer cookies.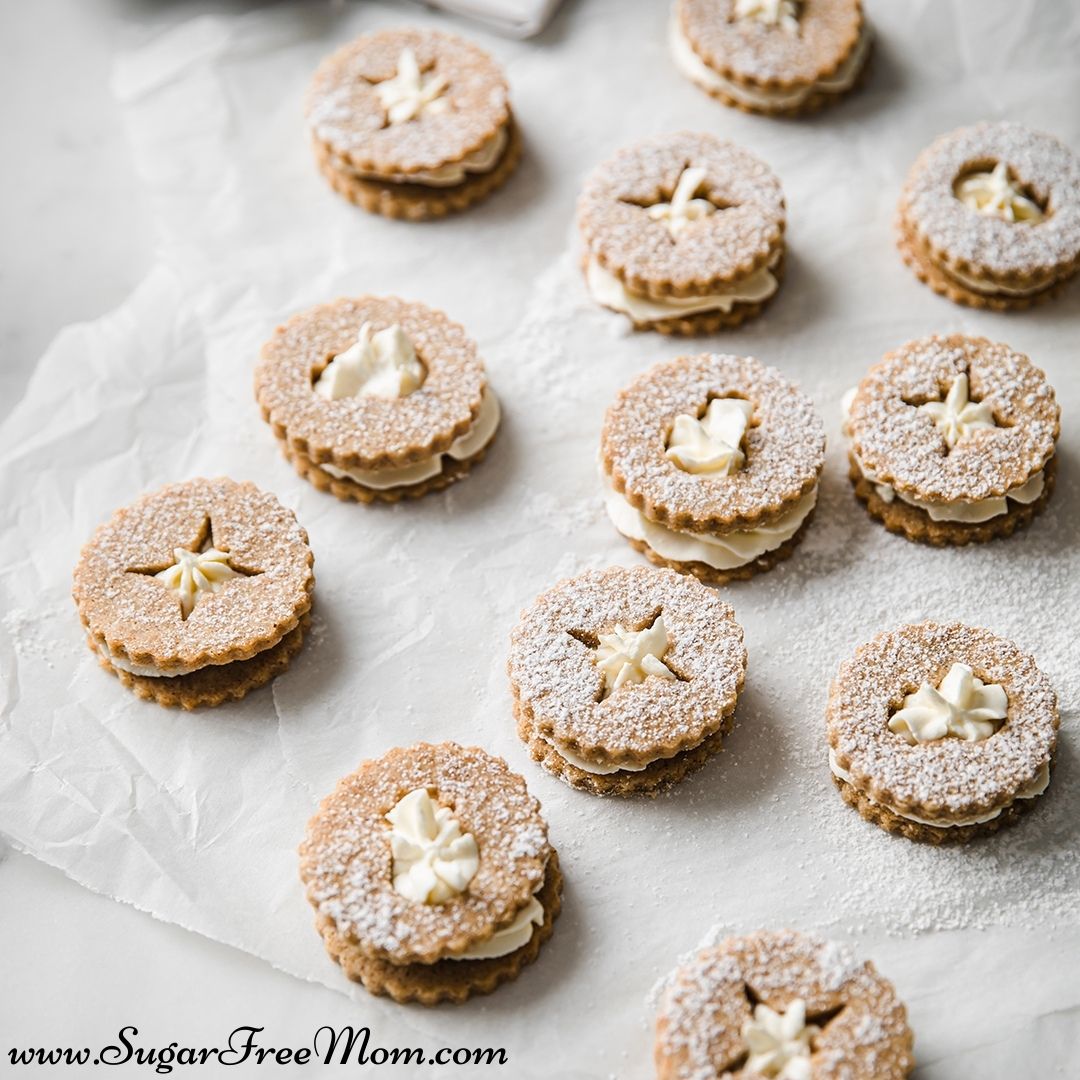 TOOLS TO MAKE KETO GINGERBREAD LINZERS
2-inch cookie cutter set-This set has 5 different size cut outs. Use the 2 inch one for this recipe.
Linzer cut outs- This set has 24 mini stainless steel shapes that are perfect for cookies, pies, tarts, etc.
Parchment paper- Unbleached parchment paper helps everything not stick and release easily once baked.
Large baking sheet pans- Large baking sheet pans are great not only for baking cookies like these but for awesome savory sheet pan meals!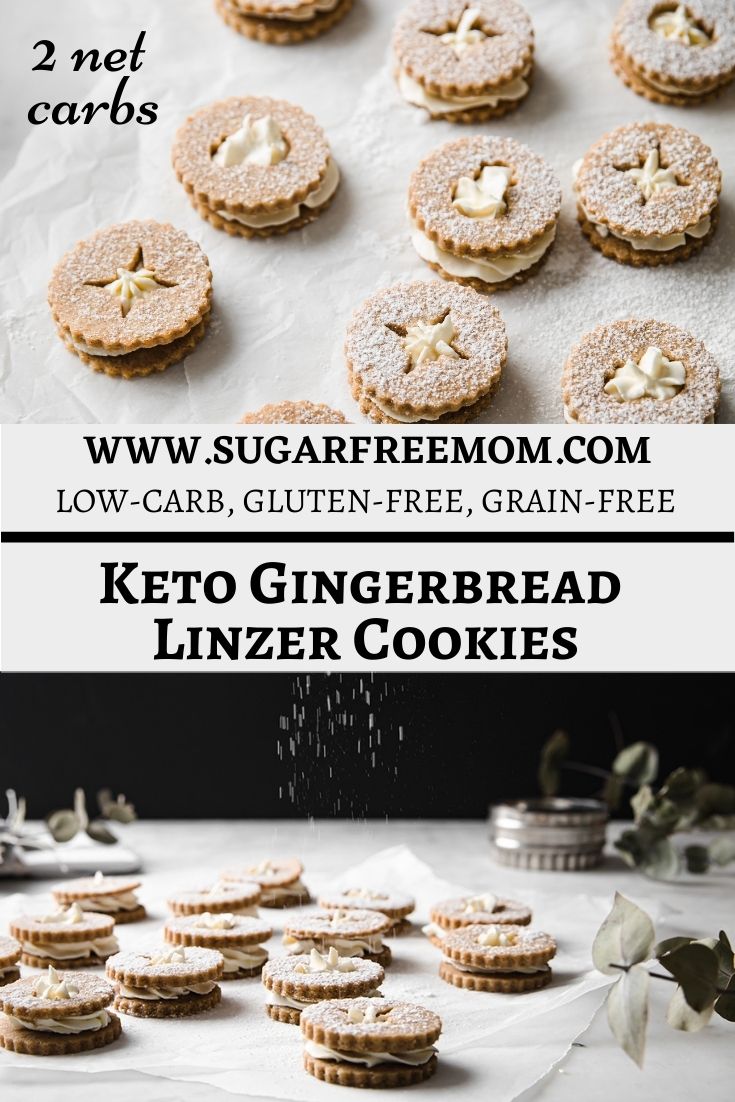 HOW TO STORE KETO LINZER COOKIES
Store these keto cookies in an air tight container in the refrigerator for up to 5 days. The cream cheese filling can be made ahead and also stored in the refrigerator for up to 3 days. Wait until you are ready to serve these before filling. Once filled, also store in an airtight container for up to 3 days.
KETO GINGERBREAD LINZER COOKIES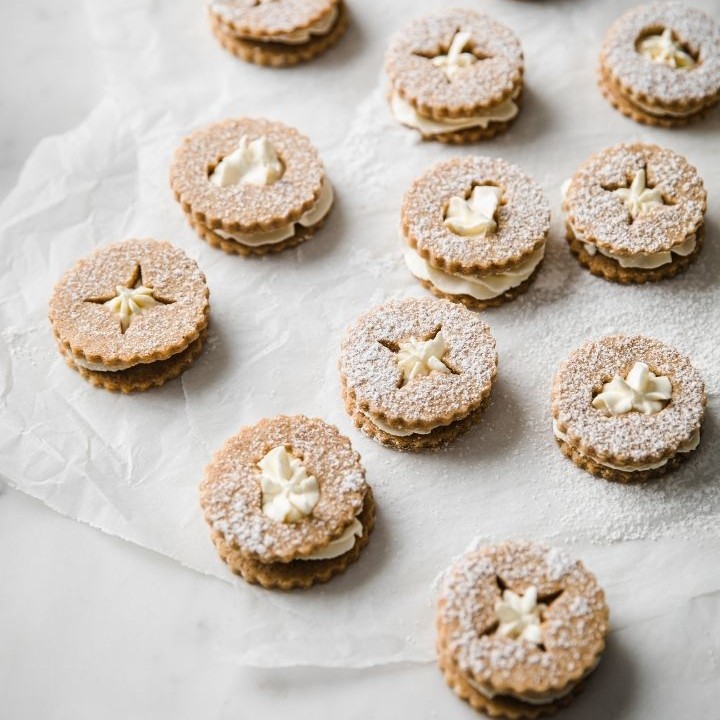 Print
Keto Gingerbread Linzer Cookies
The ultimate festive cookie with a new flavor twist. Two Christmas favorites are combined into one with these low-carb Gingerbread Linzer Cookies.
Super easy to make and so pretty. Children love helping to make them too. The cookies are made from a simple almond spiced dough and the filling is sweetened cream cheese, which compliments the gingerbread flavor wonderfully and is a great alternative if you're not a buttercream fan.
Servings
17
sandwich cookies
Instructions
Preheat the oven to 350F / 180C / 160 fan.

Place all the dry ingredients for the base (almonds, sweetener, spices, baking powder, xanthan gum and salt) in a mixing bowl and stir to combine.

Add the egg, vanilla and softened butter. Mix to combine. You may need to get your hands involved here to break up the butter. Option to use a food processor.

Roll into a ball. Roll the dough between two sheets of parchment paper, about ½ cm thick and place in the freezer for 10 - 15minutes, or until firm. If you find you leave it for too long and it's too hard, simply let it warm up at room temperature for a few minutes. Cut out your cookies using a 2 inch cookie cutter - bottoms plain and top using a linzer die cut. Make 34 single cookies (17 plain, 17 with cut out).

Re-roll any excess dough and repeat the steps above. If the dough becomes too warm to cut at any point, simply pop back into the freezer to firm up again.

Place the cookies on a parchment lined baking sheet and bake for 7 - 8 minutes, or until slightly golden. Remove from the oven and allow to fully cool. These cookies will firm up as they cool so don't over bake.

To make the frosting , place the cream cheese and sweetener in a mixing bowl and whip using a hand whisk to combine. Add to a piping bag and pipe onto the bottom cookie. Option to spoon if you prefer.

Dust the top of each cookie (the die cut one) with powdered sweetener and place on top of the cream cheese filled base. Press delicately to close.

Storage: Fridge in a Tupperware for up to 3 days. The cookie dough will last up to 5 days but the filling will last up to 3 days.
Nutrition
Serving:
1
cookie
|
Calories:
156
kcal
|
Carbohydrates:
4
g
|
Protein:
4
g
|
Fat:
14
g
|
Saturated Fat:
5
g
|
Cholesterol:
31
mg
|
Sodium:
75
mg
|
Potassium:
128
mg
|
Fiber:
2
g
|
Sugar:
1
g
|
Vitamin A:
277
IU
|
Calcium:
57
mg
|
Iron:
1
mg